Fairytales and bedtime stories played a significant role in childhood, as they helped enrich imagination and cultivate a child's understanding of the world. These stories often include enchanting events and mythical creatures, like unicorns and mermaids. While both mystical beings are extraordinary in their ways, they look mysteriously fascinating when combined. Unicorn mermaids are delightfully charming, so there's no asking why they dominate gift items, toys, and more. For example, Unicorn Mermaid coloring pages are well-loved by kids of all ages and adults too!
With our collection of Unicorn Mermaid coloring pages, you'll find something that will lead to the world of your favorite mythical creatures! Feel free to pick anything that sparks your curiosity.
Cute Unicorn Mermaid Coloring Page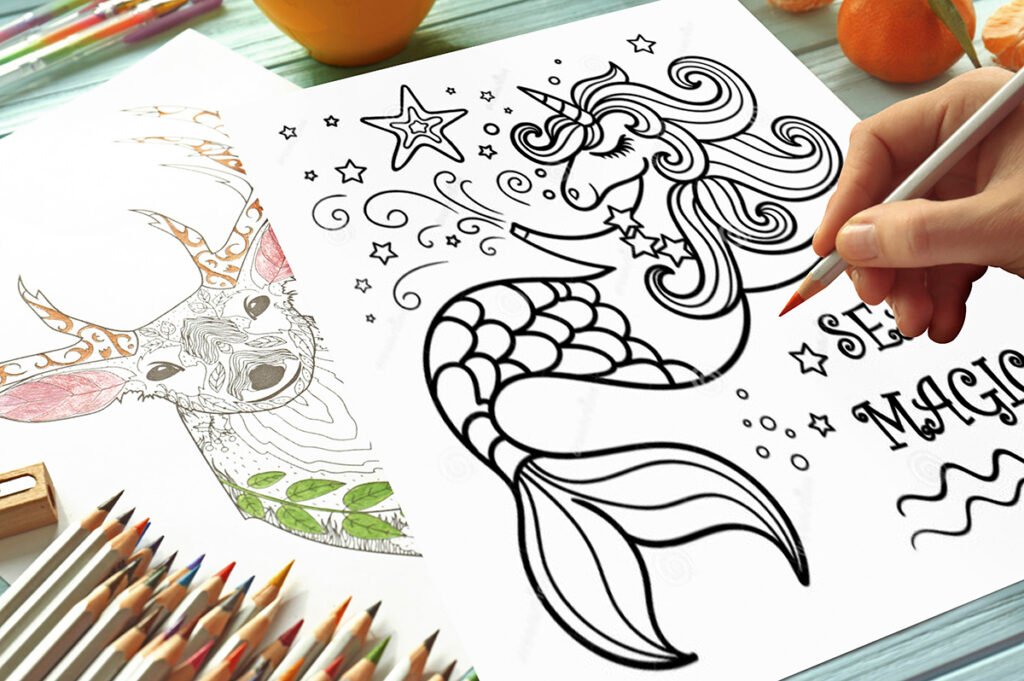 The cute unicorn mermaid on this coloring page looks very appealing! The details like the sparkly decorations and the star necklace are also full of charm, making it a fascinating illustration to color during leisure time. Grab your favorite coloring tools and enter the fantastic world of unicorns and mermaids through this coloring page!
Unicorn, Fairy, Mermaid Children's Coloring Sheet
Have you ever wondered what fairies, unicorns, or mermaids do together? On this coloring page, you'll see how they connect! These mythical creatures appear in a whimsical landscape, much like what you see in the illustration. Print it at home, color each detail according to your style, and hang it in your room if you like!
Mermaid and Unicorn Coloring Book with 40 Coloring Pages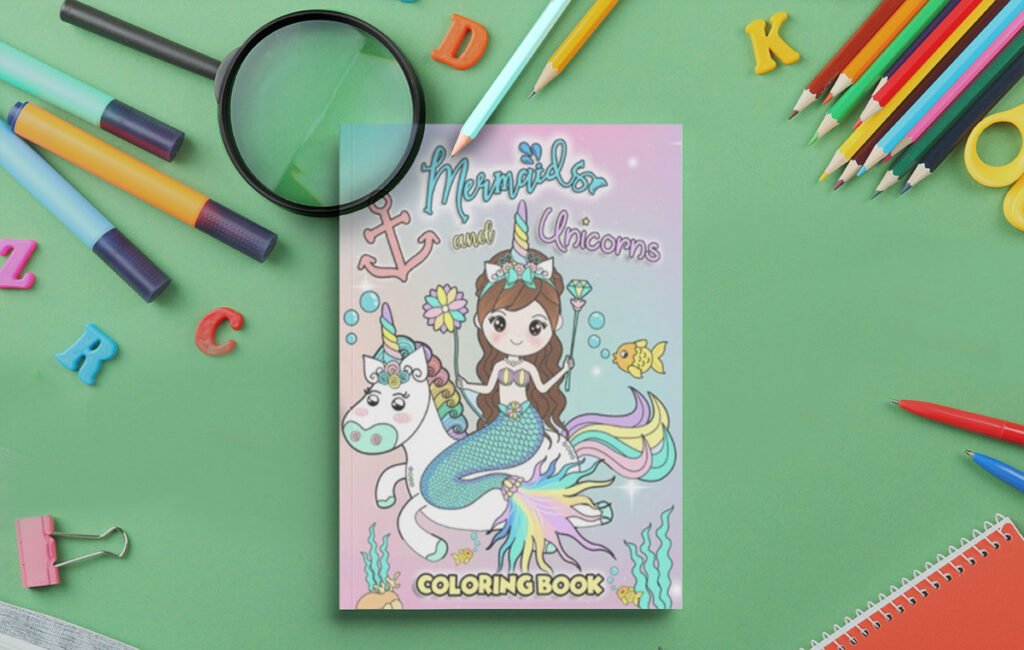 If you're looking for something to keep your young one busy for a while, consider giving them this mermaid and unicorn coloring book! With its 40 unique images, your loved one will enjoy hours of coloring fun. It's an excellent activity, perfect for stress relief, stirring creativity, and improving focus for kids and teens. Available in PDF format, download it now!
Printable Unicorn Mermaid Premium Coloring Page for Adults
Dreamy and enchanting—that's two words to describe the beauty of this unicorn mermaid coloring page. It's an incredible artwork for adults, especially those who prefer challenging themselves to achieve gratifying results. The intricate details are top-notch, and you'll immediately fall in love with the illustration, even if it's in grayscale. Don't dilly-dally! Get a copy for yourself to get started!
Adorable Unicorn Mermaid
If you're a fan of My Little Pony, this little unicorn mermaid coloring page will spark your interest! Although it's not directly related to My Little Pony, the features of this unicorn mermaid will remind you of the show. The sparkling eyes, cute fishtail, flowy hair, and adorable horn complement each other, so fill these details with colors to make it look even better!
Mermaids Unicorns Rainbows Coloring Sheet
Mermaids, unicorns, and rainbows—kids love these and many other things related to fantasy! Hence, they'd appreciate having their hands in this coloring book. It's an incredible gift choice for preschool and kindergarten-aged children, especially if mystical creatures like these three fascinate them. The pages use high-quality and unique illustrations with well-defined lines, so expect hours of coloring fun, guaranteed!
Unicorn Mermaid Coloring Sheet for Children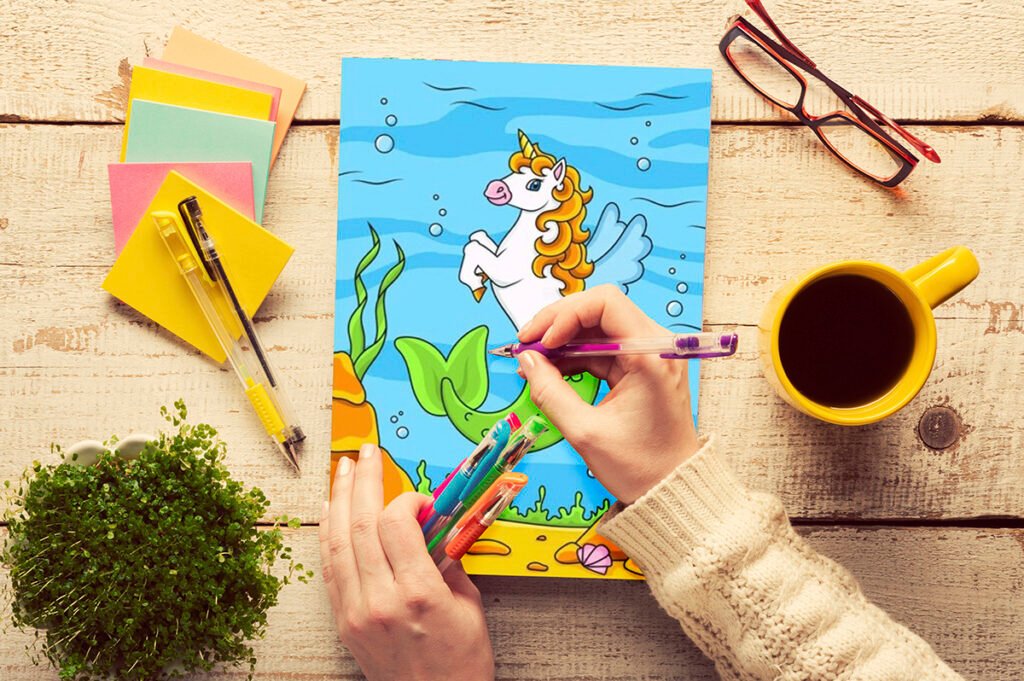 Unicorn mermaids exist not only in the human imagination but in coloring pages like this one too! The artwork displays a cute representation of a unicorn mermaid if they live in the ocean. This vector illustration offers a colored version that serves as a guide for starters, but there are no limits to the choice of colors!
Unicorn and Mermaid Coloring Sheet for Kids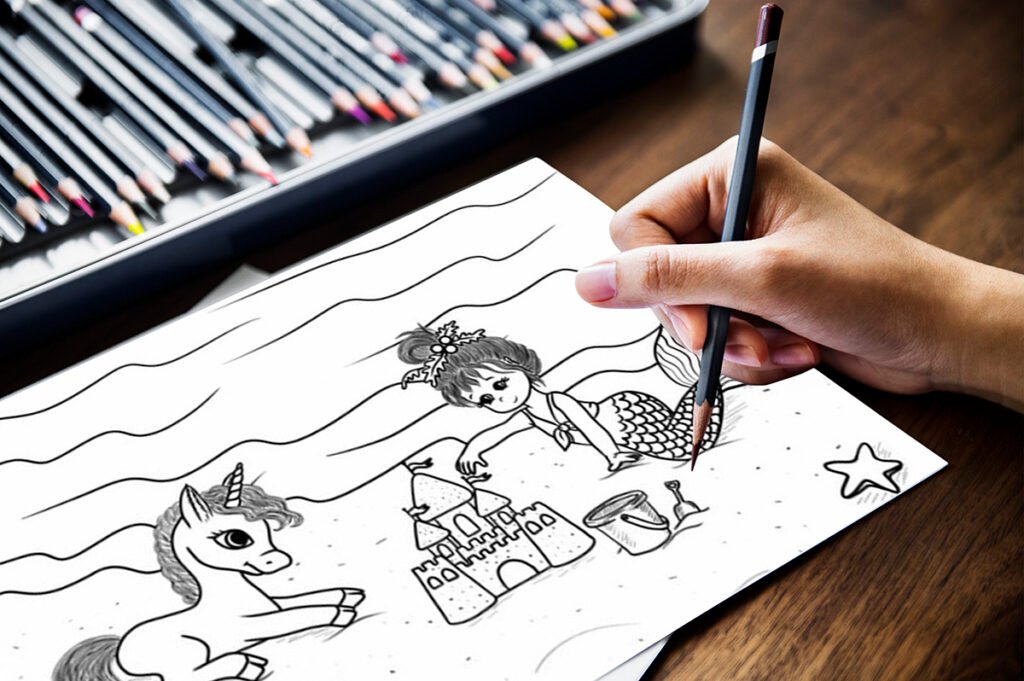 Young artists will enjoy coloring this beautifully-drawn coloring page of a cute unicorn and a little mermaid playing by the seaside! These creatures are fascinating works of imagination, so the attraction at them is understandable. While it's impossible to play with a unicorn and a mermaid by the shore, at least young ones will have fun coloring the details of this coloring page!
Mermaid Princess Holding a Doll Unicorn
Embark on a mystical coloring journey to the moon through this coloring page! In this artwork, a cute mermaid princess sleeps on a crescent moon with a stuffed unicorn toy in her hand. It's as if it represents how most kids look when asleep, hugging their stuffed toys as they enter the dreamland. Coloring this illustration will bring their fairytale-like dreams to life!
Magic Cat Unicorn Mermaid for Kid's Coloring Sheet
Unicorn mermaids are well-known but have you seen one with a face of a cat? Well, you're seeing one now! They're as mysteriously beautiful as our unicorn and mermaid friends, with an added charm from a cat. The sky is the limit when it comes to coloring this creature, so grab your favorite coloring utensils and have fun!
Unicorn Mermaid for Children's and Adult Coloring Book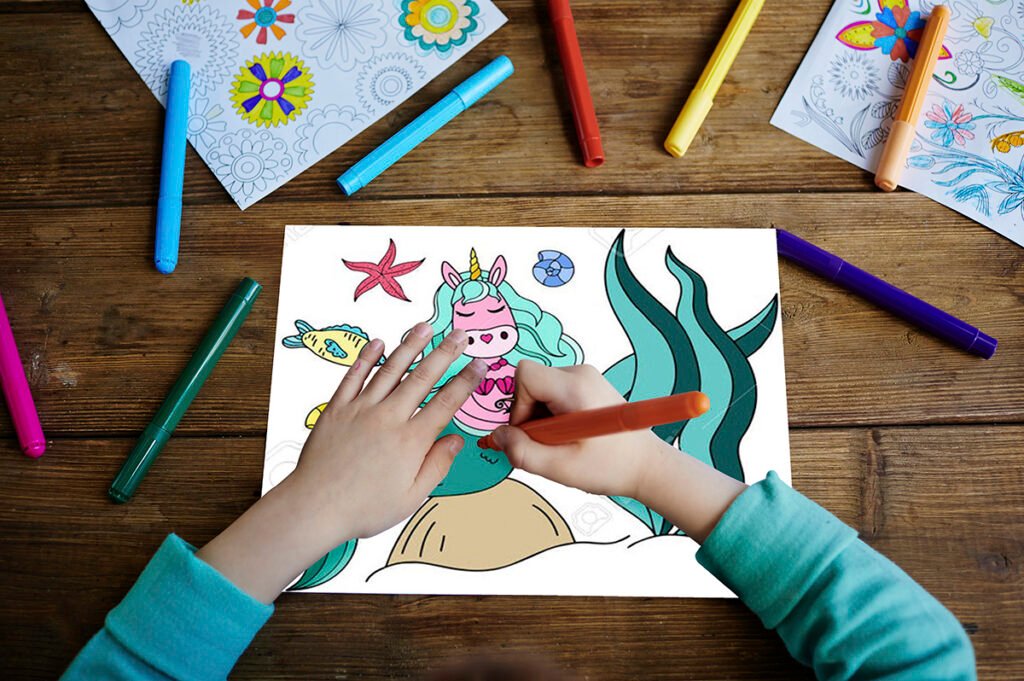 The internet provides limitless illustrations of mythical creatures for kids to color, such as this one! Kids young and old (and adults too!) will love the unicorn mermaid portrayed in this unique artwork. Just like how this mystical being plays her harp gracefully, anyone will enjoy gracefully gliding their coloring tools through the details of this illustration!
Unicorn Mermaid Coloring Book with One-sided Pages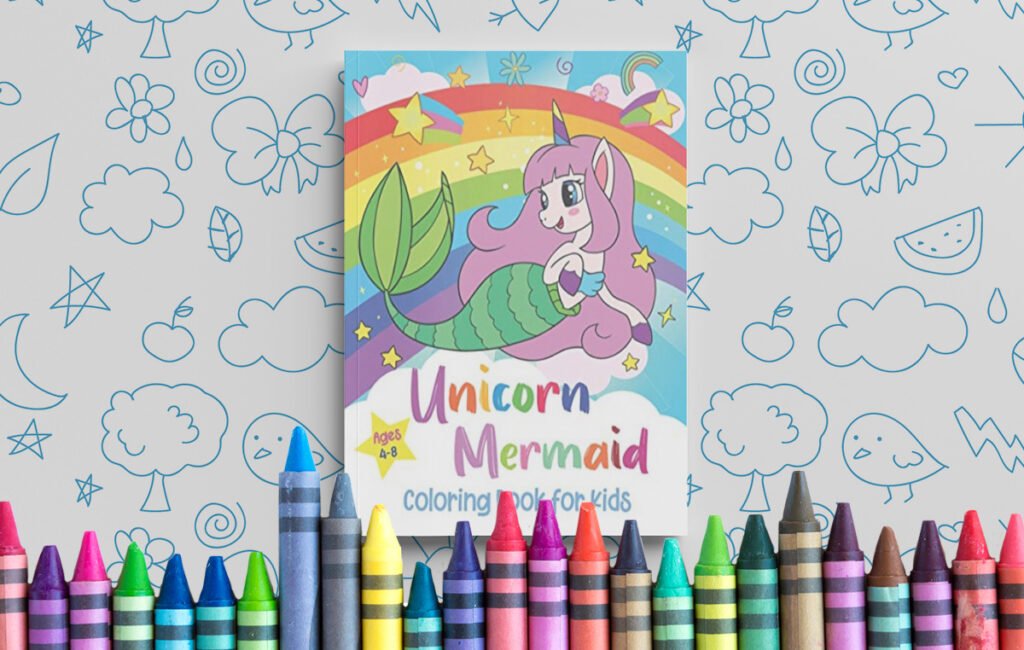 Do your young ones love creatures like unicorns and mermaids? Then, they'll enjoy hours of gadget-free fun with this coloring book for kids! It consists of 35 unique illustrations of their adorable mythical friends, including sea creatures, fairies, and of course, mermaids and unicorns! Feel free to use all the colors of the rainbow to bring these creatures to life!
Unicorn And Mermaid Coloring Book – Spot The Difference Coloring Page For Kids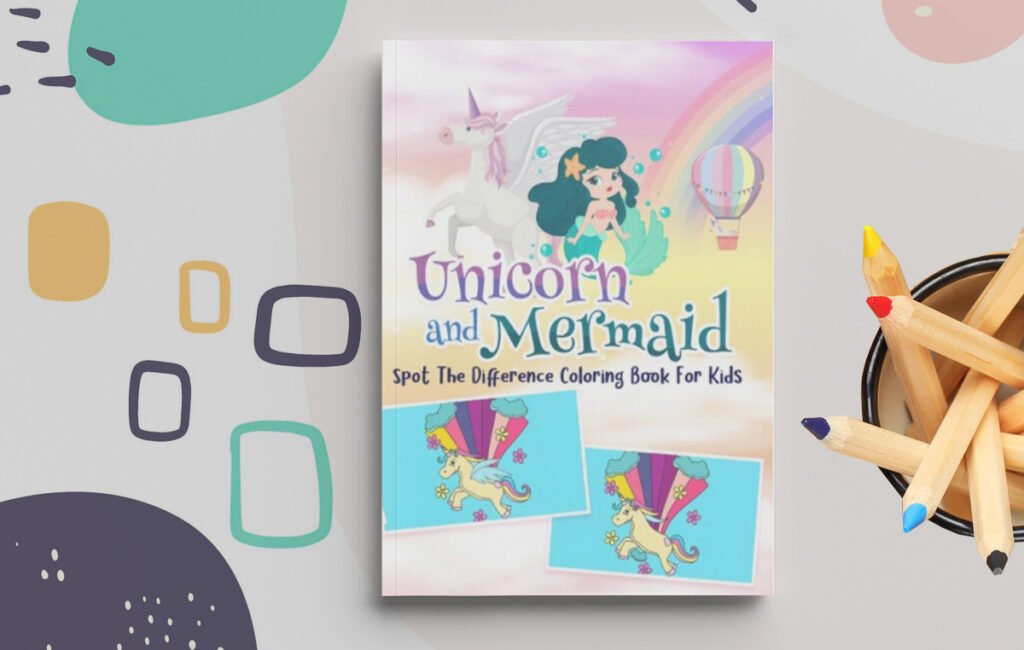 Unlike traditional coloring books, this publication puts a twist on its pages. Aside from its use of unique and high-resolution unicorn and mermaid illustrations, it incorporates the "spot the difference" illustration on its pages. Hence, you're stimulating your creativity as you learn to notice and concentrate on specific details! It's a great brain exercise for kids and adults, especially if you want something new to try!
Cat Unicorn Mermaid Coloring Sheet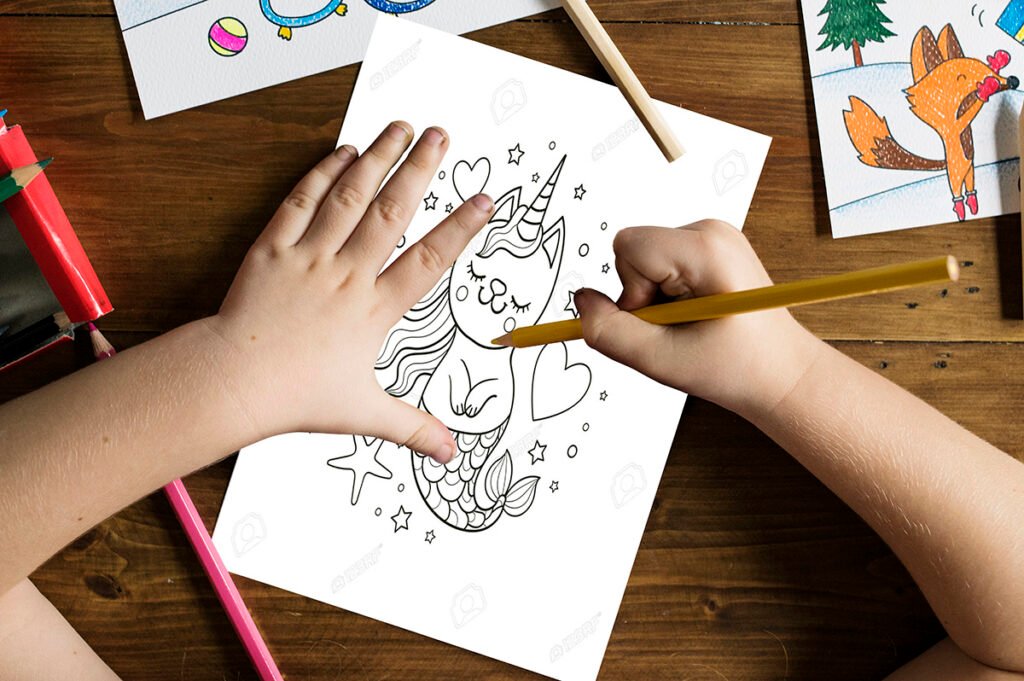 Here's a black and white illustration you'll love to fill with color! The distinct line art isn't complicated or overwhelming, making it great for kids and adults too. You can start with the stars, hearts, circles, or the cute cat unicorn mermaid: completing this artwork is up to you! Grab your preferred coloring set, and don't forget to have fun!
Unicorn Mermaid Drinking Juice Coloring Sheet for Kids
It looks like our unicorn mermaid friend is enjoying her glass of juice! Why not join her by having your favorite beverage as you color this illustration? Aside from stimulating your creativity, you'll appreciate the relaxation coloring brings you during the session. As you download this artwork, grab your drink, and get ready for a refreshing session with this unicorn mermaid!
Mermaid Unicorn Coloring Sheet
There are many ways to use your free time wisely, such as filling in the colors of this cute mermaid unicorn illustration! It's a coloring page using the cartoon art style, which you'll love to color. Prepare your crayons, pastels, watercolor, or any coloring material to get started. Whether you begin with the stones, shells, or the unicorn mermaid, it's up to you on which detail to start!
40 Pages 

Unicorn, Mermaid and Fairies Coloring Book
Aside from mobile devices, coloring books work well in keeping children entertained for a while. For example, this Coloring Book uses cute and unique drawings of unicorns, mermaids, and fairies—some of the fantastic creatures kids love! It's an excellent gift idea for anyone who loves fantasy-themed publications, regardless of their age!
Unicorn Mermaid Princess Coloring Book with 60 Pages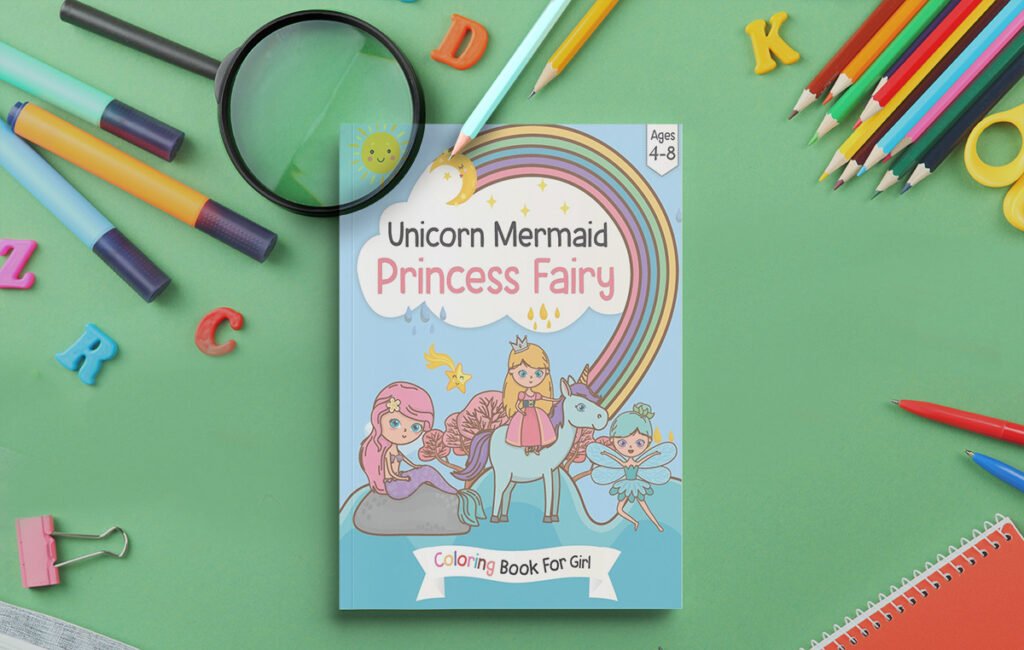 Plenty of fun awaits in this coloring book! The original artworks inside are something to look forward to, especially for the unicorn, mermaid, fairy, and princess lovers. There are 60 pages to color, making it an anticipated coloring book for kids to enjoy during weekends, vacation, or every time they're free!
Unicorn Mermaid Coloring Sheet for Kids
Have you got a new set of coloring tools but don't know where to use them? Get yourself prepared for an afternoon of coloring fun with this super cute unicorn mermaid coloring page! It's a coloring sheet perfect for afternoon coloring sessions, children's parties, or whenever you receive a new set of markers or crayons. The artwork uses well-defined lines that even younger kids will find easy to color!
Cute Unicorn Mermaid
Look at this coloring sheet featuring an adorable unicorn mermaid and its mermaid friend! You'll have fun coloring the details of this illustration, just as much as these two friends enjoy the company of one another. Using your crayons, colored pencils, or markers, bring these creatures to life and watch them look prettier with color!
Unicorn Mermaid Coloring Pages Conclusion
Explore a whole new world filled with mystical beings with our selection of Unicorn Mermaid Coloring Pages! There's a variety of options to choose from, whether it's for a beloved one or yourself. These exquisite set of coloring pages are available with a hit on the download button, so don't hesitate to take one or two that captivates your attention!
We also have a collection of Griffin coloring pages that you can check if you are looking for other coloring pages or books to try.