If you've searched for a graphic novel series that caters to children of all ages, you've most likely come across the brilliant book series entitled "Dog Man"! Apart from its compelling plots and less static characters, the action-packed novel found great use in getting kids to read and improve their drawing skills. The series' humor also contributed to its success, the adventures of the half-dog, half-man crime-fighter tickling even an adult's funnybone. Although some might find it grim or outlandish, the graphic novel series tapped into the interest of young children who enjoy a fun and entertaining read. Hence, parents and avid Dog Man fans will delight in The Coloring Kingdom's collection of Dog Man Coloring Pages!
If you're a parent or someone who knows a Dog Man enthusiast, these coloring pages are what you need! Weekends and leisure time will be even better once you hit the download button on any illustration on our selection!
Superhero Dog Man Coloring Page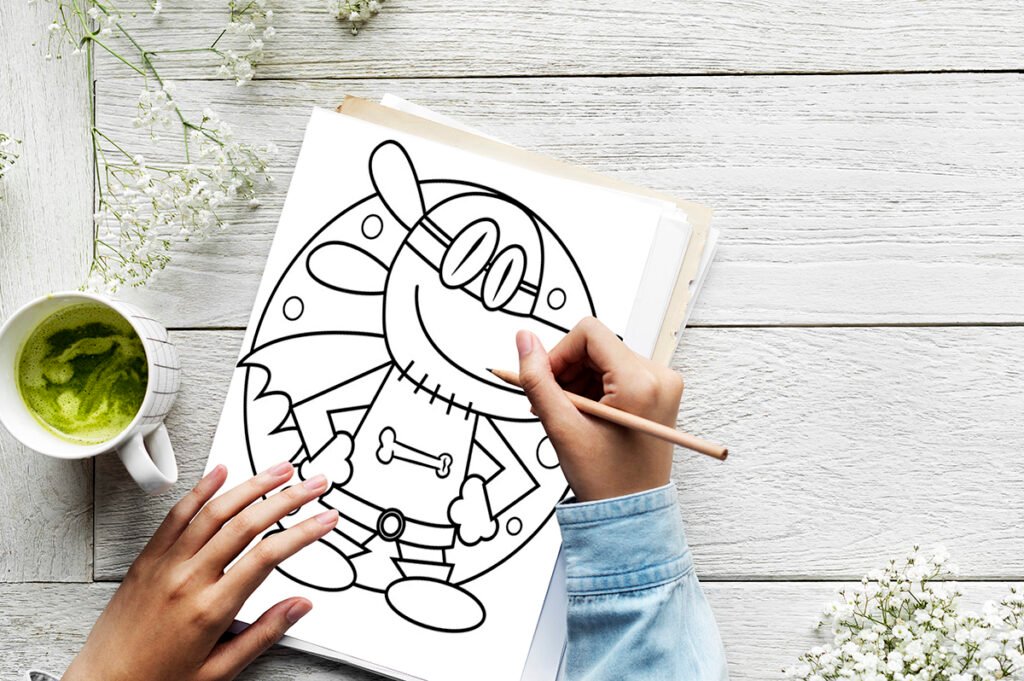 Watch your superhero, Dog Man, as he showcases his full glory on this coloring page! At the moment, Dog Man looks bland, considering this illustration is black and white. However, once you fill this coloring page with the colors you like, Dog Man will regain his magnificence! There's no time to wait. Download it today!
Captain Underpants with Dog Man
Two of the silliest crime fighters in the world of fiction join forces to claim the limelight on this coloring page. The superheroes in the discussion are none other than Captain Underpants and Dog Man! Their outlandish outfit paired with their funny names are enough to make you laugh, but feel free to extend that feeling by owning this coloring page! Add the colors as you desire, bringing each character's appeal shine.
Running Dog Man Coloring Page
Run, Dog Man, run! As depicted on this coloring page, a group of villains chases Dog Man and his ally, Cat Kid. While the villains wear teasing smiles, Dog Man displays an anxious look on his face, worried they'll knock him over. Don't worry! The good prevails against the evil, the same way your creativity will win over this black and white coloring page.
Dog Man Brawl of the Wild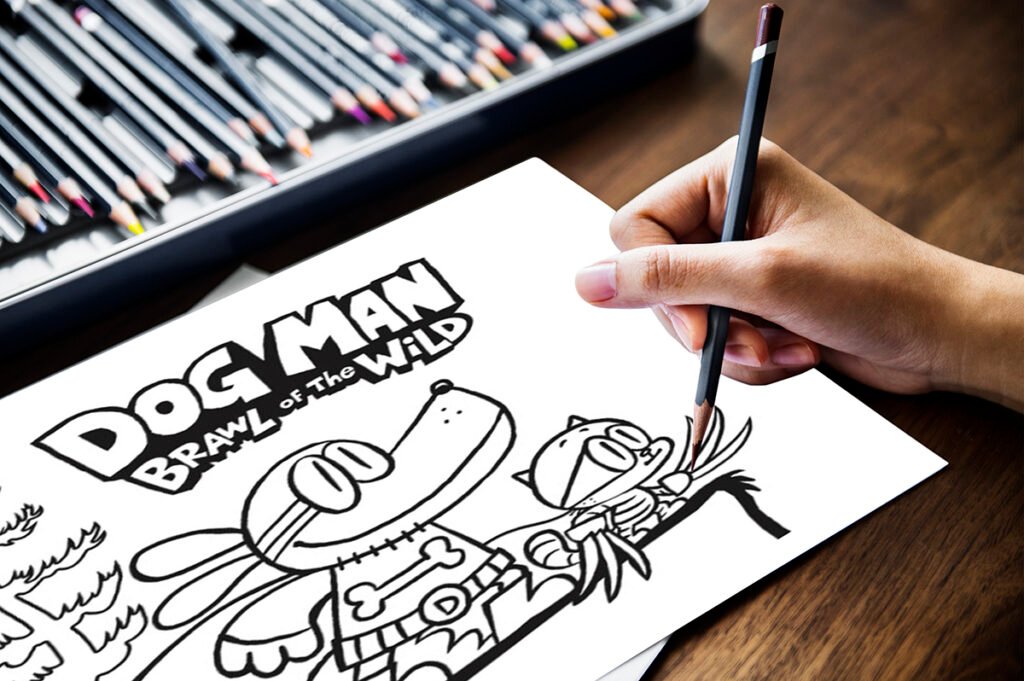 Brawl of The Wild is the title of one of the books in the Dog Man series. As this coloring page shows, the book centers on our superhero duo, Dog Man and Cat Kid. This illustration is an excellent choice for coloring enthusiasts or avid fans looking for an activity to stave off boredom. It also provides a great bonding experience for parents and their kids, a leisure activity that's fun and worthwhile.
Dog Man Unleashed Coloring Page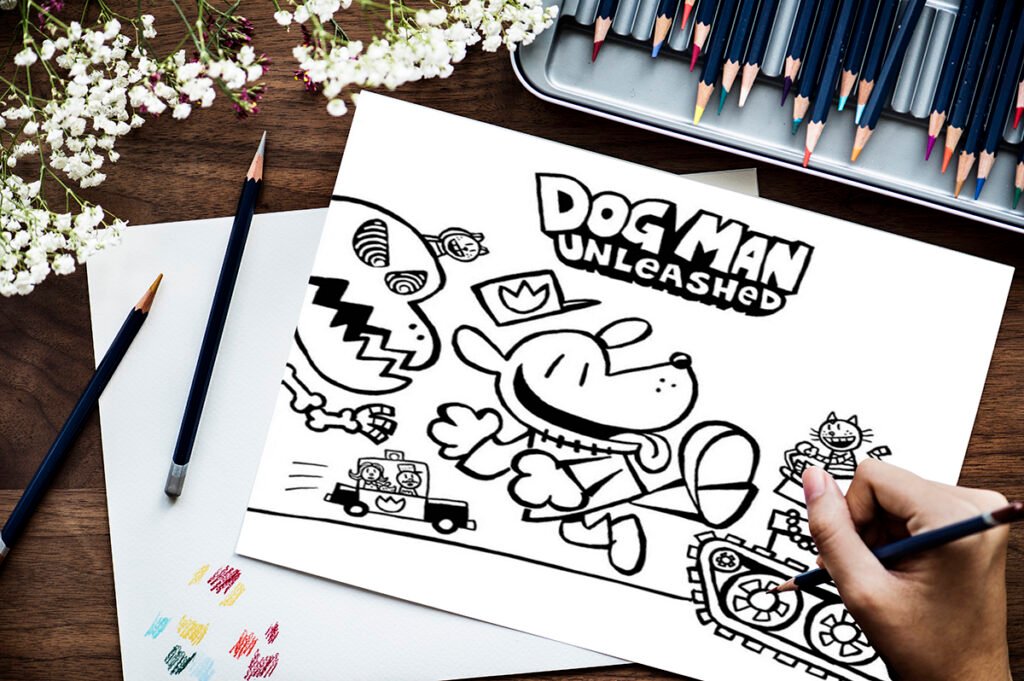 Unleash your creativity and full potential as you color the details on this coloring page! It's a coloring sheet inspired by the second book of the Dog Man series entitled "Dog Man Unleashed." The half-man, the half-dog character, remains as the show's star, just like how he's at the center of this illustration. Have fun coloring this worksheet alone or with a friend!
Dog Man with Cat Coloring Pages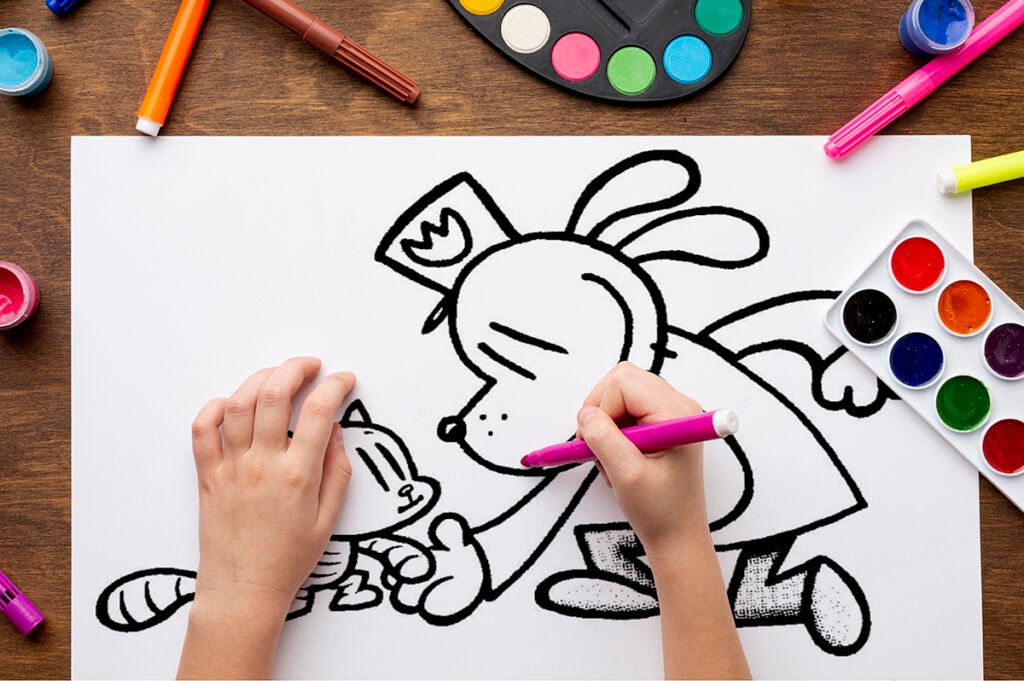 Cats and dogs usually have an antagonistic relationship with one another when portrayed in most films or television shows. However, Dog Man begs to differ on this coloring page! You'll even find him shaking the paw of the cat, who soon became his feline sidekick. What a surprising yet adorable duo for you to fill with color!
Dog Man with Cat Kid Coloring Page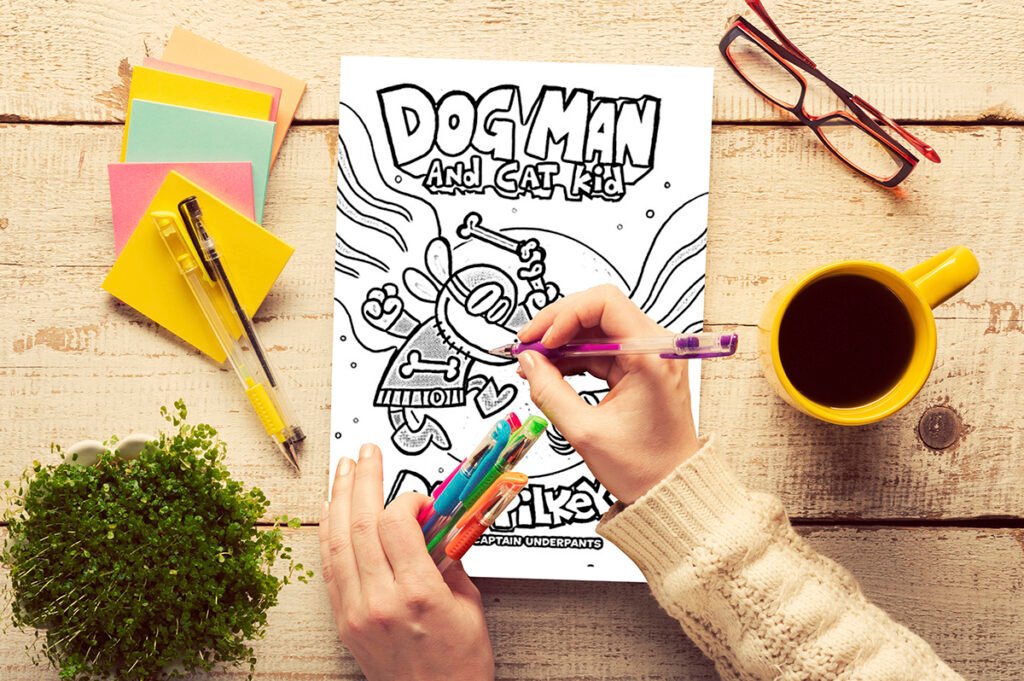 The heroic hound and his feline sidekick use their collective force and knowledge to deal with the evil on this coloring page! Dog Man holds a dog-themed weapon while Cat Kid has enlarged claws. Criminals should be wary of this duo's combined strength! Don't worry! As a coloring enthusiast or Dog Man fan, this coloring page allows you to support both characters, using your creativity to bring them to life and action!
Dog Man Running
Run as fast as you can, Dog Man! Your favorite superhero rushes to conquer evil, his cape flowing with the wind. This coloring page shows you how Dog Man looks when he's out on his save-the-world missions. Packed with bravery, he's more than ready to fight crime and unleashes justice. Why not grab your coloring tools and become his sidekick by coloring this illustration?
Dog Man Running Away From a Giant Robot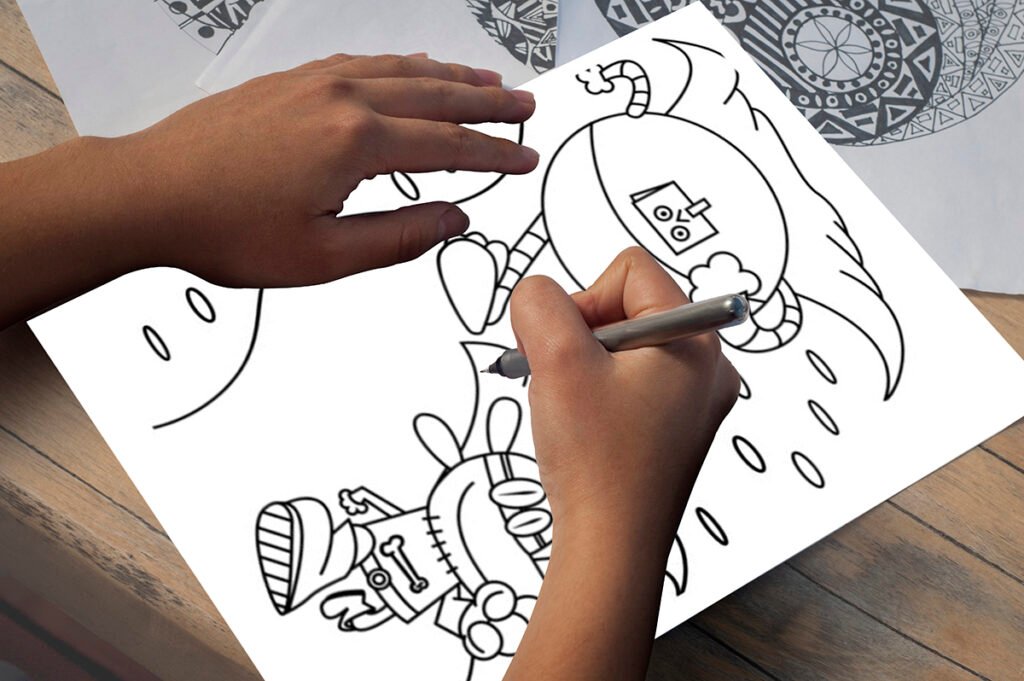 Other than your usual criminals, Dog Man also faces strange villains. Among those peculiar forces include the giant robot on this coloring page! Its round figure may look odd compared to most robots, but this foe doesn't get left behind when it comes to speed. Help Dog Man run away successfully by filling this coloring page with colors!
Dog Man Posing
Another successful mission calls for a triumphant pose from Dog Man! As this coloring page depicts, Dog Man saves the day again by taking down the cat-like figure behind him. Celebrate his victory by getting yourself ready for an hour of coloring fun! Prepare your coloring tools and creativity, making sure not to leave behind your active imagination!
Dog Man Lord of the Fleas Coloring Page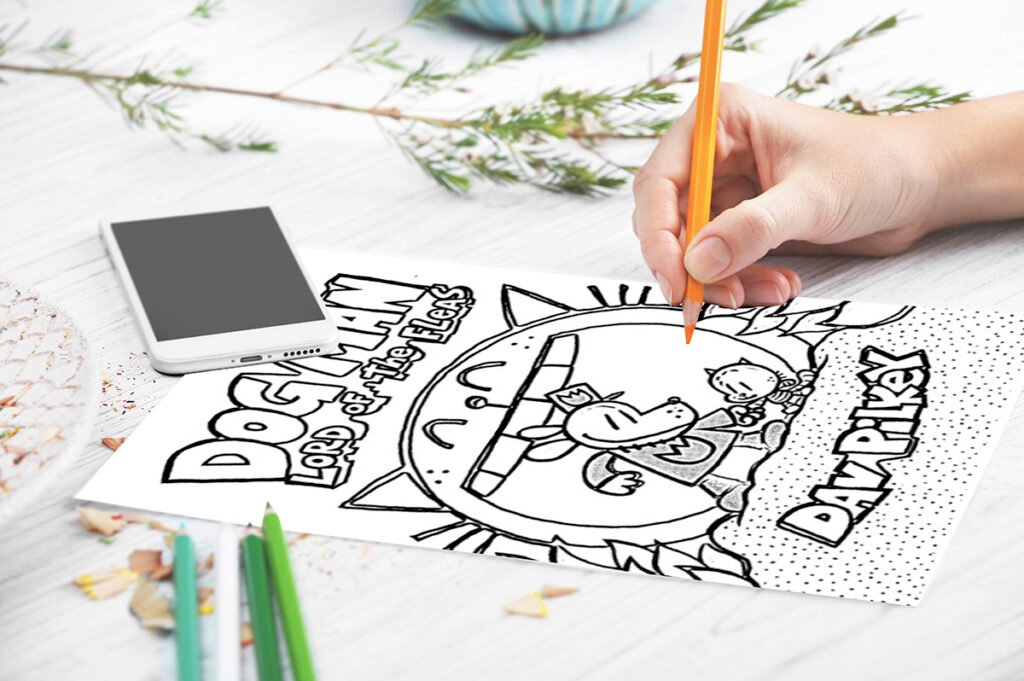 Crime-fighting is never easy, but with reliable partners, anything is possible! That's what happened on the "Lord of the Fleas," the Dog Man series' fifth book. Its cover looks similar to this coloring page, lacking its respective colors. The task to make this look vivid is up to you! Invite a friend or two to join forces with you in coloring this page, using available resources to achieve the best results.
Dog Man Hugging Cat Kid Coloring Page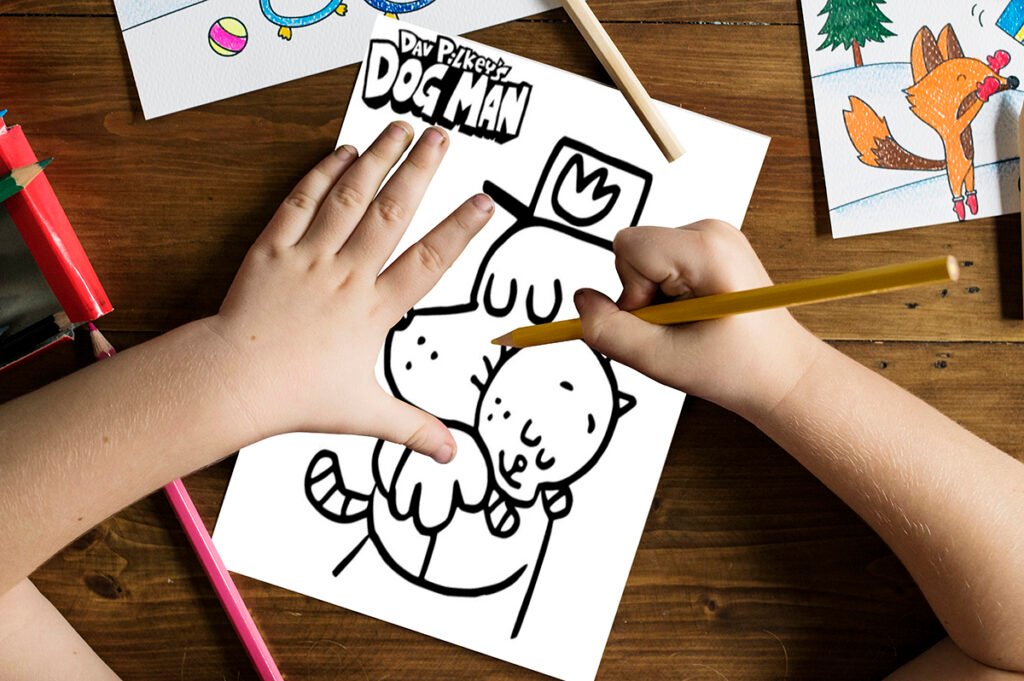 Hugs give us warmth and comfort and make us feel loved. Even at the sight of this coloring page, it's easy to see how comforting hugs can be! Dog Man and the Cat Kid's shared embrace looks inviting, and it's understandable if many would say, "Aw" lovingly. If it's impossible to hug someone right now, grab this opportunity to fill the duo with colors! It'll be fun and relaxing!
Happy Dog Man Coloring Page
Laughter and happiness are contagious, so it's unsurprising if Dog Man's joy will make you want to download this coloring page for yourself or a little one! Apart from the positivity in this illustration, the well-defined lines make it easy to color, especially for younger children. It's a coloring page anyone in the family will enjoy whenever they're free!
Dog Man For Whom The Ball Rolls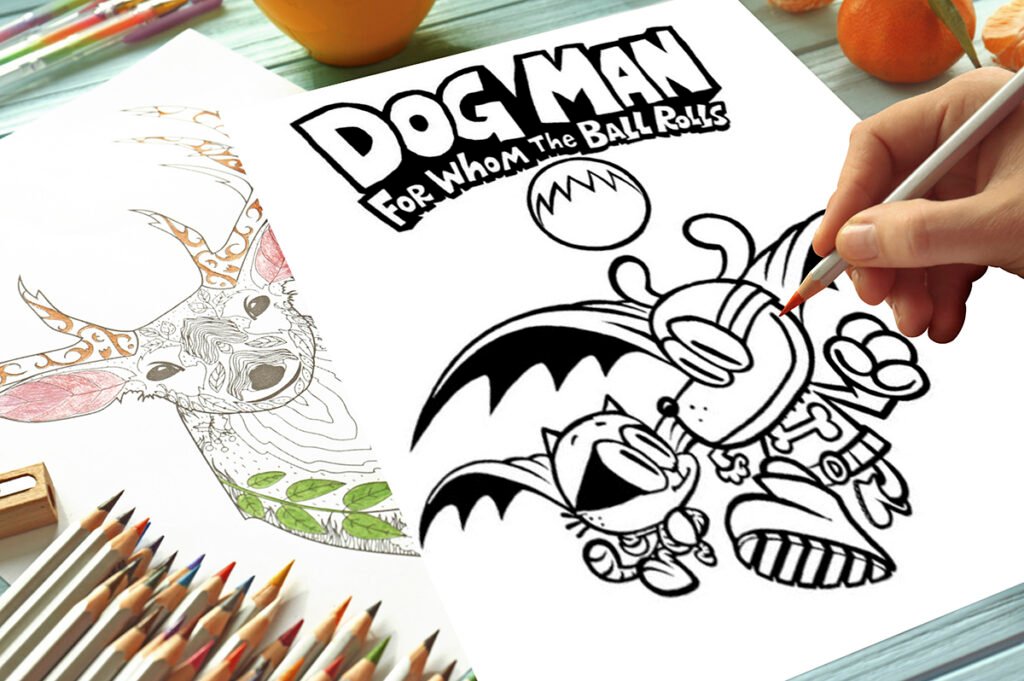 Out of the many books in the Dog Man novel series, which one is your favorite? If "For Whom The Ball Rolls" captured your interest the most, this coloring page is what you need! It presents the book's cover in black and white. It's a fantastic poster-like illustration you can get with a hit on the download button, free to display once completed!
Dog Man Picking up His Hat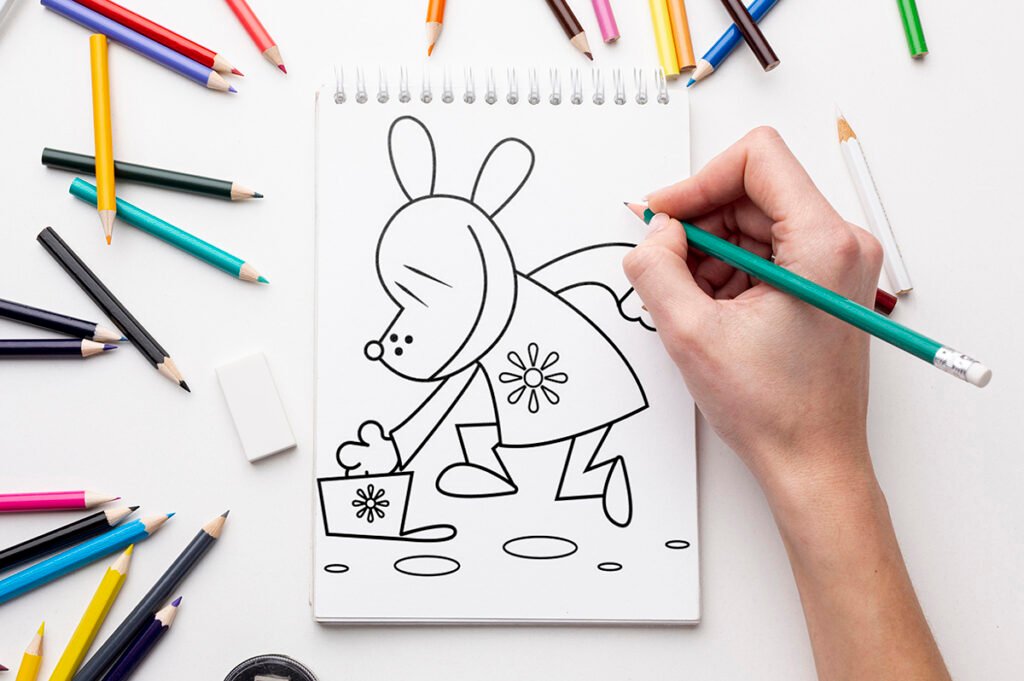 Rainy afternoons call for entertaining indoor activities that the whole family can enjoy. That's the reason for the existence of this coloring page! It features the odd superhero, Dog Man, picking up the hat he dropped. Younger children will enjoy this illustration the most, but the whole family can print as many copies as they want for each member to have one!
Big Jim from Dog Man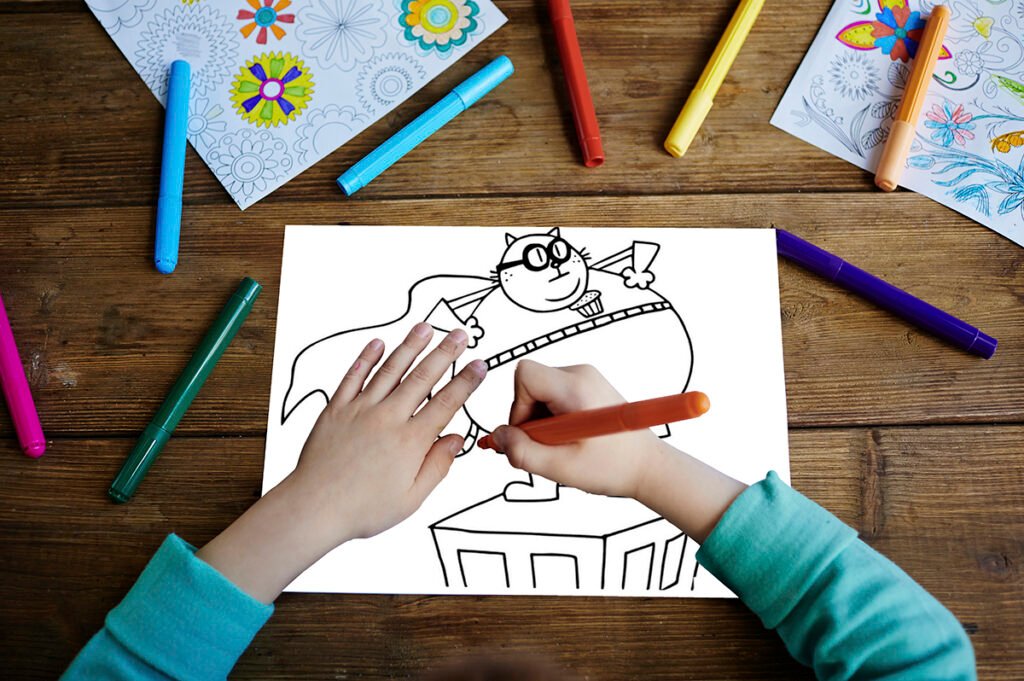 Big Jim from the Dog Man series stands with confidence on top of a building on this coloring page. As you can see, he wears his superhero disguise as Commander Cupcake, a cupcake even visible on the top he wears. This illustration looks like a poster, so once you've finished coloring, you can frame or hang it in your room. It's an incredible treat for Big Jim or Commander Cupcake fans!
Dog Man a Tale of Two Kitties Coloring Page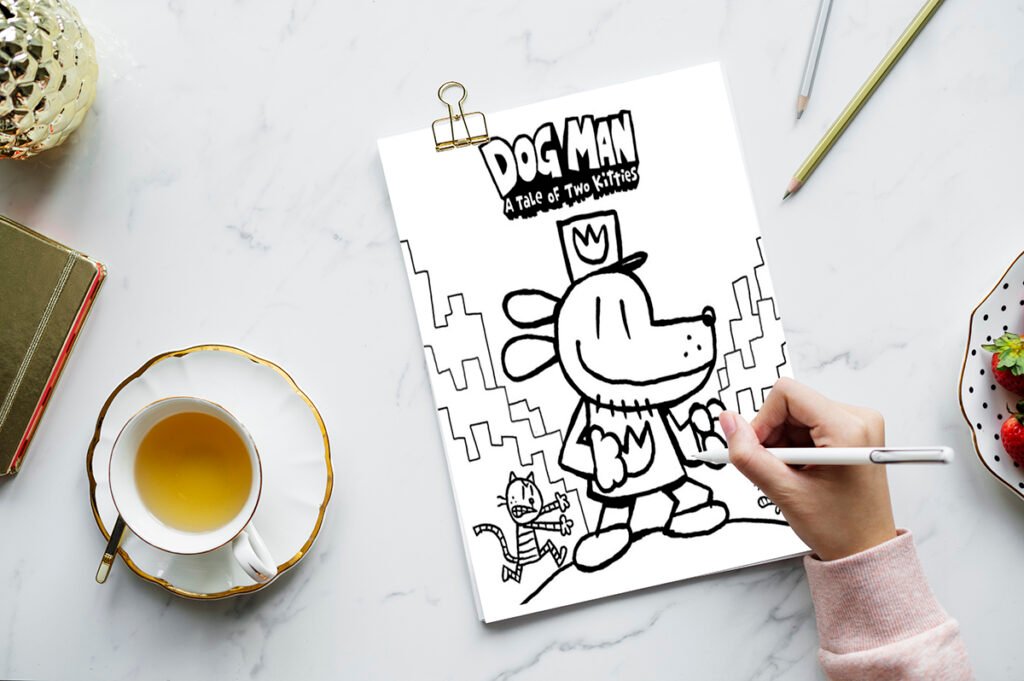 Here's a coloring page for fans who loved the third book on the Dog Man graphic novel series, A Tale of Two Kitties! Although it lacks colors, the book's cover will stun you on this illustration. Of course, it's up to you to breathe life into this coloring page! Grab your favorite coloring utensils and a sample if you want to, and watch your favorite superhero fly with colors!
Dog Man Ready for Action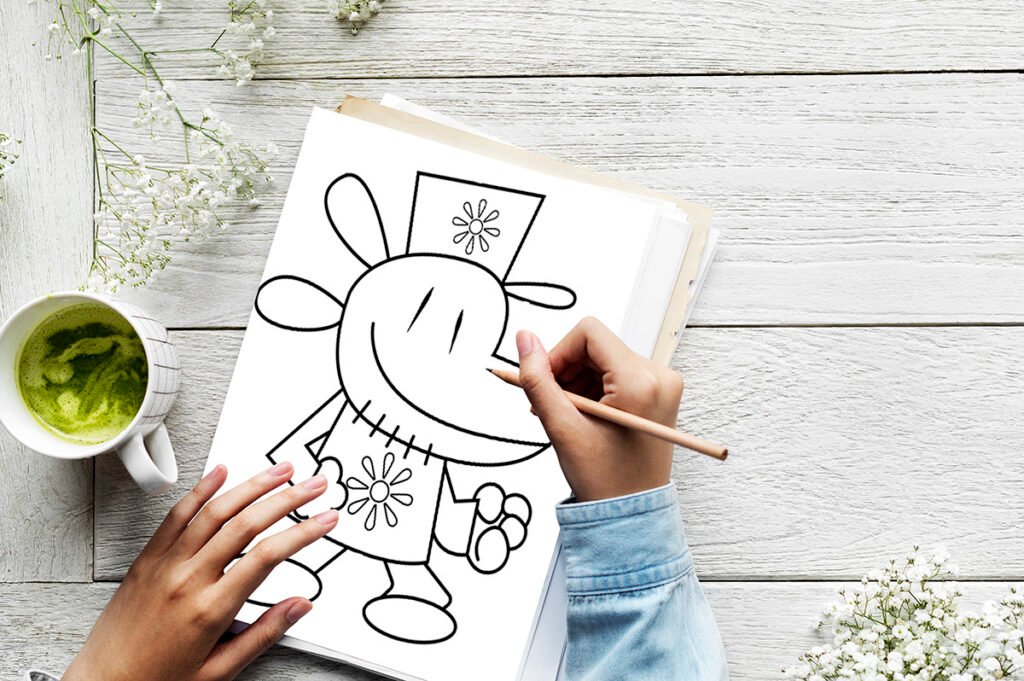 Are you ready for some crime-fighting action? Come and join Dog Man on this coloring page! His winsome smile doesn't hide the fact that he's more than prepared to battle evil. Set your coloring utensils and invite your friend as you print this coloring page! You can brainstorm your favorite Dog Man scenes, filling the room with fun and laughter!
Confident Dog Man Coloring Page
When talking about confidence, Dog Man is never far behind! Come and take a look at his stance on this coloring page! Dog Man wears a smile on his face while his hands are on his waist. A classic way for superheroes to announce their power and authority! Like Dog Man, you also can color this page with confidence. Download it first to get started!
Dog Man with Friends Coloring Page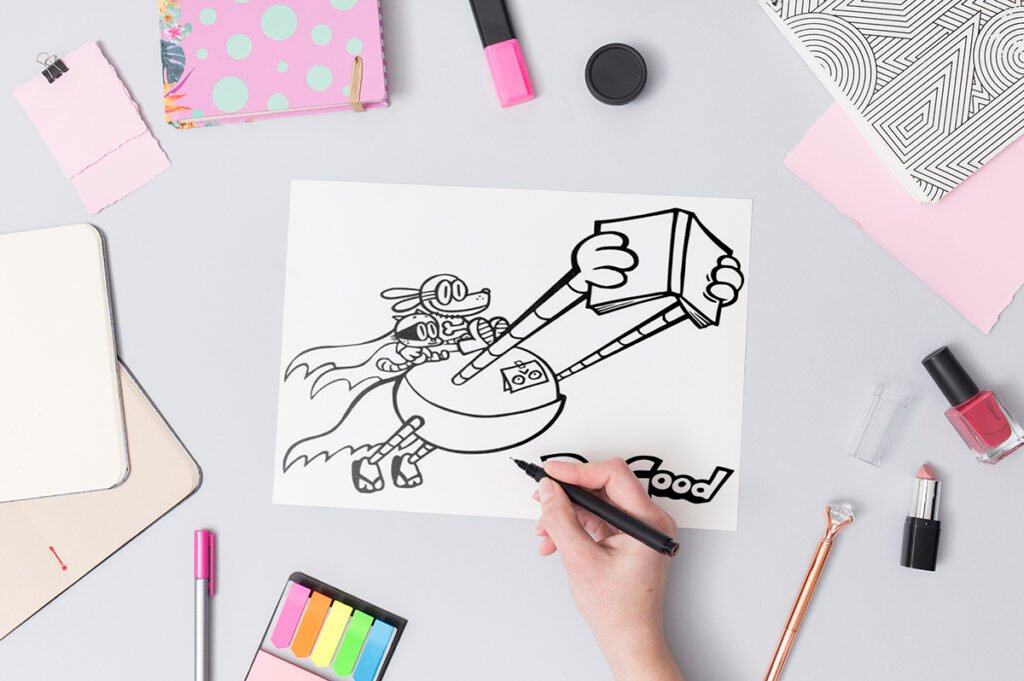 Any activity can be more entertaining with friends to share the fun and laughter! Dog Man and his friends prove such a statement through this coloring page. This superhero squad sets forth to fight evil, relying on each other for power and strength. Enjoy such companionship with your friends as you color this illustration!
Dog Man Coloring Pages Conclusion
Good elements of humor followed by coloring entertainment—that's what our compilation of Dog Man Coloring Pages offers! There are many options to choose from, so children of all ages and anyone who enjoys childish comicness will have fun coloring these illustrations. Dog Man, the crime fighter, waits for you to download any from our collection, so don't hesitate to get a copy of your favorite today!
We also have a collection of Waterfall coloring pages that you can check if you are looking for other coloring pages to try.