Humans are, no doubt, innately attracted to nature, especially in its raw form. The natural world has become a great source of inspiration for many. Moreover, it's even a healing space for people searching for refreshment and solace! For example, we find ourselves usually happier around waterfalls. They're wonderfully serene, genuinely attractive, and a soothing sight to behold after long days of work. Hence, if you're looking for a coloring book page to free your mind of worries yet boost your imaginative character, a waterfall coloring page is what you need!
Here at the Coloring Kingdom, we have a compilation of waterfall coloring pages that will unleash your creativity as you relax with the beauty of nature in its art form!
Mandala Waterfall Coloring Page
Combine the trendy mandala with the elegant features of the waterfall, and achieve a relaxing piece to color anytime! Perfect for kids and adults, this coloring page displays a vision of a waterfall in the form of detailed geometric patterns. It's a coloring page offering a way for users to reflect and relax their minds. Make it yours or give it as a gift now!
Waterfall and Stream Coloring Page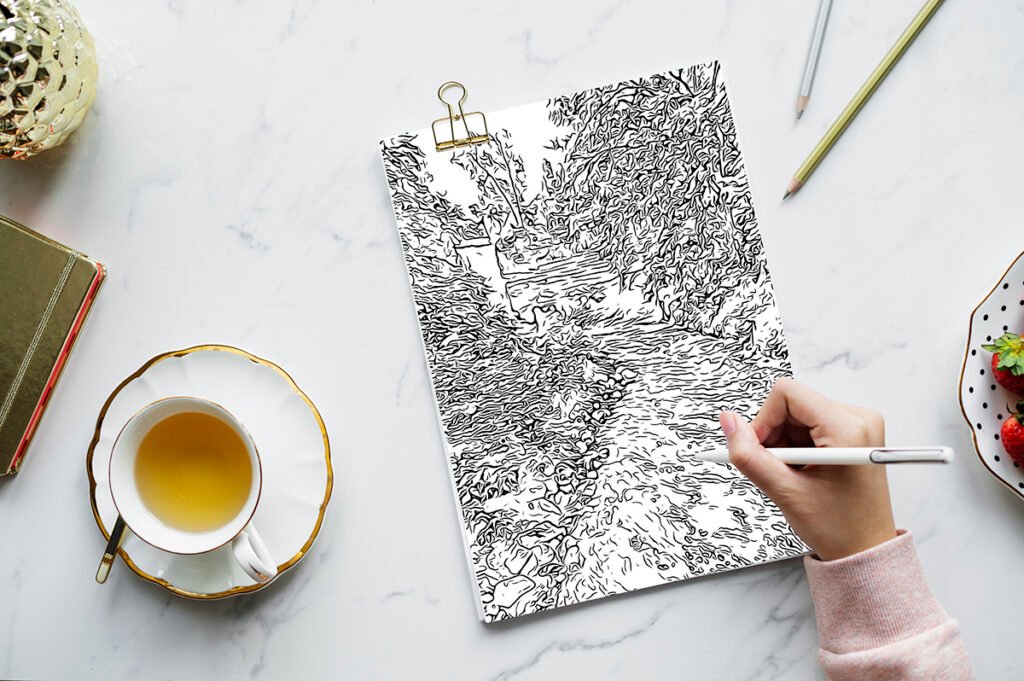 Unleash your creativity through this intricate coloring page. It captures the beauty of a waterfall in the woods, the water flowing in between the rocky edges. The geological wonder brought by the waterfall and stream looks perfect when completed with color, so give it a shot and hit the download button!
Oregon Waterfall Coloring Page
The Columbia River Gorge in Oregon boasts its beauty through this adult coloring page. A waterfall spills elegantly from a distance, while the stillness of the water displays the rocky streambed. It's a scene hand drawn from an artist's photograph, giving users the ability to show their creativity by coloring the lifelike details.
Hanging Lake Waterfall in Colorado
An adult coloring page illustrating the Hanging Lake in Colorado is what you need to keep your mind busy yet relaxed at the same time! The graceful flow of the hanging waterfall ends as streaming water, clear enough to showcase the streambed and the roots of the trees on the side. Allow yourself to visit this picturesque scenery by bringing its colors to life!
Nature Waterfall Coloring Page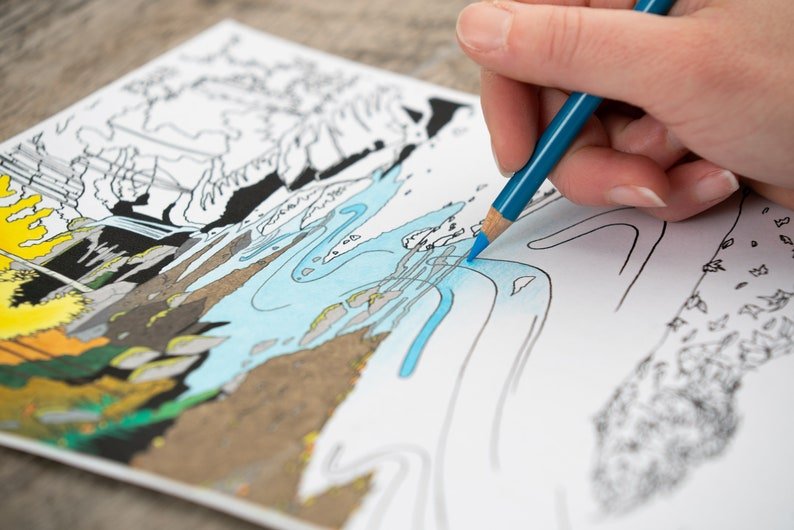 Immerse yourself in the beauty of nature through this adult coloring page of a waterfall and a stream! It's a hand-drawn illustration of a waterfall during the fall in Wisconsin, with the stream meandering through the woody borders. Use the autumn colors to liven up this coloring page, or mix different color schemes to achieve your desired results!
Waterfall and Lake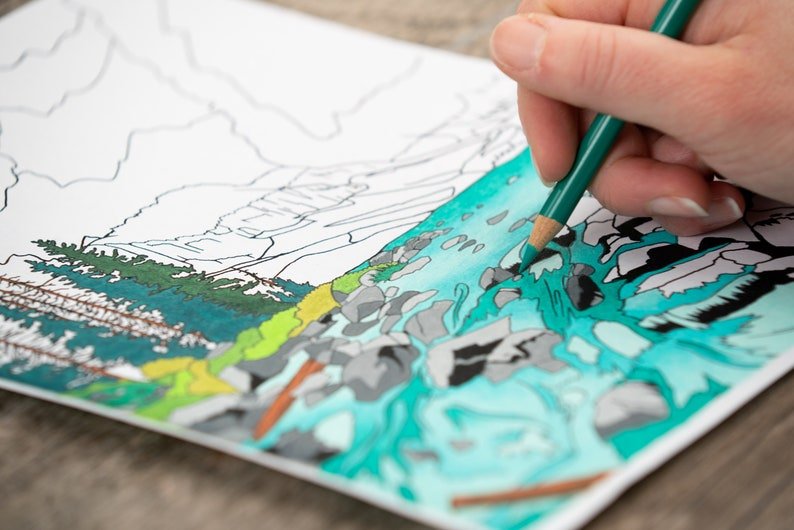 Coloring pages offer a great creative resource to keep anyone busy! For example, this coloring page features a waterfall and a lake below the mountains based on a photograph captured in Wyoming. From the rocky streambed to the clouds descending, this detailed illustration is an idle way to consume time and develop creativity!
Waterfall Mill Coloring Page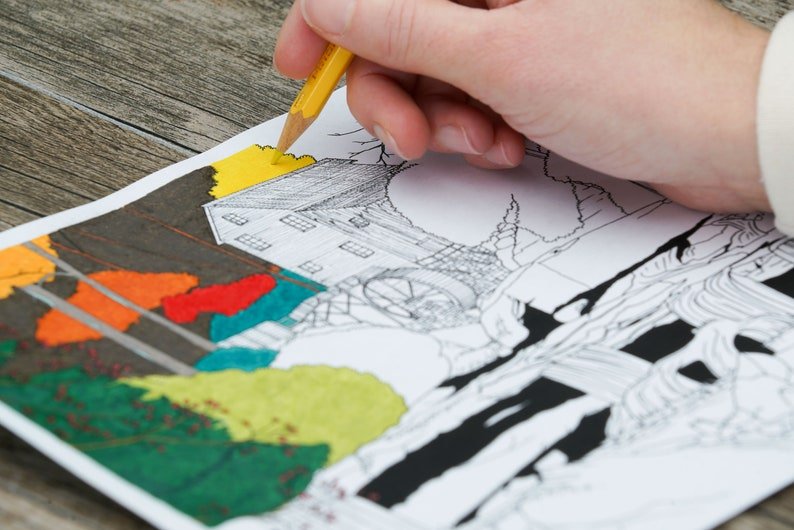 An adult coloring page that will develop your focus, concentration, and imagination, that's what this is all about! It displays the beauty of nature in the form of a waterfall, along with an old grist mill on top. The lines and shapes depicted in this illustration showed the graceful features of the waterfall. Based on a photograph taken in the mountains of West Virginia, have fun adding colors to this page!
Forest Waterfall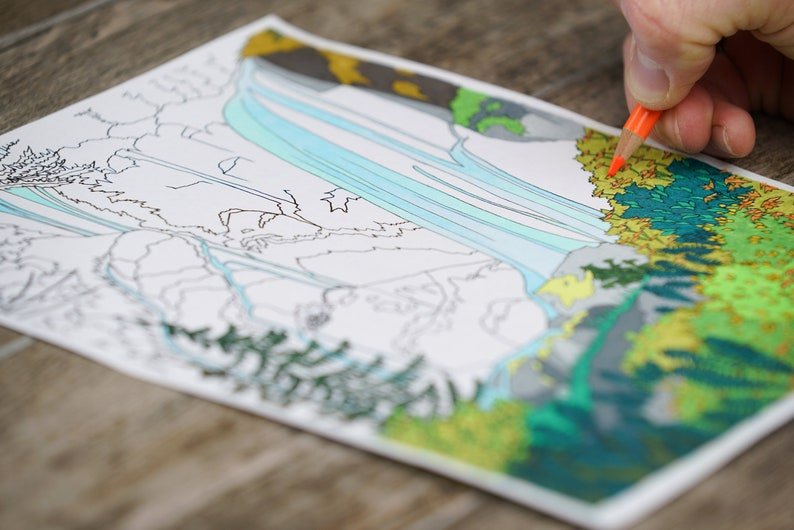 Uncover the beauty of this waterfall in the forest by coloring its details! It's a coloring page that shows the streams filled with meltwater sometime in Washington, a hidden marvel surrounded by the luscious green foliage of the trees in the forest. Use the different shades of blue and green to bring this waterfall to life, or use your imagination and incorporate different colors instead!
Waterfall Mermaid
Mermaids are captivating creatures usually tied to water, such as the waterfall on this coloring page! It's a ready-to-print page displaying the untouchable charm of a mermaid lying on a big piece of rock, with the waterfall flowing behind. Enjoy coloring the intricate points of this artwork using your pens or crayons, and watch this scenery come to life.
Waterfall Castle Garden Coloring Book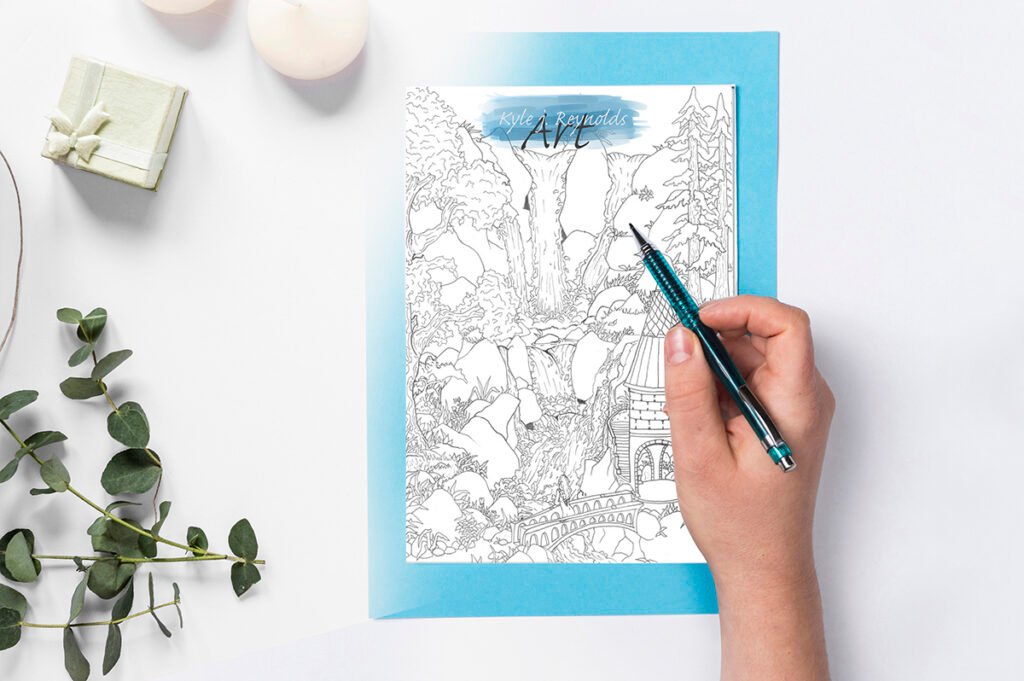 The breathtaking view of this coloring page will make you want to color it! Just like the lady standing on the bridge, you'll love the outcome of this artwork once you've added the colors to the garden, waterfall, and nature-related details on the side. The rocks, grass, and active water flowing give it a realistic touch. It's the perfect page for anyone who'd like to keep themselves busy yet relaxed!
Waterfall Fairy Home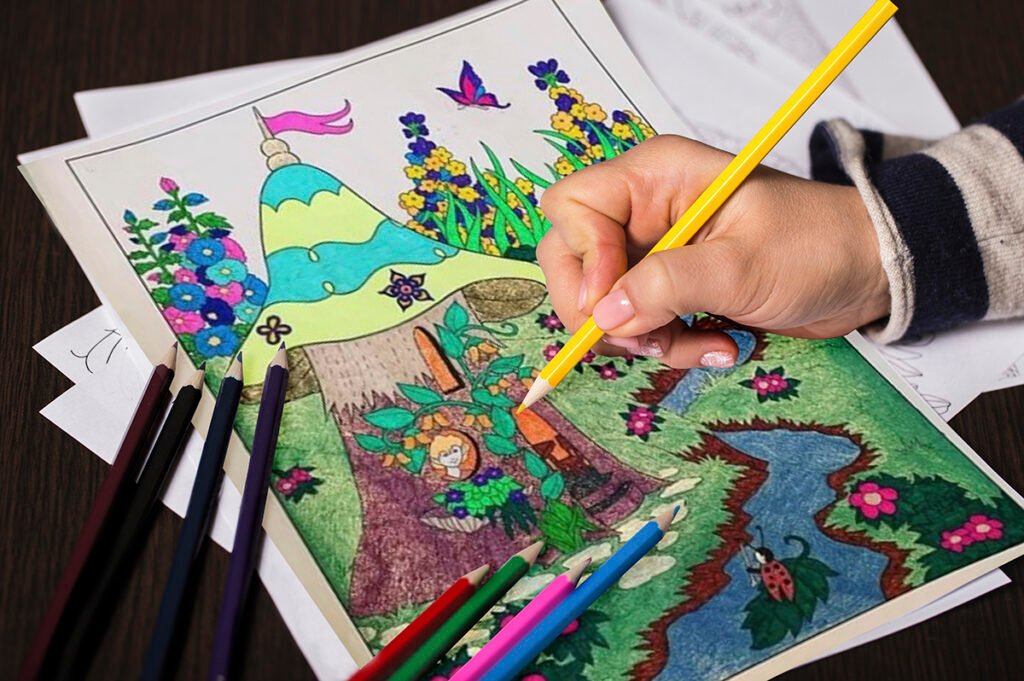 Have fun coloring this fantasy-themed coloring page, available for all ages! The scene depicts a fairyland beside a waterfall flowing through the narrow stream, with flowers filling the area. Visualize the enchanting view and add your favorite colors to each detail, including the fairy peaking from the mushroom-like house and the ladybug drifting through the leaf in the stream!
Grayscale Waterfall Coloring Page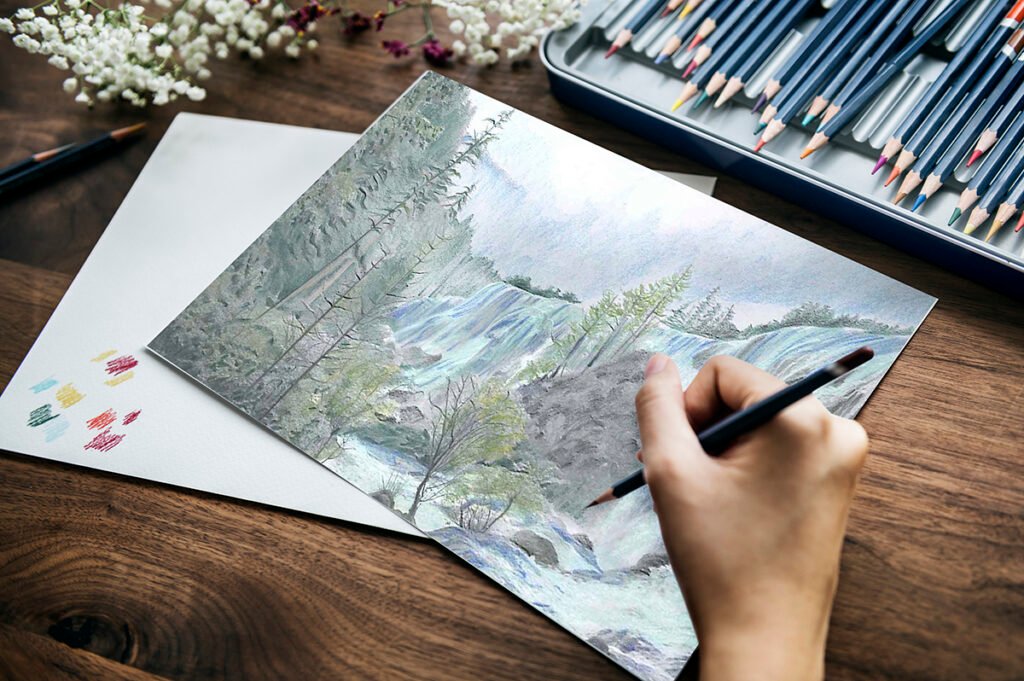 Bring this grayscale coloring page to life by adding your preferred colors! The beauty of the waterfall landscape in this illustration emerges as you color its details. What makes it even better is the cloudy top, forest trees, and rocky stream make it a highly realistic coloring page waiting for its glamour to unfold!
Hand-Drawn Tropical Waterfall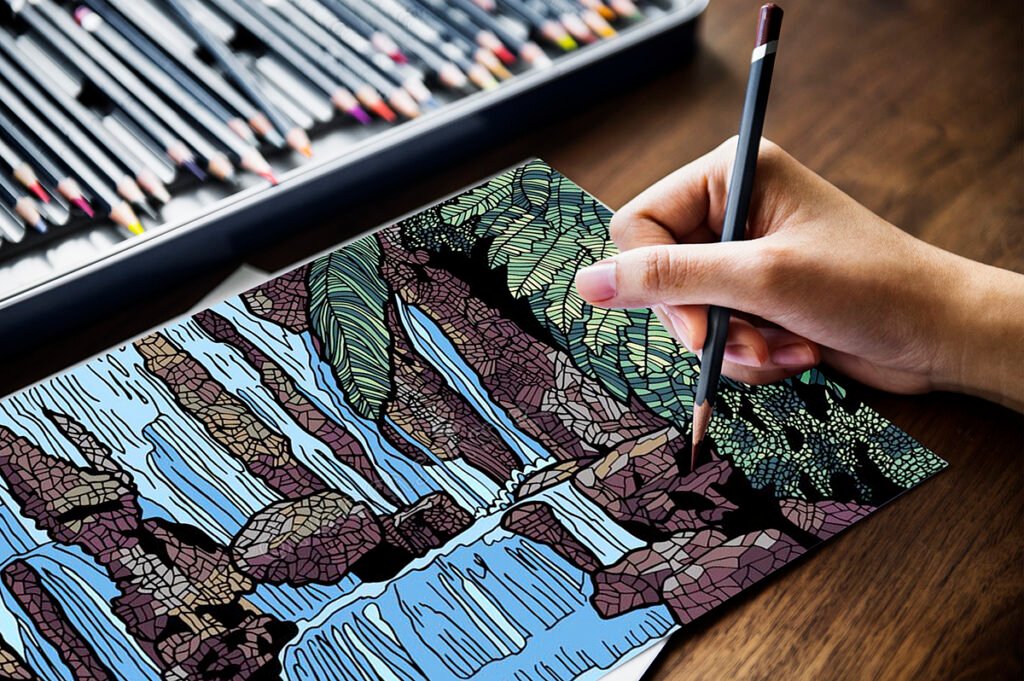 Explore the tropics through this hand-drawn coloring page! It features a tropical landscape completed with a waterfall dropping in a tiered manner. The illustration used a combination of lines and shapes to form the rocks, trees, and series of waterfalls, resulting in a unique coloring page that's easy and relaxing to fill with color.
Fantasy-Themed Waterfall Coloring Page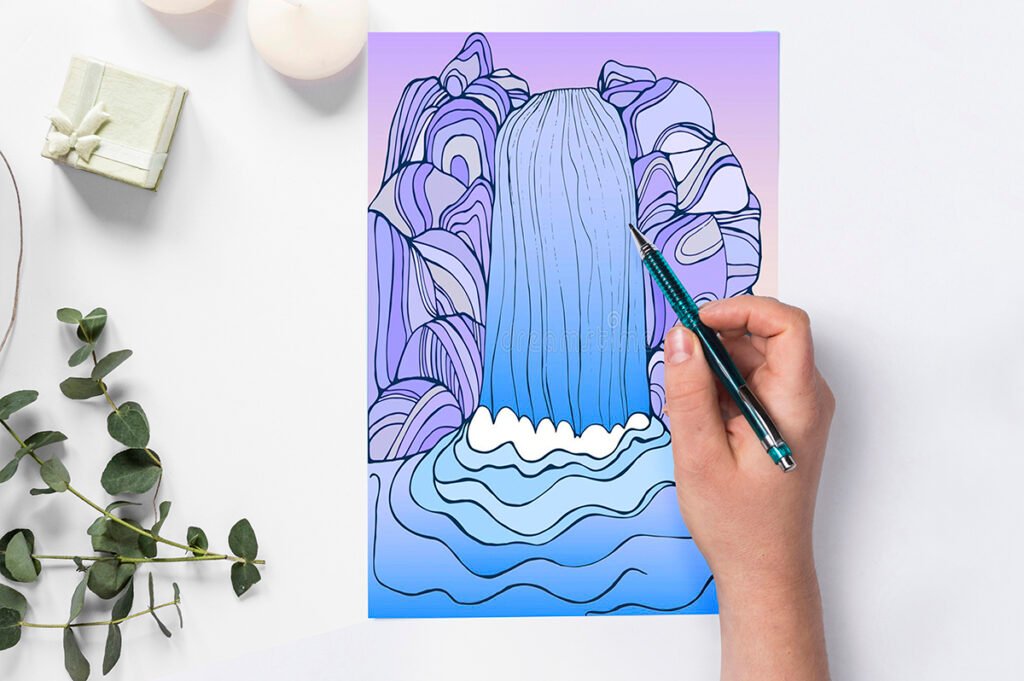 If you're looking for a fun and stress-relieving way to keep yourself busy, try this fantastic-looking waterfall coloring page. It's an illustration consisting of isolated patterns, forming a cartoon waterfall in between decorative stones. The image is also fantasy-themed, with the fairytale-like nature concept becoming visible as colors fill its details.
Natural Waterfall
Immerse yourself in making this natural waterfall illustration a coloring page! The cliff, small tree, and enormous water-dropping with the sun beaming behind keep this page mesmerizing, especially when colored. Have it printed in black and white, or trace its details, fill it with color, and unfold the precious beauty it holds.
Forest Waterfall with Mermaid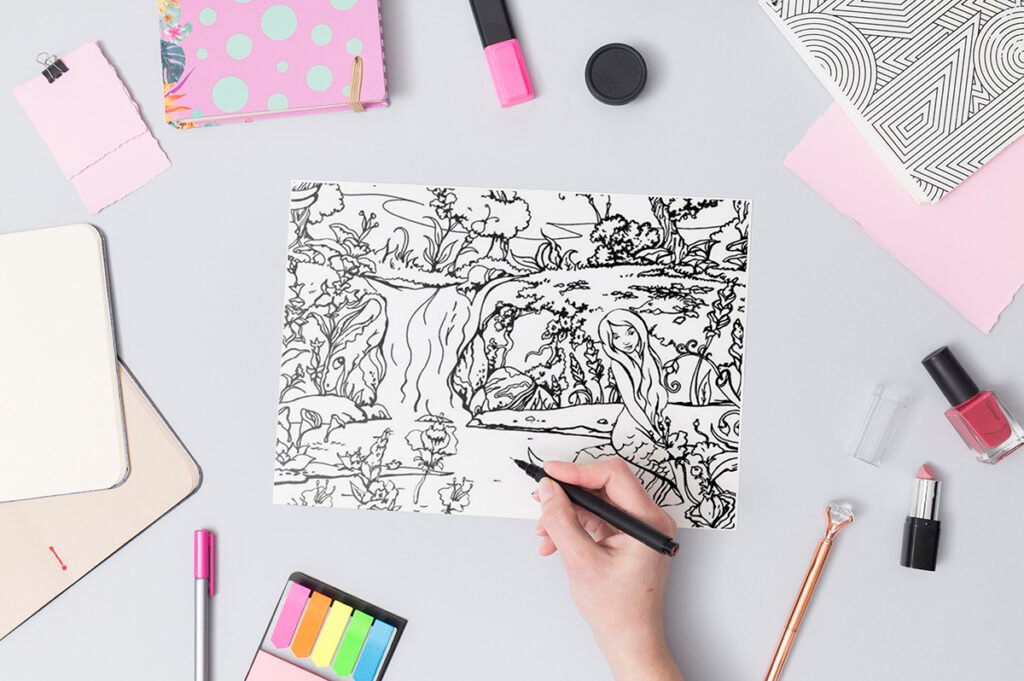 If you're searching for a coloring page that's intricate and enchanting, this forest waterfall illustration ought to do the trick. It features a combination of mystical and unusual beings, such as the mermaid sitting nearby the stream filled with water poured from the cascade. Once filled with color, this printable coloring page assures a stunning final result!
Nature Waterfall with Rock Formations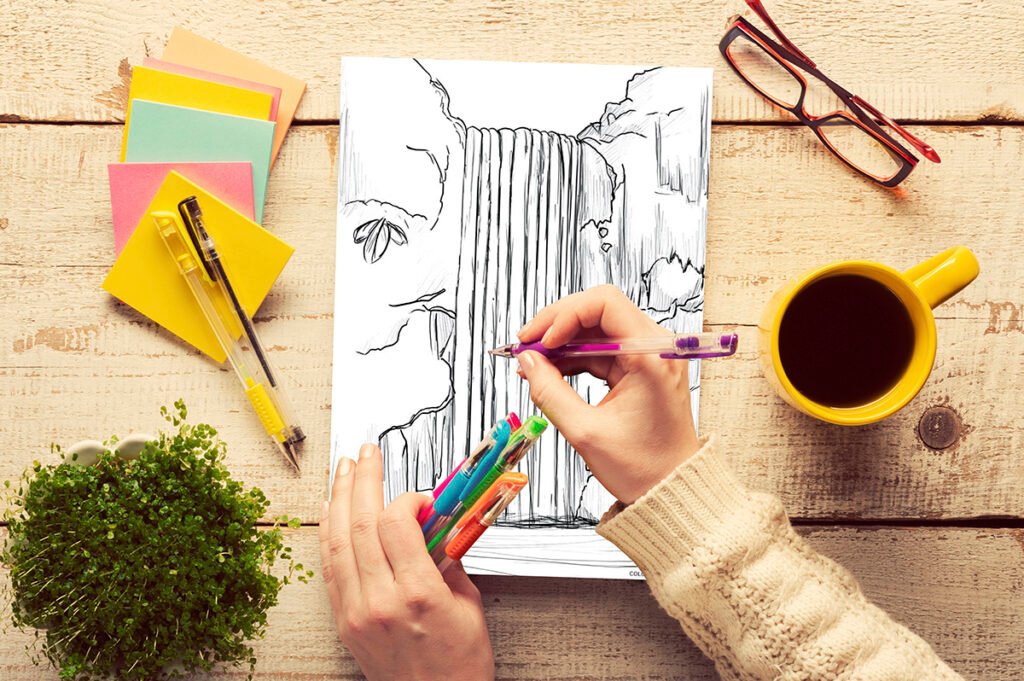 Nothing is quite as breathtaking as the view of a waterfall! The water descending in between rock formations as it forms the stream below already feels refreshing at sight, just like the illustration in this coloring page. The curved and straight lines and subtle shading display a rough representation of the waterfall, and adding color to the image will complete the look.
Waterfall with Big Rock Formations
Are you looking for a coloring page that will bring you closer to nature? Check out this waterfall coloring page! The water dropping from the crest line splashes as it reaches the pool below, making it the perfect illustration for practicing shading. The rock formations make the scene even more compelling, so grab your desired palette and start filling in the colors!
Tropical Waterfall Coloring Page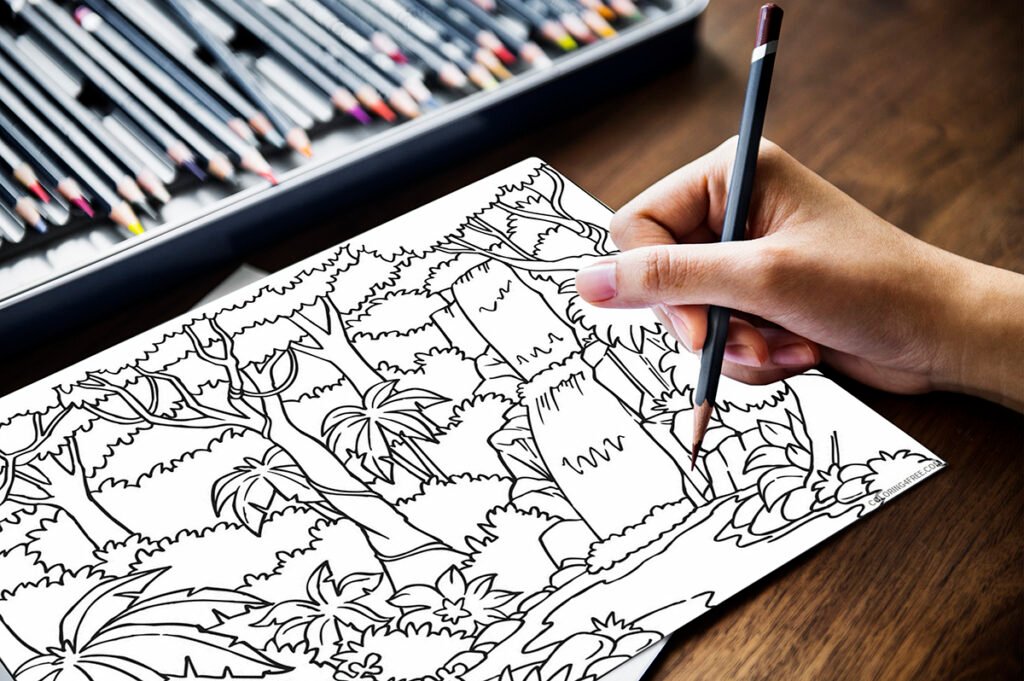 Here's a coloring page that adults and kids will enjoy! The illustration itself displays the beauty of nature, starting from the waterfall as it surges down to the trees surrounding the landscape. Feel the tropical vibe as you fulfill the spaces with the color of your liking. Astonishing results, guaranteed!
Nature, Waterfall Coloring Page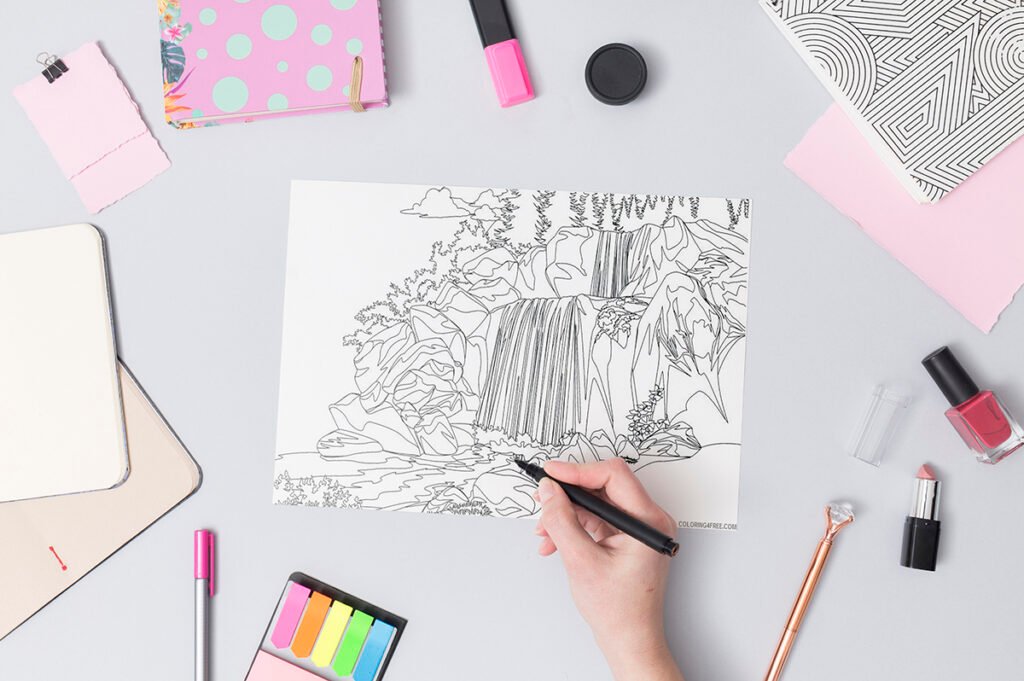 Whether you're looking for a coloring page to consume time or start a hobby, this illustration is perfect for your needs! Get engrossed and watch its beauty unfold as you incorporate a spectrum of colors into its details. The page features a waterfall, abstract-shaped rocks, and trees so artistic that you wouldn't just enjoy filling its features, but its results too!
Nature Waterfall Landscape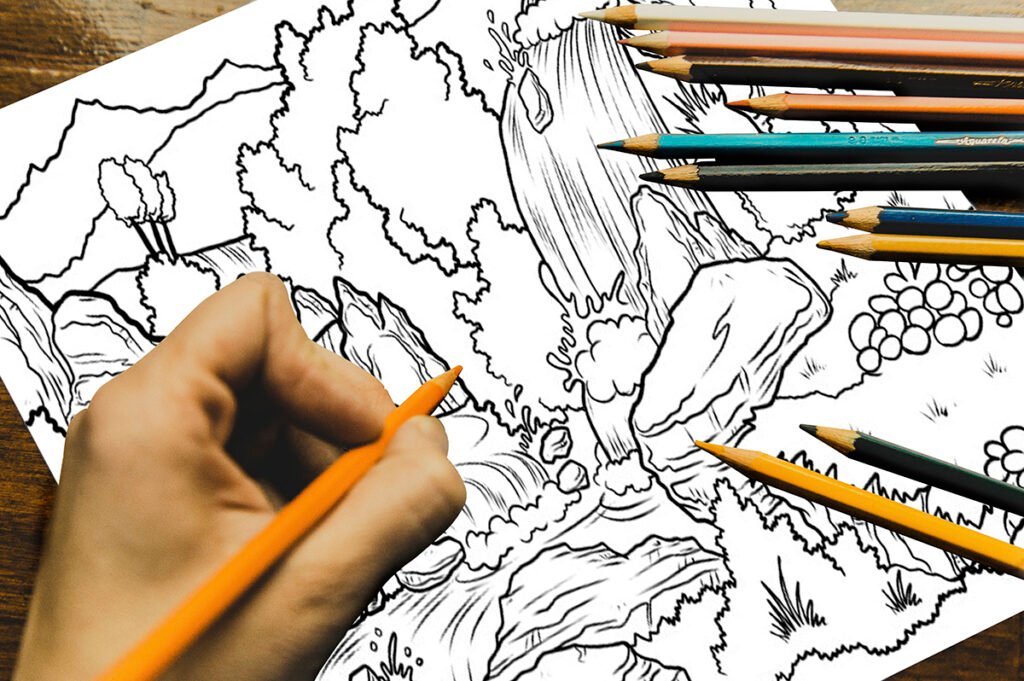 This waterfall coloring page is an excellent choice for anyone who wants to spend time relaxing while developing their creativity and focus. It's an illustration created with attention to detail, evident with the series of waterfalls, trees, mountains, and rocks in the area. Get a copy of this coloring page and let your creativity take over!
Adults and Kids Waterfall Coloring Page
Elegant and dashing—that's two words to explain this waterfall coloring page! The trees' leaves use different shapes and sizes, and the water surges down with grace. There were also animals in the area, giving it a realistic touch of nature. It's a brilliant illustration to practice one's creativity and imagination, so why not give it a try now?
Hippo and Waterfall Coloring Page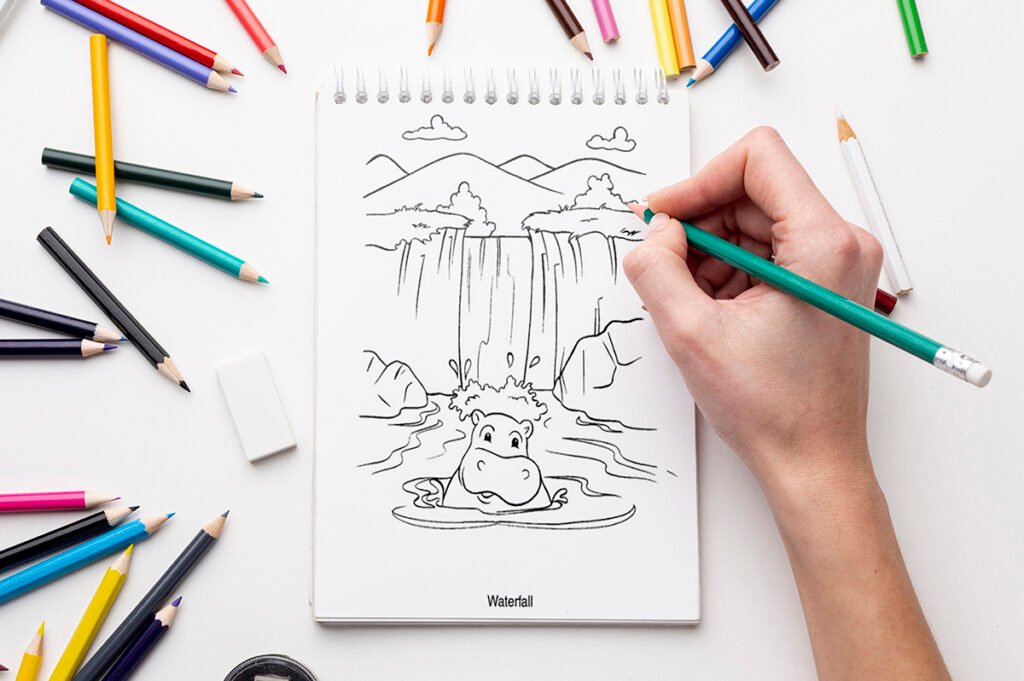 Nothing brings more joy than breathing life to this coloring page! The hippo bathing in the pool under a river cascade looks refreshing, especially when filled with shades of blue. The landscape from afar draws you in, so pack each element with the color of your liking and achieve satisfying results!
Waterfall View Coloring Page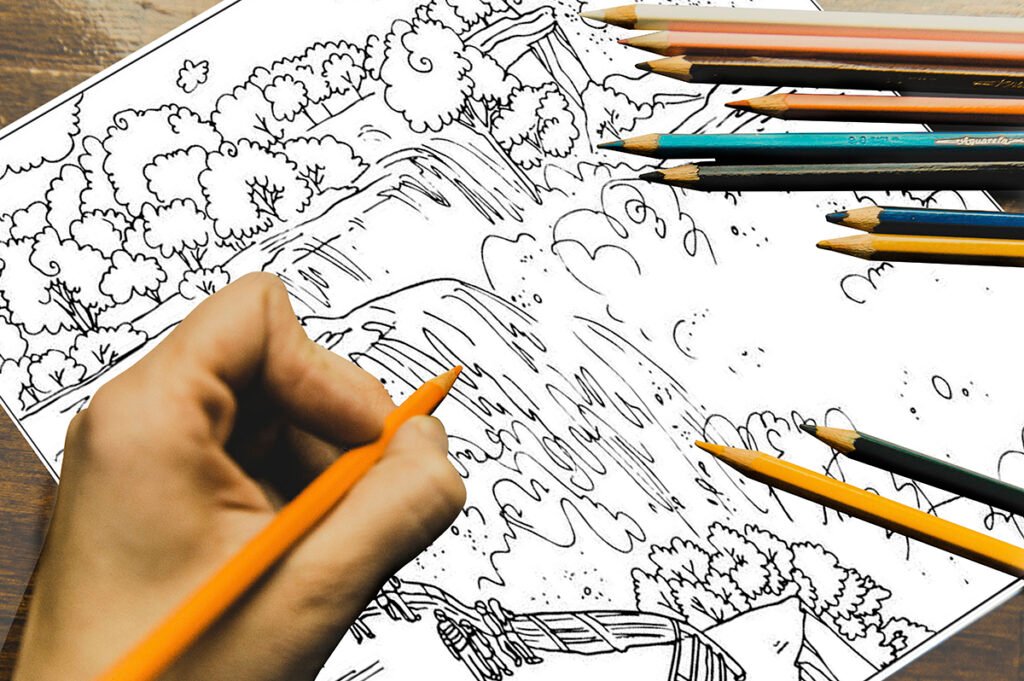 A waterfall coloring page packed with lines and shapes, this illustration visualizes the beauty of nature. Much like most tourist attractions, the waterfall in this image draws the attention of many people. Fill in the colors of the trees, water splashes, and clouds above, and allow yourself to designate a color to the shirt of each individual on the page!
Waterfall with Rainbow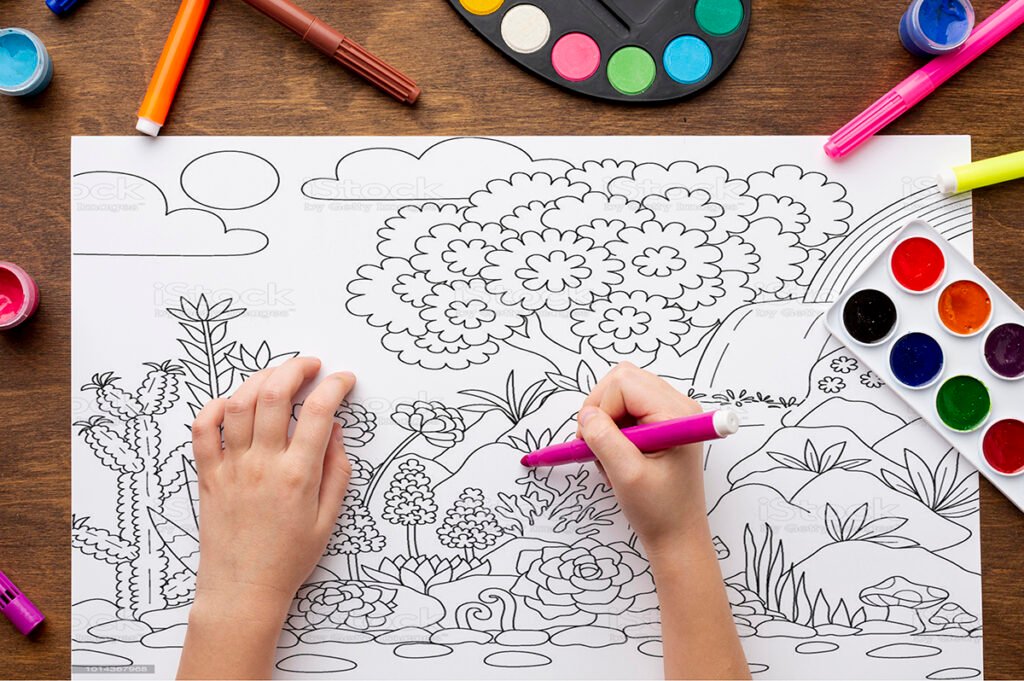 There's nothing like the simplicity of this waterfall and rainbow illustration. The neat and precise line art depicted the beauty of nature in its raw form. Moreover, the lovely living things surrounding the waterfall make it inviting for anyone looking for a coloring book page. Enjoy adding your preferred colors to each detail, and watch as it comes to life!
Landscape Waterfall Coloring Page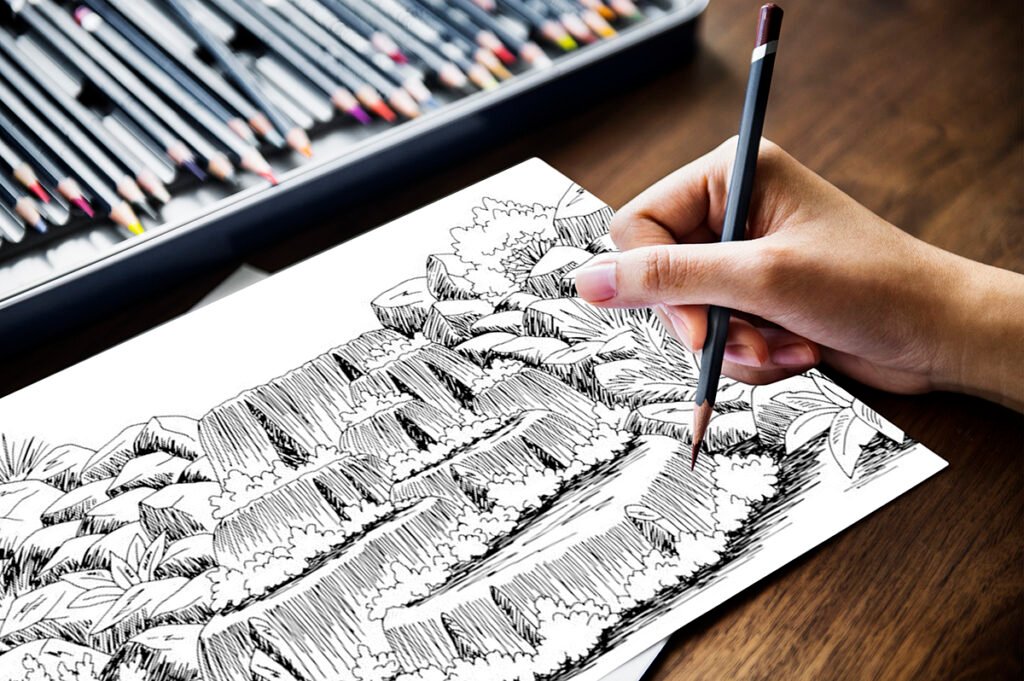 If you're searching for a sketch illustration of a waterfall, here's the perfect image for you! It displays a series of waterfalls actively flowing, with rocks and plants on the side for a realistic look. It's a black and white graphic that transforms into a coloring book page depending on its user, so if that's what you exactly need, grab a copy now.
River Waterfall Coloring Page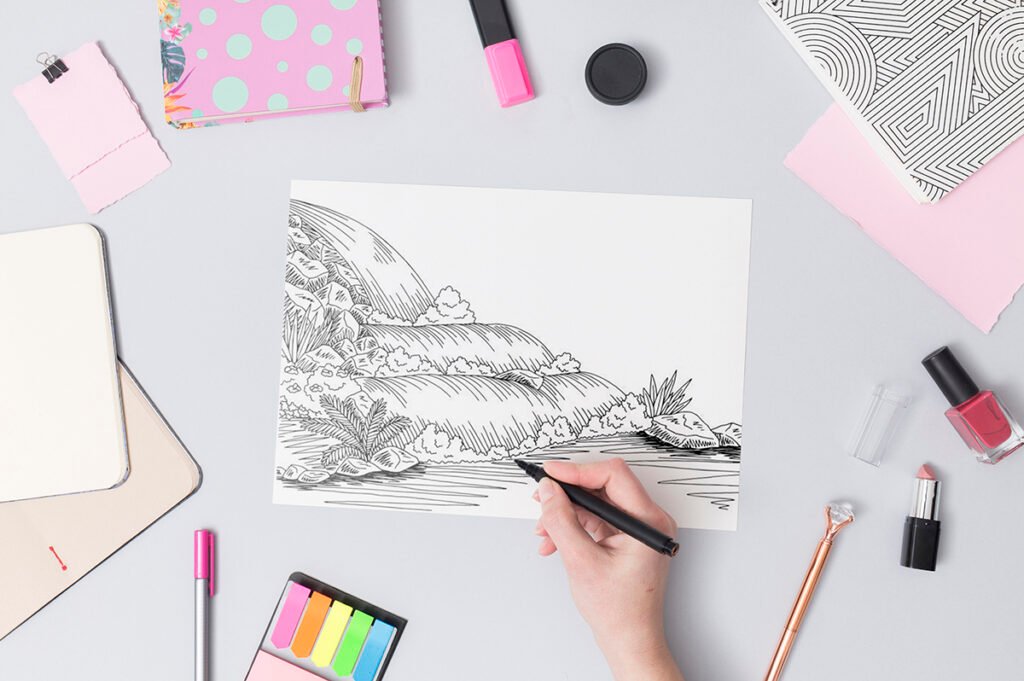 Pull yourself into a relaxing time with this sketch illustration of a waterfall! It's a black and white image that works well as a coloring page, perfect for anyone who wants to spend some time doing an activity that's fun and worthwhile. The descending water from the waterfall looks complete with shades of blue, but feel free to let your creativity take over as you color each feature!
Waterfall Scene Coloring Page for Adults and Kids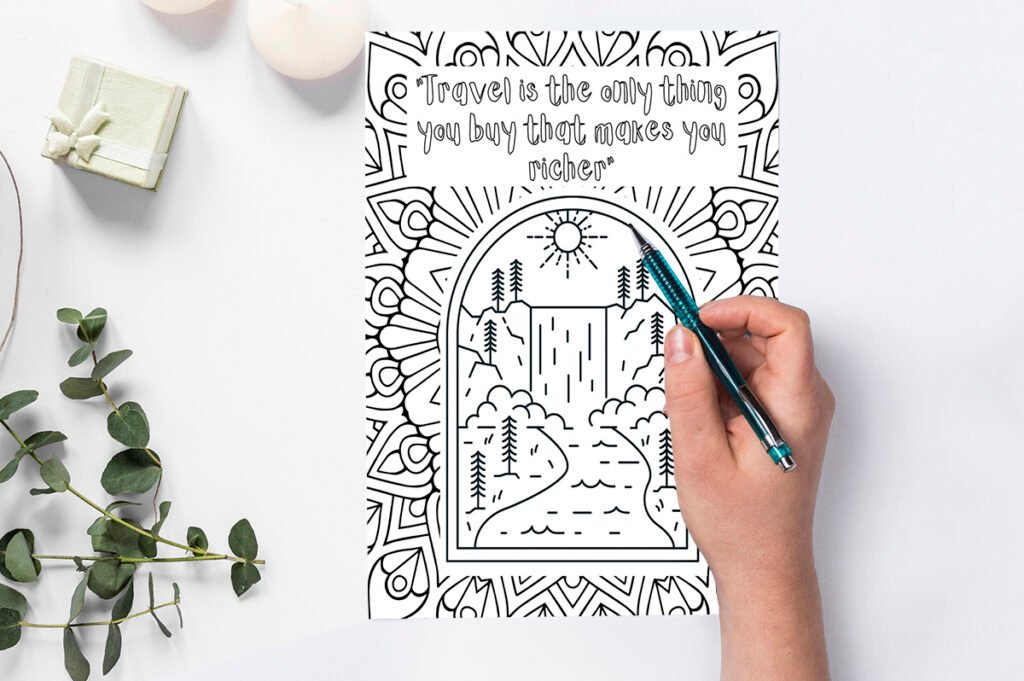 The combination of patterns, lines, and shapes makes this coloring page ideal for adults and kids who love mandala-inspired illustrations. The centerpiece displays a glimpse of a simple waterfall. There's also a travel quote just above the image of a waterfall, so if you want to get inspired as you color the page, this is the perfect one for you!
Jungle Forest Waterfall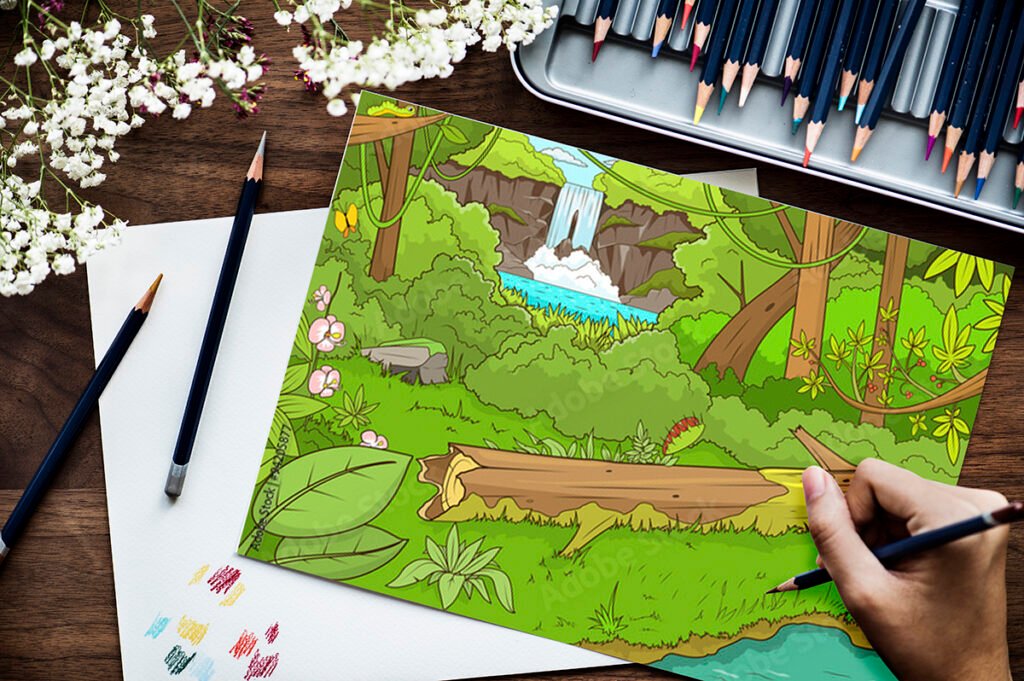 Are you ready to venture into a jungle? This waterfall coloring book portrays a usual setting in the wilderness, and from afar, a waterfall peeks through the bushes. If you're into complex illustrations or looking to challenge your imagination, this image provides just what you need. All it takes is just a click on the download button!
Anti-Stress Waterfall Coloring Page
Don't be intimidated nor overwhelmed with this waterfall coloring page! The waterfall, trees, and land display the Zentangle method of creating images. For example, it involves drawing structured patterns through shapes and lines. It offers a creative way for children and adults to fill in the colors of the waterfall, rocks, and trees. Grab your color palette and start running your imagination!
Waterfall Coloring Page Conclusion
Relax, refresh, and enjoy your time with our collection of waterfall coloring pages! It's the compilation perfect for whatever activity you're doing, may it be a hobby or a way for you to spend your free time. Choose your favorite, then hit the download button to begin your creative process!
We also have a collection of Hello Kitty coloring books that you can check if you are looking for other coloring pages or books to try.