When it comes to movies or television shows, audiences often despise the villains. However, this isn't the case for Joker. Over the years, the Joker somewhat consistently became the favorite antagonist of many. His psychotic killing spree and chaotic intent should have been a turn-off, but it seems like this even sparked the public's interest. He's undeniably one of the most recognizable and greatest supervillains of all time, an iconic fictional character who's unique and intriguing to watch. Apart from his idiosyncrasy and high intelligence, his appearance also contributed to his popularity. It's obvious, seeing how many choose to wear his makeup and suit at many costume parties. That doesn't end there! He also stands out in the coloring world. The Coloring Kingdom even made a collection to answer your search for a Joker Coloring Page!
Check out any Joker Coloring Page from our compilation! There's always something for the family, so continue scrolling to see more.
Scary Joker Coloring Page
A scary Joker stares intently back at you on this coloring page. Don't let him intimidate you! After all, this is a coloring page with you in control. There's also a joker card right behind him, complementing his villain look and actions. Get ready to face this vigilante with your coloring tools, creativity, and confidence!
Lego Joker
Joker's lego version doesn't get left behind when it comes to acts of villainy. Take this coloring page as an example! It seems like he's out to perform his violent ways, even holding guns on both hands. Good thing he only exists in the fictional world! That's even better for you because you can meet him at peace once you color this illustration.
Joker from the Dark Knight Coloring Page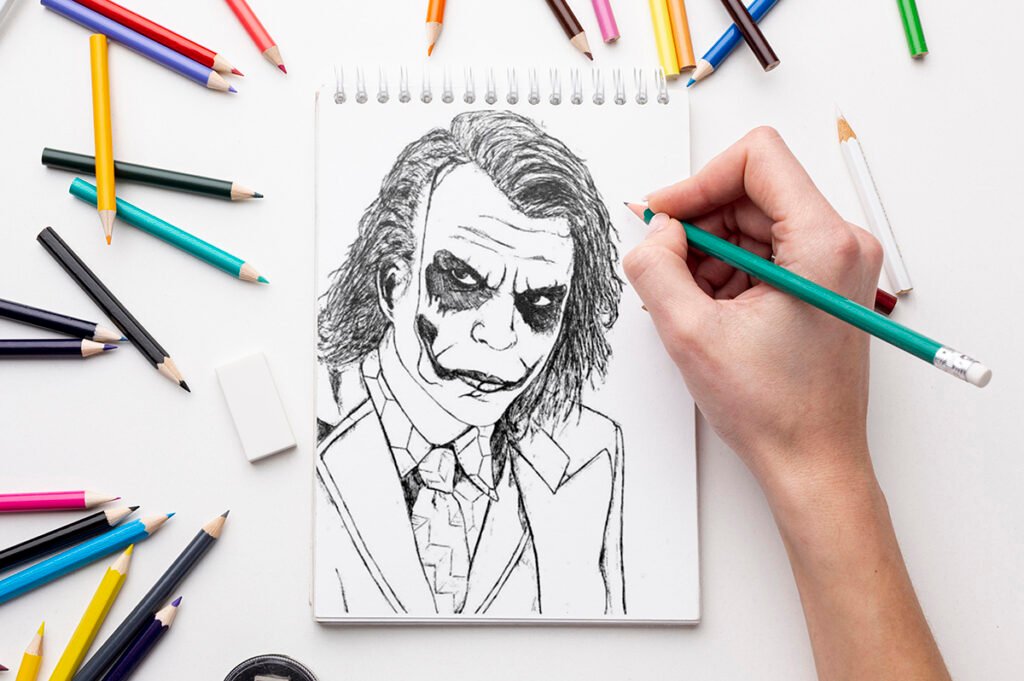 Many Batman-featured films and television shows often include the Joker as the antagonist. One of those was the 2008 superhero movie, The Dark Knight, which inspired this coloring page! As you can see, it portrays a sketch-like illustration of the Joker in black and white. It's up to you to add color to this coloring page, making sure to keep the colors in line with the Joker's nature.
Smiling Joker and Harley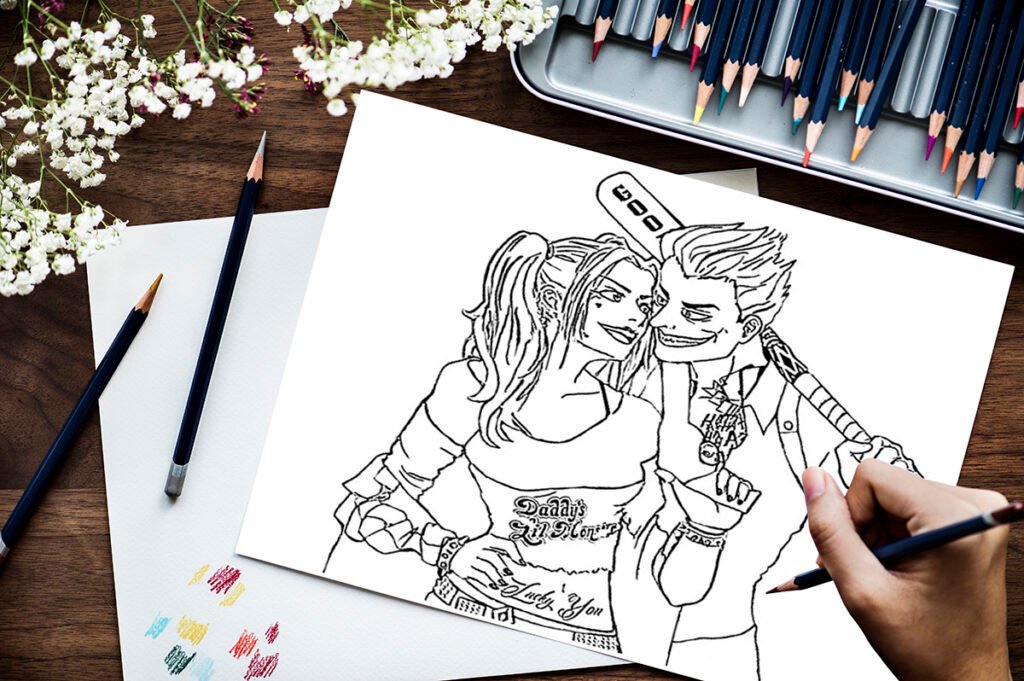 Apart from his popularity as Batman's arch-nemesis, Joker also gained fame as Harley Quinn's manipulative love interest. Despite the Joker's vile nature, they seem to have fun with each other's company on this coloring page! All smiles, the duo appears ready to create chaos, as prepared as you who's out to download and color this illustration.
Joker from DC Comics Coloring Page
Here's a coloring page featuring the mini version of Joker from DC Comics. It's an intimidating yet intriguing illustration that many DC fans and casual viewers will enjoy. The details are well-defined, making it easy for all ages to stay within the lines. Grab your favorite coloring tools to start the fun with another fan or beloved one!
Joker Arthur Fleck
Does this coloring page look creepy to you? Don't worry! It's partly because of its black and white nature. Once you get your hands to color this Joker illustration, you'll find a masterpiece crafted by the artist in you. It also doubles as a poster, something you can display on your wall afterward.
Crazy Joker Coloring Page
Crazy and unpredictable—these two words aren't enough to describe the Joker on this coloring page! He oddly makes his way, holding a cane with both arms. Firmly grasp your coloring utensils as you fill this illustration with the colors that fit the theme. Print a copy of this coloring page first to begin!
Scary Joker Holding a Card
Holding a joker card on this coloring page is the Joker himself, a scary look depicted on his face as he laughs. Can you figure out what's happening in this illustration? Whether he's taunting someone or enjoying the fun by himself, it's up to your active imagination to envision the event taking place. While doing so, fill the spaces with the colors you prefer or anything that matches the Joker's nature.
Joker in the City Coloring Page
Supervillain Joker grins as he gazes over the city under the night sky. You'll see Batman's signal on this coloring page, and the Joker seems pleased to wait for his nemesis' arrival. What chaos did he cause this time? It's up to you to imagine that as you fill this illustration with various colors.
Cartoon Joker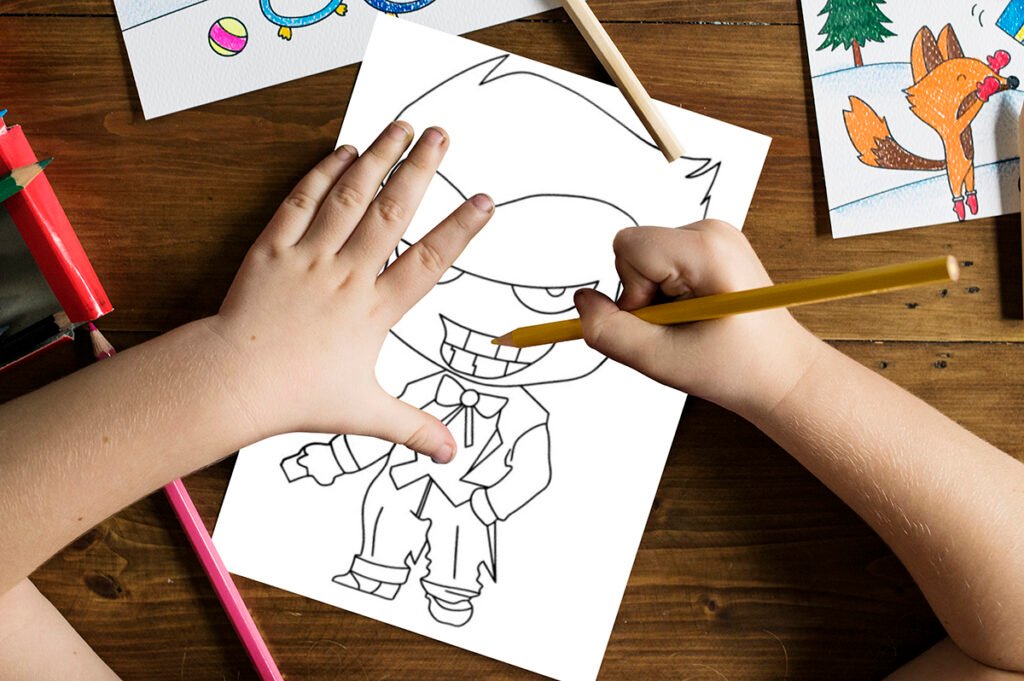 Are you looking for an easy-to-color coloring page for yourself or a young one? You came in time for this cartoon Joker coloring page! The well-defined lines will help you color this coloring page's respective details, keeping you focused on your soon-to-be masterpiece. Secure a copy of this coloring page to achieve its full benefits!
Chibi Joker with Harley Coloring Page
This coloring page features the chaotic duo, Joker and Harley, in their chibi form. Their smaller version looks less intimidating than their usual selves, and that makes them exciting to color on this illustration. Harley's got her hammer the same way you have your coloring tools, so don't hesitate to download and color this image the moment you laid your eyes on it.
Joker Takes off His Mask
Behind the funny-looking mask on this coloring page lies a conniving vigilante who mercilessly causes harm and chaos. His acts of villainy may disgust you, but don't let it stop you from taking part in coloring this illustration! Make the mask's colors far different from the ones you'll use on his face to make a distinction between his masked personality and his true self!
Batman Catching Joker Coloring Page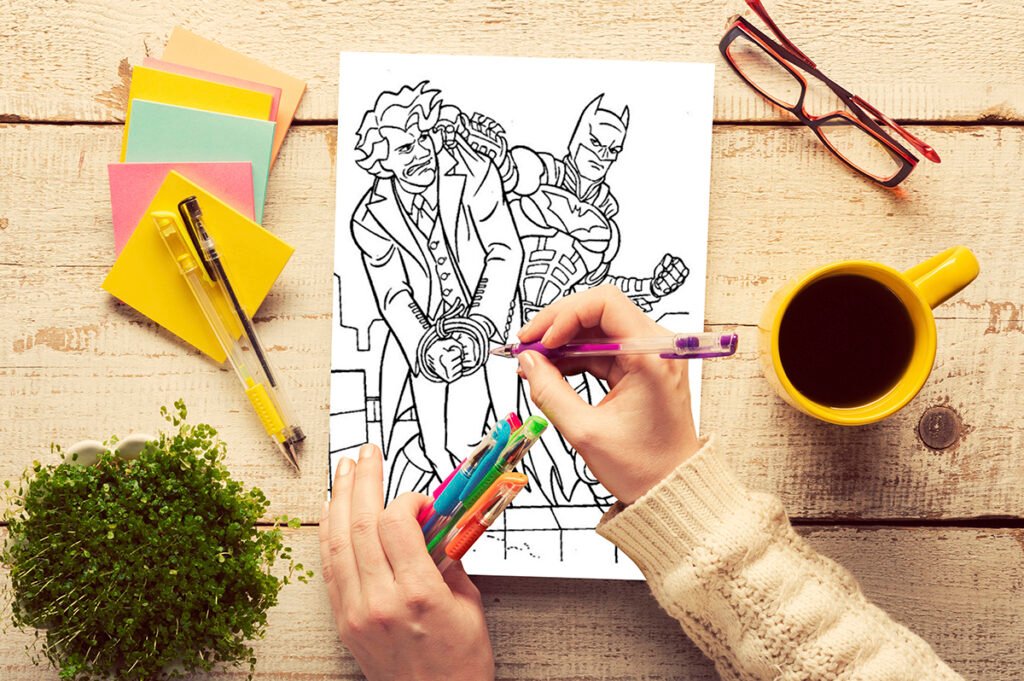 Another triumph for Batman! On this coloring page, you'll find him catching the Joker, arms tied by a rope. The good won this time, but the Joker most likely will escape and continue his evil ways again. For now, delight in Batman's victory as you fill this coloring page with the colors you like.
Running Joker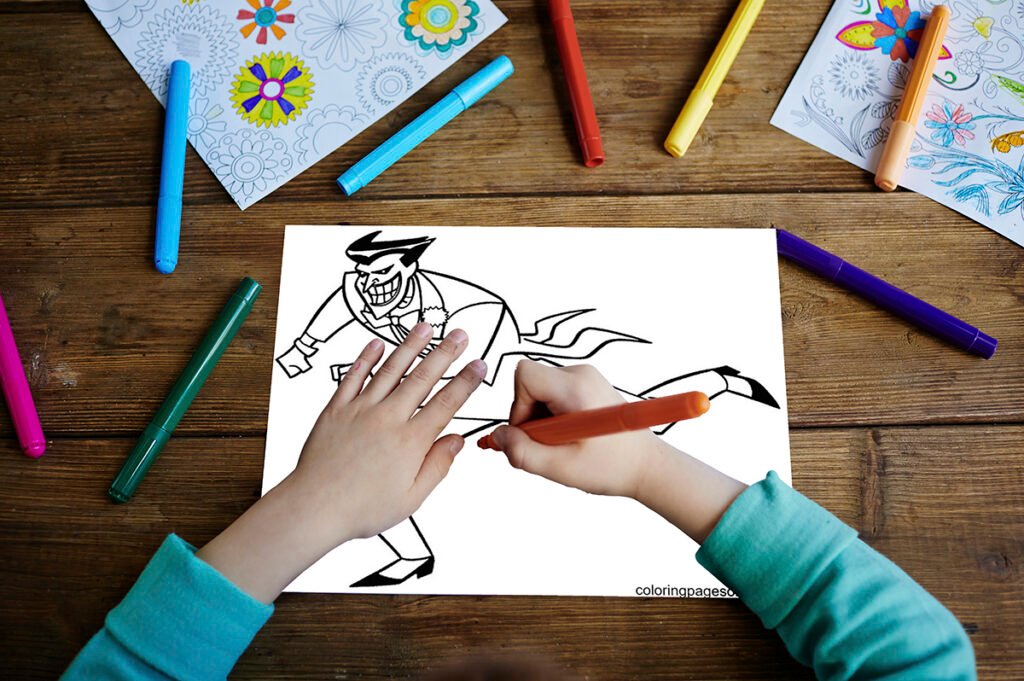 Run as fast as you can, Joker! This coloring page presents a running Joker with a creepy smile on his face. The illustration did not include who he was running away from or why he acted this way. However, it's safe to say that he most likely did something that captured the attention of the public, the police, or even Batman. Moreover, since you're here, don't run away from this coloring page!
Smiling Joker Coloring Page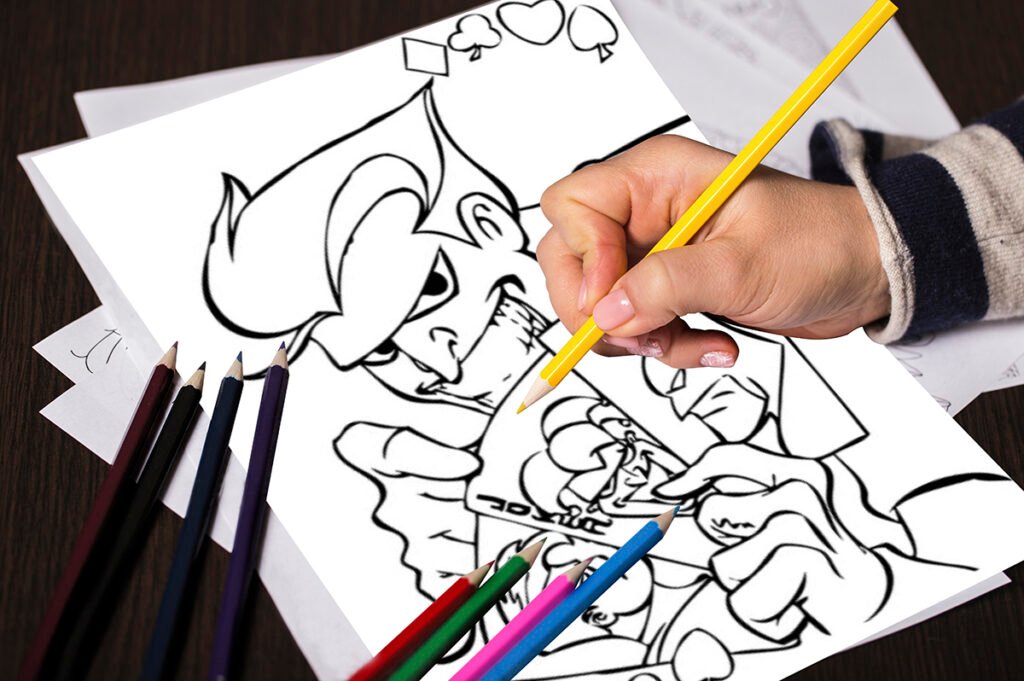 The Joker taunts his foe through his gruesome smile on this coloring page. There are three cards on his hand, including one that represents himself. It seems like he's up to no good once again! Good for you! You don't have to stop his evil acts. All you have to do is grab your arts and crafts materials and get involved in the coloring process.
Joker Wearing Batman's Mask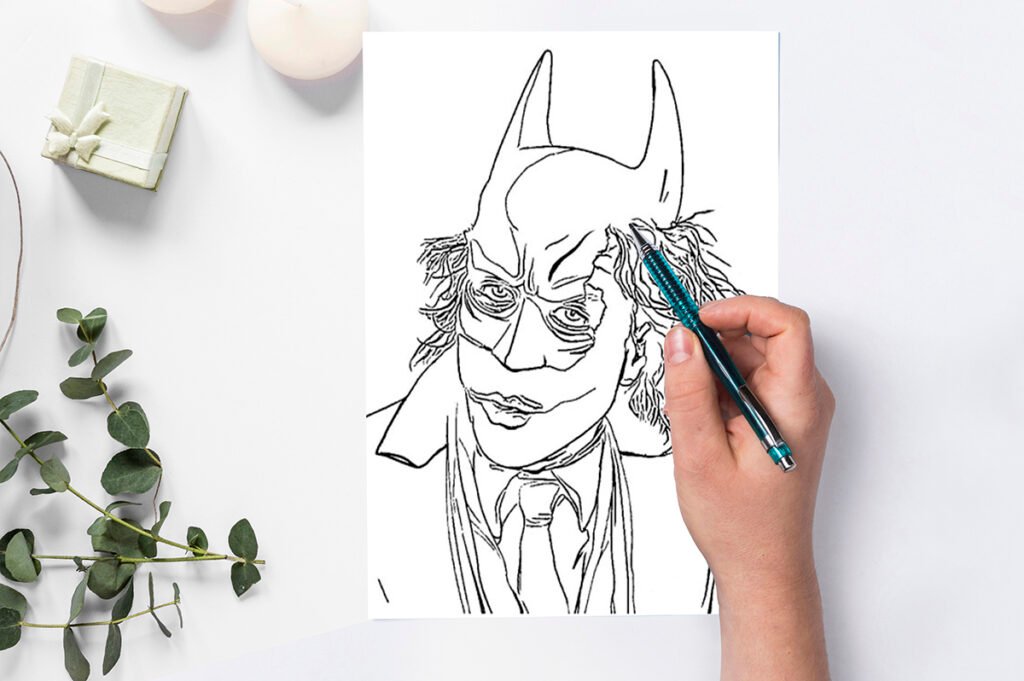 Check out this coloring image featuring Joker with Batman's mask! He wore his nemesis' form of disguise, most likely to provoke or anger him. The worst-case scenario may even involve Joker defeating Batman! The context behind this coloring page is up to you, so color it online or print a copy while you can.
Batman Fighting Joker Coloring Page
Harley Quinn and Joker joined forces to create complete mayhem involving theft. Come and take a glimpse at this coloring page! The duo runs away with their stolen money as Batman chases them in hopes of retrieving what's not theirs. Complete this coloring page to make it more lively and filled with action!
Joker from Suicide Squad
Have you watched the American superhero film, The Suicide Squad? If so, this coloring page is for you! Although the movie did not focus on Joker, his appearance was enough to make the audience drawn to the whole show. You'll also find yourself engrossed on this coloring page once you start the process after hitting the download button!
Batman and Joker Lego Coloring Page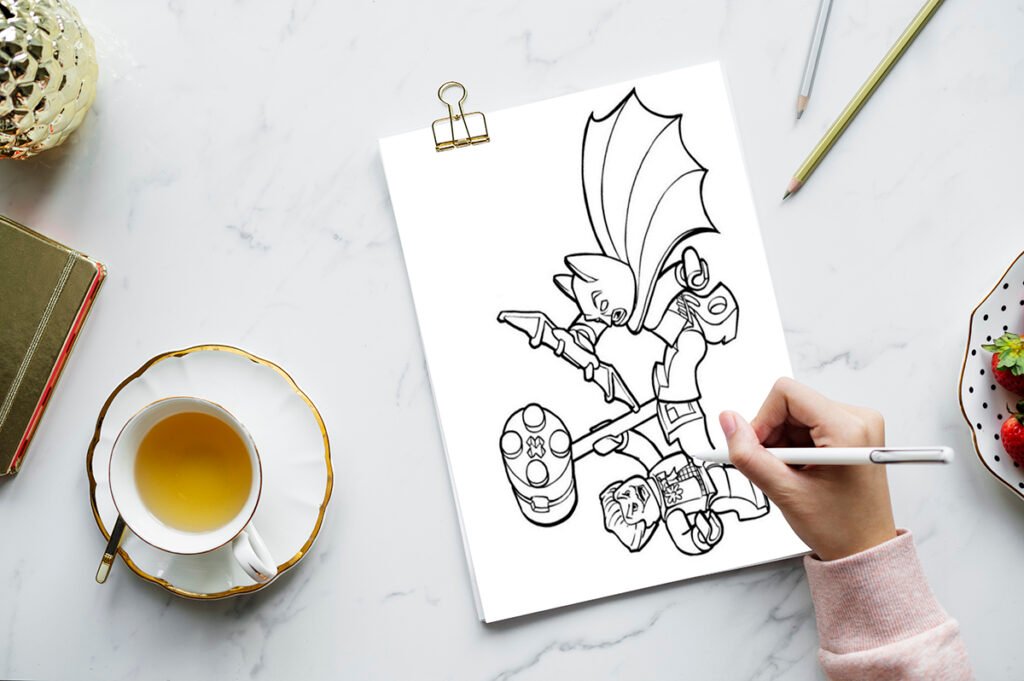 Batman and Joker's fight continues even when they're in lego form. Check this coloring page! Despite Batman's attempts to overpower the Joker, the villain remains smiling, even enjoying their never-ending battles. Make this opportunity a form of entertainment for you and another DC fan, preparing your coloring materials for a session of coloring fun.
Batman Caught the Joker
Brace yourselves in a session filled with fun and entertainment! The main focus will be this coloring page featuring Batman and Joker. Batman caught the Joker, but it seems like the villain's still delightful about it. Let your imagination finish the scenario taking place on this coloring page! Fill each detail with color, making this event look a little lively and full of action.
Joker Coloring Page Conclusion
Channel your creativity in a productive session of coloring a Joker Coloring Page from The Coloring Kingdom! It's perfect for any DC fan and coloring enthusiasts looking for an indoor activity to work with during their free time. Hit the download button once you find your favorite, and enjoy the coloring fun for yourself or a beloved one!
We also have a collection of Lion Guard coloring pages that you can check if you are looking for other coloring pages to try.