There are a lot of notable superheroes and characters in the Marvel Cinematic Universe films. However, impossible to ignore one of the founding members of the Avengers, Thor. Apart from his attractive masculine figure and "magical" hammer, the Asgardian "God of Thunder" has invincible cosmic power that no other superhero can match. He's a fun character with an unshakable will to fight, leading avid fans and casual viewers on an action-packed adventure against evil. As long as the Marvel Cinematic Universe exists, he'll undeniably continue to be the favorite of many fans. With that, The Coloring Kingdom presents a collection of Thor Coloring Pages for fans to enjoy!
Aside from providing a compilation for Thor lovers and enthusiasts, these coloring pages encourage the active use of imagination and creativity! Hence, you won't just enjoy seeing these Thor-inspired illustrations—you'll also find it entertaining and relaxing to color.
Printable Thor Coloring Pages
The invincible Thor boasts his strength and good looks on these printable coloring pages! It's a set that includes 15 coloring pages, perfect for parties or as a gift. Aside from keeping boys and girls busy with coloring fun, it also practices their motor skills and color recognition. Bring a smile from your kids' lips by getting a copy today!
Thor Showing His Power
Remembering Thor's incredible supernatural powers will keep you in awe as you fill this coloring page with colors! The illustration shows Thor releasing a tornado-like force by rotating his hammer. Its details may look too simple, but this coloring page is enough to stave off boredom while feeding your interest in Thor.
Thor Ragnarok Coloring Page
Have you watched the 2017 American superhero film "Thor: Ragnarok"? If so, this coloring page will ring a bell in your memory! Thor finds himself staring somewhere, with his gladiator-like outfit completing his look. Grab this opportunity to bring your coloring utensils out from your kit to start hours of coloring fun with Thor himself!
Thor Vs Ultron
It's time to thwart Ultron's plan to commit an extinction-level genocide against humans! Join forces with Thor as he attacks Ultron on this coloring page. You'll find Black Widow in this illustration as well, helping Thor and the rest of the Avengers save the world from Ultron's evil plans. Your coloring tools are valuable weapons, so download this coloring page to support these superheroes!
Lego Thor Coloring Page
A lego-version of Thor from Ragnarok steals the spotlight on this coloring page. Fans and coloring enthusiasts will love its well-defined lines, making it easy to color each detail to bring Thor to life. Mix and match as many combinations as you want, and feel free to redo your work by printing as many copies as you desire!
Marvel Avengers Thor
If you've first witnessed Thor and all his glory on the Avengers film, this coloring page is for you! It's a poster-like coloring sheet with Thor and his hammer, including a small "Avengers" icon on the right side. The illustration looks breathtaking in black and white, but it would look even better once colored. Don't hesitate to download this coloring page today!
Little Thor Coloring Page
Prepare yourself and your coloring tools as you download this coloring page! It features Thor's mini version, complete with his outfit and hammer. You'll see his name on the top corner, making this illustration a little poster-like. It's a coloring page you can fill in with ease. Don't worry about making a mistake! You can always download another copy!
Thor Fighting with Villain
Superheroes fight villains. That's a fact Thor continues to prove on this coloring page! Using his reliable hammer, he battles a villain who's as big as him. The good prevails in most shows, so it's safe to say he wins on this scene. However, feel free to imagine the sequence of events as you fill this page with the colors you wish!
Thor vs Hela Coloring Page
Hela's encounter with Thor leads to a fierce battle on this coloring page! As this coloring page depicts, the siblings use their powers and strength to defeat one another. If you have a brother or sister who's a Marvel fan, download this coloring page! Instead of fighting each other, make this a great bonding experience to practice each other's creativity and coloring skills.
Thor and Friends
Defeating the evil forces is so much better and more fun with friends. Come and take a look at this coloring page! Thor and his friends make their way towards a realm, ready to risk their lives for each other's safety. True friendship indeed! Speaking of companionship, why not invite your friends for a bonding experience with this coloring page? It'll be fun!
Thor Fighting with Dragon Coloring Page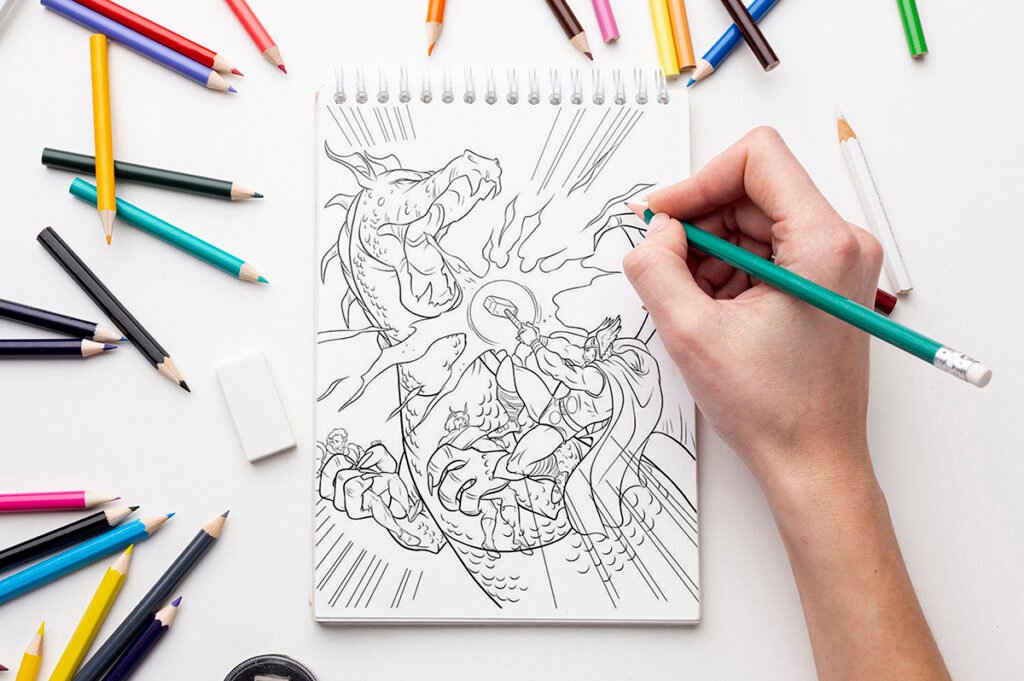 Thor's strength surpasses those of the humans, so it's understandable how he fought against the dragon on this coloring page! His hammer is also his trump card, inflicting a deal of damage towards the creature. Continue to save the day with Thor as you fill this coloring page with colors!
Animated Thor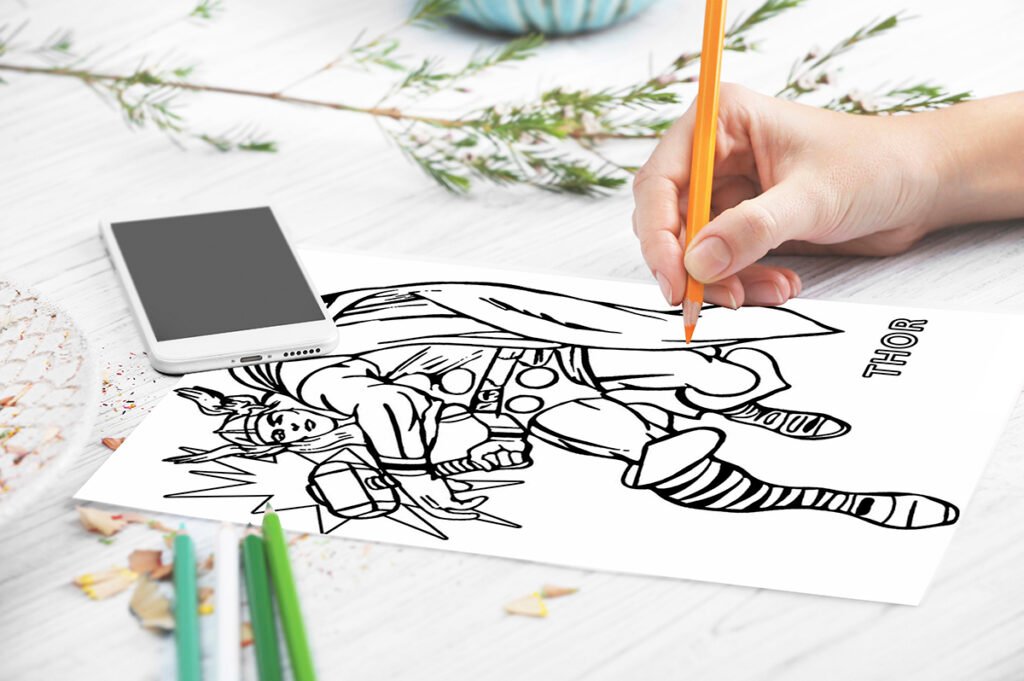 Coloring pages vary in size, style, and design. For example, this Thor coloring page uses an animated kind of style. The well-defined lines will make it easy for all ages to color within the lines, even in the intricate details on Thor's figure. Hence, you should use fine-tip coloring tools to achieve the best results!
Thor and Lightning Coloring Page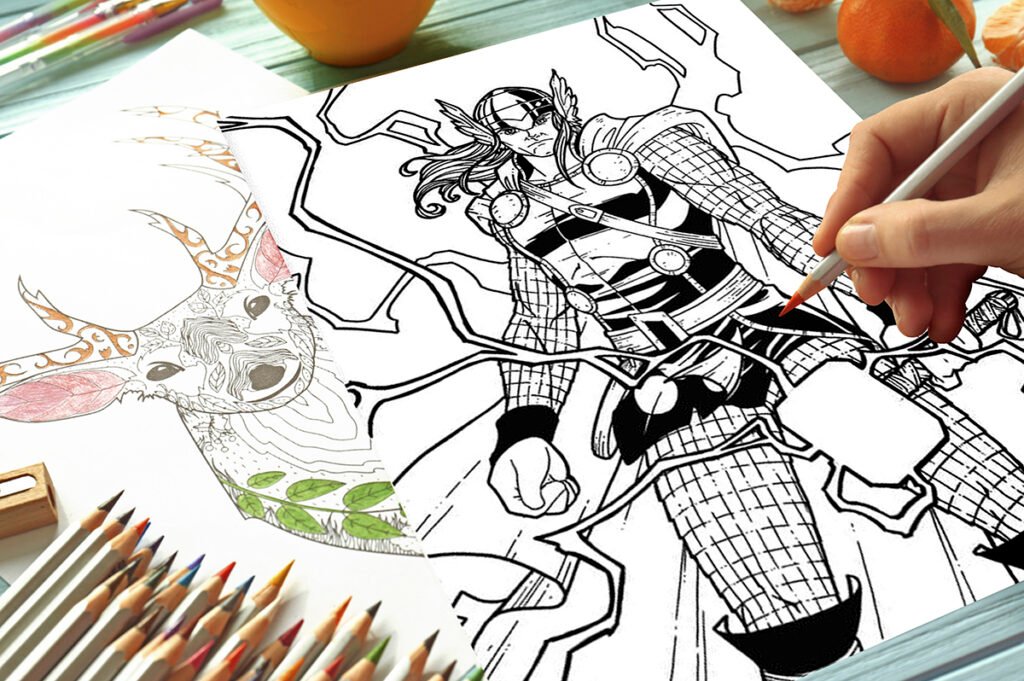 Lightning and Thor complement each other on this coloring page! However, the illustration will look better once filled with colors! You can start by coloring the lightning with shades of yellow or fill in Thor's details using any fine-tip coloring tool. Either way, you'll enjoy the results, with the option to display your masterpiece right after!
Thor and Mjolnir
Do you know the name of Thor's enchanted war-hammer? Folks call it "Mjølnir." Thor and Mjølnir's combined strength makes him invincible, making them the undeniably powerful duo on this coloring page! Villains have no match against these two, and you can join their team by adding colors to this illustration.
Coloring Page of Thor Flying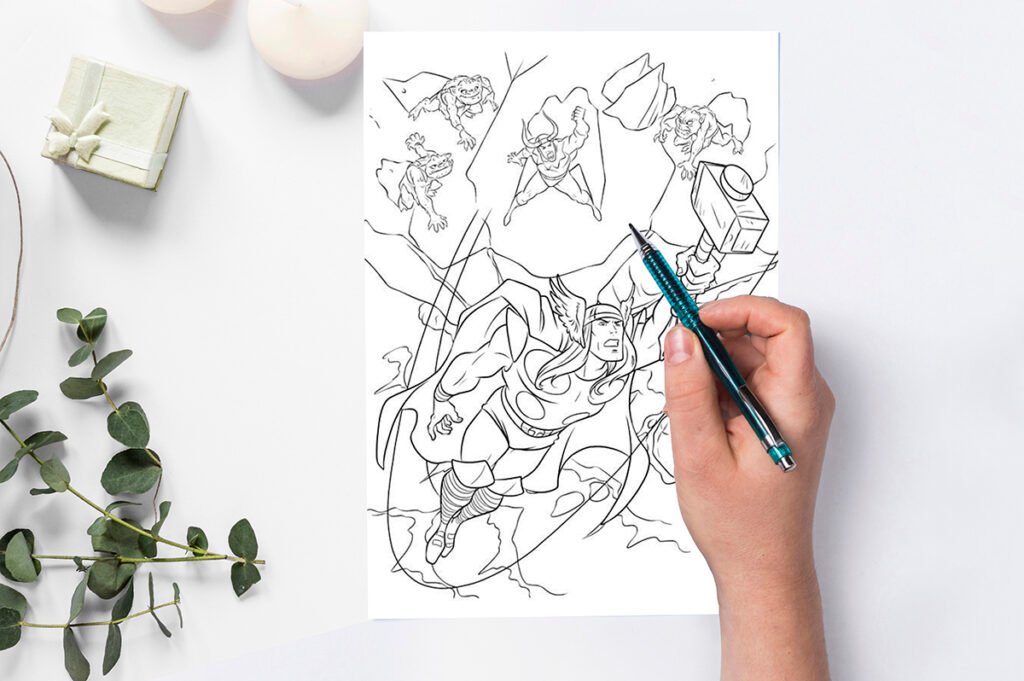 Fly away with Thor as you add the respective colors on this coloring page! Thor uses his mighty hammer to escape from the creatures below. That doesn't mean he lost, or he's weaker than them! The reason lies in your imagination, which you'll use as you fill this page with colors. Don't fret! It'll become a fun experience for you or a friend!
Avengers Thor
One of the founding members of the Avengers claims the limelight on this coloring page. Can you guess who it is? It's Thor wearing a well-designed outfit! Grab your coloring pencils to bring him to life! It'll make it easier for you to fill the fine details with colors and achieve the poster-like look this coloring page possesses.
Angry Thor Coloring Page
Whoever angered Thor on this coloring sheet shall pay the price of his actions! Rage on his eyes, Thor prepares himself to fight against the person or creature who made him mad. Don't worry! That person won't be you! For now, let this become your chance to color Thor's features, making sure he looks fearsome and as powerful as he could be.
Cartoon Little Thor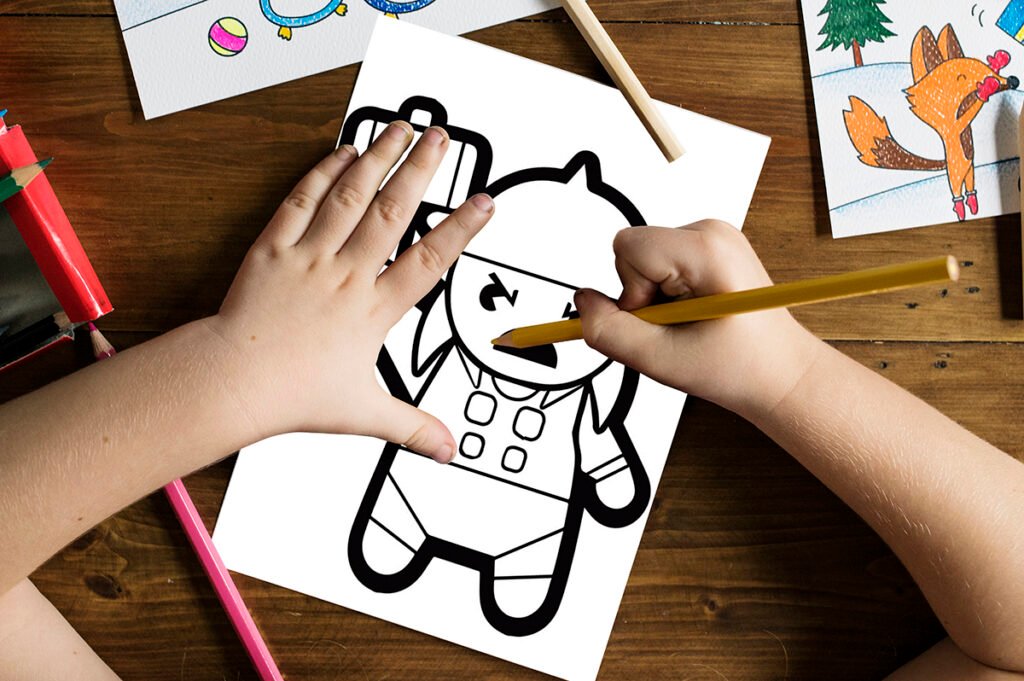 Parents and little Marvel fans will find adoration on the sight of this coloring page! It's an adorable coloring page featuring Thor's mini version, enough for toddlers and younger children to fill with colors. Apart from making it a fun experience for Thor fans, it's an incredible way to introduce colors or improve their fine motor skills. It's an excellent treat for parents and their kids!
Prince Thor Coloring Page
Apart from his role in The Avengers, Thor was also royalty of Asgard and New Asgard. Check out Prince Thor on this coloring page! He stands with confidence with his place in the background. Come and take this chance to color this coloring page's details, bringing Prince Thor back to life. Make it lively if you want to, or use your resources to make it similar to its movie or comics counterpart!
Thor vs Monster
Here's an excellent choice to consider if you're an avid fan of Thor. It's a coloring page featuring Thor and his hammer's strength as he fights against a monster triple his size. The details of this coloring page offer room for mixing and matching colors, so feel free to use your whole palette. If the output satisfies you, you have the freedom to put it on display in your room!
Thor Coloring Pages Conclusion
Celebrate Thor's greatness through our Thor Coloring Pages! Our selection delivers incredible options to choose from, so there is always something for everyone. Whether you're an avid fan, casual Thor enthusiast, or someone who loves coloring, you'll enjoy taking a look at our compilation. Pick a coloring page that catches your eyes to get started!
We also have a collection of Dog Man coloring pages that you can check if you are looking for other coloring pages to try.