Kirby has continuously made a groundbreaking impact on kids and gamers since its debut in 1992. The titular character heavily contributed to the game's popularity, his innocuous and adorable design and top-notch abilities captivating the interest of many. Kirby's expressive and easy-to-draw appearance paired with his elastic body and power-stealing mechanic made a great combination on the game. It, later on, paved the way for the release of his anime series, manga publications, comics, and more. Decades from Kirby's debut appearance, the adorably rotund character remains well-loved by the public while making millions for Nintendo. Kirby's influence doesn't end there. This gumball-like hero also found its way on The Coloring Kingdom, bringing fans and coloring enthusiasts delight by our collection of Kirby Coloring Page!
Secure a copy of any Kirby Coloring Page from our compilation here at the Coloring Kingdom as you enjoy playing or watching any Kirby-related game or show!
Yo-Yo Kirby Coloring Page
Kirby becomes a yo-yo trick-master on this coloring page! With the help of his copy ability, he was able to attain the skill involving throwing a yo-yo in any direction. His appearance doesn't get left behind! As you can see in this illustration, he wears a cap backward. It may look too simple, but that's enough for Kirby and for kids who'd love to color this coloring page!
Ninja Kirby
Several cartoon shows and game series feature ninja characters that most of our younger selves loved. For example, take a look at this coloring page! It displays four Kirbys, possibly inspired by the Ninja Turtles. With each other's support, these puffy heroes will execute their enemies in no time. That goes the same with this coloring page! Invite a friend or two to complete it with colors with ease!
Sword Beam And Needle Kirby Coloring Page
With his copy ability, any power Kirby needs to conquer the evil forces is attainable! On this coloring page, you'll see three of them! There's a Kirby with his mighty sword beam, an adorable Kirby with his globe, and a needle Kirby with a helmet full of spikes. Grab this opportunity to color each Kirby to unleash their full potential!
Singer Kirby
Singer Kirby invites you to a fun and entertaining concert on this coloring page! Kirby seems mesmerized by his voice, and interrupting would be rude, that's for sure! However, today's your chance to take part in making him look better at his concert. Set your coloring utensils and color him, making sure to turn him into an appealing entertainer!
Photographer Kirby Coloring Page
Lights, camera, action! It seems like Kirby and his friends have an ongoing television show or photoshoot on this coloring page. Everyone's busy with their roles, and you have a part in this too! Kirby asks your crafty hands to color the individuals on this coloring page, ensuring everyone gets colored by anything in your palette.
Meta Knight Kirby
Meta Knight has an uncanny resemblance to Kirby visible on his spherical body and stubby arms. Check him out on this coloring page! His mask and sword complement his intimidating aura, but this shouldn't bother you at all! The Meta Knight may not be as cute as Kirby, but he's harmless, so feel free to use your creative freedom to make him shine with the colors you think fit him the most!
Mario Kirby Coloring Page
Mario and Kirby are among the many video game series owned by Nintendo. Hence, it's unsurprising how the Kirby on this coloring page wears Mario's hat! If you know someone who loves Mario and Kirby, get them a copy of this coloring page! Kids will delight in this as well, considering it'll also be easy for them to color within the well-defined lines.
Kirby With Stars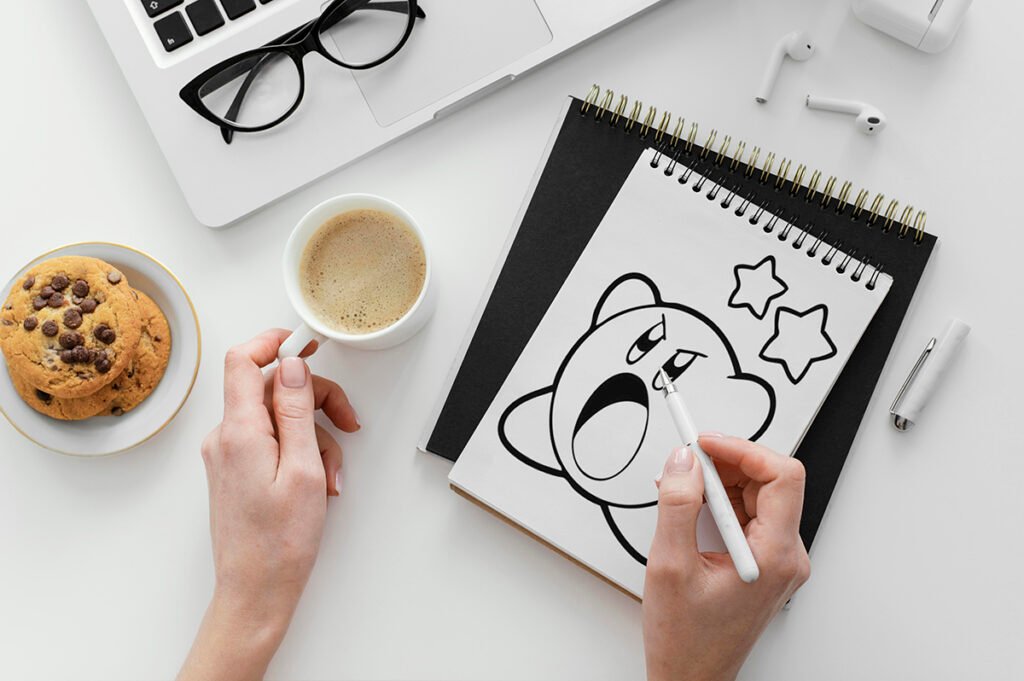 Whoever made Kirby angry on this coloring shall pay the price of their actions! Kirby seems determined to use his copy ability to get his revenge. You should stay out of the way, but not when it comes to coloring Kirby! You can focus on the stars for a moment and how Kirby will look bright with them, then move on to him to continue the coloring process.
Kirby Holding Sword Coloring Page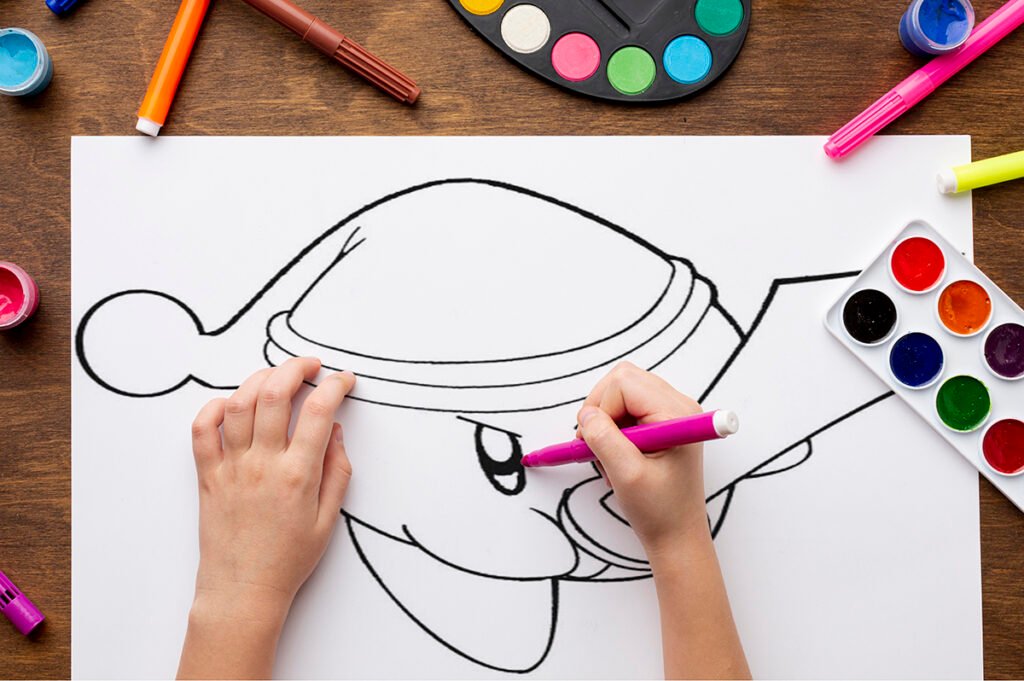 A strong-willed knight waits for you to download this coloring page! The mentioned warrior is none other than Kirby, ready to save his homeland and himself from the lack of colors on this coloring page. Lend a helping hand by grabbing your favorite coloring set and making this illustration of Kirby with his sword as vivid as you can!
Kirby Return to Dreamland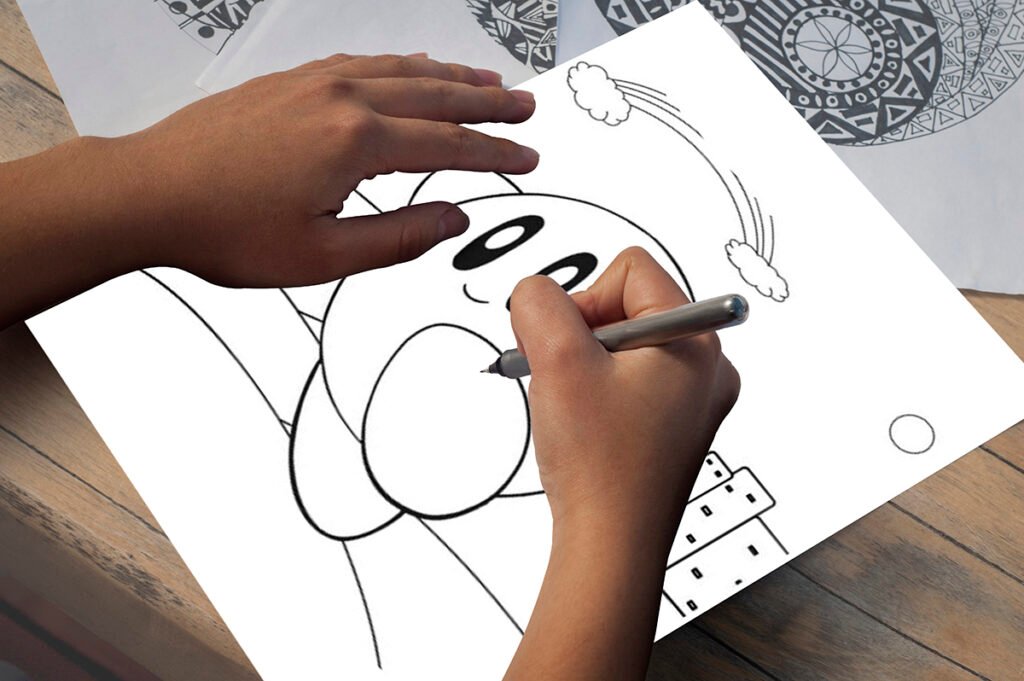 Most of Kirby's adventures happen in a country on Planet Popstar called Dream Land. As its name depicts, it's a land anyone would dream of: a peaceful place with carefree citizens and abundant resources. It also homes our adorable hero, Kirby! Look at how happy he is on this coloring page, knowing he's able to return to Dream Land. Such happiness is also attainable once you finish coloring this illustration!
Kirby In The Olive Ocean Coloring Page
Many people enjoy snorkeling and diving, visiting and rejoicing in the beauty of the ocean and its inhabitants. Kirby enjoys the same sight on this coloring page! Since the sea is colorful, you'll delight in making this coloring page vibrant and lively. You can also reminisce your favorite moments when you last visited the beach, so grab a copy of this coloring page while you can!
Kirby Flying On Star
Have you ever wished to ride on a star and fly mid-air freely? Kirby has done that! You'll see him on this coloring page, soaring with several stars around him. Although it's impossible for such a thing to happen in real life, nothing can stop your imagination and creativity from coloring this illustration!
Chef Master Kirby
Master Chef Kirby seems to enjoy preparing a banquet for his guest. Invite yourself for some delectable yet entertaining session of coloring fun! You may not be able to relish the dishes by Kirby, but at least you get to help him make each food delicious-looking. Eat a snack while coloring this illustration for added fun!
Kirby with His Friends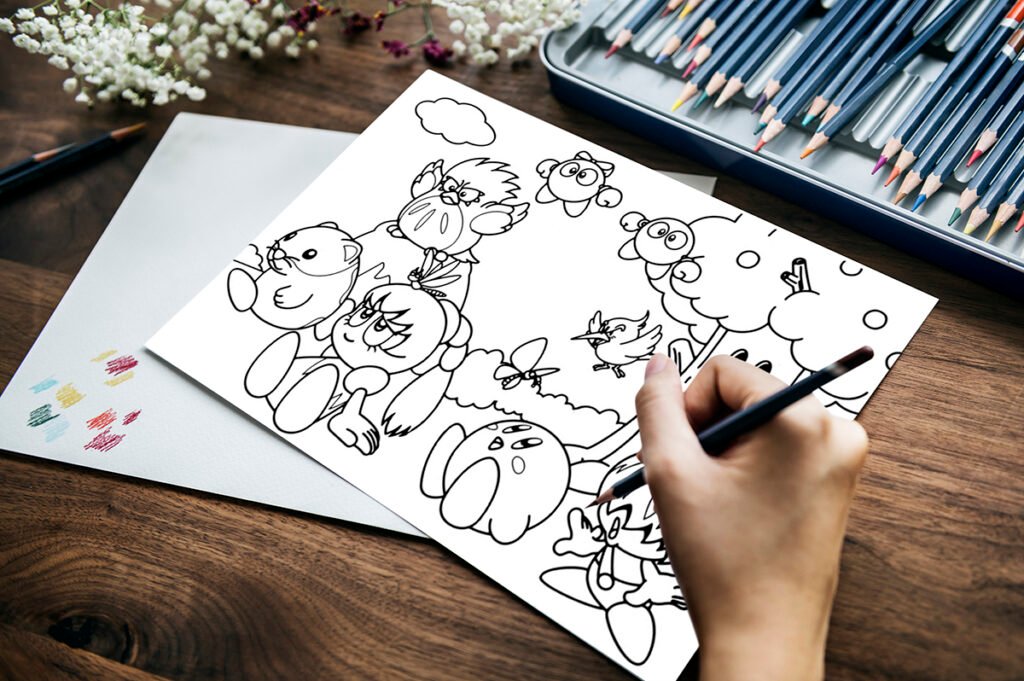 Here's an adorable coloring page that the whole family or squad can enjoy! It features Kirby and his friends having fun outdoors. It's up to you to make the setting day or night, even using your imagination to think of the activities they'll do, such as stargazing or bird watching. Let your and your friends' imagination take you to places with the help of this coloring page. Don't forget to have fun!
Ice Kirby Coloring Page
What's cool about this coloring page? Ice Kirby! Looking at this portrait, Kirby seems chill, even cold, considering his ice crown. If this version of Kirby captured your interest, don't let anything stop you from downloading a copy of this coloring page! Shades of blue or white will fit the theme, so prepare your palette beforehand.
Happy Kirby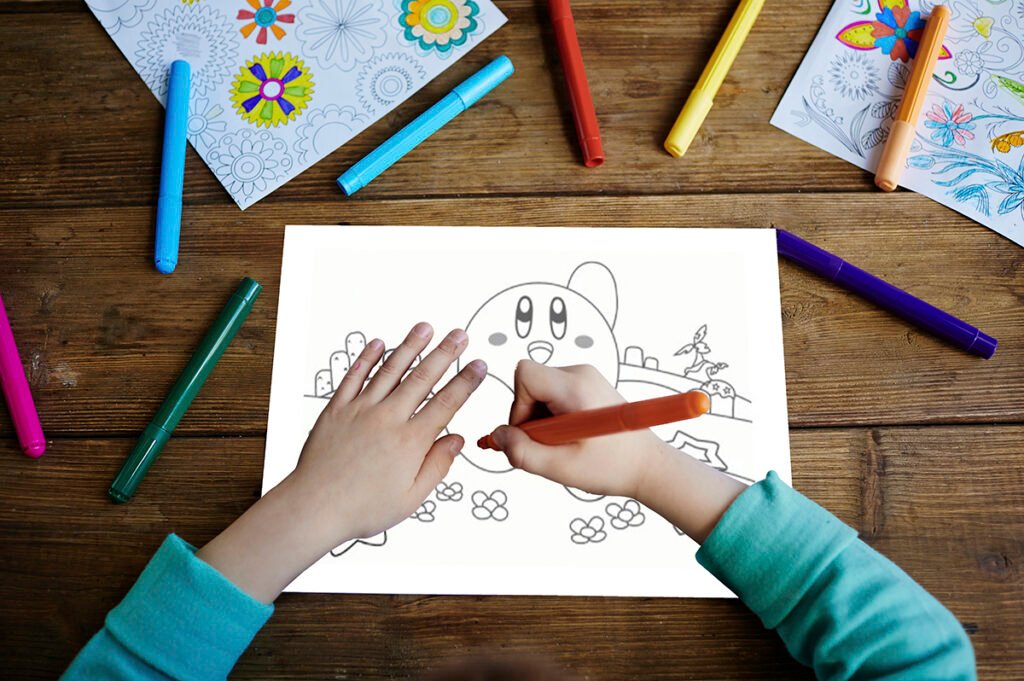 Hop along Kirby's happy journey on this coloring page! The scene depicted in this illustration looks bright and serene, matching Kirby's adorable nature. Let your imagination take over the coloring process as you figure out the events that will unfold. Feel free to share the fun with a friend or two!
Cool Kirby Coloring Page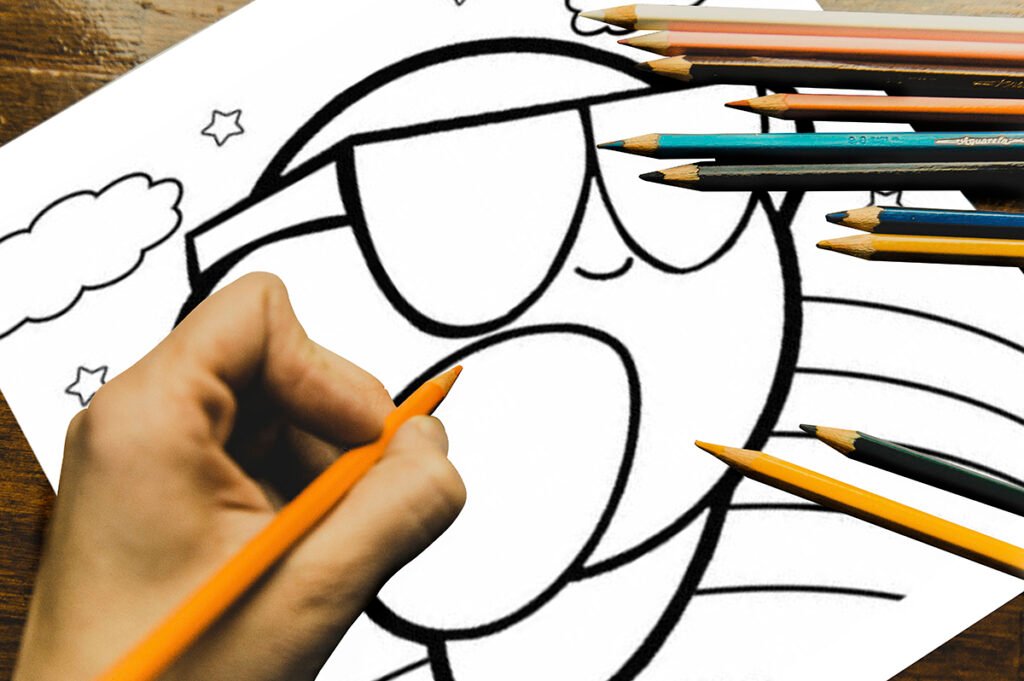 That's some fashionable sunglasses, Kirby! Doesn't he look cool with it? The rainbow, clouds, and stars add to the wonders of this coloring page, complementing Kirby's stylish outfit. Of course, it's up to you to make him look even good by filling the spaces with your color of choice! Go ahead! Download this coloring page now.
Beam Kirby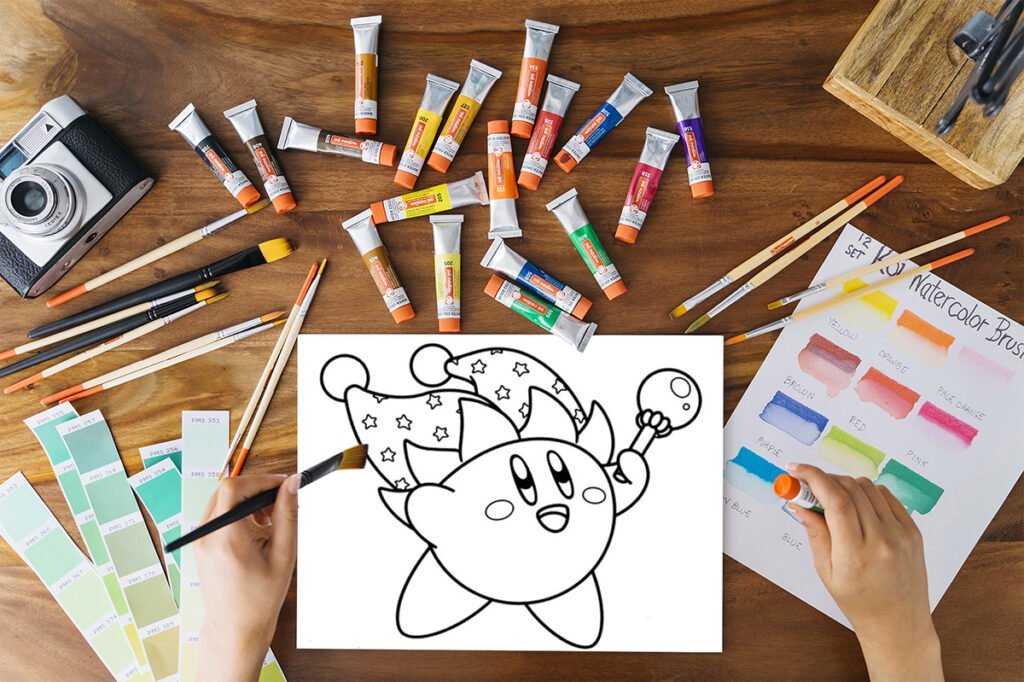 Are you looking for a coloring page that you and your child can color easily? You came just in time for this Kirby illustration! It's a great start for parents who want to teach their children about colors or keep them busy aside from playing on their electronic devices. It'll be best to color this coloring page together, making it a fantastic bonding activity for parents and kids!
Angry Kirby Coloring Page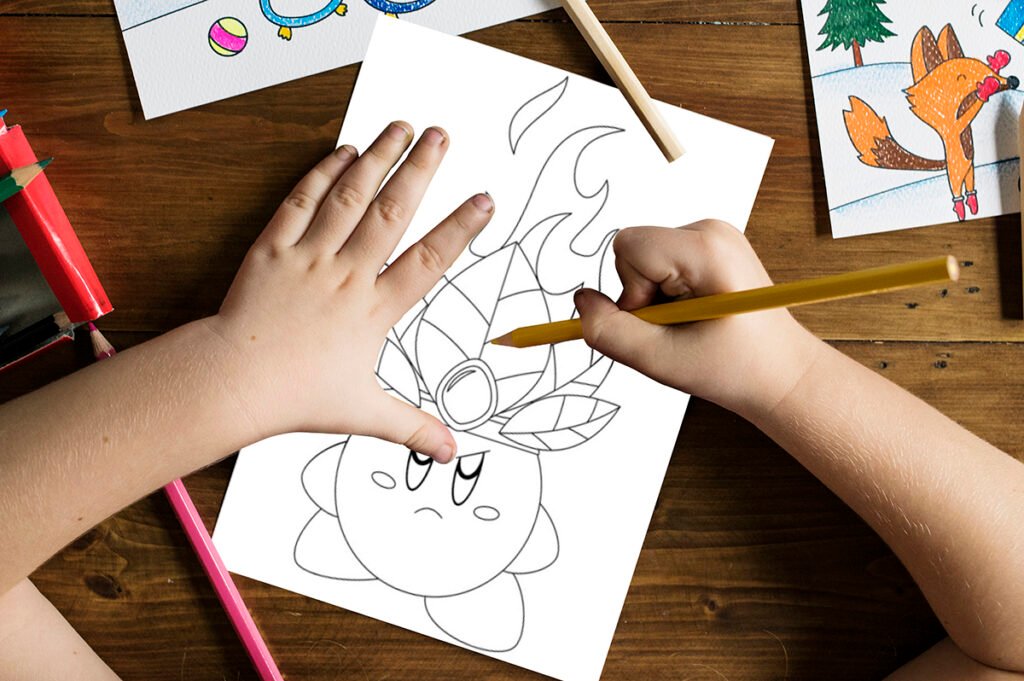 An angry Kirby takes the center of the stage on this coloring page. His anger is evident just by looking at his fiery crown. Why not fill this coloring page with a color combination to ease his rage? Who knows? You may find a set of colors to make this illustration look less aggressive.
Cute Kirby
If there's one thing you cannot take away from Kirby, that's most likely his cuteness! Check out this Kirby coloring page as an example! Doesn't he look adorable enough to fit your coloring collection? Secure a copy of this page and enjoy Kirby's cuteness for yourself or with another Kirby or coloring enthusiast.
Kirby Coloring Page Conclusion
Join Kirby's adventures with any Kirby Coloring Page from The Coloring Kingdom! Our range of coloring pages will feed your interest in Kirby while giving you the relaxing time you need after a long day of school activities or work. There's always something for everyone regardless of age, so browse through each coloring page and download your favorite right away!
We also have a collection of Joker coloring pages that you can check if you are looking for other coloring pages to try.