Star Wars introduced a broad universe and compelling lore, capturing the public's attention since 1977. The story progression, characters involved, worlds explored, and direction worked perfectly together, making the Star Wars content one of the best epic space media produced. Of course, its popularity over the years paved the way for Star Wars books, comics, shows, and movies, endeavoring to extend the Star Wars universe while sustaining the fans' interest. Among these media includes the series entitled "The Mandalorian," which gave fans and casual viewers a refreshingly dark take on the Star Wars cinematic universe. Its substance, originality, captivating storyline, and memorable characters contributed a lot in making the series enjoyable and perfect for every type of Star Wars fan. The hit series inspired the collection of Mandalorian Coloring Pages in the Coloring Kingdom, something young and old fans will find delightful to complete with colors.
Your venture in the Star Wards universe doesn't end on your screen! Come and take a copy from our compilation of Mandalorian Coloring Pages and get to meet your favorite characters with a hit on the download button.
Star Wars Mandalorian Coloring Pages
As the title suggests, the Mandalorian or Mando stars the Star Wars series "The Mandalorian." The show follows this lone gunfighter's journey after the fall of the Empire, revealing his backstory gradually throughout the series. He rarely removes his silver, Beskar helmet, just as seen on this coloring page! After all, it's part of the tradition, something you'll appreciate more as you watch the show and color this illustration.
Mandalorian with Baby Yoda
Apart from the Mandalorian's compelling story, the show also evoked the public's interest because of Baby Yoda's charm. The dynamic duo complemented each other, as shown on this coloring page! It's impossible not to admire their connection, considering how the Mandalorian became a father figure to Baby Yoda. What an adorable duo for you to color when you're free!
Mandalorian in Flight Coloring Pages
There are no limits to a character's ability in the fictional world. For example, the Mandalorian escapes a big explosion by flying away on this coloring page. Although it's unlikely for a person to fly in our time and age, the Mandalorian got everything to defy gravity. Doesn't this scene make you want to turn this black and white illustration into something bursting with colors? Print a copy today!
Mandalorian Flew High into the Sky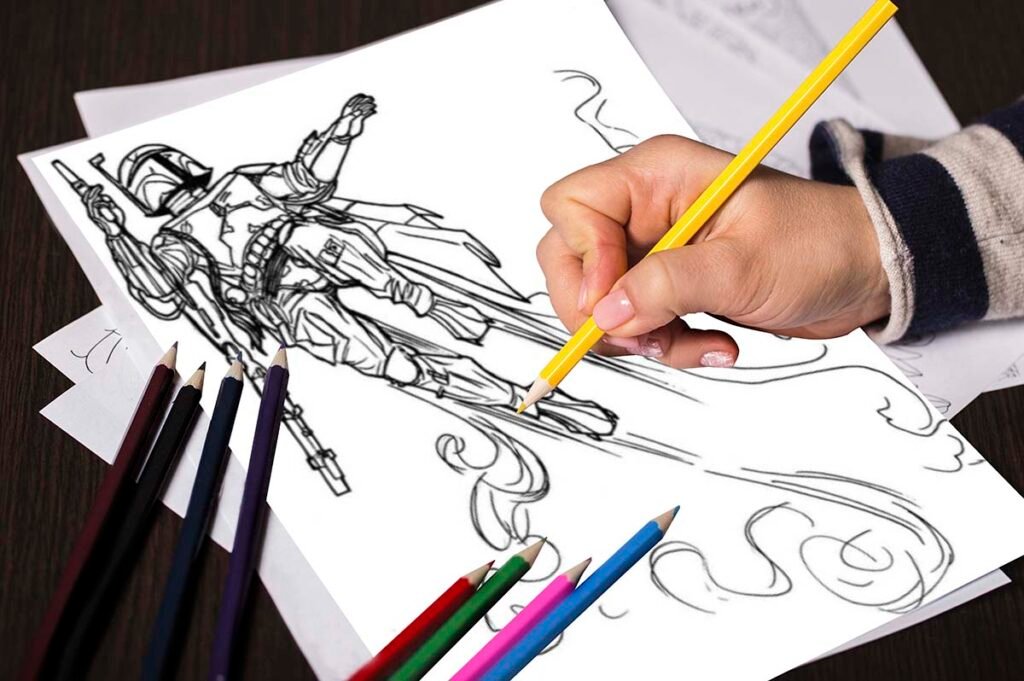 Ascending to the sky is the Mandalorian with his gun! Can you figure out the situation happening on this coloring page? Use your active imagination to envision the event while filling the spaces with the colors you prefer. Print as many as you like, or share the fun with another Star Wars fan!
Mandalorian and the Child Coloring Page
A duo to look out for, the Mandalorian and Baby Yoda or the Child, work hand in hand on this coloring page! The helmets hanging behind them show how much they fought, winning over enemies because of their combined force. Work on this coloring page with a friend to finish it quickly and for them to experience the fun brought by coloring!
Mandalorian and Baby Yoda
Baby Yoda formed an emotional bond and attachment to the Mandalorian, acting as a father figure throughout the series. Check out how he's holding Baby Yoda on this coloring page! Doesn't this illustration depict their father-child connection? Go ahead, fill it out with colors to further enhance the beauty this coloring page holds!
Super Armor Mandalorian Coloring Pages
Possessing the appropriate armor and weapon keeps the Mandalorian protected from his enemy. With his full gear, the Mandalorian is ready to fight off evil, similar to how you're well-prepared to fill this coloring page with colors! It's not a lethal battle but a way for you to express your creativity. Grab your coloring tools to start the creative process!
Star Wars Mandalorian Printable Coloring Sheet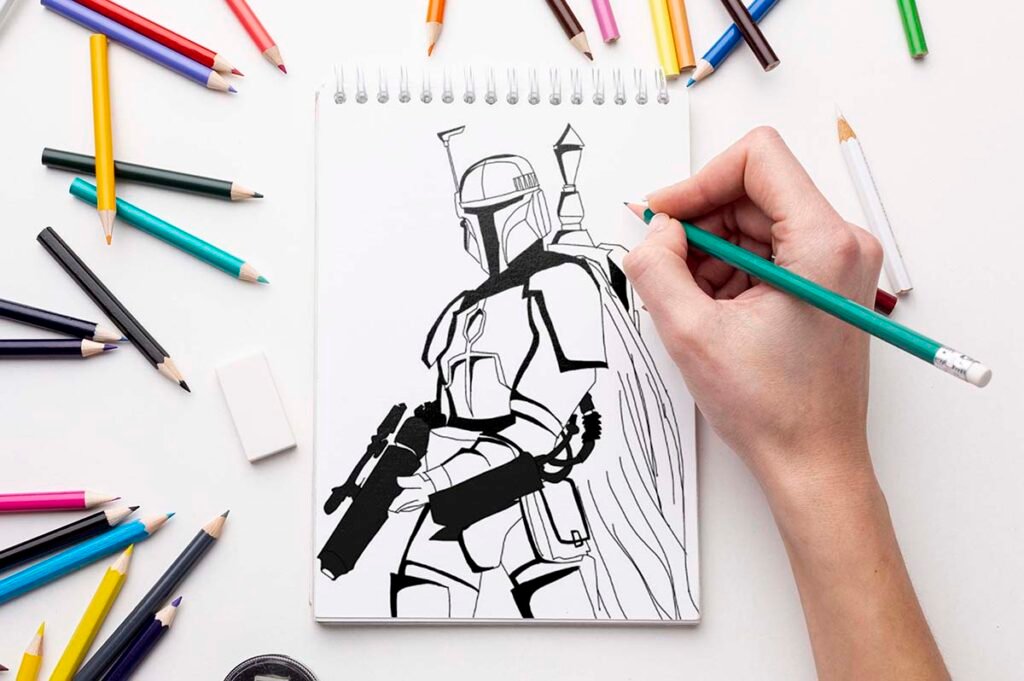 Are you an avid fan or casual viewer of the Star Wars franchise? If so, take pleasure in coloring this illustration of the Mandalorian! The Mandalorian is the equipped gunfighter who ventures on a journey on this coloring page. His show gradually presents his backstory and expedition, but for now, take your time to relax and color this illustration of him.
Mandalorian with Sword
Fighting against enemies is so much better with the proper equipment. This coloring page presents the Mandalorian striking in his battle position with a sword. It compliments his skills as a fighter and suits his outfit well. Prepare your coloring tool before completing this coloring page, choosing the best colors to match the Mandalorian and his gear.
Mandalorian with Grogu Baby Yoda Coloring Page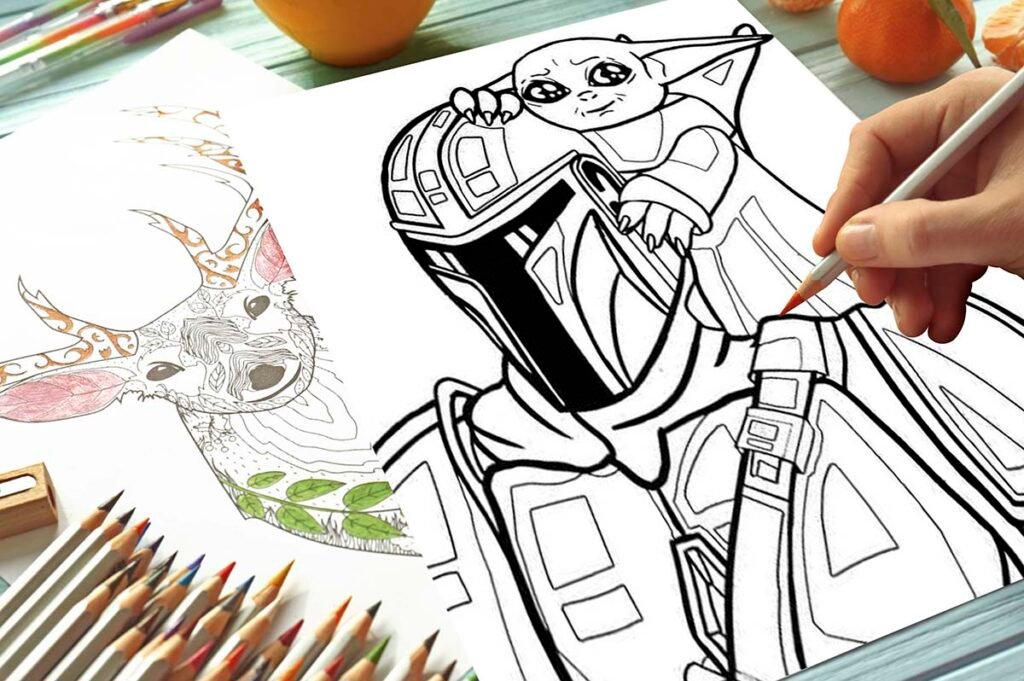 Grogu or Baby Yoda comfortably stands on the Mandalorian's shoulder on this coloring page! It's as if this illustration provides a clear depiction of Grogu's trust and attachment to the warrior who continuously protected him. What a unique combination? Complete this illustration with colors to fully experience the beauty of their connection.
Mandalorian with Armor
Check out this coloring page featuring the Mandalorian and his armor! Do you know what's interesting about this illustration? His gear looks like a space rocket waiting for its launch, and his helmet contains map-like figures. It's up to you and your creativity to bring the Mandalorian to life, including identifying what his armor wishes to display.
Mandalorian Tracking a Target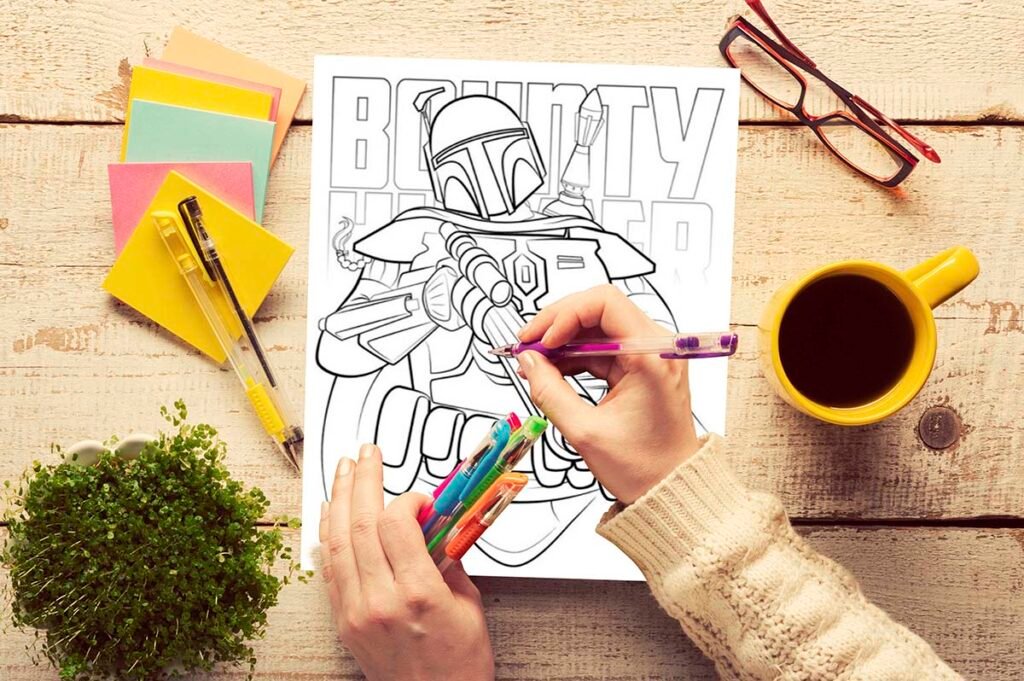 Defeating a foe is easier when you have the weaponry to track a target, such as what the Mandalorian holds on this coloring page! Mandalorian's weapon gives what he needs to beat his enemies, considering his expertise in fighting. Today, your target is to complete this coloring page using your favorite coloring tool. Doing so will help you feel accomplished, something the Mandalorian most likely felt after prevailing over evil.
Mandalorian Ready to Fight
Brace yourselves for an activity that's entertaining and worthwhile! It involves coloring this illustration of the Mandalorian, ready to fight his foes. Coloring brings peace and keeps you relaxed the moment you start the process. If you're a fan of the Mandalorian, you can display your output on the wall as a remembrance, reminding you of your hard work and love for Star Wars.
Mandalorian on the Rock Coloring Page
Standing on the rock in this coloring page is the mighty Mandalorian with a weapon on hand. Confident and determined to beat the evil forces, his armor and helmet protect him from potential harm. Follow this warrior's travails by filling this illustration with colors! Although it looks fascinating in black and white, nothing beats the beauty this coloring page has once colored.
Mandalorian Mask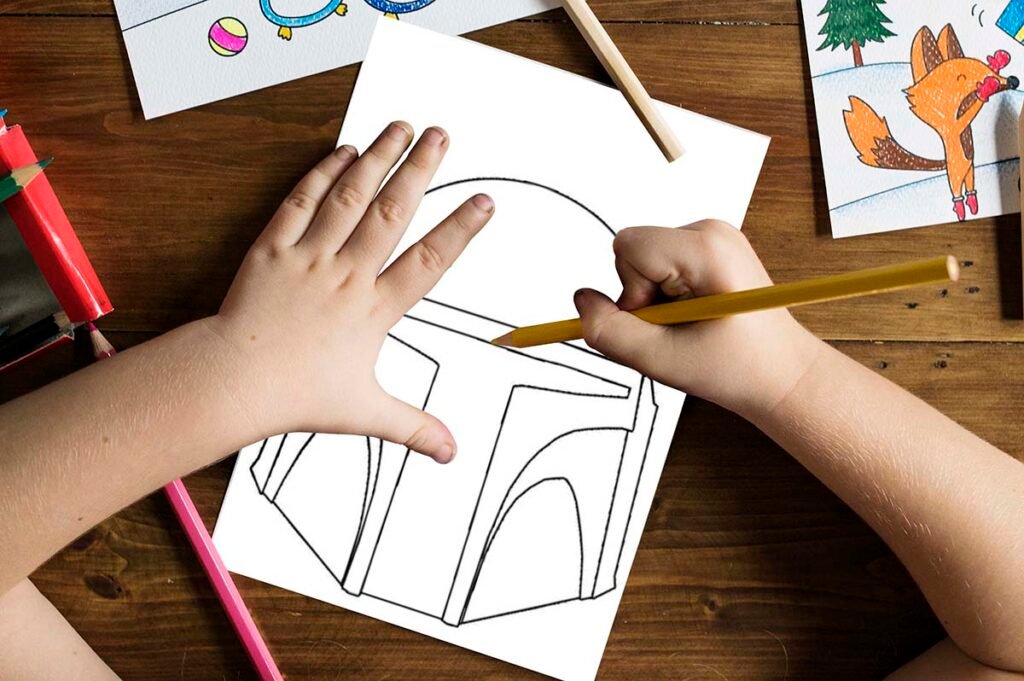 Do you know any little Mandalorian fan? Bring delight to their faces by giving them a copy of this coloring page! It presents the Mandalorian's mask, the well-defined lines resembling the headgear he rarely removes in public. It's a simple illustration made to make coloring easier for every Star War fan or anyone starting a coloring hobby.
Lego Mandalorian Coloring Page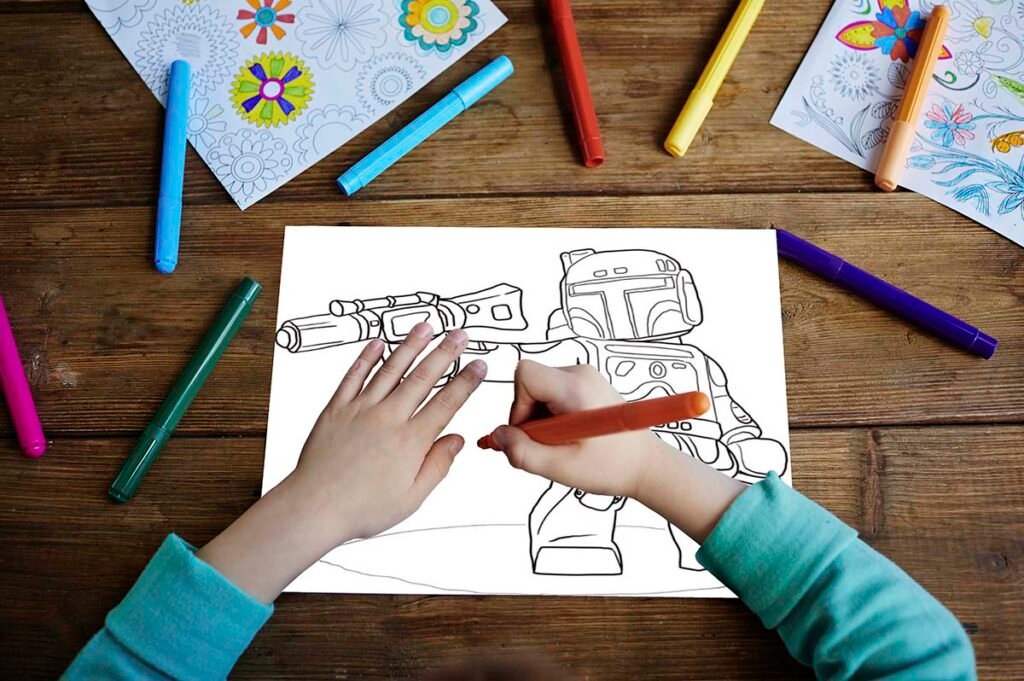 Fictional characters in lego form will never get old. For example, the Mandalorian's lego form on this coloring page may snatch your little Star Wars fan's attention this instant! Aside from supporting their passion and encouraging creativity, this activity will keep their boredom at bay as you perform something important such as your daily chores. Download and print a copy of this illustration before they lose interest!
Chibi Mandalorian
Here's an adorable version of the Mandalorian that will melt your heart! This coloring page features a chibi or mini version of the Mandalorian well-protected by his armor and weapon. Although the Mandalorian holds a fierce aura, this coloring page managed to captivate his "kawaii" side. Once completed with colors, you'll find yourself admiring this Mandalorian's cuteness even more!
Armored Mandalorian Coloring Page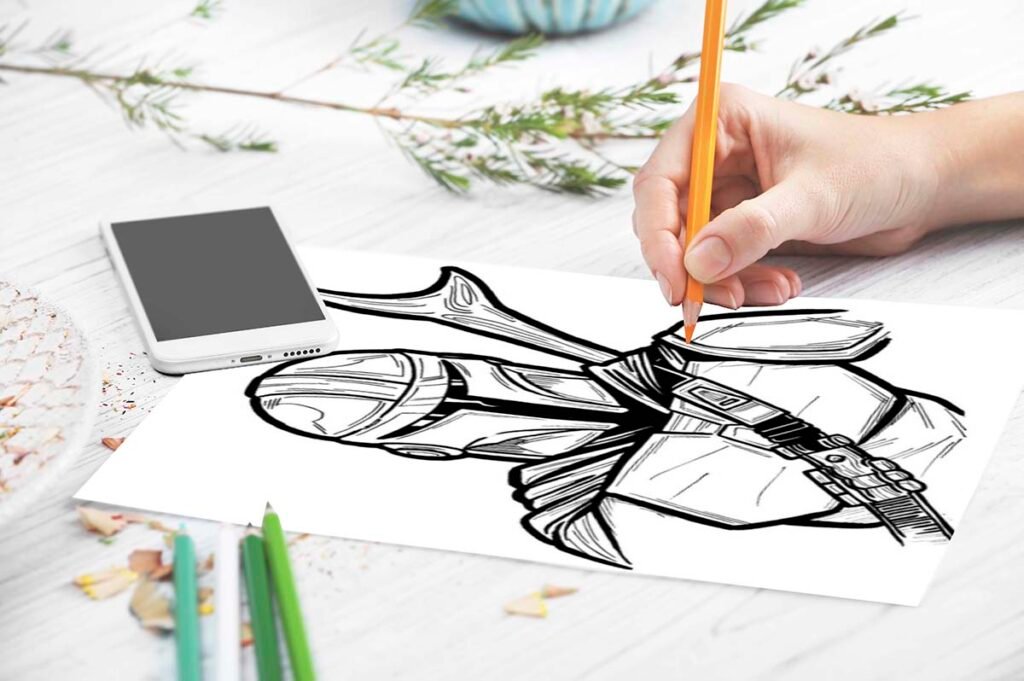 An armored Mandalorian enters the scene portrayed on this coloring page. For Star Wars fans, the sight of the Mandalorian most likely will evoke feelings of excitement, especially since his adventures are something to look forward to every time. Grab a copy of this coloring page for the weekend or as you wait for the next Mandalorian episode to drop!
Cartoon Mandalorian Coloring Page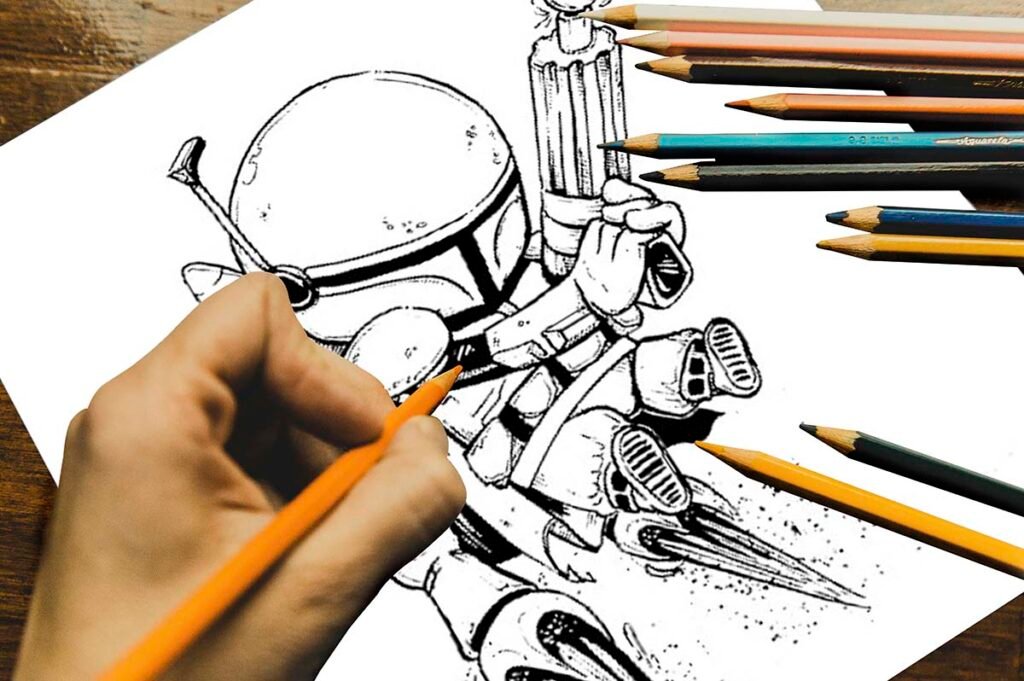 Each person has their preference when it comes to the art style. Some may like complex illustrations, while others grow fond of cartoon art. If you're part of the latter, this coloring page will suit your liking! The Mandalorian illustrated in cartoon style looks fired with energy, similar to how you'll feel once you get a hold of this coloring page.
Chibi Mandalorian and Baby Yoda
Get ready for the cuteness overload held by this coloring page! It features the adorable Baby Yoda and Mandalorian duo, prepared to protect themselves from enemy attacks. Completing this page will unfold more of the charming features of this duo, so utilize your creativity in the best way you can!
Mandalorian Coloring Pages Conclusion
Explore the Star Wars cinematic universe with these Mandalorian coloring pages! These coloring pages cater to every type of Star Wars fan, coloring enthusiast, and just anyone looking for an indoor activity that's fun and worthwhile. Feel free to download anything that snatches your attention, using your skills to turn each black and white illustration into something colorful.
We also have a collection of Funny coloring pages that you can check if you are looking for other coloring pages or books to try.