Humans, by nature, feel a particular attraction to anything pleasing in the eyes. With the vision as the most dominant sense, it's no surprise how people easily satisfy this sense by looking and admiring aesthetically-pleasing sights. Of course, each individual has their definition and point of view when talking about aesthetics and beauty. Despite these differences, at one point or another, our aesthetic judgment helps us cope with the world, experience positive emotions, and feel happier in general. When paired with calming activities such as coloring, aesthetics reach a new purpose. For example, an Aesthetic Coloring Page becomes handy for reducing stress and calming negative thoughts. While it's a simple indoor activity, it's enough to provide an escape from the chaotic reality we live in, even if it's temporary.
Feast your eyes on any Aesthetic Coloring Page that's part of the Coloring Kingdom's collection! These coloring pages vary from one another, allowing you to find and pick the perfect one for your style or preference. Check out the whole compilation and download anything that captures your interest!
Flowers Aesthetics Coloring Page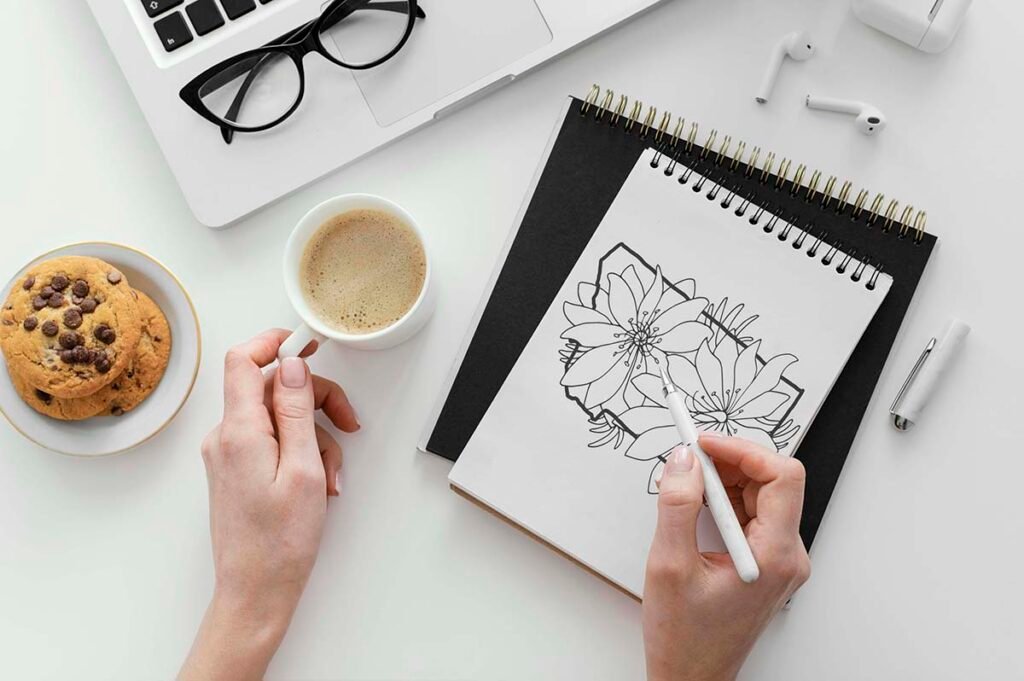 Flowers elicit positive emotions, which explains the happiness we feel whenever we grow, give, receive, or admire them from a distance. Take this coloring page as an example! Although it does not provide a tangible flower, filling the illustration with colors still brings satisfaction and joy. What a way to prove a flower's ability to make someone feel blissful!
Sweets Aesthetics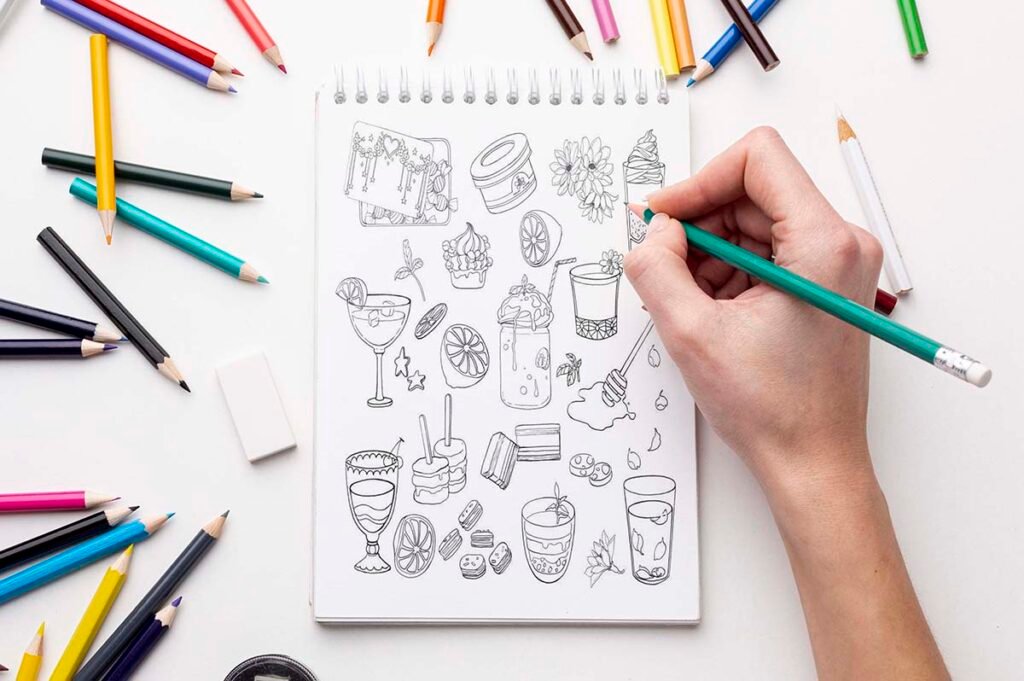 From a milkshake to candied goodies, this coloring page contains the aesthetics in the sweets category! Aside from the sugary delight they offer, people also make an effort to appealingly present these treats. No wonder why it became the theme for this coloring page! Go ahead, take pleasure in making these sweets delectable by coloring each piece.
Photos Aesthetics Coloring Page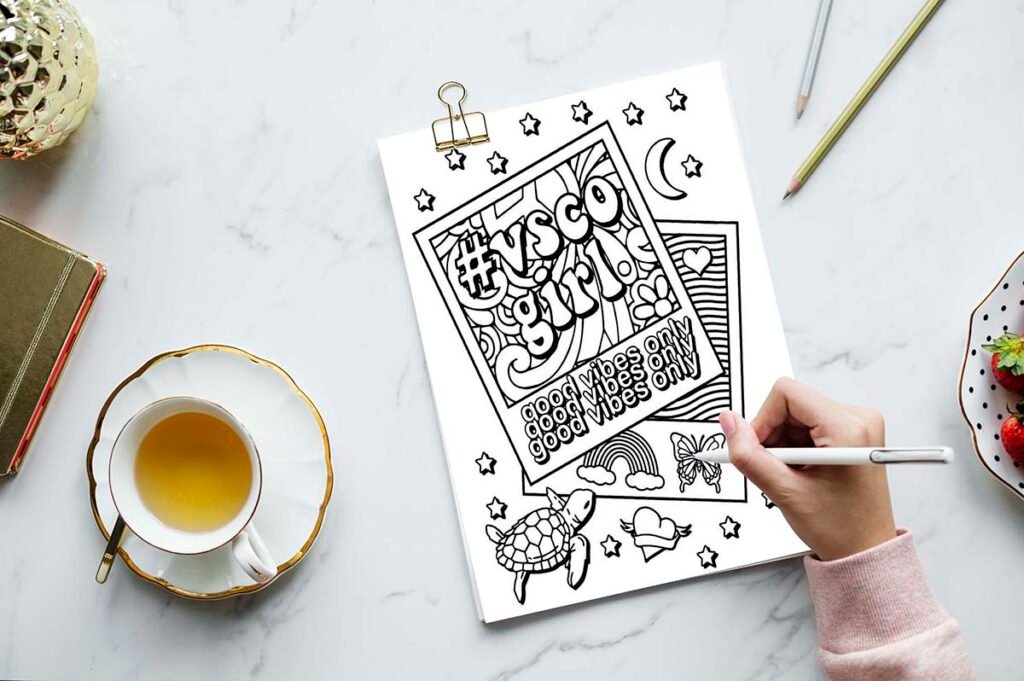 Memories captured from polaroid cameras emit a different kind of aesthetic. No wonder why they're a hit again! They're versatile, and people can customize them, just like how this coloring page contains various embellishments. Add your personal touch by filling it with color combinations using your favorite arts and crafts utensils!
Summer Aesthetics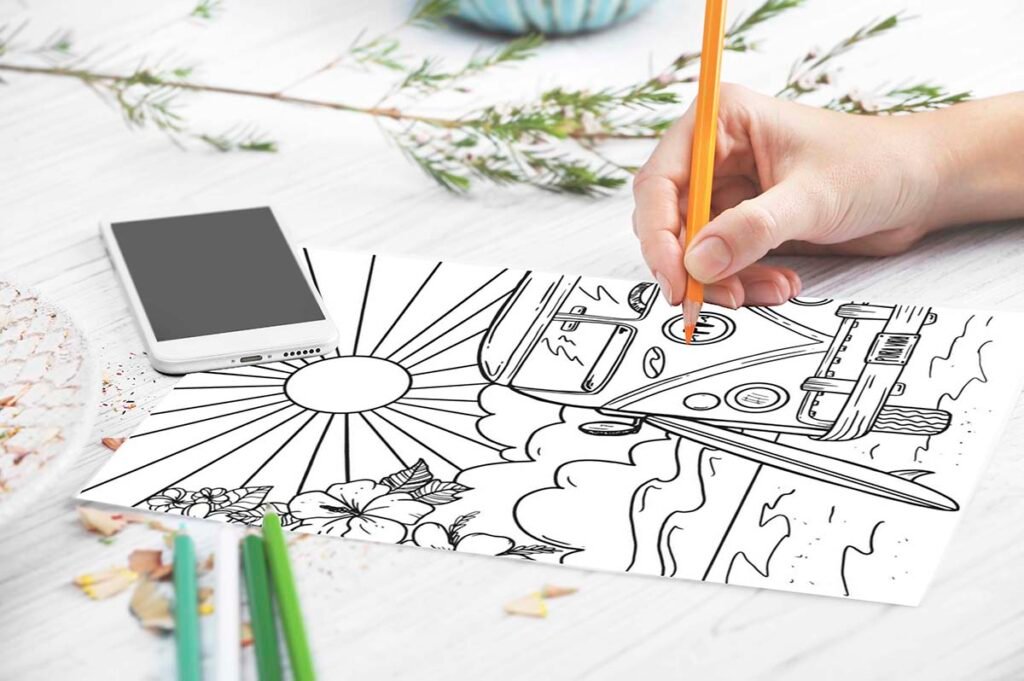 Are you missing the vibrant sunlight touching your skin during the summertime? If so, this coloring page will bring you summer feels, regardless of the season you're experiencing! The sun shines brightly, the scenery inviting you to run to the shore with a surfboard on hand. It's an illustration that depicts the carefree image of summer we all want to celebrate all over again. Grab a copy for yourself now!
Unique Aesthetic Space Tumblr Coloring Pages
Will you be able to figure out the concept behind this coloring page? It's a unique illustration of a flower breaking free from the light bulb sheltering it, a circle, and a triangle visible in the background. Why not figure out its meaning while coloring the image? You'll be surprised to see how far your imagination can go!
Aesthetics for Teens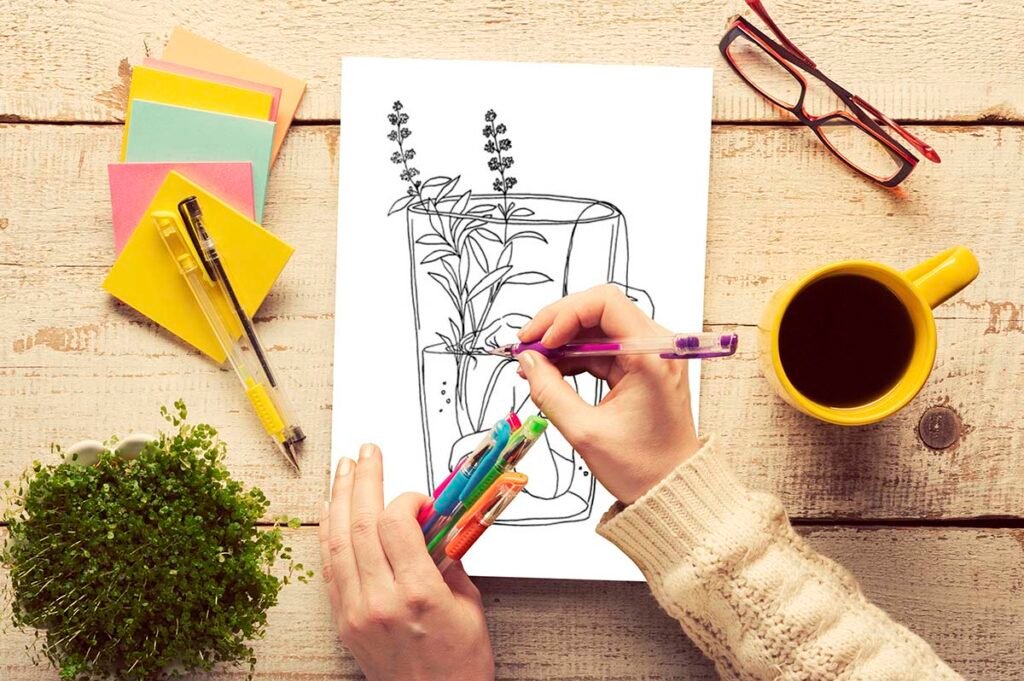 Today's generation finds fascination in anything aesthetically pleasing in the eye. Among these includes illustrations with hidden meanings. Come and take a look at this coloring page! It displays a lady submerged on the half-filled glass with her hair hanging tied to a teabag. There is a lot of symbolism for teens to decipher on this coloring page, making it entertaining to finish.
Summer Footwear Aesthetic Coloring Page
Here's an illustration that will ignite your love for summer and coloring! It features summer footwear, with two butterflies and a turtle hovering around it. The lines on the background suggest the appearance of the sun as if giving this summer footwear the spotlight it deserves. Add warm colors to this black and white illustration to bring it to life!
Summer Aesthetics
When talking about summer, it's impossible to forget out-of-town trips to the beach, ice cream, sandcastles, and refreshments. This coloring page brings you anything related to summer! The figures composing this collage-like coloring page will evoke summer vibes, making you reminisce the times when you enjoyed playing by the shore with a family member or friend. Take part in coloring this now!
Kittens Aesthetics Coloring Pages
Cats and kittens have their suitable category when talking about aesthetics. Apart from their adorable features, their actions and funny tactics elicit feelings of joy and admiration. If you're a cat lover, you'll delight in this coloring page! It features a lot of things related to cats, something cat owners are familiar with and will find charming.
Girl Aesthetic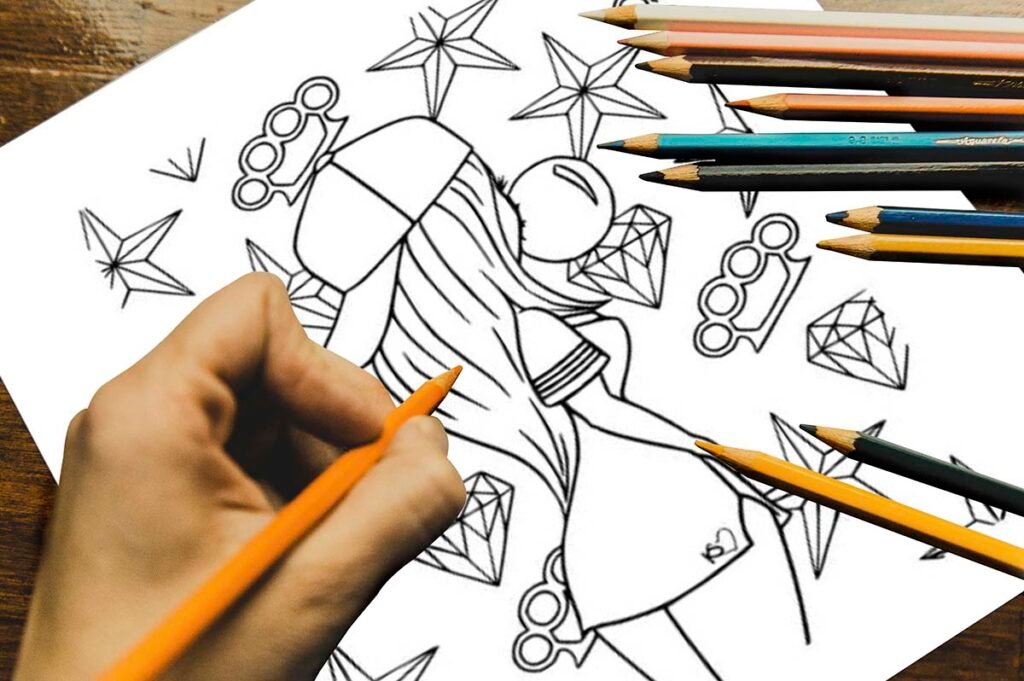 Unleash the charm this coloring page holds by filling it with the colors you prefer! There are several details to cover, from the lady blowing bubble gum to the glistening figures in the background. Mix and match different color combinations to make this illustration pop in colors! Then, feel free to print again to try a new color palette.
Girl Aesthetics Printable Coloring Page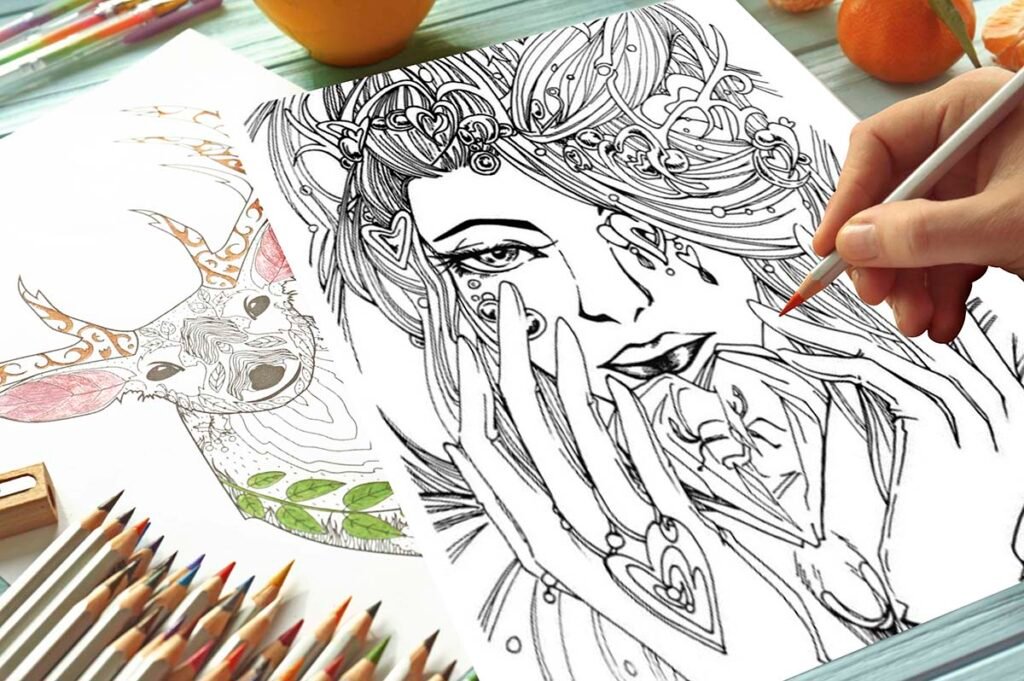 Come and take a look at this printable coloring page! Doesn't it look inviting? The number of details this illustration holds will keep you busy for a while, leaving your worries at bay for a moment. It features a lady adorned with different accessories, a stunning combination not everyone can pull off. Print a copy now to start the creative process of bringing this lady to life!
Cosmos Aesthetic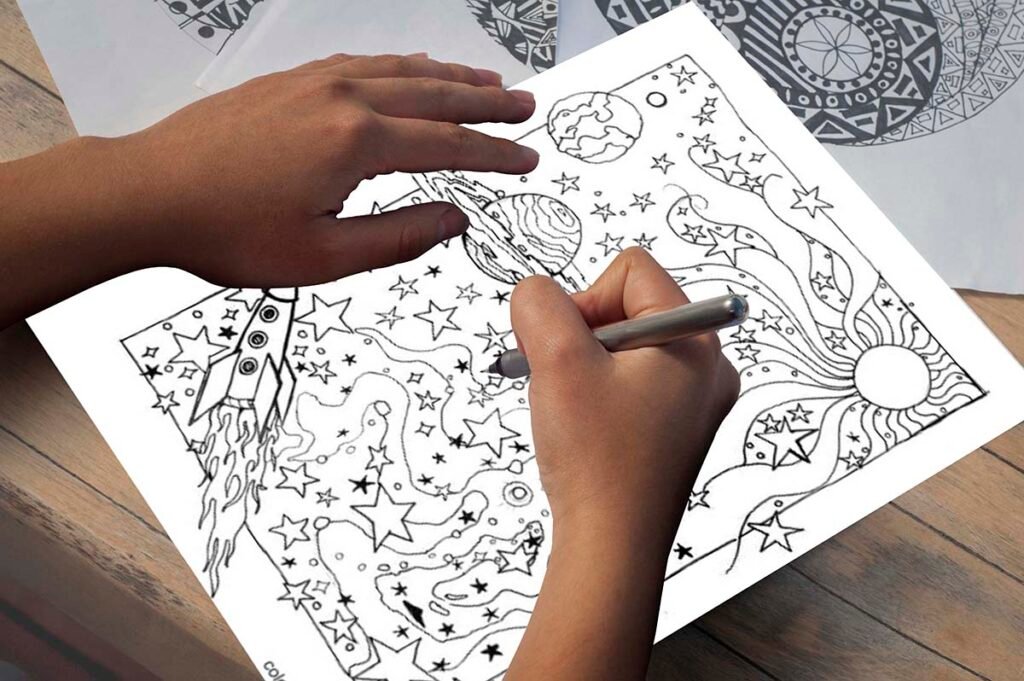 Staring at the night sky gives us a glimpse of the universe in its full glory, filled with stars and other celestial bodies. This coloring page represents that view! Although our naked eye can barely see the vastness of the universe, this illustration brings the universe to you. Grab your coloring materials and use your creativity to unwrap the beauty hidden in this image!
Cats Aesthetic Coloring Pages
The cat's playful behavior on this coloring page will capture your attention in an instant, making you want to print a copy immediately! What makes this coloring page better is its versatility, giving users the ability to cut out each cat to become a sticker. Come and get a copy now to join the fun and entertainment brought to you by coloring!
Aesthetics of Cactus Coloring Page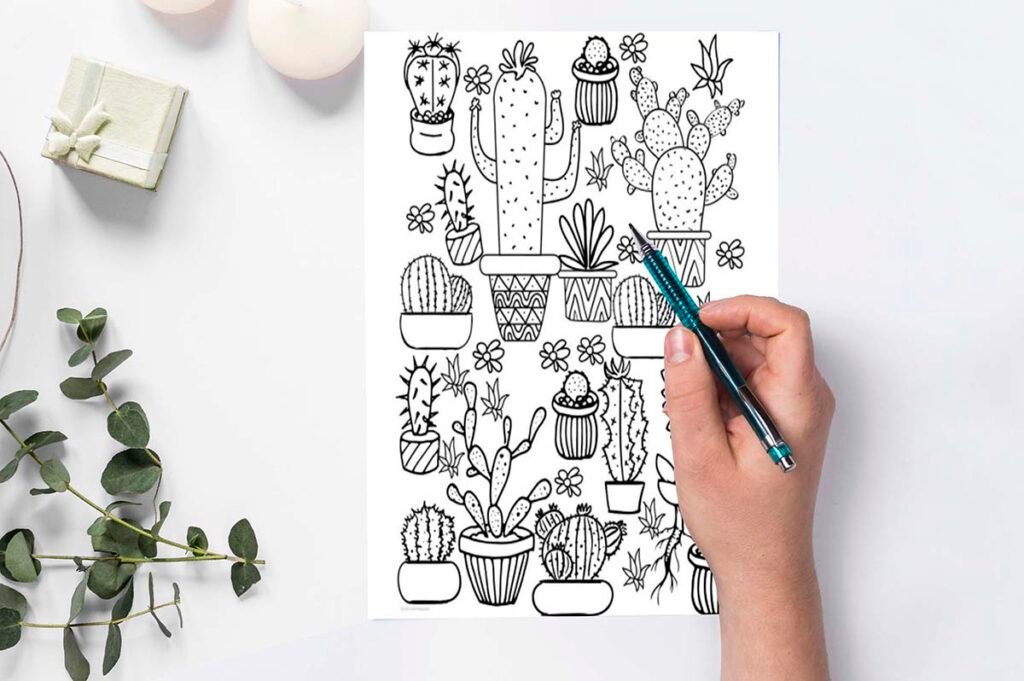 Despite its spiky build, the cactus plant gained popularity for its aesthetic features. Like most succulents, it's not only popular to plant lovers but in the field of art too. Check out this coloring page as an example! It displays a variety of cacti, each different from one another in terms of size, appearance, and design. You'll find great pleasure in coloring these plants once you get your hands on a copy of them!
Aesthetics Landscape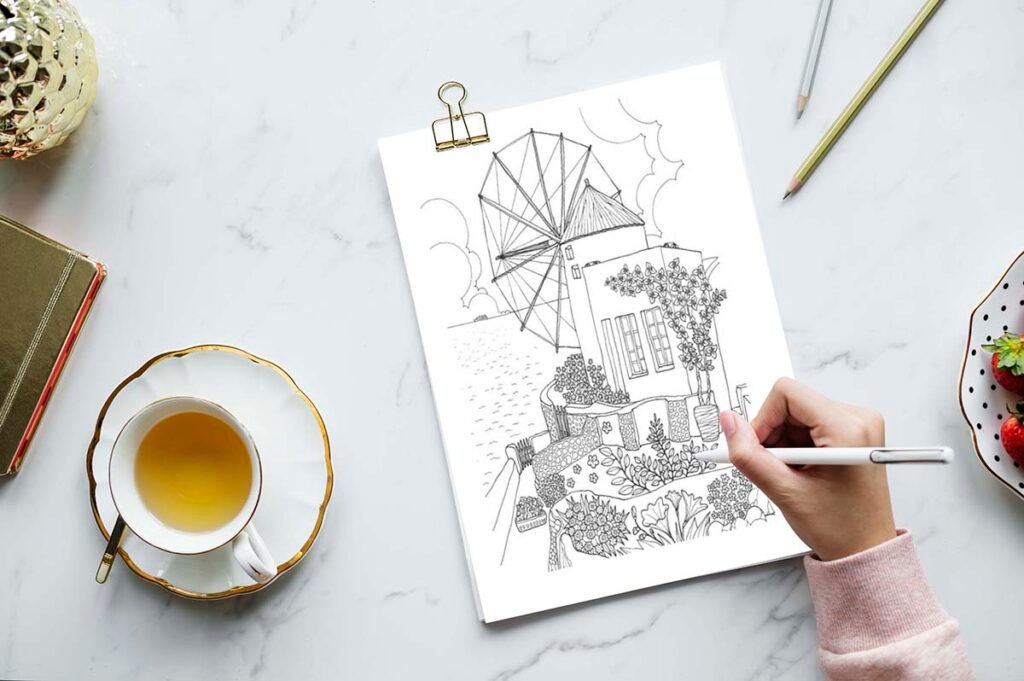 Nothing beats the beauty of the sea as viewed on a seaside house. Enjoy the same feeling by coloring this illustration! It displays the calming sensation of living near the shore, far from the busy streets and noise of the city. Aside from the peacefulness, this landscape evokes, finishing this coloring page will also bring comfort and relaxation to anyone by their worries and negative thoughts.
Girl, Cat and Space Aesthetic Coloring Page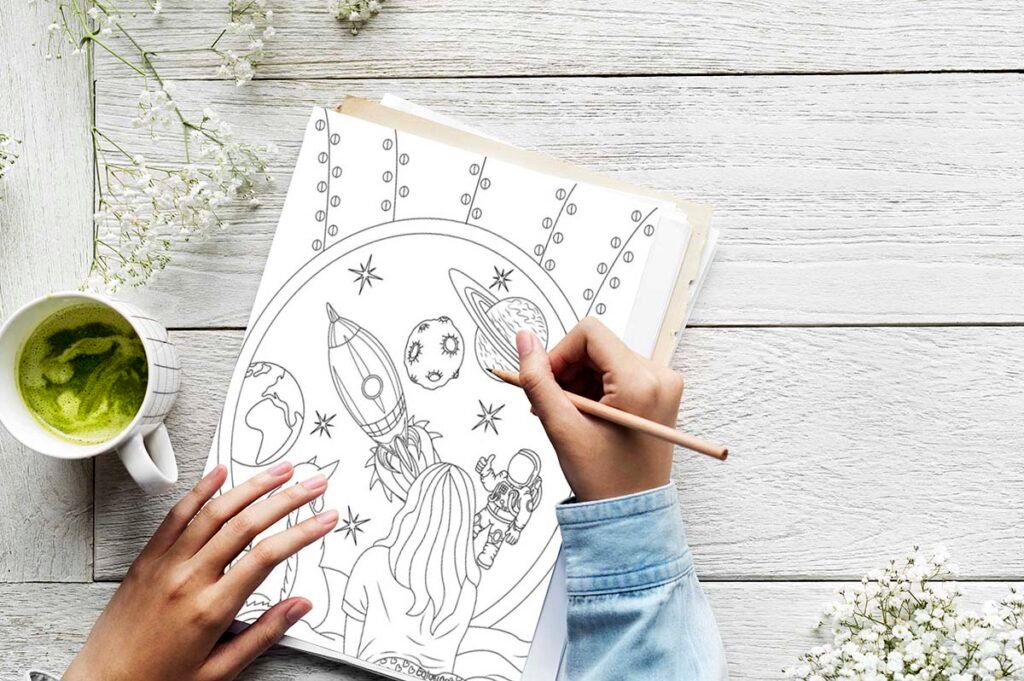 It looks like the lady and cat on this coloring page found fascination in things related to space! It's understandable why, especially when you consider the vastness of the universe. If you feel the same attraction to anything related to the cosmos, grab yourself a copy of this coloring page! Fill it with colors you prefer or anything your imagination dictates.
Aesthetics Animals
These adorable animals will fit the criteria for aesthetics while taking a soft spot in your heart! These creatures are part of this coloring page which you can access by hitting the download button. Apart from its irresistible charm, it's a coloring page that can fit your journal as decor, with your choice of colors giving it your personal touch.
Aesthetic Landscape Drawing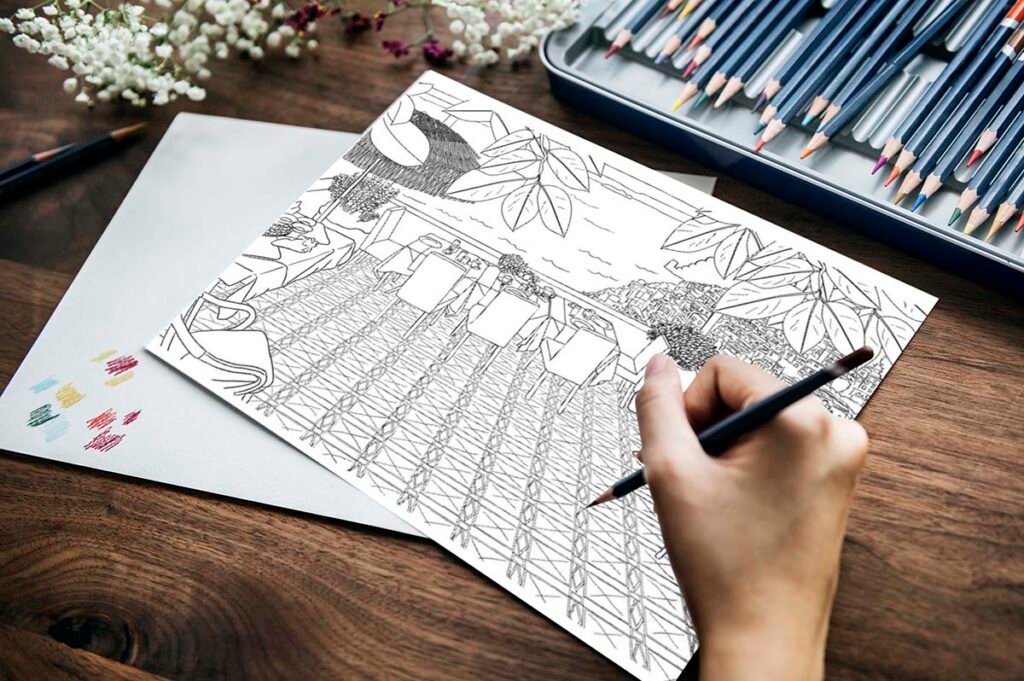 Everyone deserves an escape from reality from time to time. Many prefer staying indoors, while others enjoy the delight given by dining outdoors with the sight and feel of the sea nearby. If you're looking for an indoor activity that will bring you close to the sea, this illustration gives you what you need! It displays a scenery set on a dining place with a view of the ocean nearby, available for everyone to color.
Aesthetic Anime Girl Drawing Coloring Page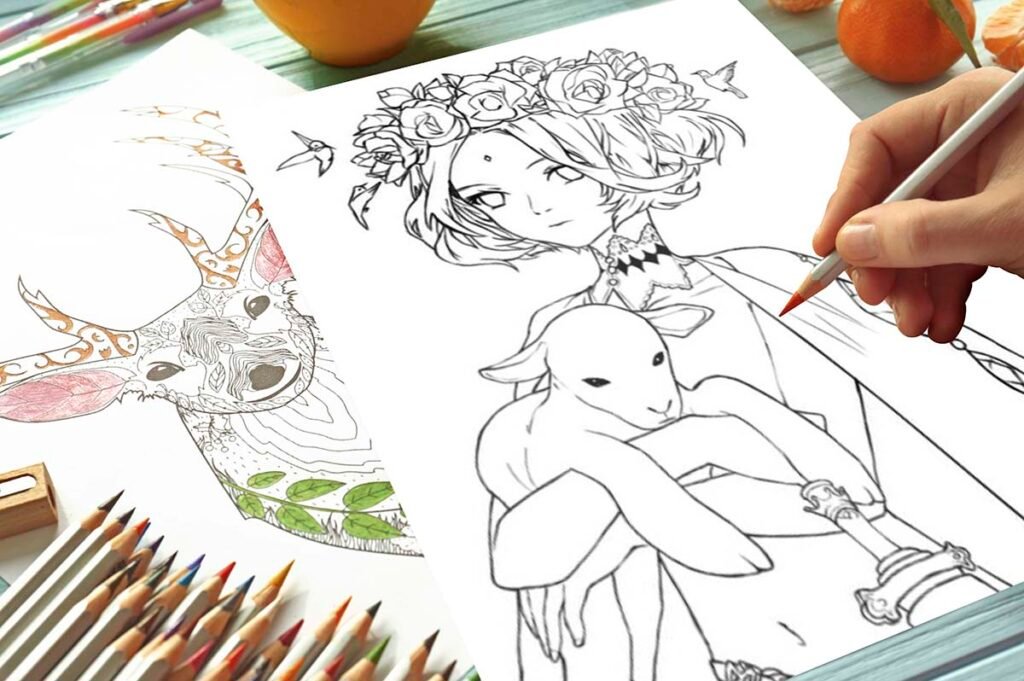 A warrior, a princess, or an adventurer, it's impossible to figure out this lady's identity. One thing's for sure. The lamb on her hands feels safe, comforted by her embrace. It's as if she personifies warmth and acceptance, considering how the lamb looks cozy with her. Her beauty doesn't end there. You have a part too! Get your coloring materials to unfold her beauty and for your eyes to witness it as its full glory.
Aesthetic Houses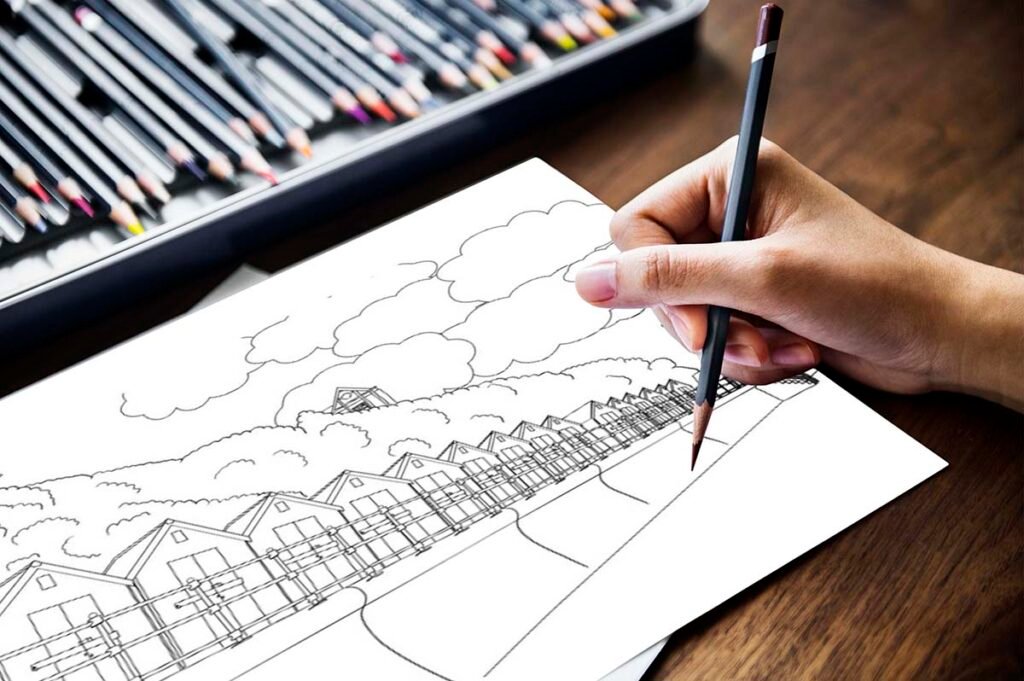 If you have a particular fondness for coloring houses, this aesthetic coloring page got you covered! It displays a row of bungalows with a similar design. Incorporating such a form will allow you to color each house differently. It also allows you to identify one place from another, giving each a personality or personal touch.
Aesthetic Coloring Page Conclusion
Delight in any Aesthetic Coloring Page from our compilation here at the Coloring Kingdom! These coloring pages are perfect for everyone, whether you're printing a copy of a kid or an adult looking for a worthwhile activity to divert their energy. Pick anything that captures your attention, then hit download to begin the fun!
We also have a collection of Mandalorian coloring pages that you can check if you are looking for other coloring pages or books to try.