Summertime brings out the greatness of watermelon. Despite its availability all year round, a vast majority prefer enjoying this refreshing fruit during the summer. It's understandable why. Aside from its taste and variety of ways to savor its flavor, this fruit also packs a nutritional punch. Its simple appearance disguises its many health benefits, helping your body fight disease while staying hydrated. The wonders offered by watermelon don't end in consuming this fruit. For example, a Watermelon Coloring Page extends this summer treat to the fullest! Apart from providing ways to stave off boredom, it's calming, relaxing, and refreshing, especially once completed. That's watermelon for you!
Whatever the season may be, any Watermelon Coloring Page from the Coloring Kingdom's collection will bring you bliss! Come and take a copy for yourself to taste its goodness today.
Watermelon PDF Coloring Page
Here's a watermelon that will keep your creativity flowing for hours! It may not be edible, but at least you get to design it however you want! There are no limits to how many colors you can use to complete this coloring page, so feel free to fill the spaces depending on your style.
Watermelon Zentangle Coloring Page
Whether it's summertime or not, this watermelon-themed coloring page fits any season! It's a coloring sheet you can enjoy in the morning as you sip your cup of coffee or before you go to sleep with your glass of milk. It also incorporates the Zentangle form of art, with various patterns decorating the page.
Watermelon Sugar Juice Box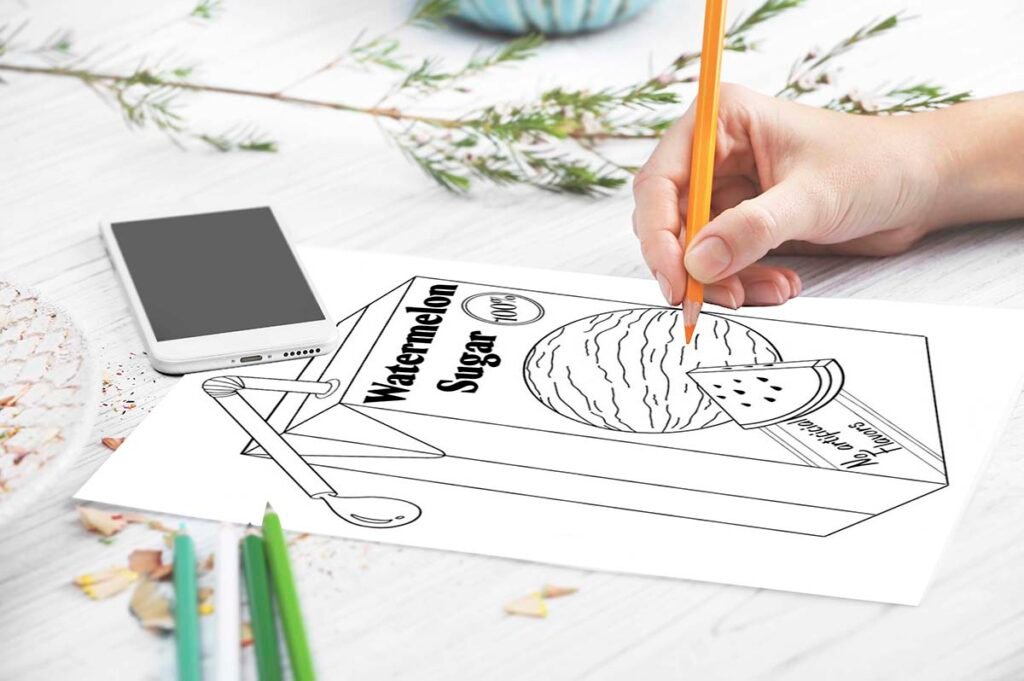 People can enjoy the greatness of watermelon in many ways. Take the Watermelon Sugar juice box on this coloring page as an example! Although it's a refreshment you can't drink after you finish coloring, it's still an activity that will make you feel delighted and relaxed. Download a copy now!
Simple Watermelon Coloring Page for Kids
Simplicity is what makes the watermelon fruit lovable to many. Its simple appearance masks the refreshing and healthy features it has, and it's no surprise why a majority have it as their favorite. Come and look at this watermelon coloring page! It's a simple illustration of a watermelon, perfect for anyone looking for something to color with ease. The watermelon fruit fits the criteria so well, so print a copy of this coloring page now!
Cute Cartoon Watermelon Coloring Page
If you're looking for healthy food that's also adorable, this coloring page brings what you need to your plate! It features a cute watermelon and a slice beneath it, with circles, diamonds, and a heart around it. It's an illustration that will make preschool kids and anyone who loves "kawaii" stuff smile, especially once completed with colors!
Halved Watermelon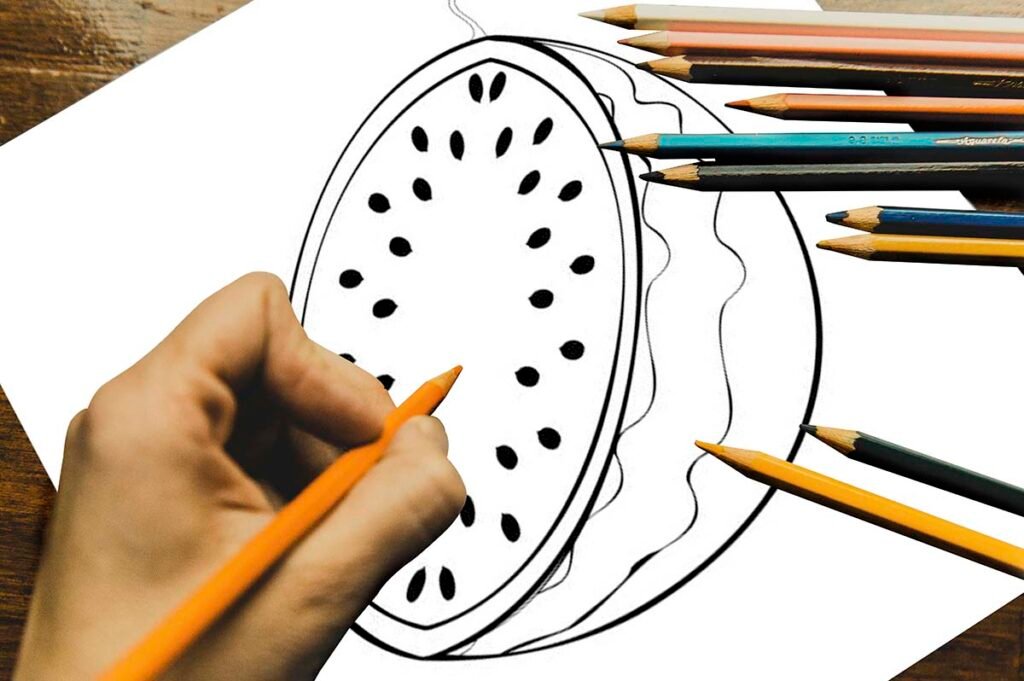 It's necessary to cut a watermelon open to relish its flavor. A common way to open a watermelon is to cut it in half, similar to the watermelon on this coloring page! Doesn't this watermelon look inviting? Come and take a bite of its goodness by coloring it inside out. Color the inner part pink or mix different colors to add your personality to it!
Cats Eating Watermelon Cartoon Coloring Page for Kids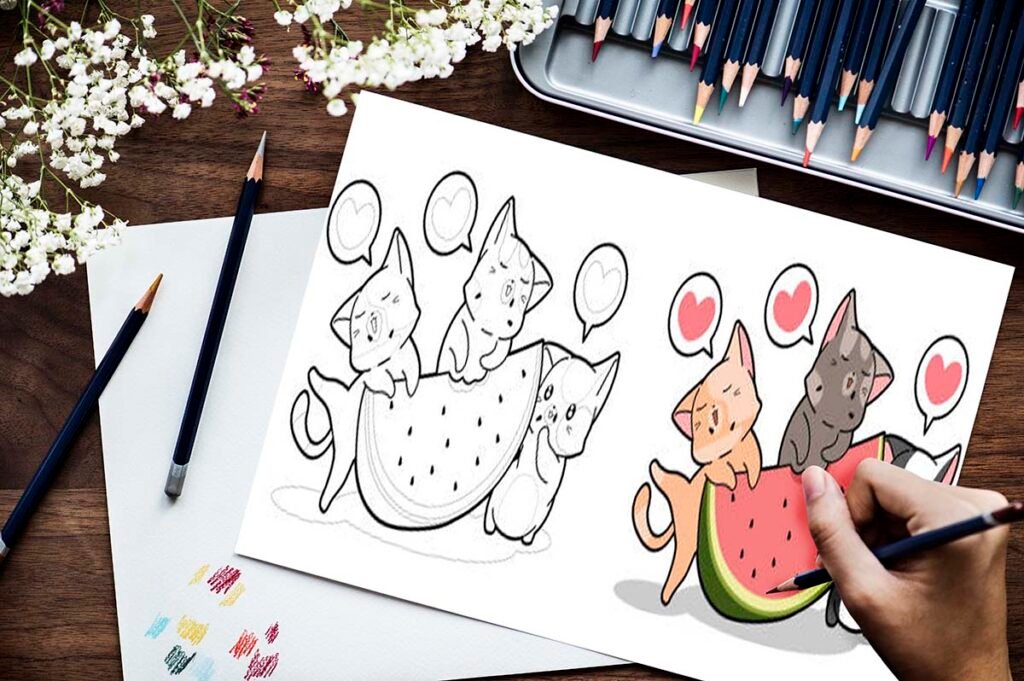 Fall deeper in love with anything related to watermelon like the cats on this coloring page! As their speech bubble suggests, the watermelon slice captivated the hearts of the three cats in the illustration. It's no surprise seeing how delectable that watermelon slice looks. Half of the coloring page is black and white, giving you a chance to copy the colors from the sample. Still, it's up to you to color these cats!
Vector Illustration of Watermelon for Kids Coloring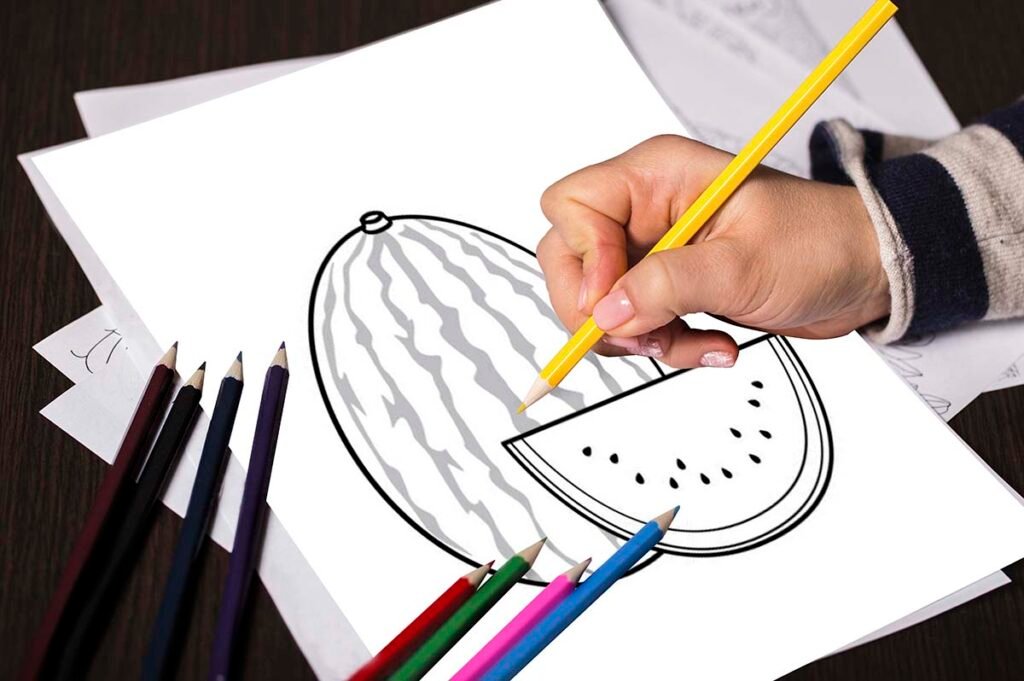 Transform this black and white illustration of a whole watermelon and its slice into something colorful by printing a copy for yourself! It doesn't matter whether you're a child or an adult looking for something worthwhile to do. Anyone can take a copy of this watermelon coloring page and make it filled with vivid colors! Therefore, hit the download button to keep a copy for yourself!
Hand Drawn Watermelon Coloring Sheet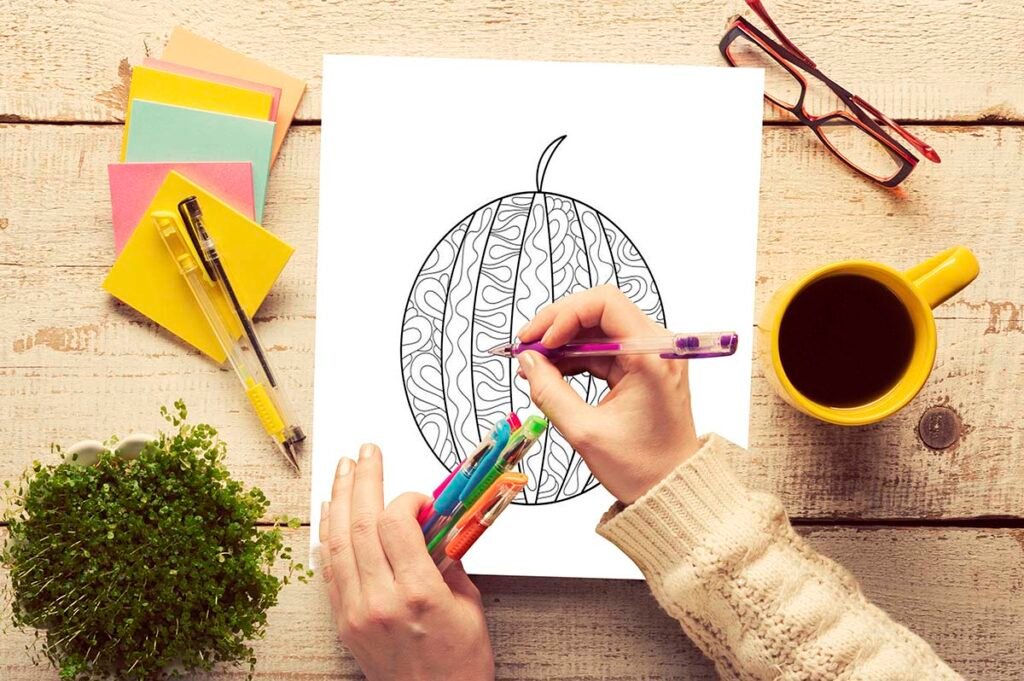 Kids and adults will enjoy filling this coloring page with colors, just as much as they love eating watermelon! There are varied patterns on each watermelon stripe, allowing you to test various color combinations that come to mind. The well-defined details make it easy for all ages to stay within the lines to achieve a neat output that's worth displaying afterward.
Watermelon Piece Coloring Page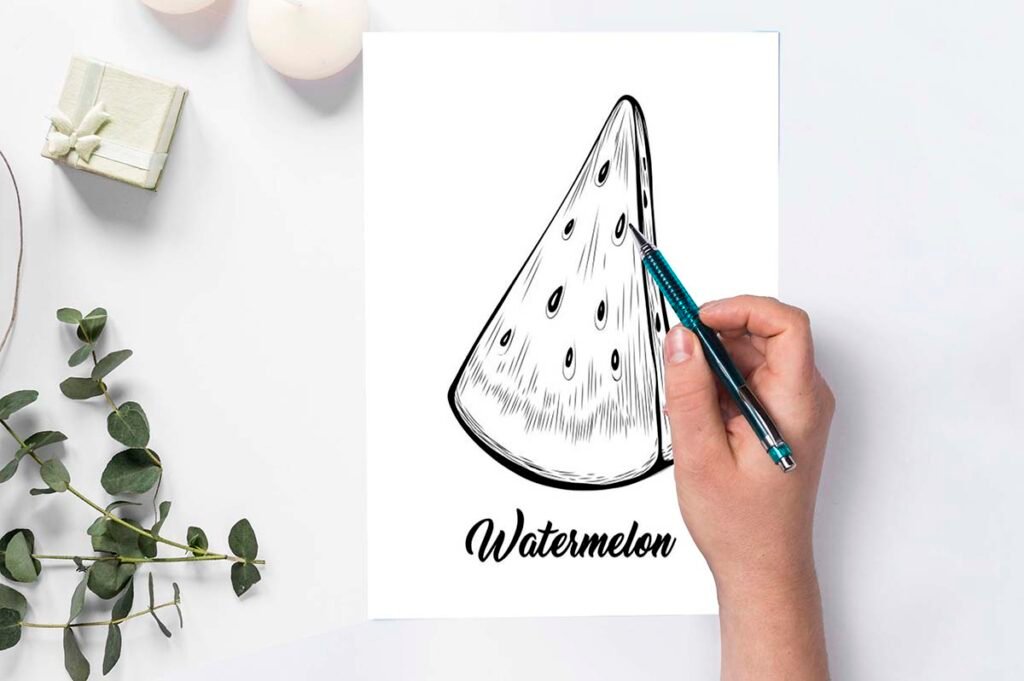 Have a bite of this watermelon slice to appease your thirst figuratively! Although this watermelon will not help you meet your fluid needs, it's still worth coloring. It's a simple illustration that's easy-to-color and an incredible option for anyone looking for an activity to beat their boredom. It's as if it's a refreshment that will quench your hunger for creativity!
Zen Doodle Hand Drawn Watermelon
Are you looking for an anti-stress activity you can perform indoors? Get ready for a treat! Adults and kids will delight in this watermelon coloring page. As depicted in the illustration, it's a watermelon packed with embellishments, ranging from a combination of lines to spiders of varied sizes. With this much detail to cover, you'll forget your worries and troubles for a moment!
Hand drawing Watermelon Coloring Sheet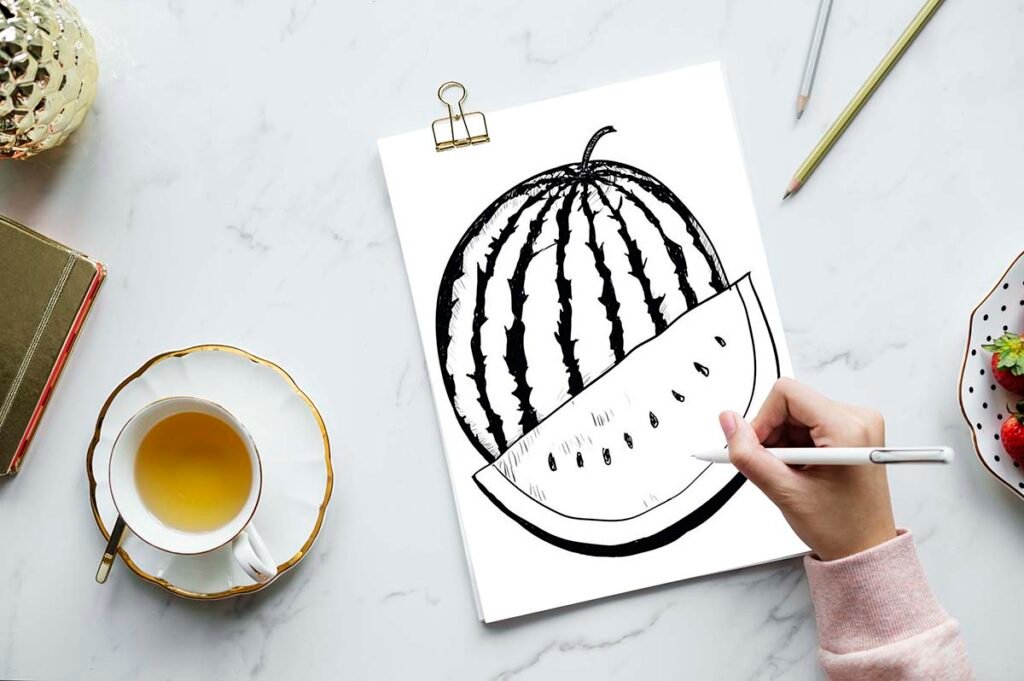 Don't let your worries keep you from getting the refreshment this coloring page offers! The watermelon on this illustration may not quench your thirst, but it's enough to put your troubles at bay for a while. You'll enjoy covering its details with colors, whether you're planning to follow the usual green-pink watermelon or not. It's never too early nor too late to take a break with this watermelon, so download it now!
Hand Drawn Illustration of Watermelon
Let your imagination soar with this watermelon coloring page! With six doodle figures to cover, you can produce pink, yellow, or even white watermelon slices! Apart from encouraging your creativity, this coloring page will also give you the escape you need from the real world. Worry-free hours are waiting, so print a copy of this coloring page today!
A Slice of Watermelon Fruit
Experience the beauty of summer, no matter what season it may be, with the slice of watermelon depicted on this coloring page! With its simplicity, you'll be able to finish the entire illustration with ease. You can print out as many slices as you want or even share the fun with a friend or family member!
Watermelon Coloring Page for Children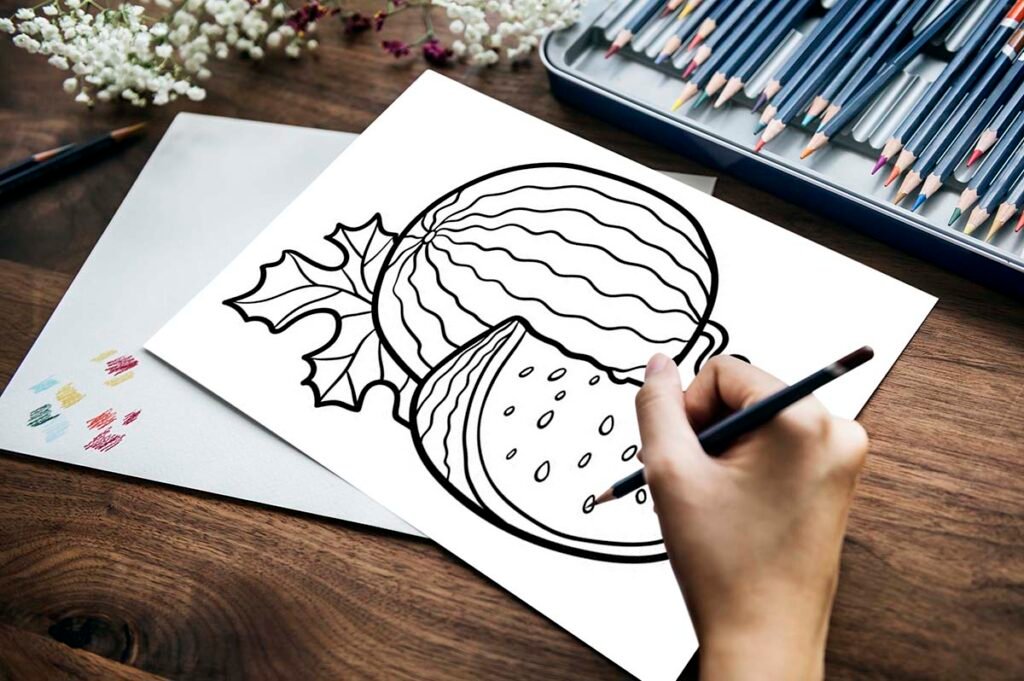 Many children enjoy a nice slice of watermelon on a sunny day. If you're looking for a watermelon coloring page for your child, you came to the right place! This watermelon coloring page allows your child to relish its goodness regardless of the weather taking place! Even if it's sunny or raining outside, this coloring page will keep your child busy and entertained at the same time.
Alphabet Letter W for Watermelon Activity Sheet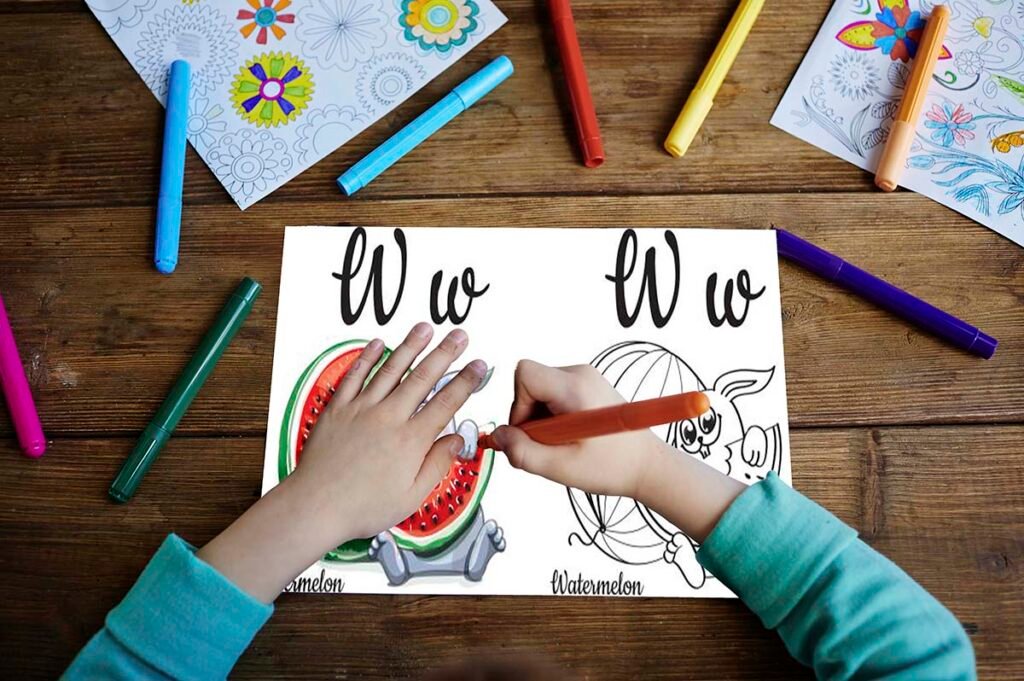 Teach your kid the alphabet letter W with this adorable coloring page! It displays a bunny eating a slice of watermelon, delight, and satisfaction evident on its face. Aside from the fun brought by coloring, this illustration will help your child learn the letter W with ease. It's an excellent way to introduce the mentioned letter and the fruit related to it!
Birds Eating Watermelon Coloring Book Page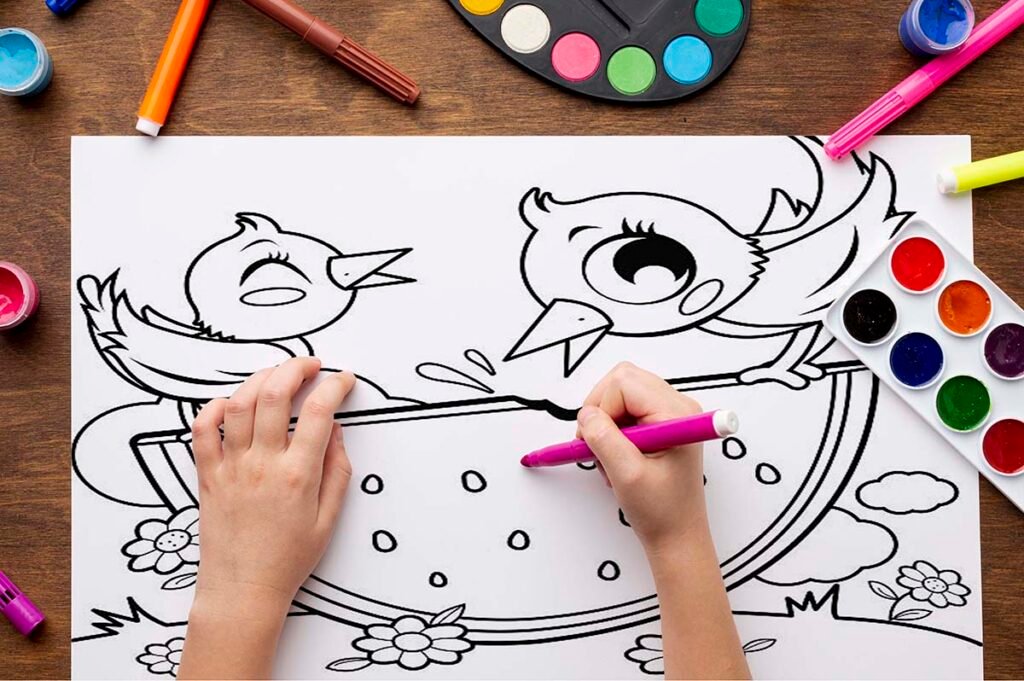 A watermelon's refreshing taste is not limited to human beings! For example, these adorable birds also enjoy the flavor brought by the watermelon slice on this coloring page. Its eyes even show its pure bliss upon having a peck on this watermelon. Experience the same satisfaction and joy by filling this page with the colors your imagination dictates!
Lineart Watermelon Fruit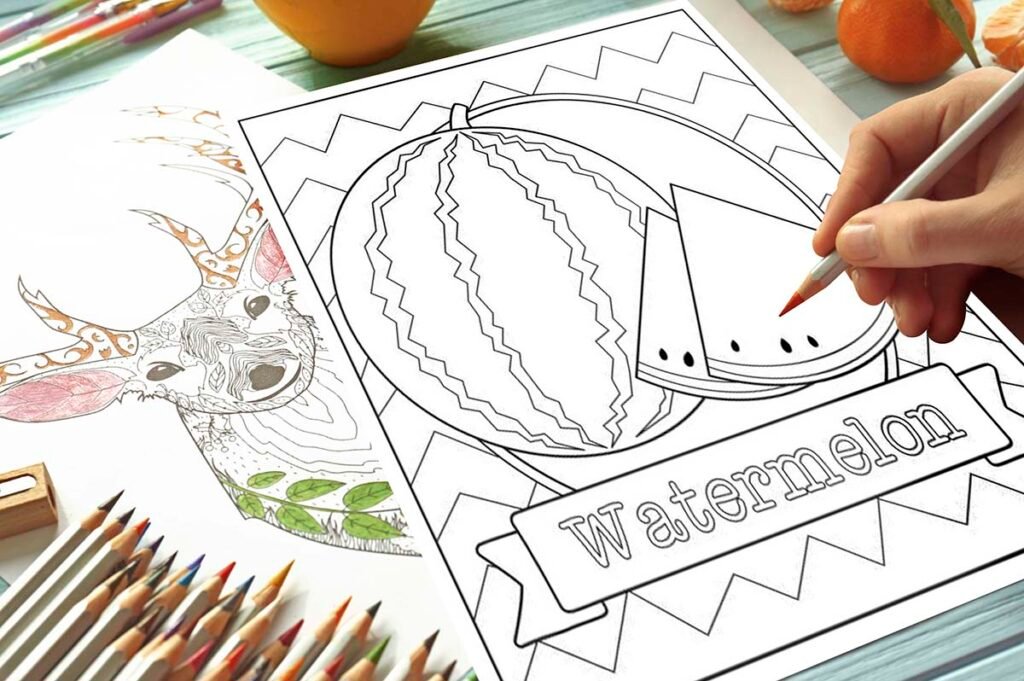 Despite exhibiting summer feels, everyone can delight in watermelon slices all year round. Take this coloring page as an example! It's a watermelon illustration that everyone can enjoy, regardless of their age, the season they're experiencing, or the purpose for printing one out. Wait no more! Hit the download button to experience the beauty of coloring this watermelon illustration today.
Cartoon Watermelon in Foliage and Flowers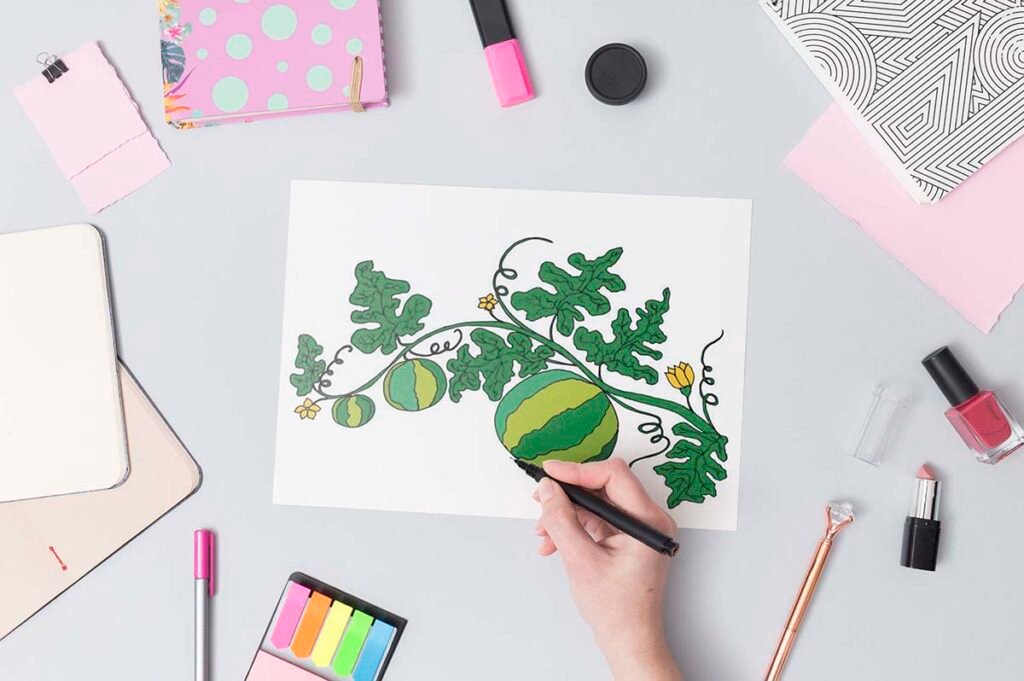 Would you love to see a watermelon right off of its vine? If your situation forbids you from seeing one, this coloring page got you covered! It offers an illustration of several watermelons hanging from its vine, with flowers blooming closely. Add shades of green to make this look like healthy watermelon foliage waiting for its ripening season to produce more fruits.
Slice and Whole Watermelon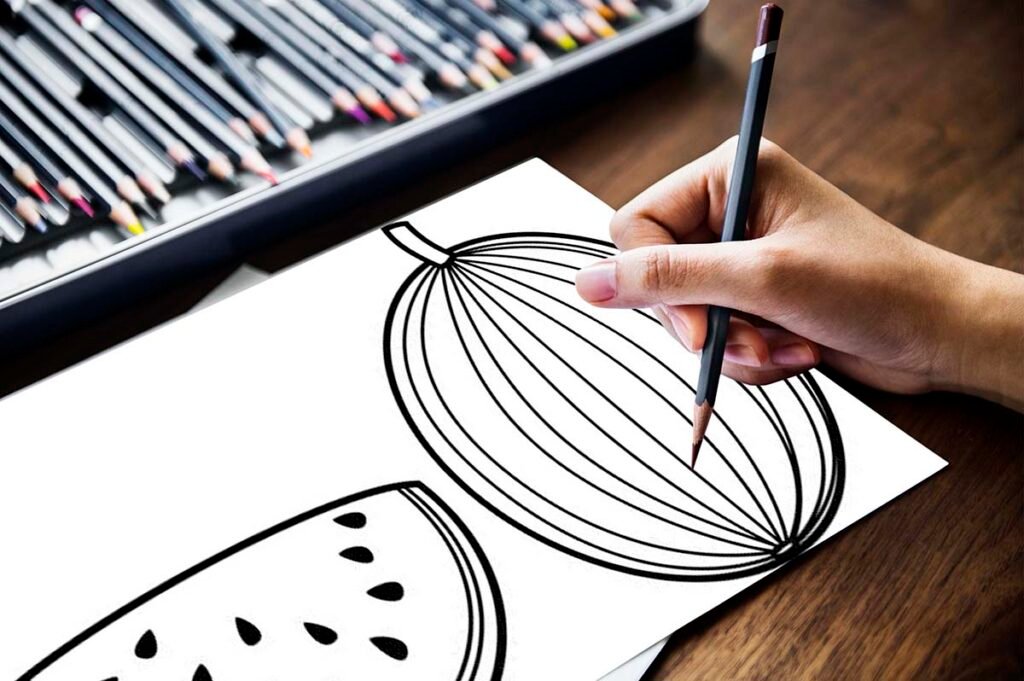 Check out the slice and whole watermelon sitting side-by-side on this coloring page! It's a simple display of the traditional watermelon most of us see during peak season, only in black and white. Transform the illustration into something vivid and bright by adding the colors from your arts and crafts utensils. You can make its flesh bright red or orangy, all depending on your preference or liking.
Watermelon Coloring Page Conclusion
Relax and refresh with any Watermelon Coloring Page from our compilation! Regardless of age or season, these coloring pages will provide the refreshment and breather you need for the day. It doesn't matter if you love watermelon or are a coloring enthusiast looking for a next project. These coloring pages are for everyone to enjoy! Download anything that captures your eyes to start the process!
We also have a collection of Aesthetic coloring pages that you can check if you are looking for other coloring pages or books to try.