Everyone deserves a good laugh from time to time, considering how we exist in a world filled with problems and uncertainty. The saying "Laughter is the best medicine" is true, as laughter and humor offer many health and social benefits. Laughter provides a good escape from our troubles and worries, so it's understandable why we find attraction in things that evoke humor. It also lowers stress hormones, relaxes our minds, adds joy to life, and brings people closer. That's what Funny Coloring Pages aim to deliver!
Funny or humorous things make us feel good. With that in mind, the Coloring Kingdom brings you our collection of Funny Coloring Pages! Aside from bringing out your lovely smile, coloring any from our compilation will help you relax your thoughts, de-stress, and feel entertained at the same time.
Funny Dee Dee Coloring Page
Dee dee is one of the three nasty cockroaches that star the comedy animated show "Oggy and the Cockroaches." The television series gained popularity for its expressive use of mime and the comic tactics of the characters. The show was hilarious for the most part, similar to how Dee dee looks funny on this coloring page. If you're a fan of the show, this coloring page is a treasure for you!
The Annoying Orange
Have you ever seen a talking orange? If you've watched the web series "The Annoying Orange," that experience counts! Deemed "Annoying," the orange from the mentioned series drew attention for his jokes, puns, and quirks. Although it's impossible to meet a real-life talking orange, this coloring page will bring the Annoying Orange to you! To make the experience better, play the show in the background as you color the illustration.
Farfan The Annoying Orange
The phrase "relentlessly annoying" isn't enough to describe the titular character on the show "The Annoying Orange." However, he gained the public's interest, especially young children and kids at heart. This coloring page brings delight to anyone who delights in watching "The Annoying Orange" series. There's no age limit, so everyone's free to have a copy of this illustration!
Funny Zig with Sharko Coloring Page
People mostly spend their childhood playing outdoors or watching quirky cartoon shows. Zig & Sharko belongs to one of many series kids love. Its episodes give a good laugh to fans and casual viewers. For instance, come and take a look at this coloring page! Although the duo looks scared, don't they look funny enough for you to have a copy and color it when you're free?
Funny Donkey Coloring Page
Donkey became one of the most loved characters in the Shrek movies. His euphoric and endearing demeanor, along with his hilarious remark, paved the way for his ever-growing popularity. Hence, it's no surprise how he took the center of the stage of this coloring page! Do you see his winsome smile? You'll experience the same happiness once you complete this coloring page!
Funny Pug Playing Ball
Doesn't this coloring page make you want to play ball with your dog? Like most dogs, this funny pug enjoys playing ball with his owner. An adorable companionship, that's for sure! Don't worry! Even if you don't have a pet dog, you can have this coloring page. Print a copy and imagine yourself playing with this pug under the sun.
Funny Bendy Coloring Page
Bendy may come from a horror game, but there's no need to feel scared of obtaining a copy of this coloring page! Having a big smile on his face, Bendy managed to look funny rather than scary in this illustration. Instead of devoting in negativity or anything fearful, try to fill this image with any color you prefer! You'll be surprised to see how far your imagination can go.
Funny And Crazy Octopus
It looks like this octopus has gone crazy with its tentacles going all over the place! Join the fun and craziness of its antics by completing this coloring page. Mix and match different color combinations, or add a background to bring more depth to this image. Afterward, you have the option to go crazy about your output, putting it on display for you to admire whenever you like.
Funny Face Forky Coloring Page
In the Toy Story universe, every toy had a mind of its own. Among the toys that left an impression on many fans was Forky. Forky was a handcrafted toy made from a plastic spork, a pair of googly eyes, wax and popsicle sticks, and a red pipe cleaner. That may sound intricate, so here's a coloring page to help you visualize or remember his look!
Funny Cartoon Tomato
A funny-looking tomato takes the center of the stage of this coloring page! Talking tomatoes and smiling ones don't exist unless drawn or displayed on media forms such as the one illustrated on this coloring page. It looks funny rather than realistic, so enjoy imagining its actions as you color this piece.
Happy And Funny Chuck Coloring Page
Angry Birds took over like a storm since 2009, hooking people's attention because of its simple graphics and mechanics. As its name implies, the game features stylized wingless birds with eyebrows that look like they're angry. If you've played this game once, you'll recognize the feathered friend on this coloring page! Instead of looking angry, this yellow bird looks joyful, ready to have you color it with yellow or any similar shade.
Funny Tod And Copper
Despite their inherent differences, Tod the fox and Copper the hound dog managed to form a unique and odd friendship during their younger days. This coloring page captures the beauty of their connection! All smiles, the duo looks adorable in this illustration. Fill this coloring page with colors and share the fun with a close friend to experience the beauty of their friendship!
Funny Hippo Smiling Coloring Page
Laughter and smiles are contagious, as most people say. For example, look at this coloring page showing a hippo smiling brightly! Doesn't its smile make you want to smile as well? Experience more of its happiness by completing this coloring page. Apart from the joyful feeling of accomplishing this activity, you'll also find satisfaction in seeing how productive and creative you can become.
Funny Wakfu
Wakfu fans will rejoice in the sight of this coloring page! Although it looks basic, this illustration holds the versatility most coloring pages possess. Once completed with colors, it doubles as a poster, giving Wakfu fans the ability to display their masterpiece. It's a great way to show your love for the video game and animated series while doing something productive and worthwhile.
Funny Frogs Dancing Coloring Pages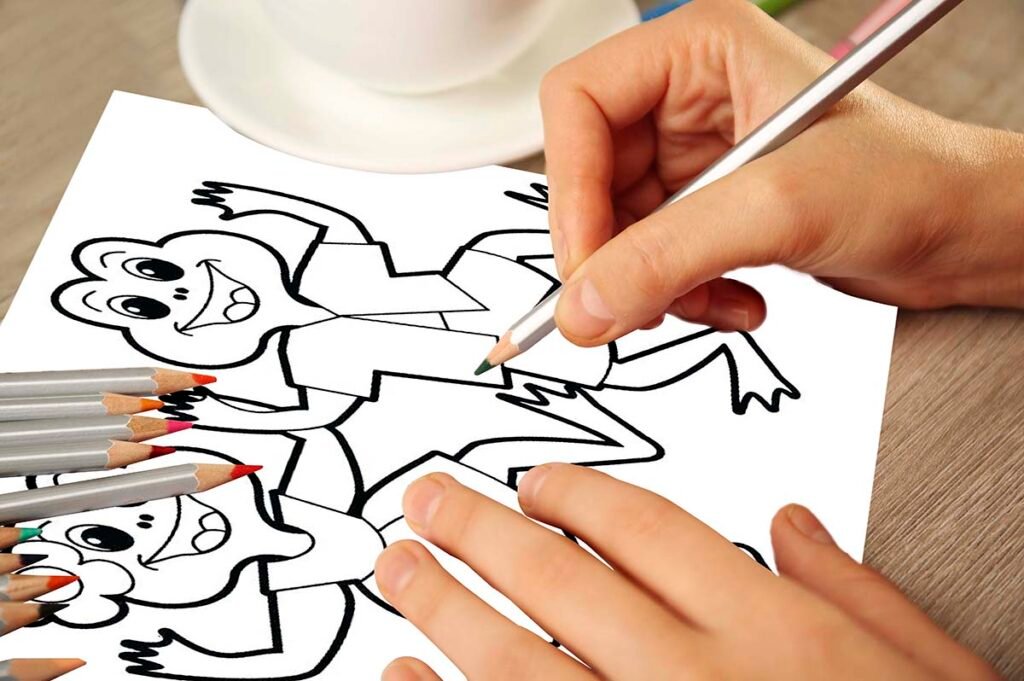 Get your hands moving just like how these frogs use their bodies to dance on this coloring page! It's an entertaining sight, considering how frogs can't do such movements in real life. Don't worry! You don't have to dance as you color this coloring page! All you need to prepare is your imagination and coloring utensils, freeing your thoughts from anything that will keep you from completing this illustration.
Funny Oktoberfest Man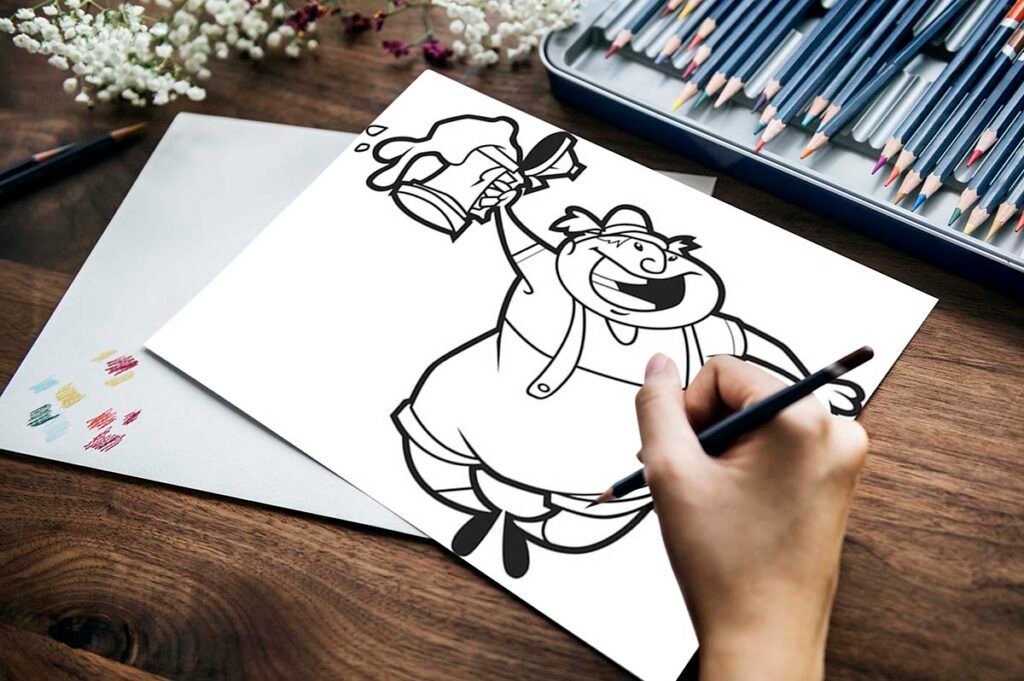 Among the festivities celebrated during October is the Oktoberfest. The festival features entertaining activities, including the drinking of beer. Check the Oktoberfest Man on this coloring page! He's having fun with his beverage, all smiles showing the amount of entertainment the festival has brought him. You don't have to color this illustration in October as you find delight in completing it at any date.
Funny Doraemon Coloring Page
Doraemon's funny face on this coloring page will elicit a big smile on your face! Apart from that, doesn't this illustration remind you of this robotic cat's story? After all, Doraemon has become a part of most people's childhood memory. Reminisce your favorite Doraemon episode as you color this illustration, or even play it in the background to have a good laugh while coloring!
Funny Dizzy Devil
Hungry or euphoric, the Tasmanian Devil on this coloring page looks funny without even trying! You'll find enjoyment in coloring this page, especially since the sight of it is enough to evoke a smile on someone's face. Furthermore, despite its Tasmanian "Devil" name, doesn't this creature look adorable once filled with color? Find out by printing and coloring this illustration!
Funny and Happy Cartoon Heart Coloring Page
All eyes are on this happy heart holding a bunch of flowers in its hand! Doesn't this illustration remind you of someone you love? It may appear funny at first, but like most people, giving someone a little gift brings out a lovely smile on their face. Hence, why not consider printing a copy of this coloring page and enjoy filling it with colors with your loved one?
Funny Bugs Bunny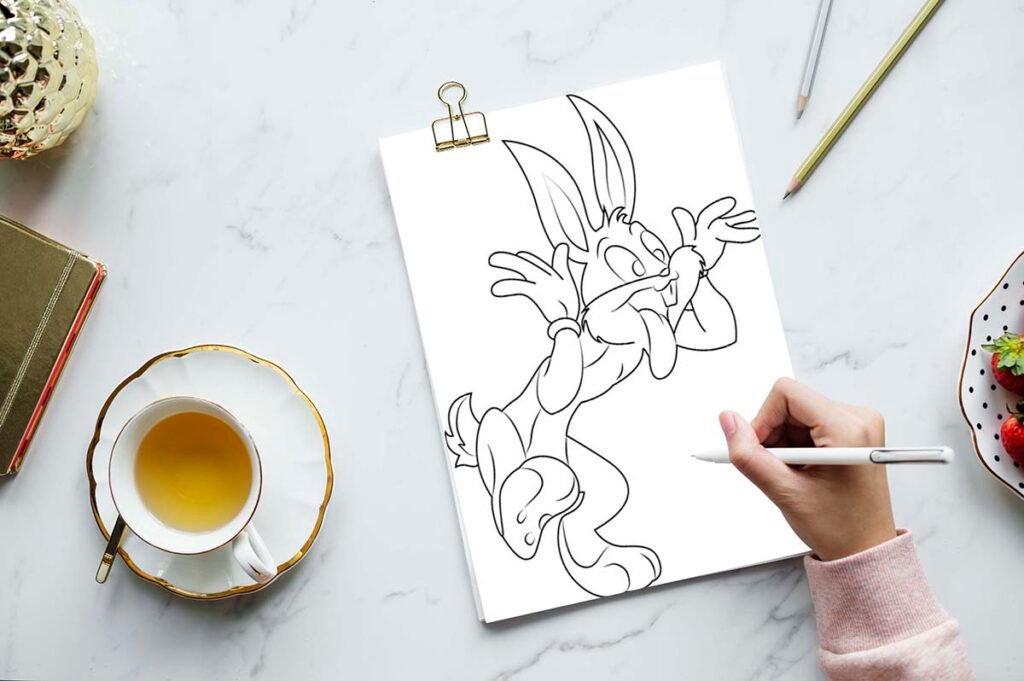 Bugs Bunny's funny face looks inviting for Looney Tunes fans and coloring enthusiasts, considering how it's in black and white. Like how the Looney Tunes show brings entertainment, this coloring page will deliver a moment of relaxation for anyone who's looking for one. It doesn't matter if you're a fan of Bugs Bunny's hilarious acts, as this coloring page caters to everyone!
Funny Coloring Pages Conclusion
Let your creativity flourish as you give yourself a good laugh through our Funny Coloring Pages! Even if you don't find yourself laughing at any coloring page from our selection, the Coloring Kingdom hopes to bring out that smile of yours. Download anything that snatches your attention to begin the fun!
We also have a collection of Piggy coloring pages that you can check if you are looking for other coloring pages or books to try.