Millions of users have fun playing games on the virtual game platform called Roblox. There are many games inside the software and among its popular ones is the survival horror game entitled Piggy. As its title suggests, the game stars a pig-like character, much like Peppa Pig, intending to find all of the survivors in a zombie apocalypse setting. Furthermore, players found its compelling storyline, puzzles, problem-solving, and horror aspect thrilling, playing it for the satisfaction of outsmarting the Piggy. Hence, it's understandable how popular the game is for all ages. Its fame also inspired the Piggy Coloring Pages, giving users an escape from their on-screen playtime for a moment.
The Coloring Kingdom brings you a collection of Piggy Coloring Pages! It's a great boredom buster for all ages, allowing you to unleash your creativity in something fun and worthwhile.
Piggy with a Bat Coloring Pages
Fret no more! Despite the fearsome appearance of Piggy on this coloring page, it's an illustration that will bring you no fear. The truth is, you can turn Piggy into something less scary, all with the use of your favorite coloring utensils! Prepare a bunch of color combinations and print as many copies as you want to test each one out!
Pony Piggy
Apart from becoming an outlet for creativity, coloring pages also offer a great way of introducing colors. For example, young children will love to have their hands on this Piggy coloring page! The well-defined lines will help little kids color within the figure while parents aid them in knowing the colors.
Memory Piggy Roblox Coloring Page
Are you looking for a poster-like coloring page of the Roblox game entitled Piggy? Here's the worksheet you need! It's a simple illustration of Piggy holding a bat, with "ROBLOX" on top. The coloring page doesn't have any complex elements to color, so kids and adults of all ages can have fun coloring this image whenever they like.
Soldier Roblox Piggy
Prepare yourself for a battle against the soldier Roblox Piggy on this coloring page! Don't worry! It won't be a violent fight since you'll only need your favorite coloring tools to win. Print a copy of this coloring page, get your color choice ready, and start the creative process right away.
Golden Piggy Roblox Coloring Page
With a sword to attack and wings to fly, it looks like Piggy will win any battle thrown at it. However, you have the upper hand on this coloring page! Why? You can transform this Piggy into something soft and adorable with your color choice! A light color palette will do the trick. However, if you still prefer a fighter Piggy, go for dark colors.
Thor Pony Roblox Piggy
There are no limits when it comes to coloring pages. Take this coloring page as an example! Who would have thought that Piggy could disguise itself as the mighty Thor? Add more depth to this Thor-inspired Piggy by adding any color to it. Moreover, feel free to add a background to make his figure pop even more.
Georgie Piggy Roblox Coloring Page
Rather than intimidating others, Georgie the Piggy looks like the scared individual on this coloring page! Assuming that bat on his hand acts as a weapon, you also have a harmless tool to defend yourself. Grab your coloring tools right away and make Georgie look adorable before this Piggy turns into something evil.
Mother Piggy Roblox
Mother Piggy takes the center of the stage on this coloring page. The simplicity of this illustration makes it ideal for young coloring enthusiasts or anyone who's starting to make coloring a hobby. It's also a plus if you're a fan of the Piggy on Roblox who's looking for an alternative activity to do whenever you don't play the game.
Zizzy Piggy Roblox Coloring Page
Zizzy, a Zebra and former fencing coach, is a friendly NPCs in the Piggy game. If you're interested to see her appearance, here's a coloring page to help you out! Zizzy wears a purple musketeer hat that matches her purple outfit. Looking at this coloring page, it's up to you to fill her clothing with purple, carefully coloring her stripes as well.
Piggy Pony
Typical coloring activities require coloring tools such as crayons, colored pencils, markers, or watercolor paint. However, this coloring page offers more! Apart from giving you the ability to print several copies, you can also color Pony from this coloring page online. Then, you can print out the colored version to enjoy its beauty afterward!
Frostiggy Roblox Piggy Coloring Page
Frostiggy was part of the Winter Holiday Hunt Event in the Roblox game, Piggy. As its name suggests, this character has a connection to ice, something its appearance resembles. This coloring page only provides a simple depiction of its look—Frostiggy having icicles sticking out of its body and an ice bat on its hand.
Parasee Piggy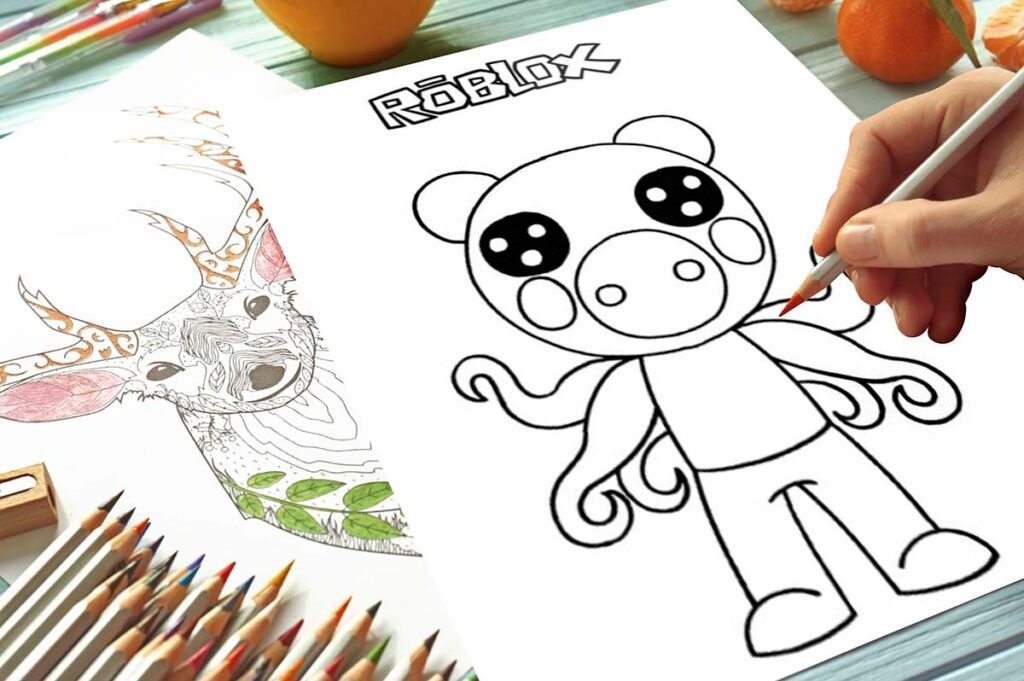 An odd-looking creature that resembles a red pig with an addition of four tentacles, the Parasee takes the spotlight on this coloring page. Such being is a skin in the Piggy game, although meant to be the bot of Distorted Memory. If you've played the game before and obtained this skin, getting yourself a copy of this coloring page will bring joy.
Pumpiggy Coloring Page
Could you guess the meaning behind the name of the Piggy character on this coloring page? This character's name is Pumpiggy. The stem on top of her head gives you an idea of what her head resembles—an orange pumpkin. Hence, the name Pumpiggy! That should also give you an idea of what colors to use, noting that pumpkins typically appear in yellow-orange, orange, and shades of brown.
Roblox Piggy Mimi
One of the main characters in Piggy is Mimi. As this coloring page shows, Mimi has a pair of glasses, accompanied by her purple dress and leggings. Mimi started as a background character before obtaining a more prominent role, so it's understandable why she captured the interest of many players over time. If she's your favorite NPC or skin, grab this opportunity to color her character!
Zack Piggy Coloring Page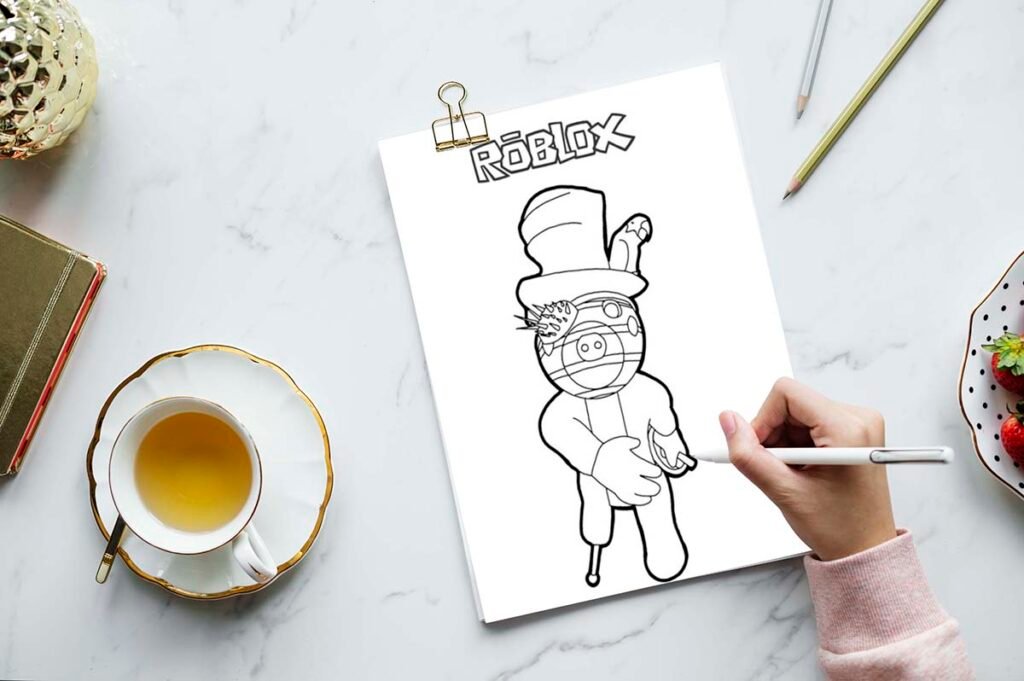 Doesn't the creature on this coloring page scary? It's safe to say that it's either infected or a being who underwent some terrible situation, judging from its features. Don't worry! This coloring page only provides an outlet for you to express your creativity and not to scare you from completing it. Get your coloring tools ready to start!
Robby Piggy Coloring Page
Robby from the Piggy game is a robot pig with one black ear, a red pupil on his left eye, and a chainsaw arm. Doesn't he look intimidating on this coloring page? Unlike his scary appearance in-game, this cyborg character is harmless in this illustration. That allows you to color it however you want!
Piggy Dino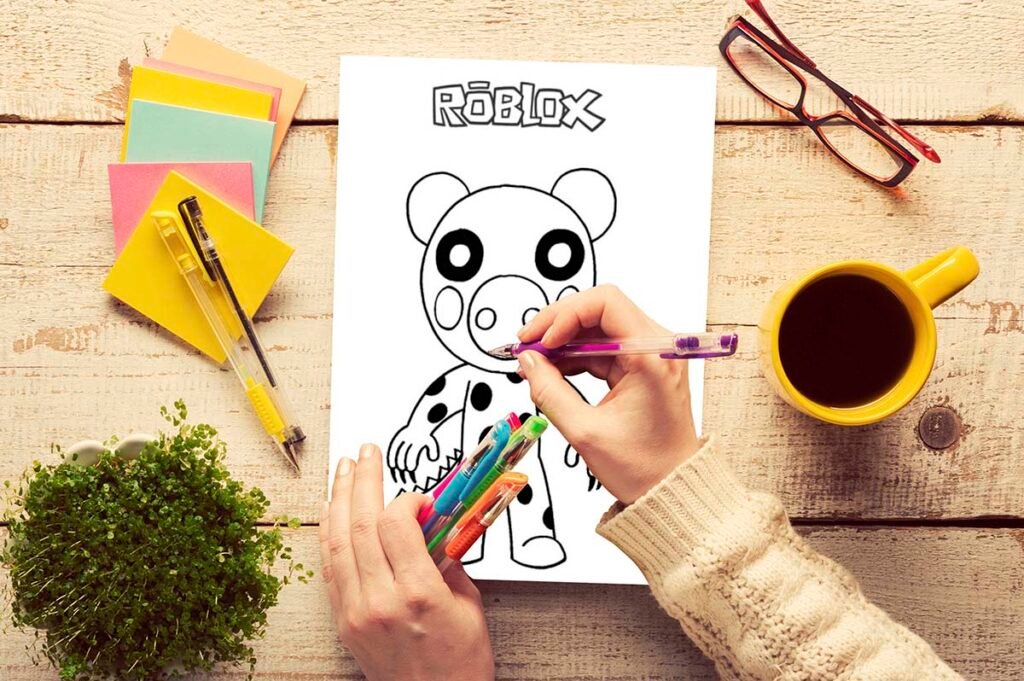 If Dinopiggy is your favorite skin in Roblox's Piggy game, this coloring page will make you blissful! Of course, it features Dinopiggy and "ROBLOX" on top, looking like a poster once finished. You can have your output on display, whether on the fridge or the wall in your room. To make things fun, play the game after completing this coloring page!
Sketchy Roblox Coloring Page
People use the word "sketchy" to describe something or someone that looks vaguely disreputable or suspicious. However, Sketchy from another Roblox game begs to differ! Rather than living by its name, the character drew inspiration from the Youtuber named Sketch. Isn't that cool? What makes things even better is you can customize Sketchy's color through this coloring page!
Zompiggy
Zombies became a hit in the fictional world, so it's easy to understand why this theme also became part of the game Piggy. Check out this coloring page! It features Zompiggy, a creature much like a zombie. As this coloring page shows, her half-exposed skull, missing eye and cheekbone, and skeleton arm best describe her appearance. Print and color Zompiggy now!
Infected Piggy Coloring Page
It looks like the character on this coloring page came in contact with another infected, thus becoming an infected itself! Poor creature! Transform this black and white illustration of an infected to something colorful to make it less frightening. Who knows? Maybe you can find ways to heal this character and turn it into a fascinating creature!
Piggy Coloring Pages Conclusion
Set your electronic devices aside for this compilation of Piggy Coloring Pages! Apart from providing an incredible distraction for kids and adults, it also offers a platform for encouraging creativity and imagination. Consider getting yourself a copy from our range of coloring pages, completing each illustration alone or with someone who loves Piggy or Roblox too!
We also have a collection of Circle coloring that you can check if you are looking for other coloring pages or books to try.