He-man became part of many people's childhood, especially for those who grew up in the 1980s. The superhero sported a blonde bob and a hyper-muscular frame, along with his famous catchphrase, "By the power of Grayskull… I have the power!" Before becoming a popular character in cartoon history as the protagonist of He-man and the Masters of the Universe, He-man found success as a muscle-bound action figure in 1982. A year after its release as a toy, He-man appeared in multiple television series, comics, and films that captured the imagination of the young ones, adding up to its already established popularity. These programs also pleased parents and educators because the shows portrayed nonviolent themes while delivering moral messages. Aside from these shows, He-man-related items, like toys, clothing, and He-man coloring pages, became sought-after products even up to this day.
If you're looking for He-man coloring pages, you're in for a treat! Here at the Coloring Kingdom, you won't have to waste a ton of time and effort to find illustrations displaying your favorite superhero, He-man!
Amazing He Man Coloring Page
He-man stands with confidence as if he's ready to fight the evil forces in the universe! With this coloring page, you'll get to add the colors to this superhero before he goes to battle. His muscular body and Power Sword complete the illustration, making it easy to identify him as one of the mightiest superheroes of all time. Get a copy of this coloring page now!
He-Man Riding Battle Cat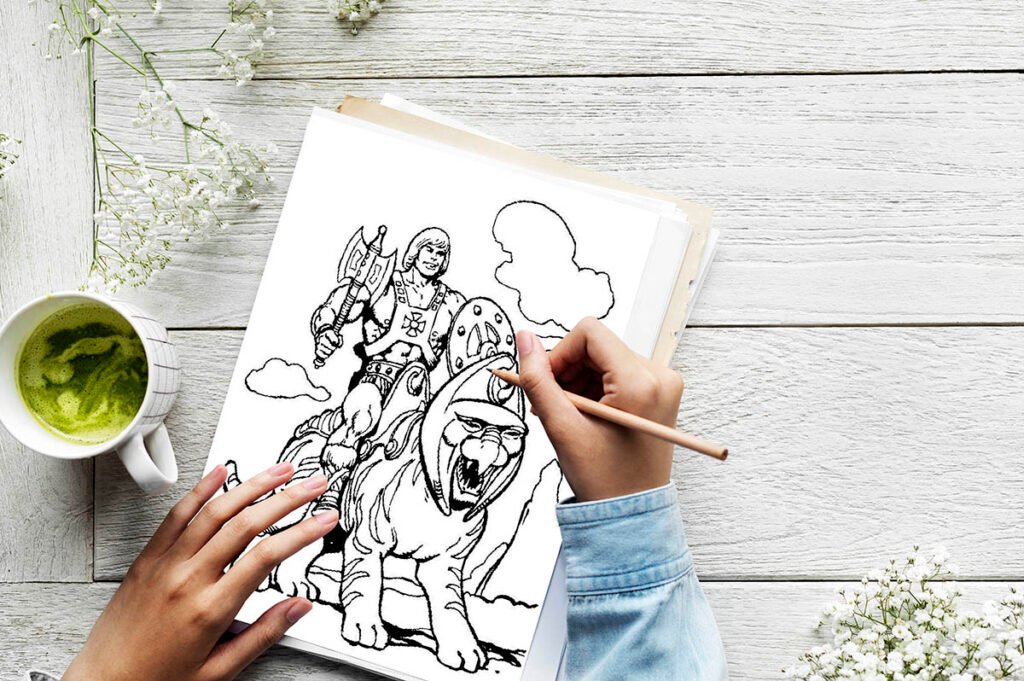 Here's an interesting coloring page for all He-man fans! Along with his battle cat, He-man holds his weapon as they proceed in attack mode. Their eagerness for action is visible in their heroic form. Similarly, get your coloring tools to meet their excitement. Fill the image with your preferred colors, and get ready to battle the evil with He-man and his battle cat!
He-Man Riding a Trak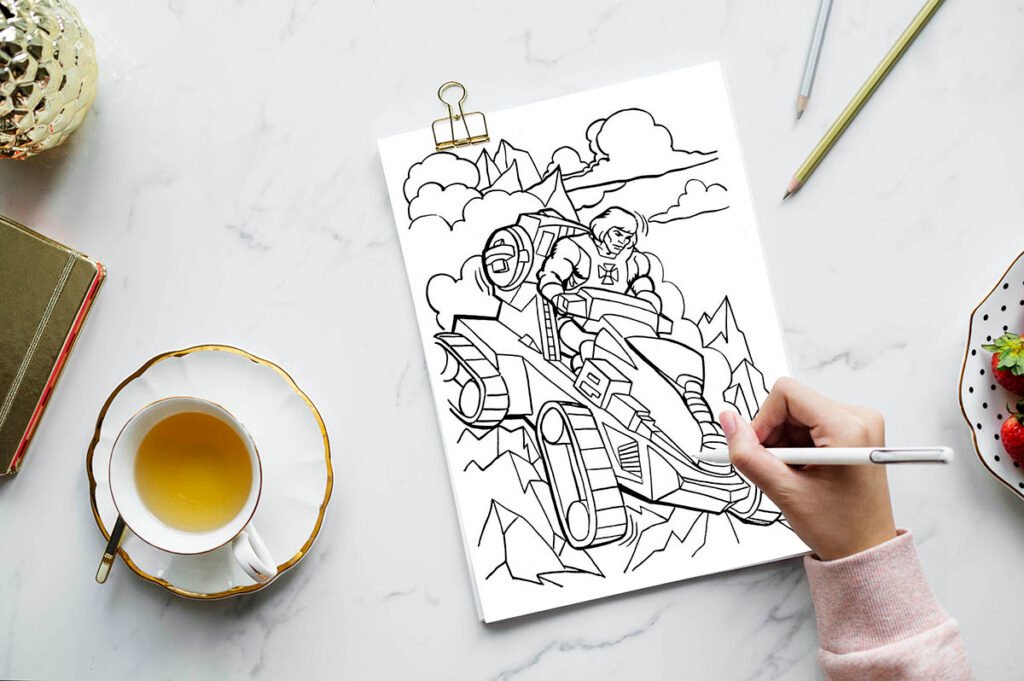 If other superheroes have cars, motorcycles, or aircraft, He-man got a tank-like vehicle for his missions! As seen in this coloring page, our mighty superhero rides his Attak Trak, which can pass over all kinds of terrain. This form of transport fits He-man's skills and personality, making it a good support vehicle for his villain-fighting activities. Have fun coloring the illustration as you visualize the scene taking place!
He-Man with She-Ra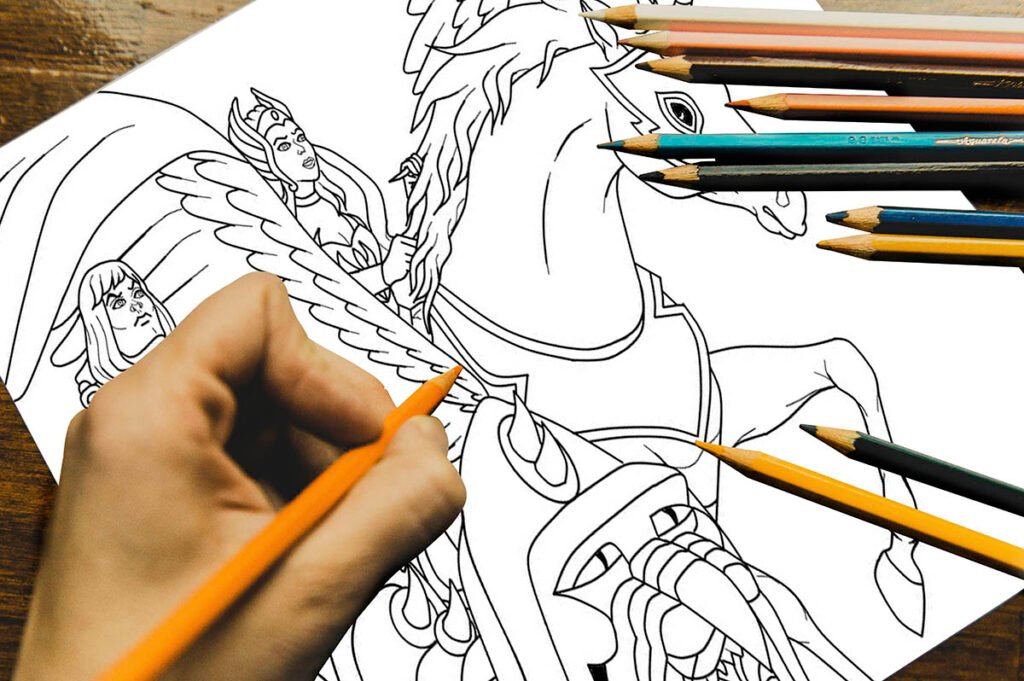 Joining He-man's evil-fighting pursuits is She-ra, a strong-willed heroine who's also He-man's twin sister. On this coloring page, you'll see them both on their animal companions: He-man on his battle cat and She-ra on her winged unicorn. As you fill in the well-defined details with your preferred color, envision yourself on the battlefield, with these two heroes as your allies. You'll have lots of fun!
He-Man Holding Axe and Shield
Before he fought with his magical sword, He-Man paired his shield with an axe. It enabled him to deliver a blow with greater force, matching his superhuman strength. Hence, you'll see him in action mode on this coloring page! Bring him to life through your coloring materials and skills. There are no limits when coloring this artwork, so take your time to enjoy filling it with colors!
He-Man and Sorceress of Castle Grayskull
Feast your eyes on this coloring page where the Sorceress of Castle Grayskull takes over the spotlight! With her abilities and powerful force, she bestowed the Sword of Power to Prince Adam so she could become the mighty He-man. She oozes with brilliance on this coloring page, and you can choose to fill her image with shades of yellow or orange to show her glamour. Still, it's up to you which colors you'll use!
He-Man Holding a Sword
Enjoy your daily dose of coffee or tea with this coloring page featuring He-man and his Sword of Power! His toned physique defines how strong he is, and with the weapon bestowed on him, he's more than ready to fight for what is right. Here lies the question: Have you prepared your coloring tools to add the colors to his figure? If so, start by hitting the download button!
He-Man Fighting
If you're into coloring pages filled with action, you've reached the right spot. Here's an image showing an angry He-man caught in combat with a villain. While it seems like the scene depicts our superhero is about to lose, it's always safe to assume that the good beats evil. As you fill this page with your chosen colors, visualize the scene taking place with He-man winning against his enemy!
He-Man Attacking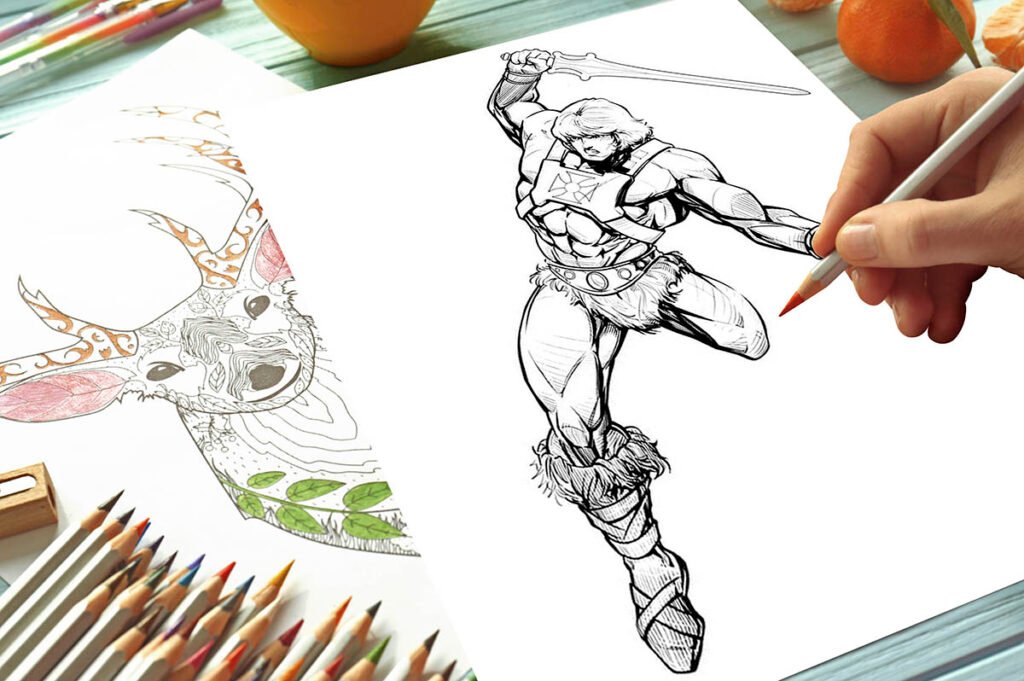 Are you ready for some action? Here's He-man on his attack mode! It's a coloring page based on how He-man looks like when he's fighting with his sword. As the illustration depicts, he's eager to hit his final blow against his enemy, something most superheroes do before their foes announce their defeat. With your choice of colors, this still-image of He-man will come to life, so make sure to pack your imagination with you!
He-Man with a Sword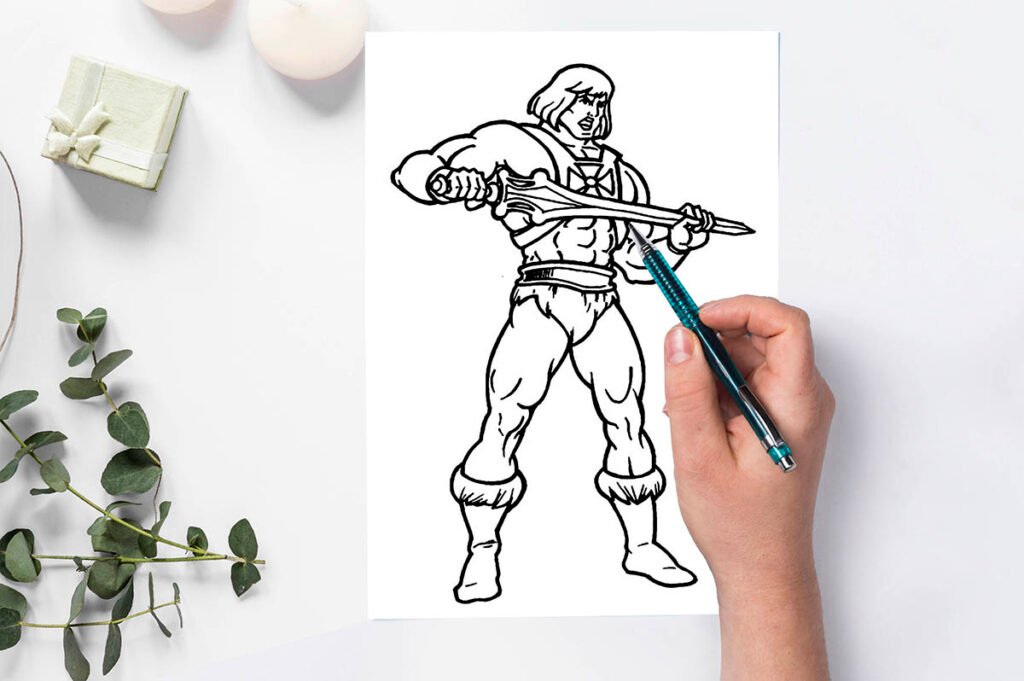 Aside from their gadgets, you can also keep your kids busy with this coloring sheet! It shows the superhero, He-man, holding his Sword of Power. The well-defined details and distinct line art are something they'll look forward to, especially if they've enjoyed watching He-man in action. Prepare their arts & craft materials to start the coloring fun!
He-Man Printable Coloring Pages
How about printing these enjoyable He-man coloring pages for your leisure time? With your favorite coloring tools, you'll bring He-man and his sword into their glorious form. There's no limit to who can have these printable illustrations since both kids and adults can enjoy coloring, regardless of their skills. Just print it and enjoy!
He-man Coloring Book with 

100 Pages for Adult
Get your crayons, colored pencils, and markers ready for hours of stress-relieving coloring activity brought to you by this He-man coloring book! With 100 pages of intricate illustrations to cover, you'll have a great time relaxing and stirring your creativity. It's also an excellent gift idea for anyone who loves coloring and decorating, especially if they're a fan of He-man!
He-Man and the Masters of the Universe Coloring Book
Kids and adults will love the enthralling illustrations presented in this He-Man and the Masters of the Universe Coloring Book! Take part in this superhero's journey as you meet various creatures, foes, and allies. The elaborate designs consist of different difficulty levels, so there's something for you, regardless of your age. Don't hesitate to download it now!
He-man 

Relaxation 

Coloring Book for Adult
With a bunch of He-man illustrations provided inside, hours of guaranteed fun and relaxation are waiting for you once you grab a copy of this coloring book! Aside from a peaceful session of coloring fun, you also get the chance to boost your creativity and enhance your focus as you go over each page. It's a book for beginners and advanced artists, especially for He-man fans who want to recollect their memories of this superhero!
He-Man Coloring Book for Kids, Teens, and Adult
He-man and the Masters of the Universe lovers, here's the ultimate coloring book for you! Aspiring artists, hobbyists, and experienced illustrators will enjoy the collection of images compiled in this book. Aside from being your favorite superhero in the illustrations, each page guarantees a world of relaxation, especially for anyone passionate about coloring. It also doubles as an incredible gift for He-man fans, suitable for any occasion.
He-Man

 Coloring Book with 

GIANT 50+ Coloring Pages
Never miss out on the fun that awaits in this coloring book that displays detailed designs based on He-man and the Masters of the Universe! Every coloring page is unique in its way, designed to help kids, teens, and adults relax as they express their creativity. With a variety of He-man and the Masters of the Universe illustrations to color, you'll have fun coloring alone or with a buddy!
He-Man and the Masters of the Universe Activity Color Book Pages
Experience the thrill of meeting the characters of the 1980s show, He-Man and the Masters of the Universe, through these vintage coloring pages in PDF format! Although it's a scanned copy of a 60-page coloring and activity book in the 80s, the action-filled illustrations perfectly capture the adventures of this superhero. If you're a new generation He-man fan or an enjoyer during their childhood, you'll love to have a copy of this one-of-a-kind digital publication!
He-Man Adult Coloring Book
Activities such as coloring can help adults relax, regulate their mood, and stir their imagination after a tiresome week of work. If you're looking for a coloring book to start your creative and relaxing journey, get this He-man coloring book! Color the details of each character and scene to your heart's content, and feel free to start with any page because there are 100 illustrations made for you.
He-man Adult Coloring Book For Stress-Relief
Unlike most coloring books, the images inside this He-man Adult Coloring Book use a color-by-number process in coloring. The illustrations include different scenes featuring He-man, keeping you entertained as you stimulate your imagination for hours. It's up to you to follow the numbers or not; as long as you're enjoying the process, you're doing great!
He-man Coloring Pages Conclusion
Fight the evil with He-Man through our He-man coloring pages! Whether you're from the 1980s, someone who recently discovered He-man, or merely love coloring, there's something for you in our collection of coloring sheets. Take your time to explore our compilation of He-man coloring pages and download anything that captures your interest!
We also have a collection of Galaxy coloring that you can check if you are looking for other coloring pages or books to try.