Many children enjoy playing dress-up, especially as royalties, either as a princess, prince, queen, or king. Of course, to complete the look, kids make crowns out of anything available. Moreover, adults also love dressing up as princes or princesses from time to time, especially when inspired by a film character. Aside from royalties, competitions and prestigious pageants use crowns to declare the winner. Thus, it's only proper to make this item a symbol of glory, honor, nobility, royalty, and triumph. Good thing coloring pages exist! With a Crown Coloring Page, you won't have to become royalty nor join a competition to obtain a crown or enjoy its beauty!
Experience the majestic feel of having a crown through a Crown Coloring Page! Our compilation here at the Coloring Kingdom will make you feel like royalty at the comforts of your home. Check it out now!
Mermaid Crown Coloring Page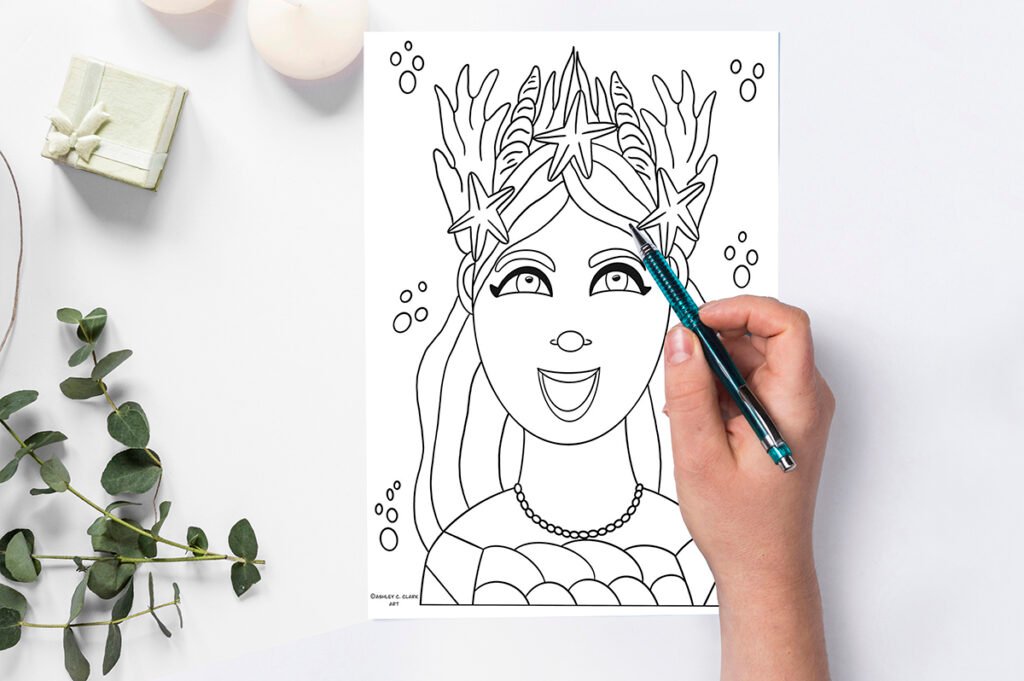 From the starfish-shaped ornaments on the crown to the scales of her dress, this mermaid princess embodies beauty and elegance. It's the perfect coloring page for your kid, especially if they're fond of princesses and mermaids. Take this an opportunity to spark their imagination or keep them away from their mobiles devices for a while.
Flower Crown Coloring Sheet
Flower crowns are easy-to-make and available for purchase in many shops. Hence, kids and adults can adorn themselves easily with these crowns! With that in mind, why not wear your flower crown as you fill this coloring page with your preferred colors? Imagine your favorite flower bunch and mix and match colors to bring a unique combination for this illustration.
Girl with Blueberry Crown
What a lovely blueberry crown! This coloring page flaunts simplicity at its finest, with the blueberry crown as the star of the show. It's a gorgeous accessory that brings out the lady's beauty in the picture and makes you want to get a blueberry crown for yourself! Get a copy of this coloring page and fill the spaces with the colors you like to bring out its best look.
Mermaid Girl with Crown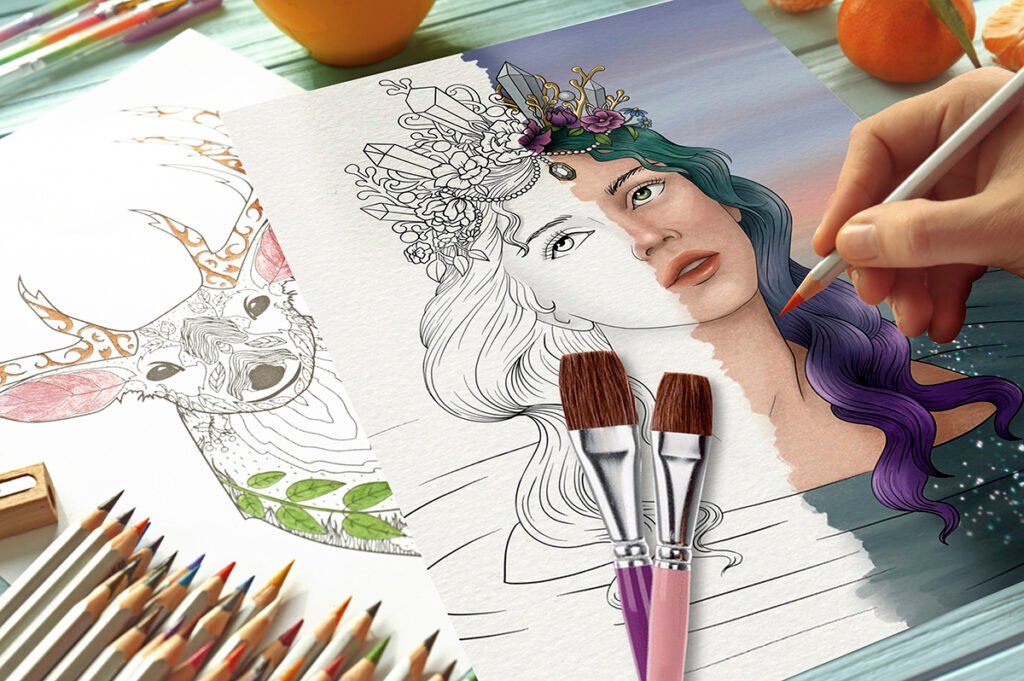 Fight off boredom and relive your mermaid princess dreams with this portrait! It's a crown coloring page made for kids and adults looking for a boredom buster aside from their phones. The mermaid girl is a sensation, and the crown intensifies her beauty. Relax with this coloring page and feel free to use any coloring tool to create a masterpiece.
Fantasy/Flower Crown Coloring Sheet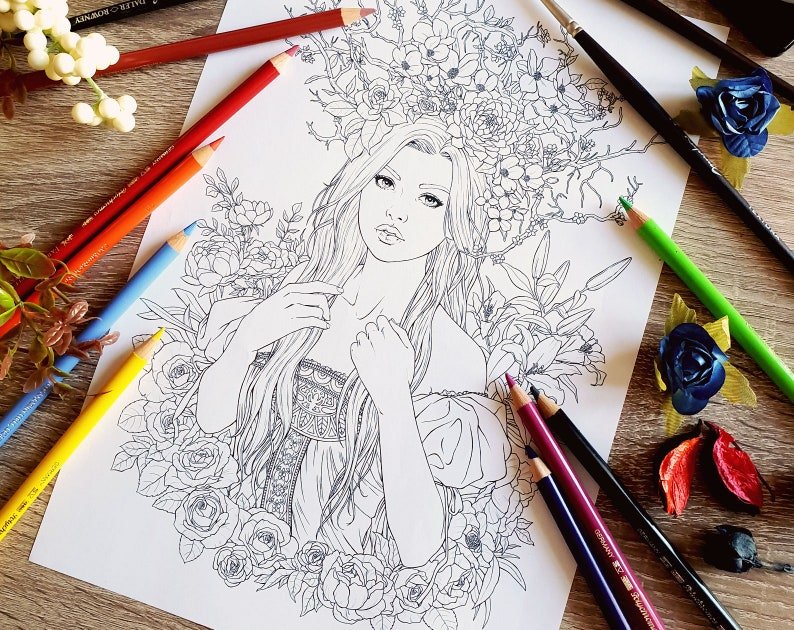 Are you looking for something to accomplish this weekend? Here's a challenging illustration for you! The number of details this coloring sheet possesses will keep you occupied for hours, and the results of your crafty hands will satisfy your eyes. The illustration is captivating, so don't be surprised if you find yourself immersed in filling it with colors!
Crown Coloring Sheet for Adults and Kids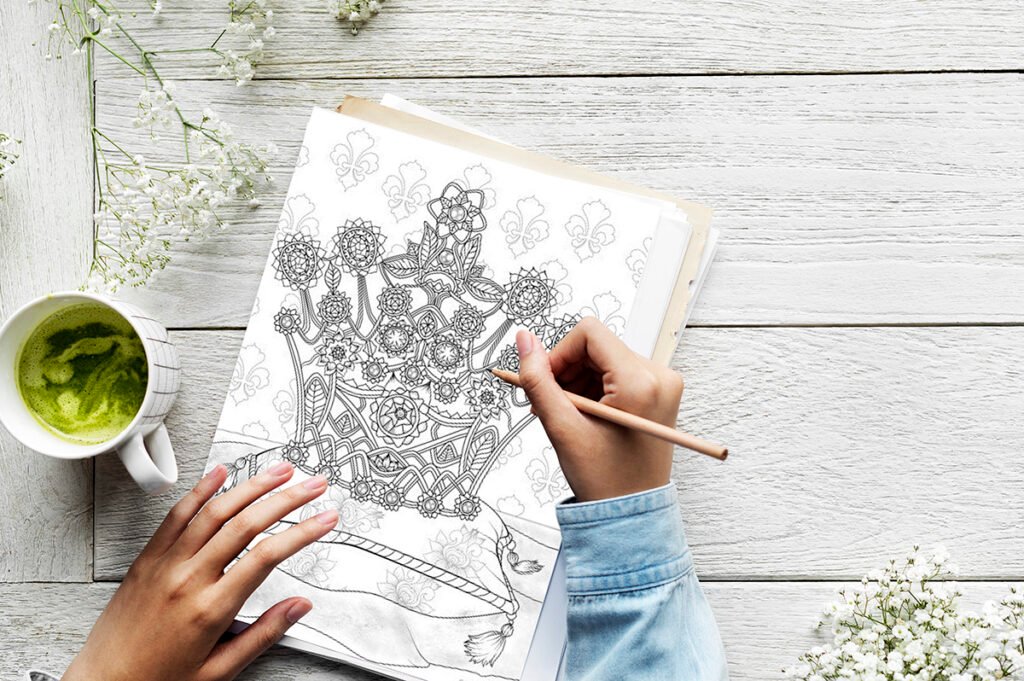 Dig out your crayons, pencils, or markers for crown coloring time! On this coloring page, a crown embellished with different jewels takes the center of attention. The attention to detail will keep you wanting more, especially if you're looking for a coloring page to keep your mind occupied. You can print it several times to test out new color combinations, so let your creativity shine as you color this page!
Floral Crown Lady Coloring Page for Adults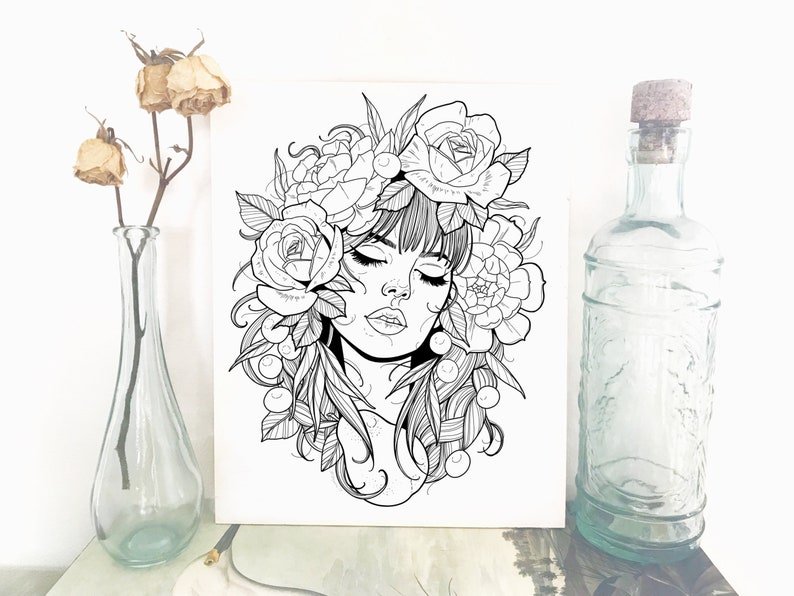 Did you run out of activities to do to deal with your boredom and somehow relax? Prepare your coloring materials for this indoor activity! Here's a coloring page featuring a lovely lady with a floral crown. It's a stunning art piece in black and white that looks better with colors, so feel free to use a variety of color combinations to bring this image to life.
Cat With A Flower Crown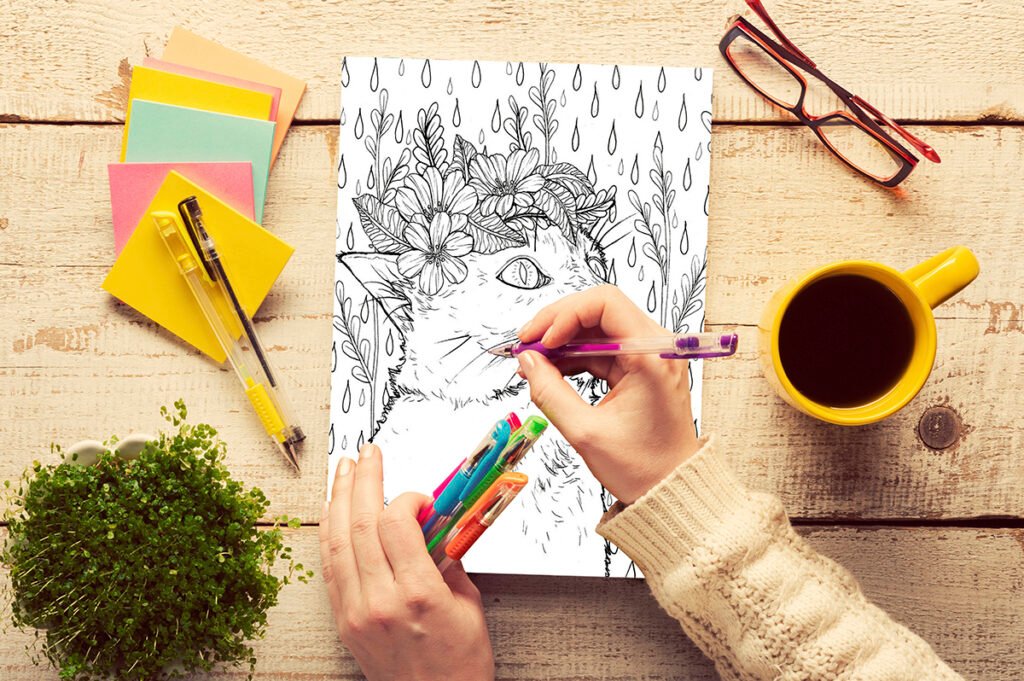 Cat lovers, here's the coloring page for you! It's a printable illustration of a cat with a flower crown, standing on a field as water droplets fall from the sky. The crisp lines and details are to look forward to, making it an image that looks like it jumped straight out of an animation or cartoon film. Don't hesitate to get yourself a copy of this coloring page because every print is worth it!
Woman with Crystal Crown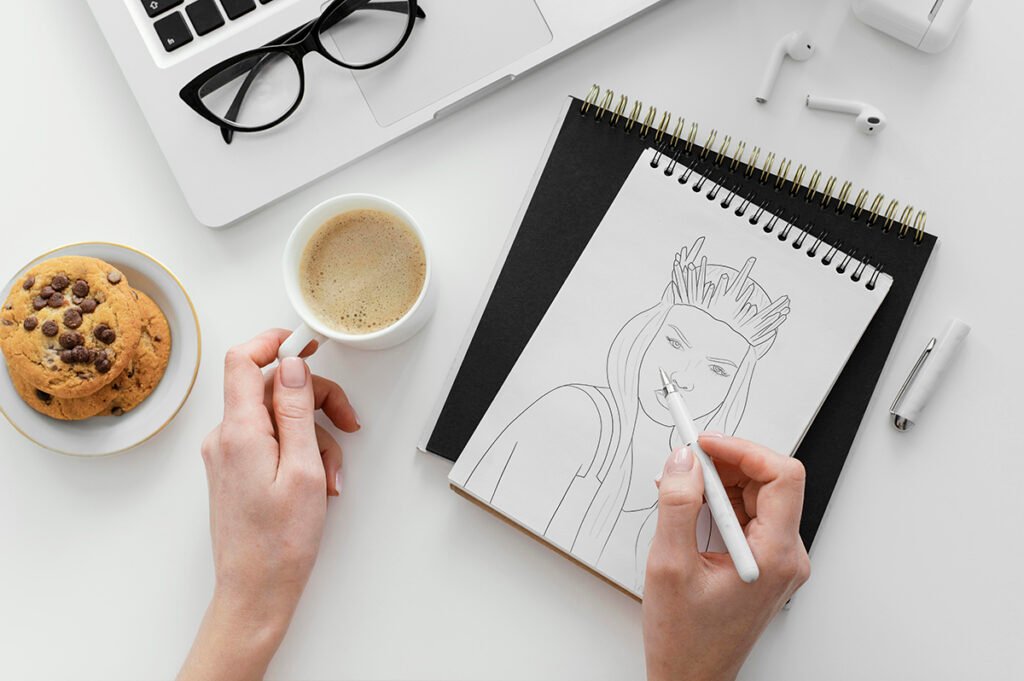 It's hard to find something else to do at home aside from playing mobile games, scrolling over social media, or watching shows. To somehow ease your boredom, here's a coloring page of a woman with a crystal crown! It's a simple illustration, enough to keep you busy for an hour or even less, especially if you find yourself immersed in the activity. You'll love to see this royalty bloom after filling it with colors!
Crowned Squid Coloring Page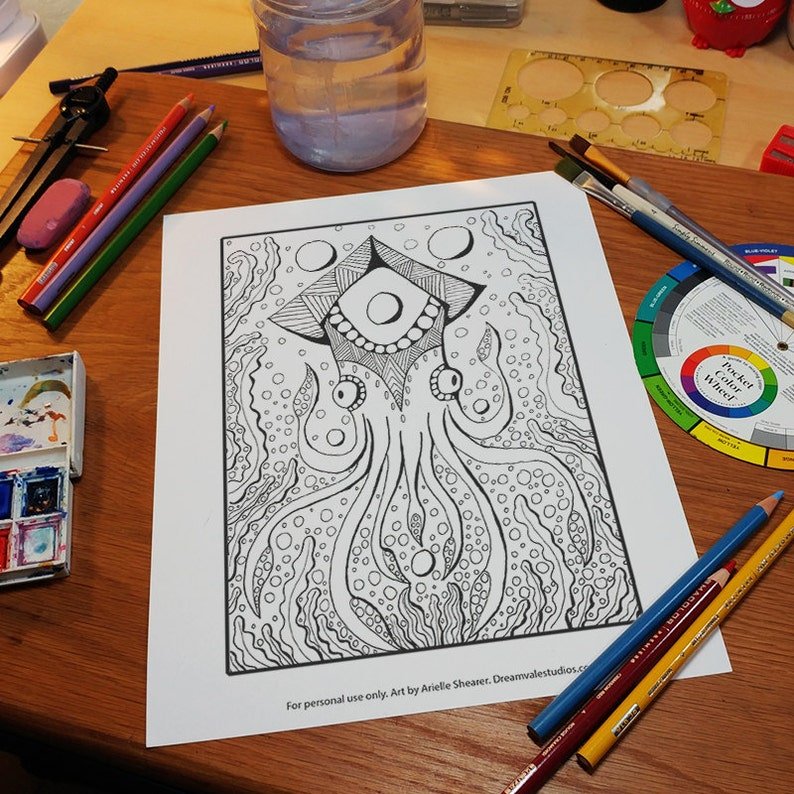 One of the most fun things to learn about the ocean would be the creatures that live beneath the surface. Squids are a fine example of the astonishing living things contained down the waters! Hence, this coloring page gives you a crowned squid illustration. The squid's crown holds simple line patterns you can color using various color combinations. Why not print this activity page and venture the waters below with this crowned squid?
Girl in a Flower Crown Anti-stress Coloring Sheet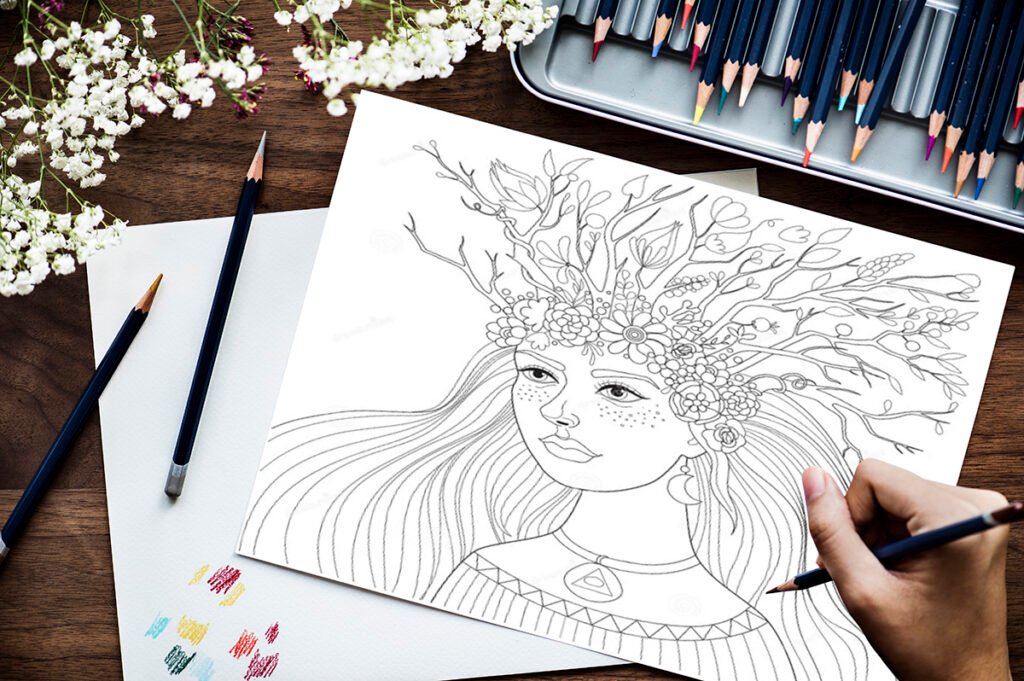 Fancy and close to nature, that's what best describes the lady on this coloring page. The lady looks like a forest princess, her crown adorned with different floral ornaments, along with twigs often found in forests or grass fields. The end-result guarantees satisfaction, especially once the lady and her flower crown get covered with an eye-catching mix of colors.
Girl In Flower Crown Coloring Pages
Take a break from your electronic devices by filling in this coloring page. The illustration portrays a girl wearing a flower crown. It's a relaxing activity sheet that will kindle your artistic sense as you soothe any built-up stress. You have the freedom to print as many copies as you like, especially if you'd like to test out different color combinations. Download it now!
King Crown Coloring Sheet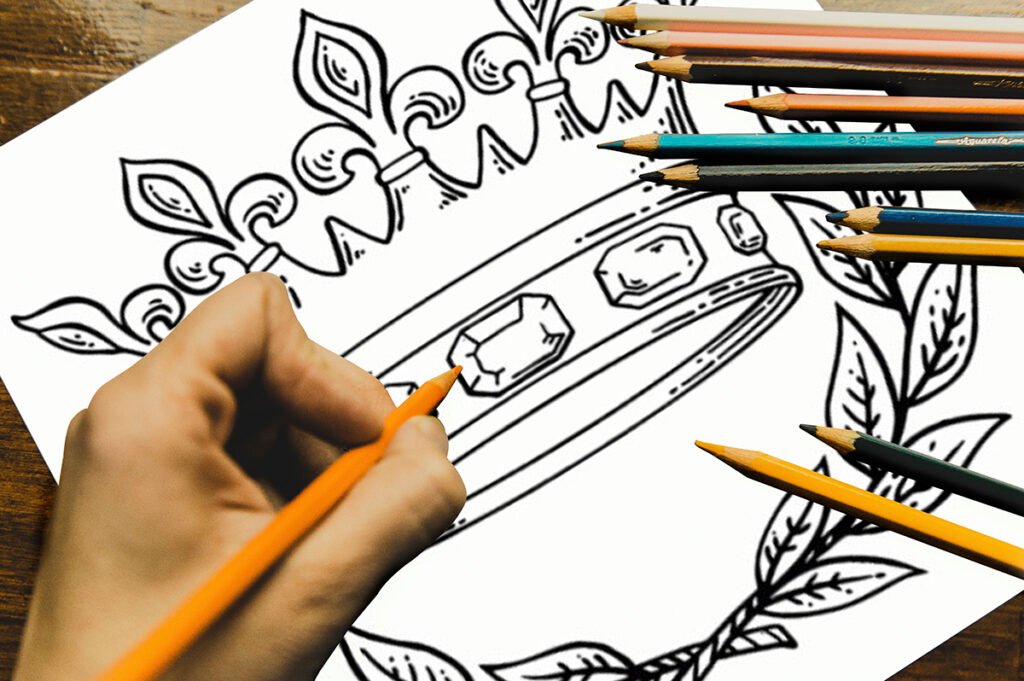 Feel like becoming a king or queen this weekend? Consider having this crown coloring page! It features a traditional image used to depict a crown's appearance with a set of leaves just below it. The embedded jewels can hold any color your choose, whether you plan to make it all the same or different from one another. Let your royalty dreams take over!
Princess Crown Coloring Sheet
Fulfill your little one's princess dreams by giving them this crown coloring page! It's a royally stunning crown decorated with sparkling stars and diamonds. They don't need to color each detail with the same color, so remind them to use their creativity and imagination to beautify the crown. If your child has a headdress similar to this, they can wear it while coloring this page!
Princess Crown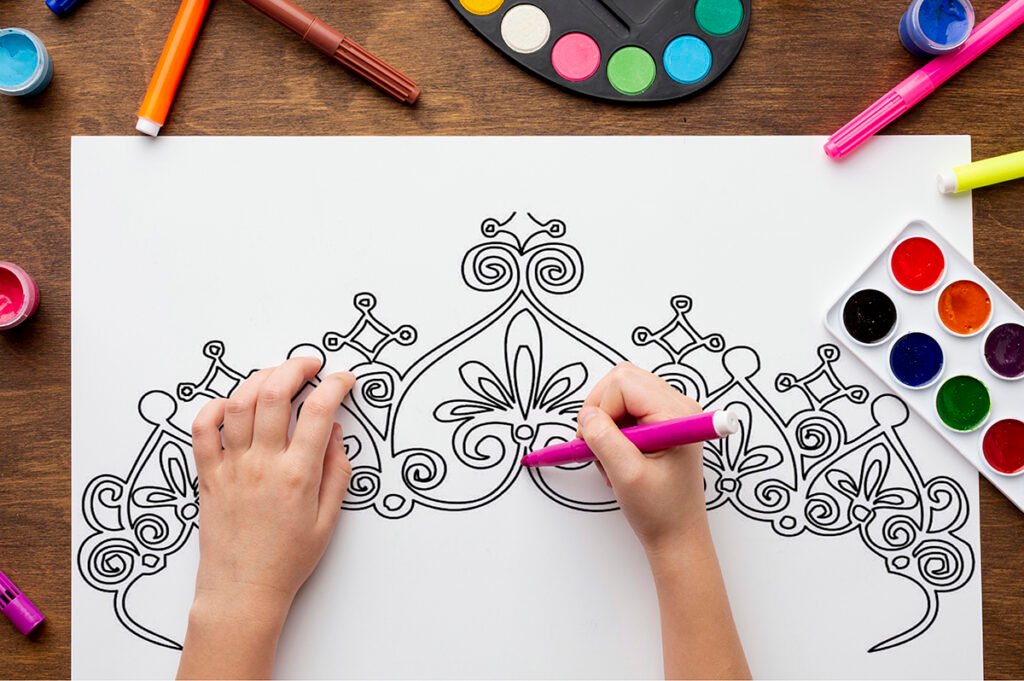 There's something about crowns that makes us want to become a prince or princess during our childhood. For example, doesn't this coloring page make you want to wear a crown and a fancy dress? If so, imagine yourself in one as you color this illustration. Let your artistic side shine and decide the colors you'll use to bring out the beauty of this image.
Pretty Girl with Crown of Roses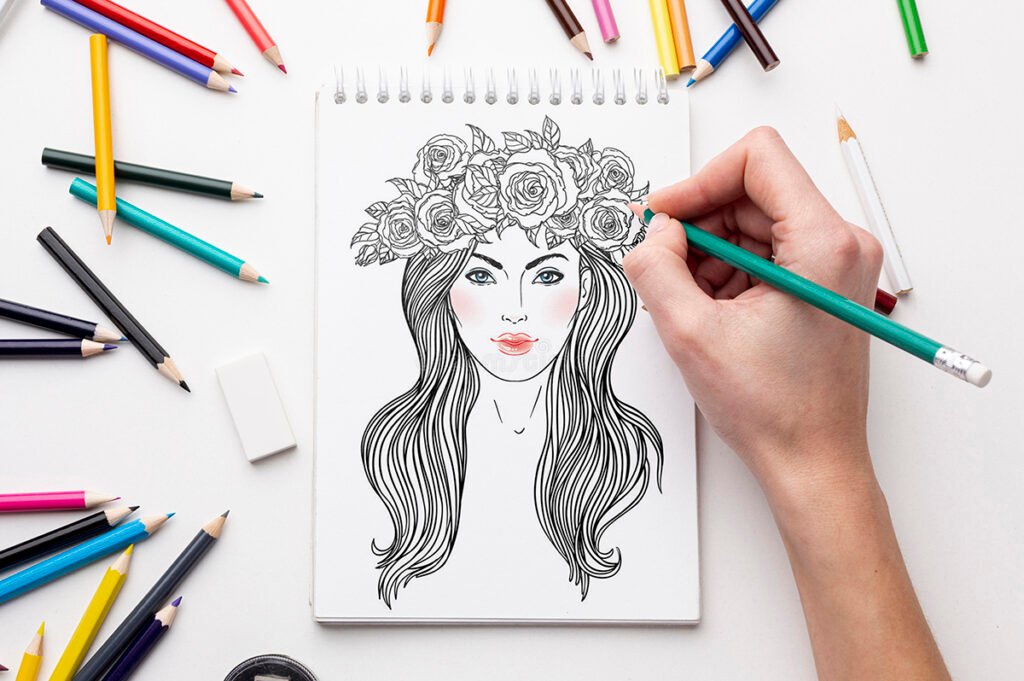 Sit down, relax, and prepare your coloring utensils for an arts and crafts project! It involves coloring this portrait of a long-haired lady with a crown of roses. It's up to you to decide whether the flowerheads are red, white, or pink, or be bold with colors by forming unexpected combinations. This coloring page is also a fantastic start for a coloring hobby, a trendy indoor activity that many adults enjoy today.
Woman in a Flower Crown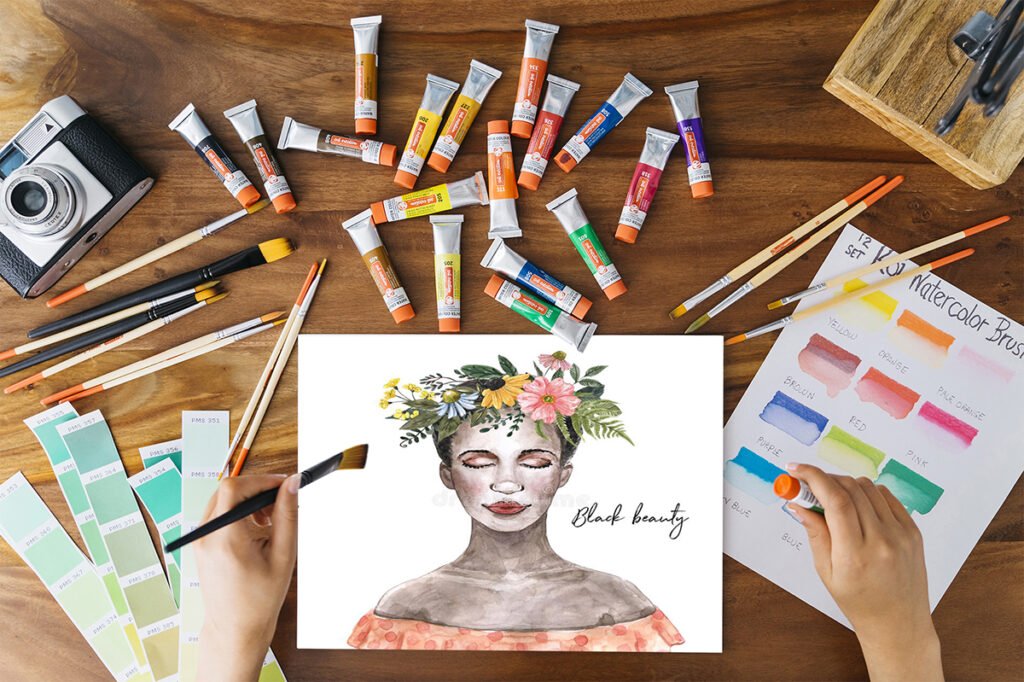 Embark on a new indoor hobby or feed your creativity with this illustration of a woman wearing a flower crown. It's a portrait sketch of a young lady with a floral headpiece. The woman looks calm and at ease as if the flowers released a fragrant and soothing scent. If you're an adult who wants to chill out but do something creative, download this coloring page now!
Girl with a Crown and Roses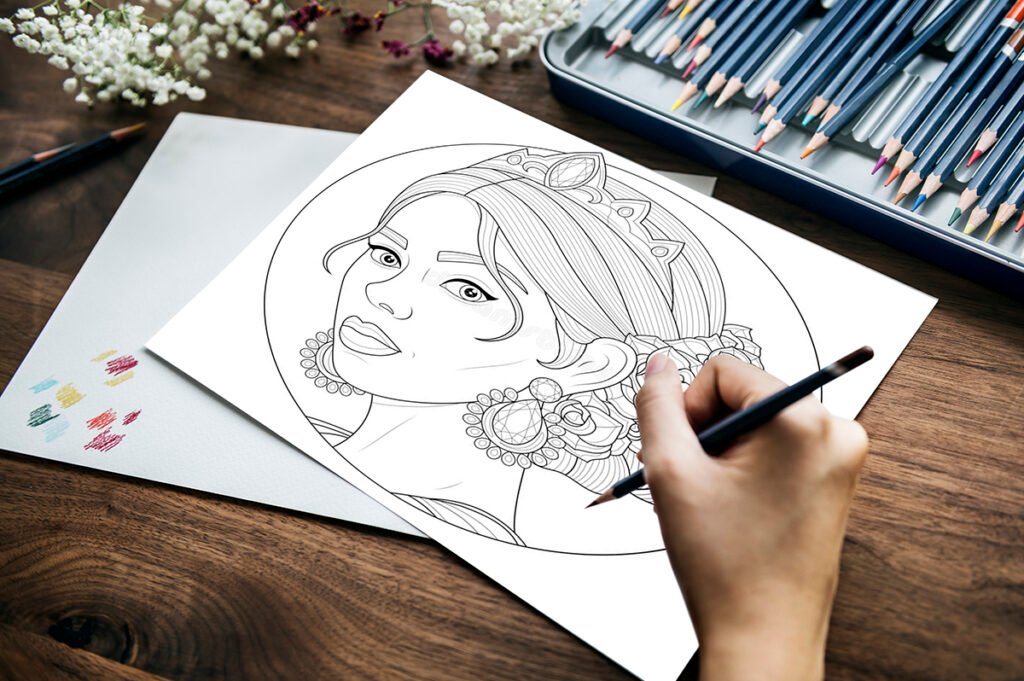 Coloring is a fun and relaxing activity that children and adults can enjoy anytime. If you're a coloring enthusiast, flower lover, or someone looking for an indoor activity to do this weekend, give this coloring page a try! It's a hand-drawn illustration of a woman with a crown and a headwear full of roses. You can color each detail with whatever color you like! Truly relaxing, isn't it?
Zentangle Stylized Crown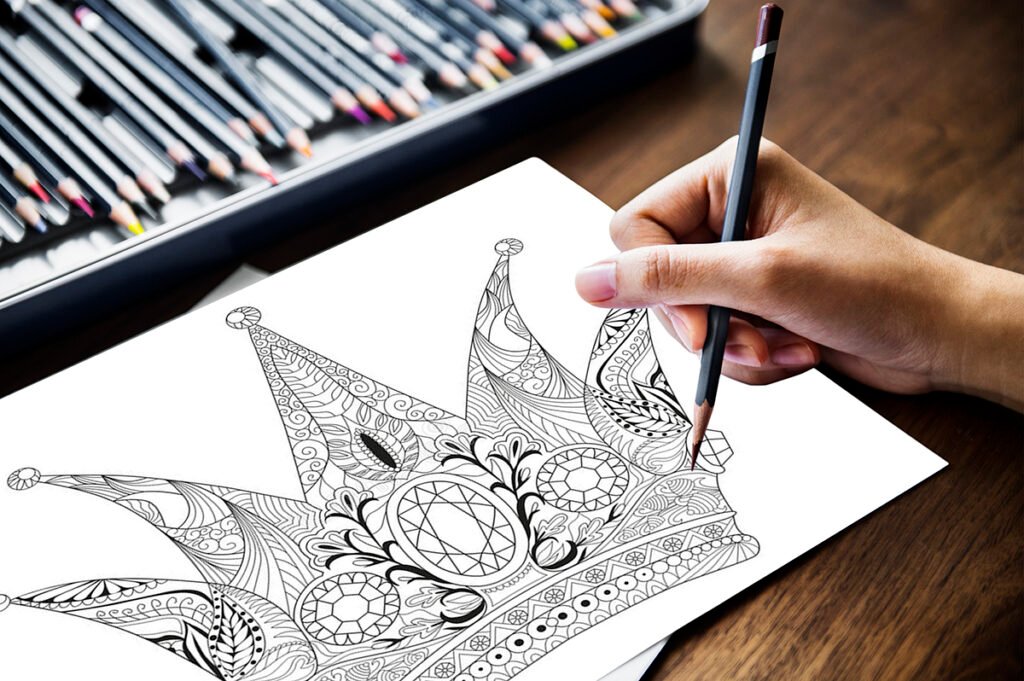 Decorate this crown however way you'd like! Whether you want to embed emeralds, garnets, or sapphire, it's up to you to choose the colors you'll use to make this coloring page live. It's a versatile illustration you can share with your friends, especially if you'd like to reminisce the times when you all dreamt of becoming princes or princesses. Download it now!
Bear with Crown
Kings, Queens, Princes, and Princesses aren't the only ones capable of wearing a crown. Look! This bear owns one! It's not as fancy as others, nor bejeweled with gems, but it's enough to make this friend happy and satisfied. Do you know what will make this bear even more delighted? It's through adding colors to its features! Go ahead, grab your coloring supplies and enjoy hours of happiness with this bear.
Realistic Cupcake with Crown
Here's a coloring page to indulge your sweet tooth and recall your royalty dreams! It features a cupcake with crown and sprinkles, a mouth-watering combo you'll want to have. You can make it a vanilla-flavored cupcake with yellow frosting or purple with blue sprinkles, all depending on what you crave at the moment. There are many details for you to cover, so use your imagination to create that perfect royal cupcake!
Girl with a Crown of Leaves
If you think floral crowns are overrated, consider getting yourself a crown of leaves, just like the lady on this coloring page! Leaves are as captivating as flower buds, and they vary from plant to plant. Use your freedom to color each leaf in this illustration with whatever color you like. You can color the leaves using the same color, add some shading, or use a combination of colors to make the image pop with life.
Crown Coloring Page Conclusion
Get ready to wear your crown as you color a Crown Coloring Page! Our collection provides many choices to choose from, whether you're looking for a crown or want to befriend royalty. Unleash your inner artist as you color the crowns made of jewels or jewels, and don't shy away from the thought of becoming a majesty, even for a day!
We also have a collection of Unicorn coloring books that you can check if you are looking for other coloring pages or books to try.