Eating a piece of candy and savoring its sugary goodness does wonder for our mood, mind, and body. It's a treat available in many colors, fun shapes, sizes, and enjoyable flavors. Additionally, candies are accessible, almost on sale everywhere at an affordable price. It's an economical snack choice that tastes good, brings comfort and joy, and is capable of lifting anyone's mood. Hence, it's no surprise why children and adults love candies. Candy Coloring Books extend the body and mind benefits brought by this treat. These coloring books will provide fun and help users relax as they apply colors to the different types of candies these publications offer!
The Coloring Kingdom provides a collection of Candy Coloring Books for your sweet tooth! Have a good time filling in the pages of these books as you eat your favorite sugary treat.
Candy World Coloring Book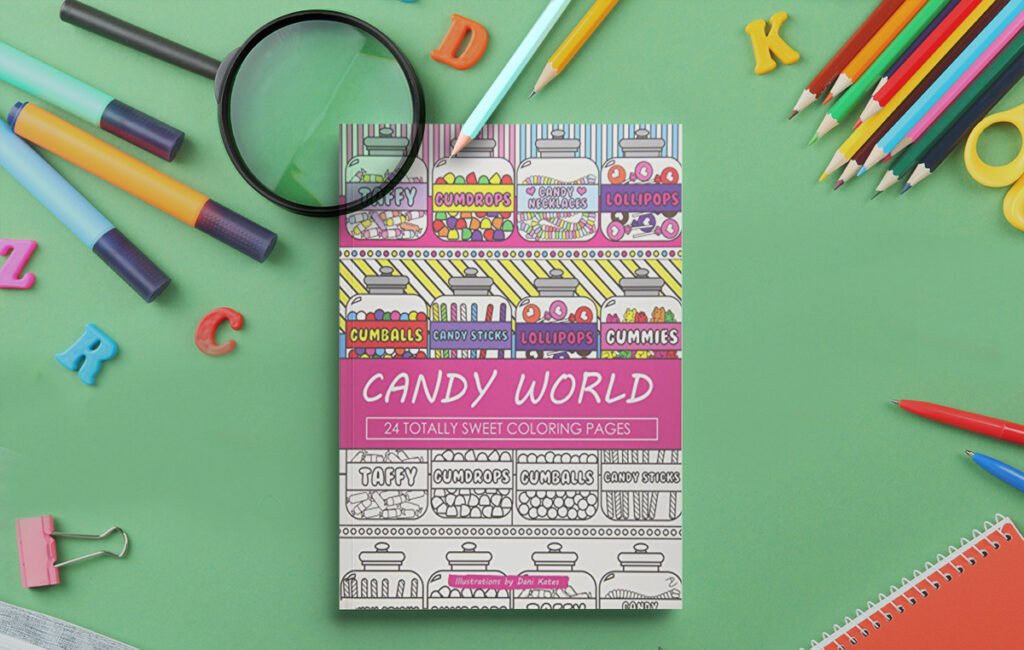 Are you looking for a delightful change of pace from your usual coloring books? If you love candies, then you're in for a treat! The adorable designs on this Candy World Coloring Book will bring you to a whole new realm that will satisfy your sweet tooth and love for coloring. All bright colors from your coloring set have space on this coloring book, providing hours of fun and stress-relieving coloring session!
Candy Coloring Book For Boys and Girls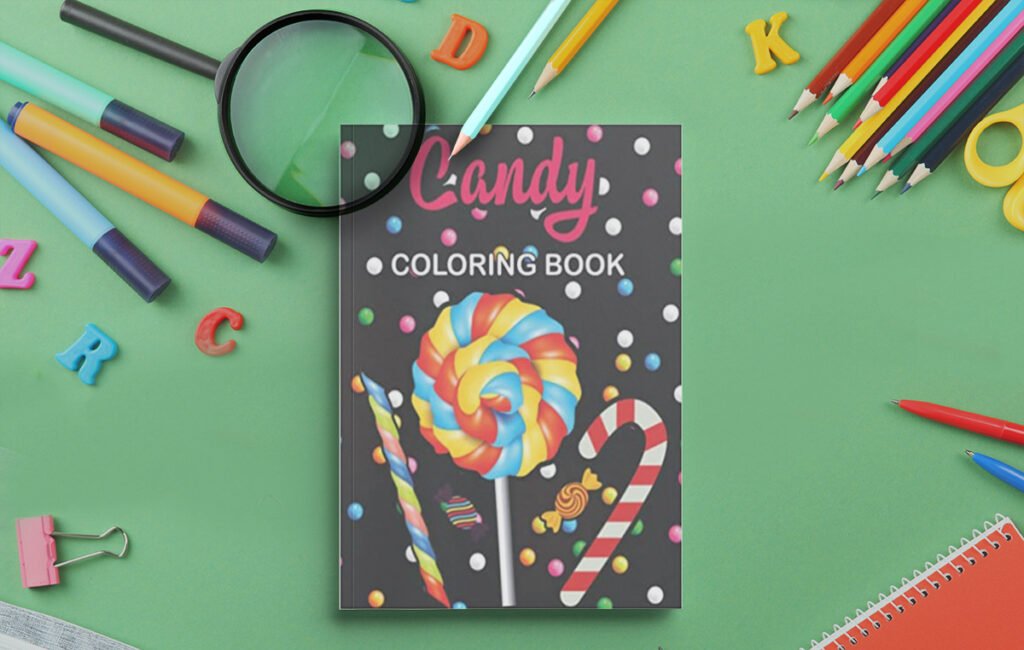 Here's a Candy Coloring Book for your little one's sweet tooth! It's a publication with candy-themed coloring pages that kids ages 3 to 7 will love. This coloring book will help young ones improve their focus, build motor skills, and encourage creativity. The whole family can work on this coloring book together, so enjoy its benefits by getting yourself a copy of it today.
Candy and Sweets Book for Kids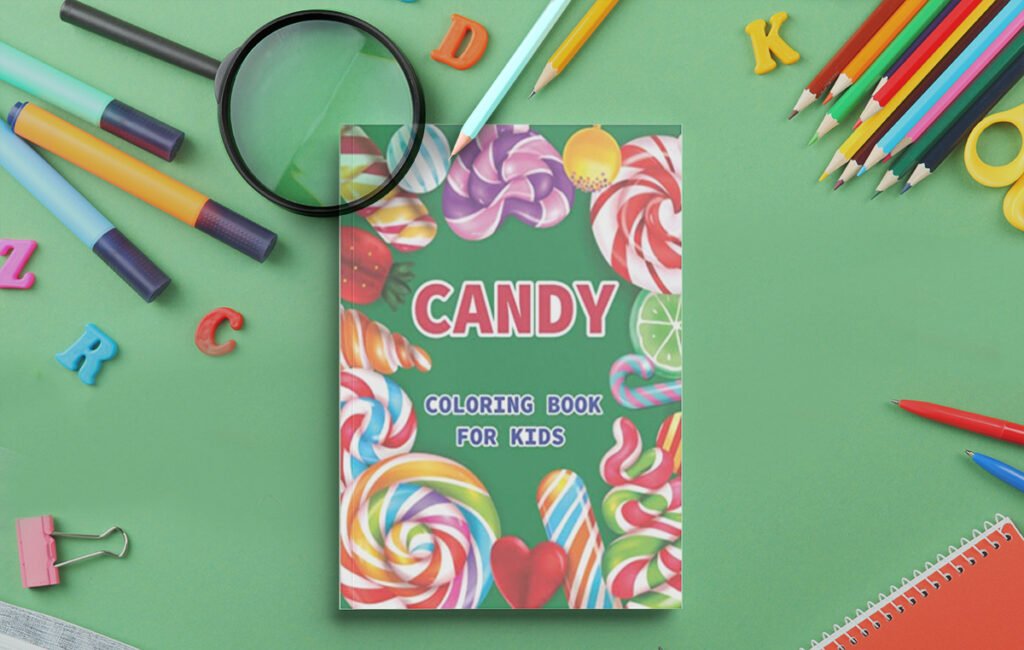 There are many reasons why people are fond of candies. Hence, there are also several reasons why you should get this coloring book for your kid! Apart from its over 30 coloring pages, this publication will keep your little one busy as you perform your daily chores. It will help your kids divert their energy and channel their creativity into something entertaining and productive. Check it out now!
Super Cute Candy Coloring Book For Adults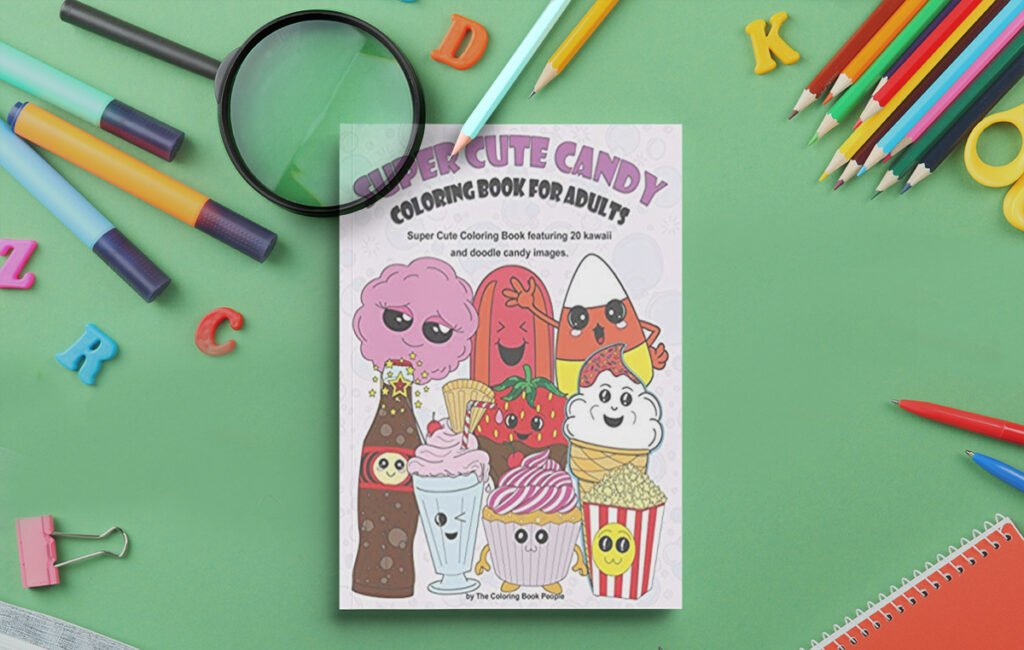 Everyone, including adults, can enjoy the sugary delight brought by candies at any time and any place. That applies to this coloring book too! It's an activity book adults can enjoy at any time or place, whether they're off on a road trip or at home waiting for the rain to stop. This coloring book guarantees laughter and relaxation, something adults need after an exhausting day or week of work.
Kids Sweet and Candy Book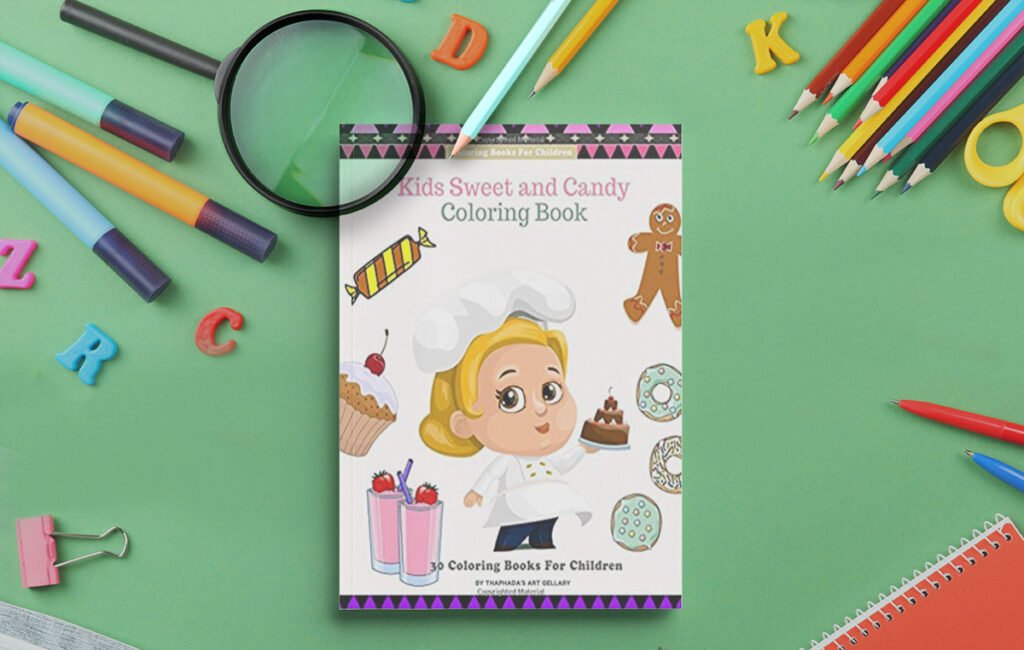 If your child loves eating sweets, they'll enjoy the collection of sugary treats this coloring book offers! With 30 illustrations to color in, children will have hours of coloring entertainment as they savor the goodness of their candy. Don't worry about tooth decay or weight gain when they color this book. Worry about missing the fun if you don't join them in the coloring process!
Candy, Lollipop, Chocolate, Cotton Candy Coloring Book
Sit back and relax as your kids color the pages of this coloring book! It's a publication ideal for ages 3 to 8, especially if they love candies, lollipops, chocolates, and cotton candies. Parents will have the chance to rest or perform their respective tasks while the kids are busy coloring the pages of this book. That's among the many benefits this coloring book can give the whole family!
Coloring Book with

Unique and High-Quality Images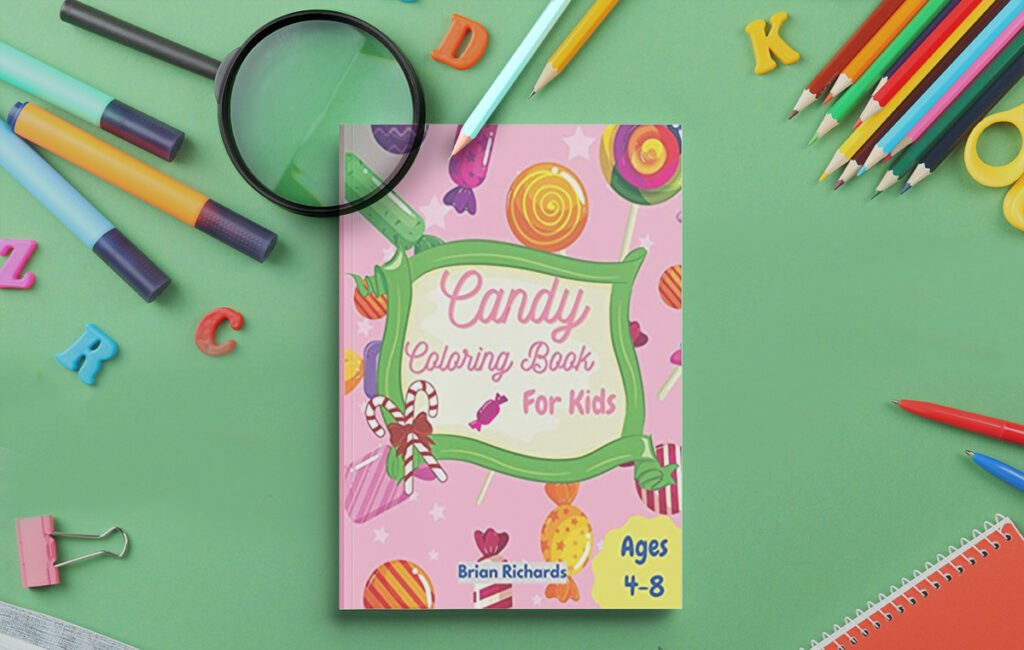 Kids have an undeniable love for candies and sweets. If you're a parent worried about tooth decay or weight gain, this coloring book is your savior! It's a book that offers high-quality images of candies and other sweet food that your child will enjoy coloring. The simple design incorporated into each image is enough to keep preschoolers and kindergarteners entertained for hours.
Sweet Candy Coloring Book for Kids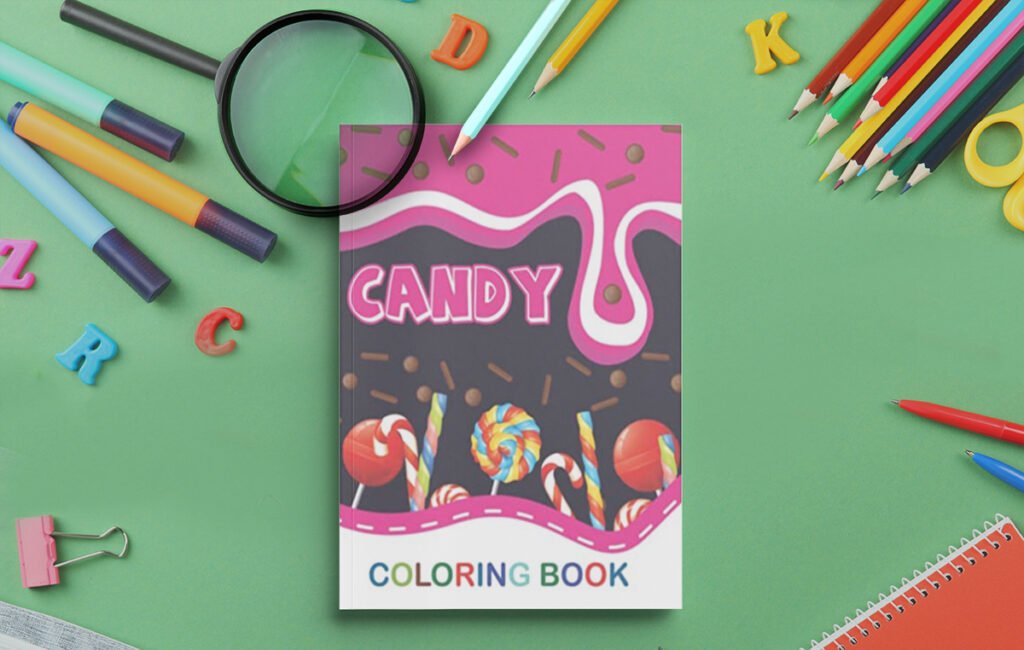 Prepare your kid's favorite coloring set for a good time with this candy-themed coloring book! You can use any coloring tool to color each page, using their creativity to form unique color combinations for each candy illustration. Although the designs look simple at first sight, their beauty will unfold once completed with color. Give this coloring book a chance to prove its wonders by getting a copy for yourself or a little one!
 Candy Crush Adult Book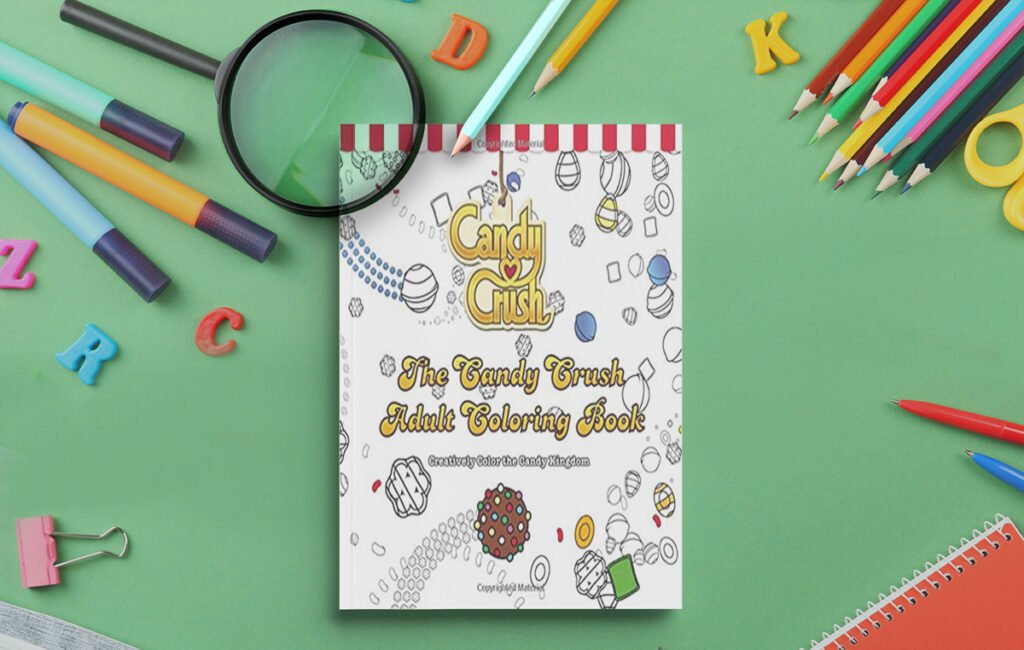 Were you one of the million users who had fun playing the game Candy Crush? If so, this coloring book will take you to the world of the Candy Kingdom off-screen! The landscapes, patterns, and candies from the mentioned game inspired each illustration, giving Candy Crush Saga fans a chance to bring the game to life with their favorite coloring tool. Get a copy of this book now!
Orange Candy Coloring Book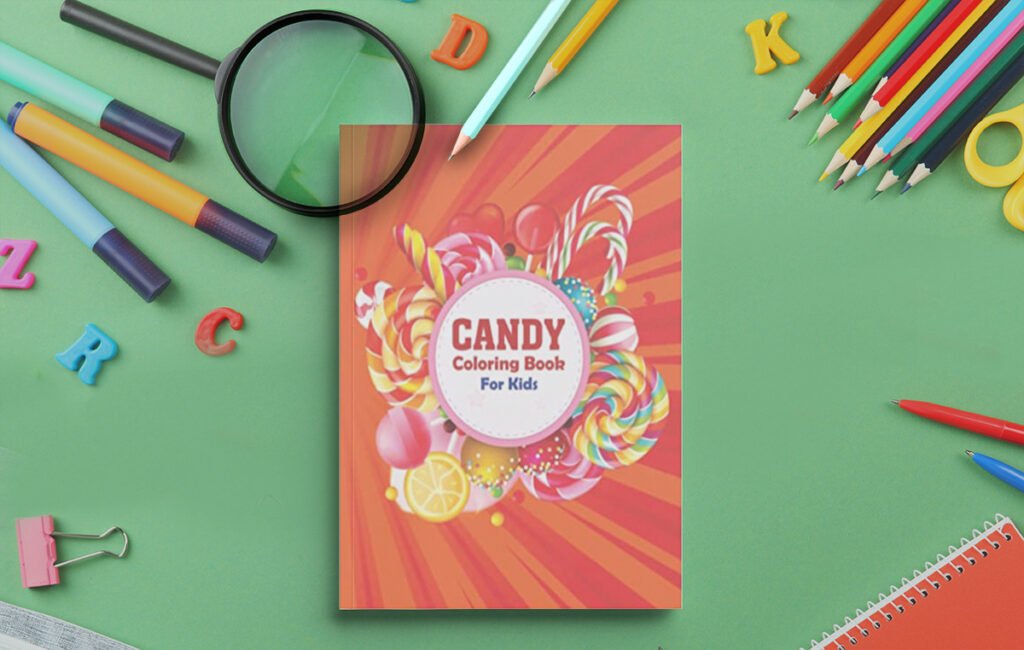 Among the many candy flavors and colors available in the world is orange. If you or someone you know have a particular fondness for orange candies, this coloring book will satisfy your cravings! It's an orange candy-themed coloring book with over 30 pages and is ideal for boys, girls, and toddlers. It's also an excellent gift idea for kids ages 3 to 8, whatever the occasion you're celebrating!
Candy Themed Book for Toddlers and Kids
Satisfy your kid's candy cravings by giving them this coloring book! It's a publication taking away your worries of tooth decay brought by candies since all sweets depicted on its pages are merely illustrations. This coloring book contains various images of candies, lollipops, and other treats that you and your kid will love coloring together.
Colorful Candy Book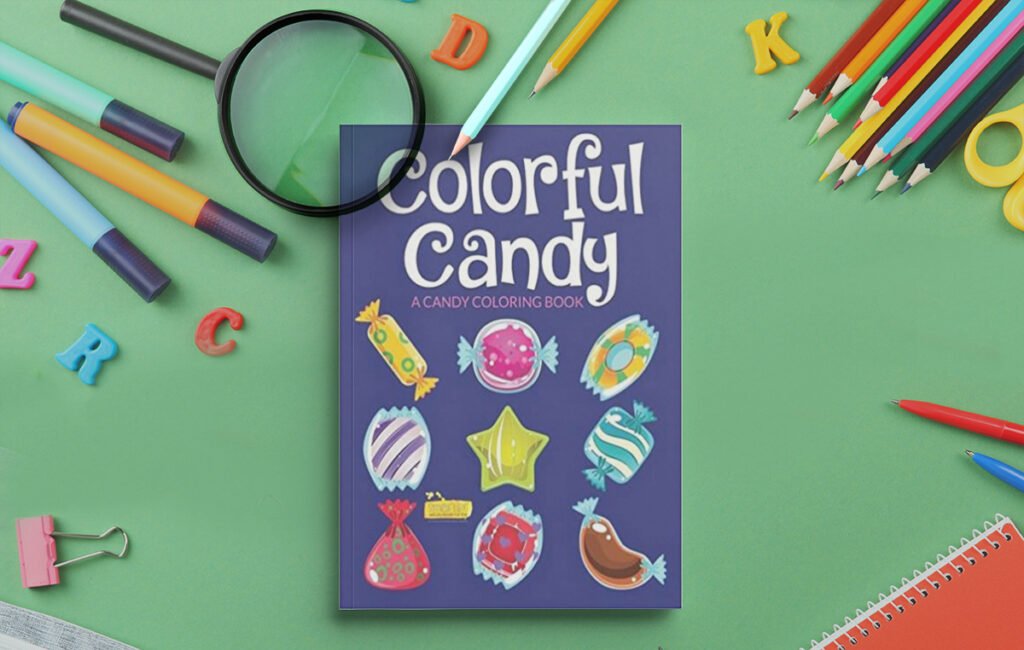 Anyone can savor the goodness of their favorite candy whenever and wherever they want. You won't regret reaching for your favored sweet once you get your hands on this coloring book! Apart from allowing you to enjoy any candy at peace, this candy-inspired coloring book offers a lot of benefits! It will help you relax as you free your mind from the troubles you're facing while bringing out the artist in you.
Candy Coloring Book for Teens and Toddlers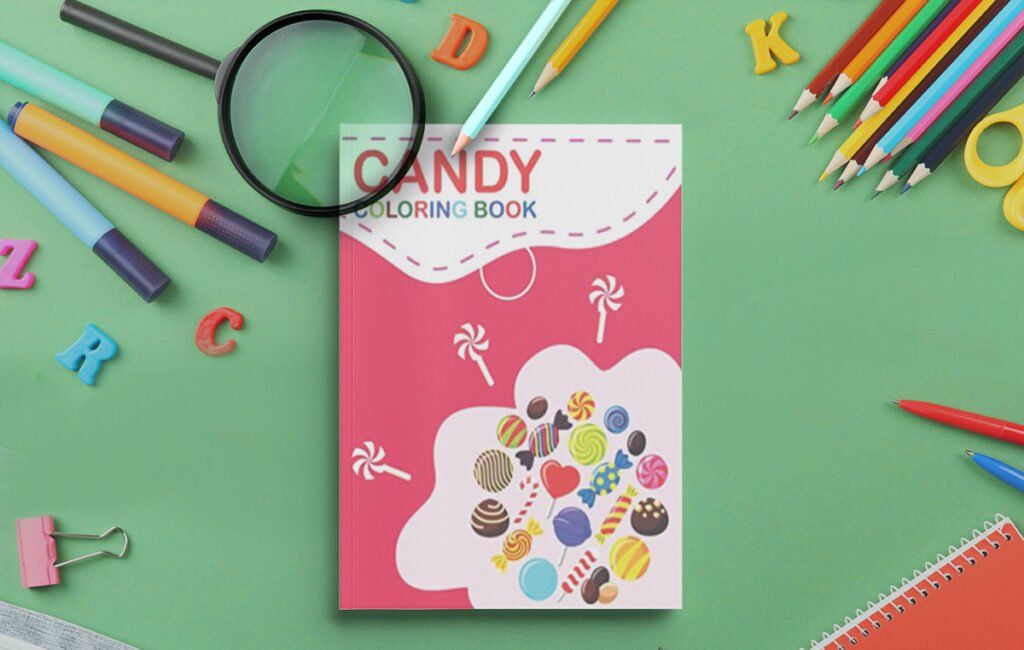 Boredom quickly strikes teens and toddlers, especially when there's nothing left to do. Good news for parents and kids, this coloring book exists for a reason! With over 30 different candy-themed coloring pages, kids won't notice the hours passing as they color each illustration. It also works well for beginner coloring enthusiasts who love sweets!
Adult Candy Land and Sweets Book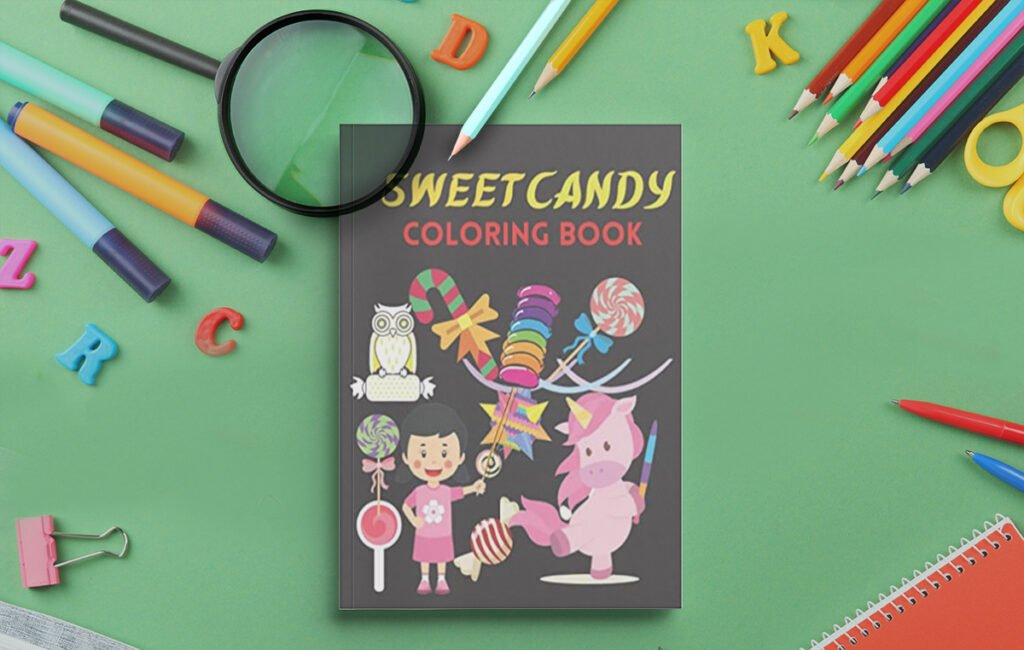 Embark on a journey to Candy Land through this adult coloring book! If you're a lover of sweets or candy treats, the illustrations inside will captivate your sight. The book offers a range of coloring pages to choose from, whether you prefer easy or complex designs. In summary, it's a must-have coloring book that the whole family will enjoy!
Lovely Candy Book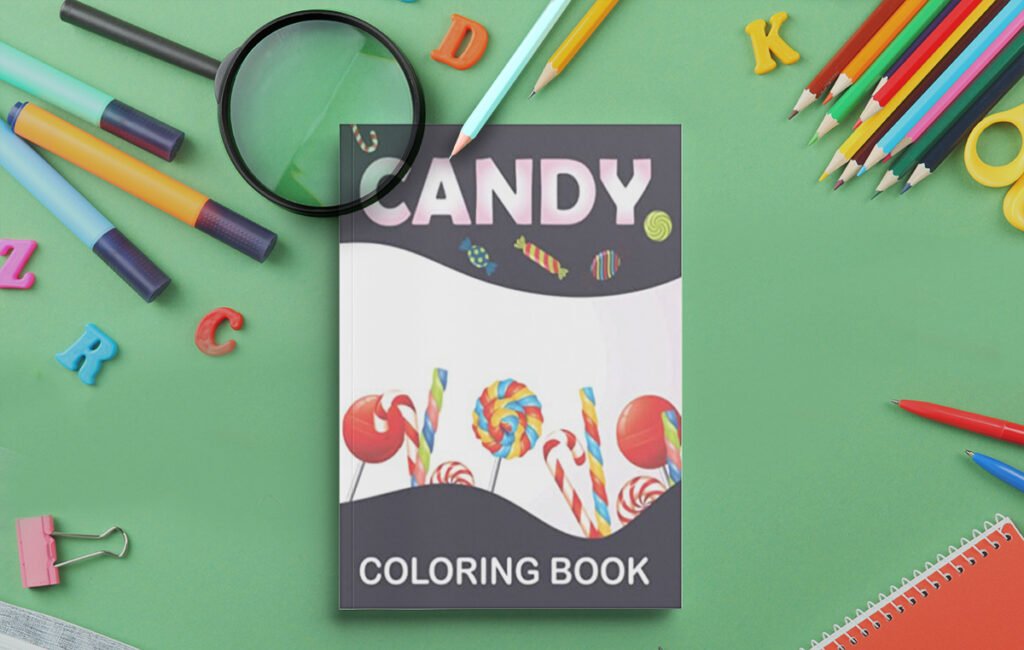 Candy or sweets lovers, come and delight with this lovely coloring book! The candy-themed cover provides a brief preview of the beauty this coloring book contains. There are no limits to which color you need to use for each illustration! Freely use your imagination and coloring tools to select which hue or shade fits the candy-inspired coloring pages.
Super Cute Candy Book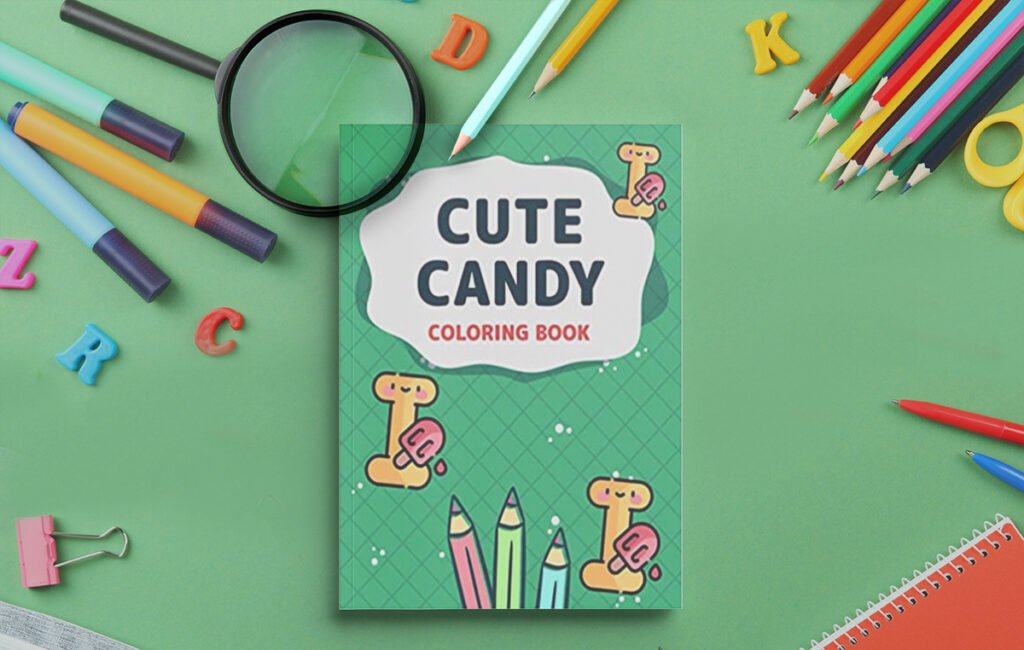 Occasions come left and right, so if you're looking for the ideal present for your little one, this adorable coloring book will save the day! It's a mega-sized coloring book that is sure to keep your kid entertained for hours. It also allows your kid's creativity to flourish, as well as improve their focus and motor skills!
Cute Candy, Lollipop, Chocolate, Coloring Book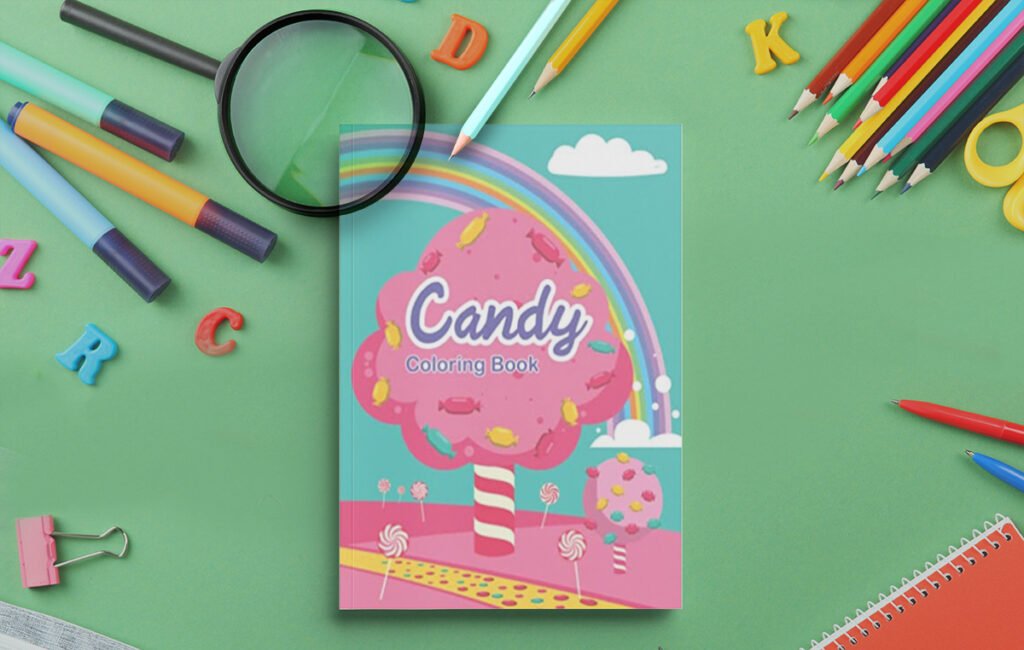 Does your child feel restless or bored quickly? Here's a coloring book to beat their boredom! It's a candy-themed coloring book with adorable illustrations of sweets such as lollipops, chocolates, and more. The book caters to kids ages 4 to 8, but it works well for beginner coloring enthusiasts. Get a copy of this publication today!
Candy Book For Stress Relief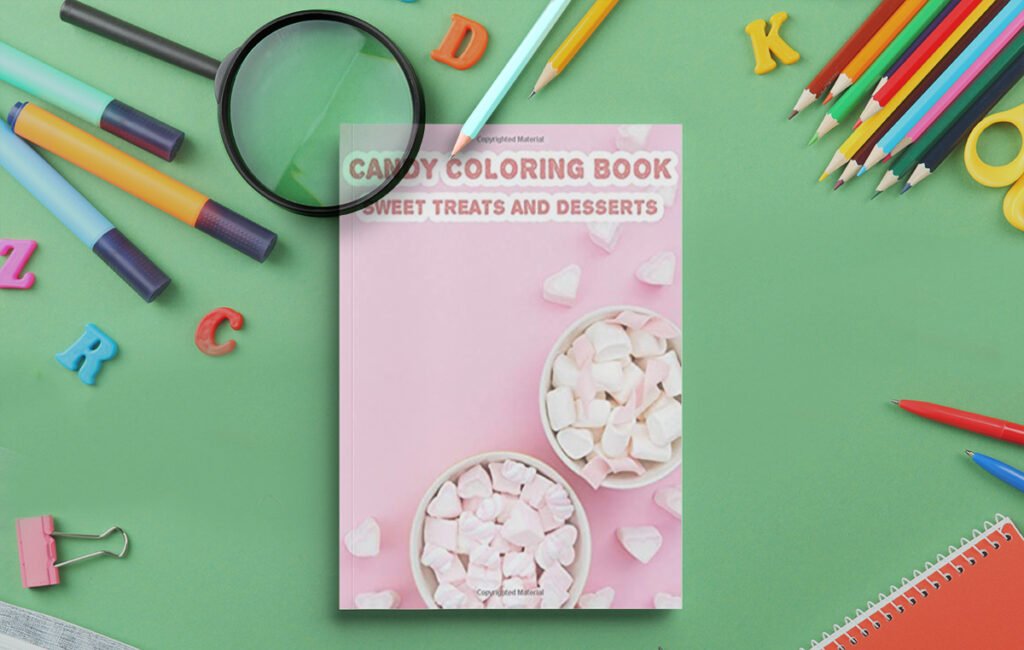 Come and take a break with this candy-inspired coloring book! Everybody deserves to take a breather from time to time, and this publication offers the kind of relaxation anyone needs. Aside from its illustrations of delicious dessert and candy treats, it provides an escape from your troubles and worries. A guilt-free leisure time, that's what this book guarantees!
Candyland Coloring Book
The next time your kid asks for candy, consider giving them a copy of this coloring book! Although it's not edible, the fun and entertainment it offers will bring more than just delight to your little one. There are gummy bears, candy sneakers, and more, each illustration assuring users tons of fun and creative expression. Secure a copy today!
Delicious Mosaic Desserts

Candy Coloring Book
Who can resist the goodness of sweet treats and desserts, especially after an exhausting day? This candy-themed coloring book is irresistible too! The delectable sweets illustrated in this book will keep you motivated to color more as you experience its stress-relieving benefits. Adults and kids can relish the breath-taking effects brought by this coloring book, so grab a copy for a beloved one or yourself!
Candy Coloring Books Conclusion
Reach for a piece of your favorite candy as you fill in any Candy Coloring Books from our selection! The sugary treats from our compilation don't only look good; they will also bring you delight and comfort, similar to how candies uplift anyone. Pick a favorite and enjoys hours of coloring fun!
We also have a collection of Wild Kratts coloring pages that you can check if you are looking for other coloring pages to try.