Among Nintendo's Mario franchise's iconic characters is King Bowser, deemed as one of the gaming world's most wicked villains and Mario's archenemy from his first appearance in the game. Bowser often kickstarts the game by either kidnapping Princess Peach or another member of the Royalty. Moreover, Mario and Bowser's rivalry was one of the most famous feuds in video game history. Bowser tends to be the villain in almost every Mario franchise game, but in the end, Mario defeats him. His contribution to the game's storyline made him the favorite video game antagonist of many, using any chance to play his character when available in some games. Bowser Coloring Pages also provide an incredible way for fans to show their fondness for Bowser, with the ability to customize his colors however they want.
The Coloring Kingdom's collection of Bowser Coloring Pages is what you need! Aside from providing you with images displaying anything related to Bowser, coloring these pages will help you relax anytime!
Dangerous Bowser Coloring Pages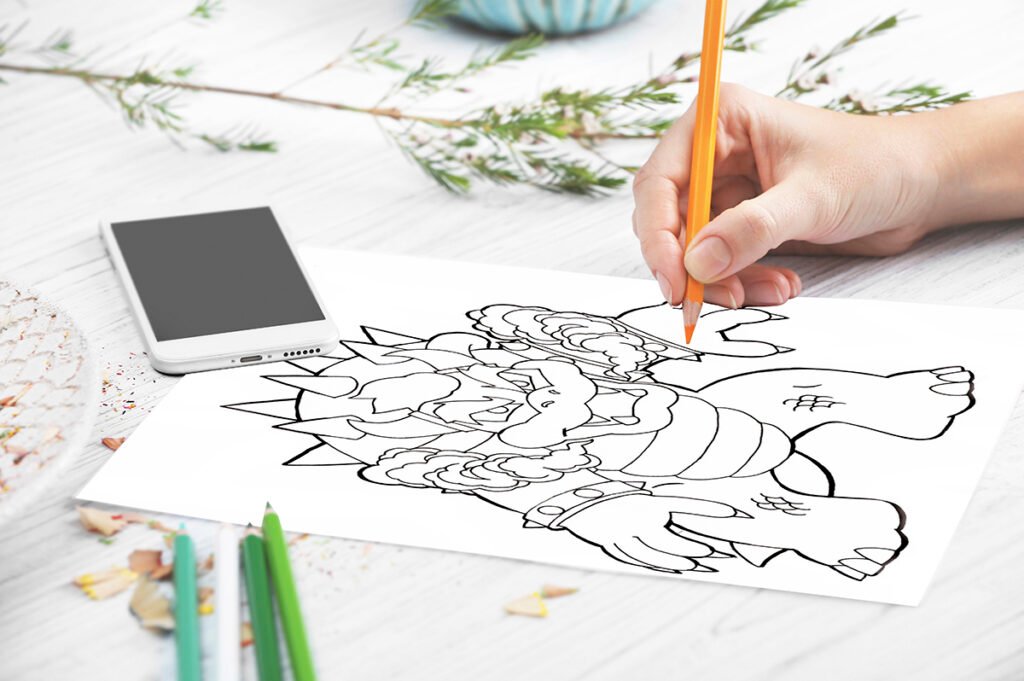 Like most villains, an encounter with Bowser would be dangerous. His immense strength and fire-breathing ability can cause harm and injury in the real world. Hence, it's a relief that such a creature only exists in the Mario universe. If you still hope to meet the dangerous Bowser, use your creative mind and this coloring page! Let your imagination take you to his Kingdom as you go through the coloring process.
Mario with Bowser Koopa
King Bowser Koopa I leads the turtle-like creatures with removable shells in the Mario universe. Bowser was a Koopa turtle himself, exceptionally greater than most Koopas and with a spiked turtle shell. As the main antagonist of the Mario franchise, Bowser fights Mario most of the time, only to experience defeat at the end. This coloring page shows you their common encounter; both parties fired with determination to win over the other.
Mario versus Bowser Coloring Page
Jumping from a brick castle on this coloring page is an angry Bowser! His eyes scream rage as Mario approaches with an ax. Mario most likely will win like he always does, but there's also fun in spicing things up. As you fill in this illustration with color, envision what happens next after the crisis on this coloring page! It's going to be entertaining, especially as you brainstorm with a friend or another Mario fan.
Baby Bowser
A delinquent child raised by his wizard-butler, Baby Bowser antagonizes the Baby Mario brothers during their younger days. Therefore, it's no surprise why he still has the same anger towards the brothers, considering he possibly wasn't able to defeat them even before. Check out this coloring page! It's an image of Baby Bowser, filled with rage at a young age.
Angry Baby Bowser Coloring Page
If a child's baby steps look cute, Baby Bowser's steps seem intimidating! Since he's most likely larger than everyone else during his age, it's safe to assume how heavy his step will become. Looking at this coloring page, no one would dare come on his way! Good thing you can only encounter Baby Bowser as you color this illustration!
Bowser Pointing
What would you do if Bowser points at you and asks you for a battle, just as depicted on this coloring page? Considering his dangerous persona and build, it's going to be a scary experience! However, Bowser doesn't exist in the real world. You're safe from this turtle-like creature, and you have the upper hand this time since you have the power to color or decorate Bowser with your preferred tools.
Bowser Jr. Holding Torch Coloring Page
Bowser Jr. or King Bowser's son seems to enjoy his moment as he holds a torch on this coloring page! His energetic personality is noticeable in this illustration, with a smile plastered on his face. Come and take part in coloring Bowser Jr., making sure to get each detail covered with his respective colors, if not your favorite ones.
Bowser Showing His Strength
Welcome to another episode of King Bowser boasting his strength! As you can see on this coloring page, King Bowser goes in a position to flaunt his immense physical power. He even closed his knuckles to emphasize his action. Too bad for him because Mario still wins. You also win this round, given the opportunity you have to paint King Bowser with whichever color you want!
Monster Bowser Coloring Page
As if King Bowser's typical appearance isn't enough to depict his evil ways, Monster Bowser on this coloring page screams for more. Don't worry! This 2D image won't hurt you since it's merely an illustration that lacks colors. Here's where you enter the scene! Instead of fighting Bowser on his monster form, grab your coloring tools to transform this black and white coloring page into something vivid and bright.
Bowser with a Ball
Have you ever played ball with a friend? Bowser may not be your friend, but he invites you to a ball game on this coloring page! Judging King Bowser, his invitation looks more like a threat, but there's nothing he can do since you have the trump card: your coloring tools. Yes, with your coloring tools, you can win over Bowser, hanging this illustration of him on your wall once completed with colors.
Lego Bowser Coloring Page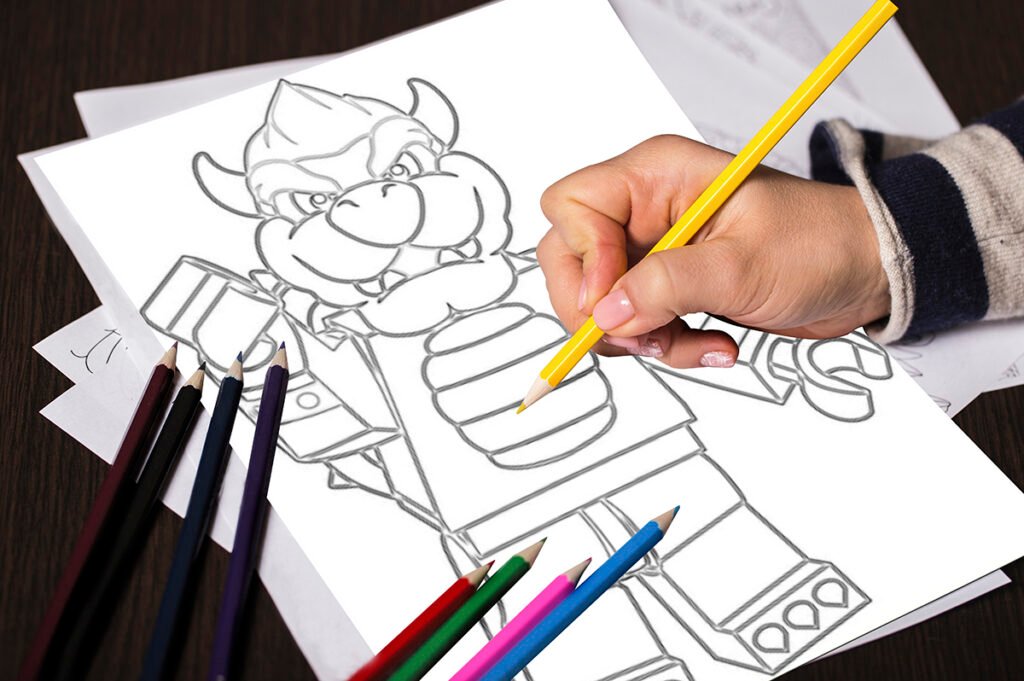 Come and take a look at Bowser's lego version on this coloring page! Doesn't he look less intimidating? What's great about this coloring page is how easy it'll be for coloring enthusiasts of all skill levels to keep their colors within the lines. They're thick enough for most coloring tools, so print a copy today to test it out!
Bowser and Princess Peach
Princess Peach stands next to an angry King Bowser on this coloring page. It's a known fact that Bowser's ultimate goal involves kidnapping a royalty, typically Princess Peach, and conquering the Mushroom Kingdom. However, Princess Peach looks as friendly as she has ever been as if telling you to go ahead and take part in coloring this illustration!
Bowser Jr Playing Basketball Coloring Page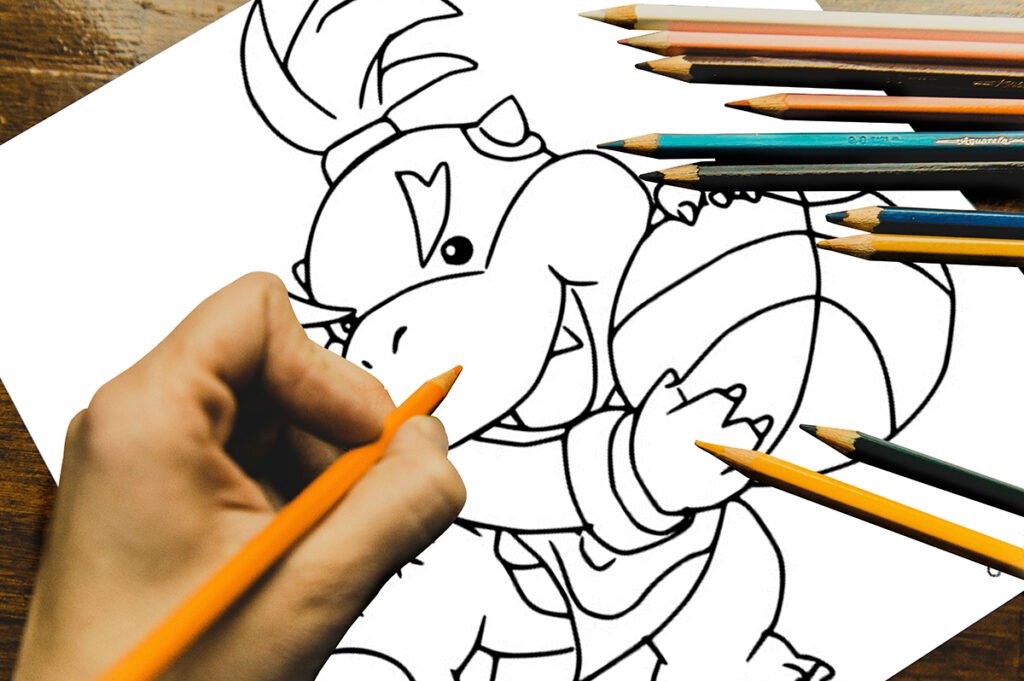 Are you ready for a basketball match with Bowser Jr.? Don't confuse him for King Bowser, though! With his energy, you might find yourself gasping for air after several rounds. Why not just fill this coloring page with color? It's less exhausting and far more calming, and finishing an illustration will give you satisfaction like no other.
Fat Bowser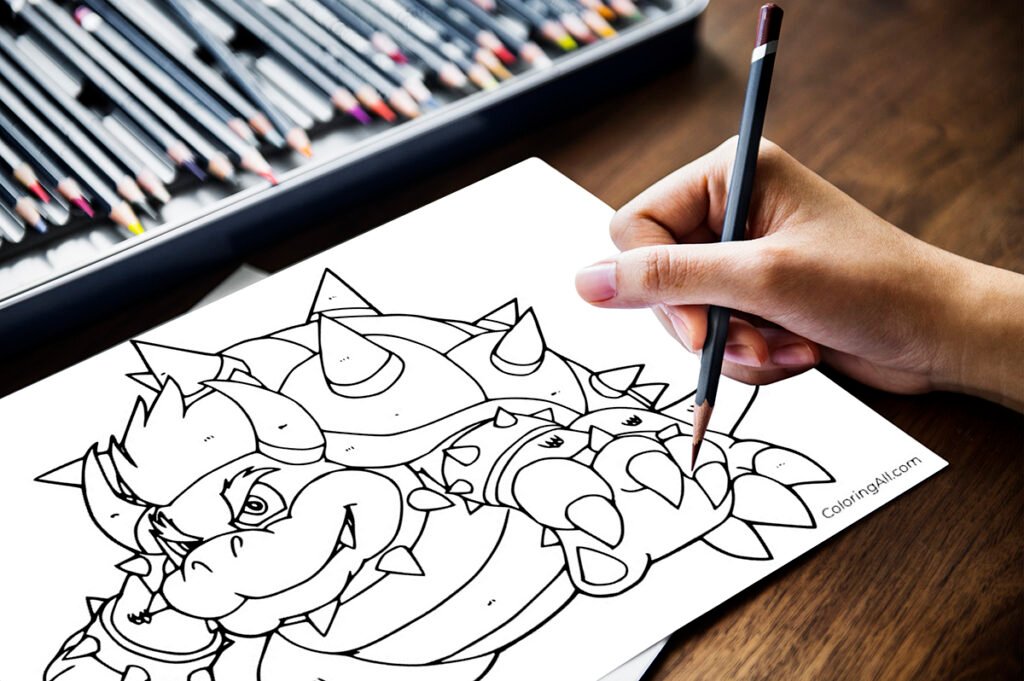 Take a breather by filling in this coloring page! If you're a Mario fan or Bowser enthusiast, this coloring page will work wonders. Coloring can make you feel relaxed, capable of freeing you from your worries for a moment. Furthermore, since this coloring page brings you a character from your favorite game, filling in its details will help you de-stress and forget your troubles for a while. Check it out now!
Smiling Bowser Jr Coloring Page
Rather than showing a winsome smile, Bowser Jr.'s looks like a playful one on this coloring page! At this point, we can only count on Mario to save the day. Well, you can save your day by coloring this illustration! You'll find delight and satisfaction as soon as you see your artistic side flourish as you color this page.
Scary Bowser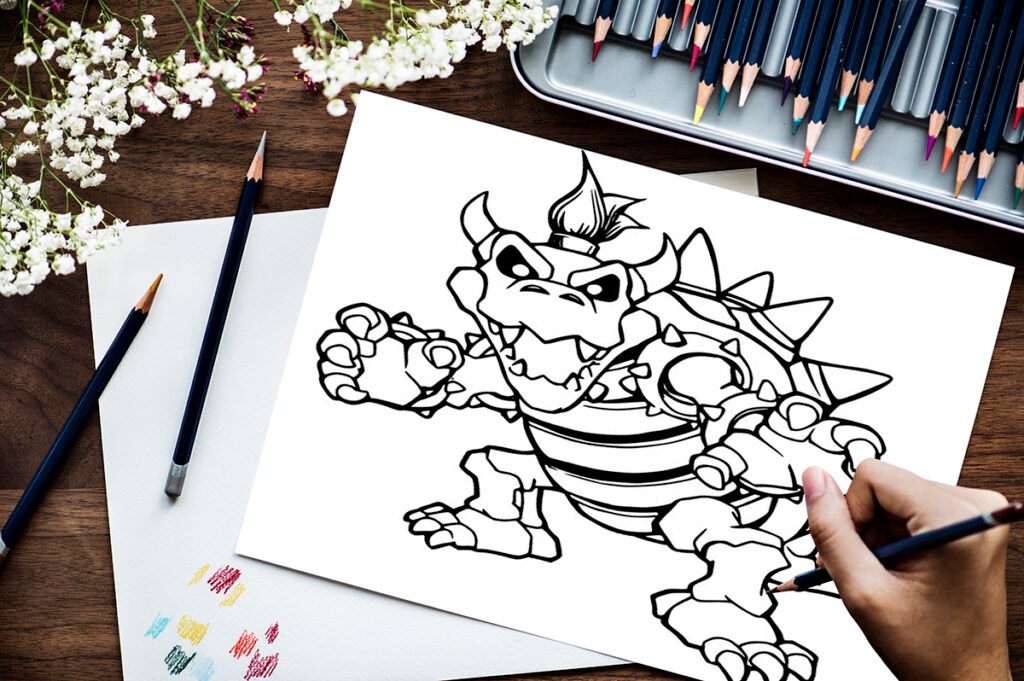 Odd and scary—this coloring page shows a version of Bowser that's far more terrifying than his monster form. Whatever happened to him possibly affected his physique, seeing his bony build. Still, Bowser looks scary! Despite his looks, you'll still find joy in coloring this illustration. How? Choose a vivid or bright color palette, or use a marker or black pen to customize his features to something less frightening!
Fierce Bowser Coloring Page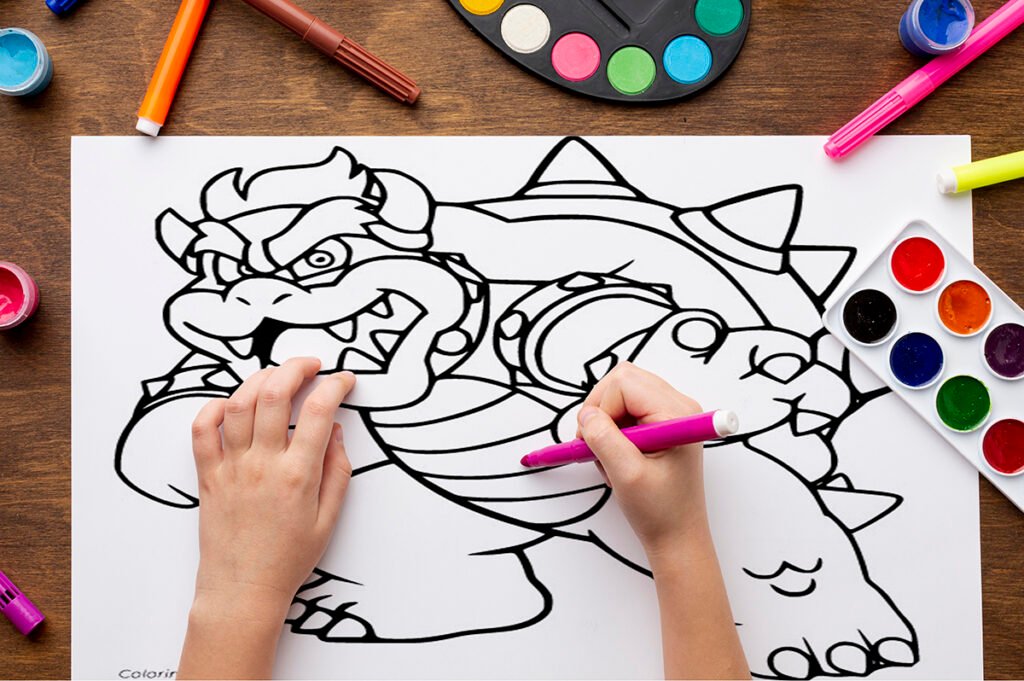 Bowser's fierce personality and determination always shined throughout the Mario franchise. Despite Mario's success in freeing the kidnapped royalty or saving the Kingdom, Bowser is still consistent in his evil acts, committed to winning no matter what happens. Doesn't this coloring page rightfully depict his personality? Don't be scared! Color it now.
Bowser Jr in the Pot
Among Bowser Jr.'s defining features is his heavy use of his clown car. As this coloring page shows, the Junior Clown Car looks like a pot rather than a car. However, it's far more versatile than most vehicles in the real world. It's a mode of aerial transportation, loaded with weapons and functions, including a glove-covered mechanical arm. Doesn't this make you want to experience riding it too? Too bad you can only color it!
Cute Bowser Jr Coloring Page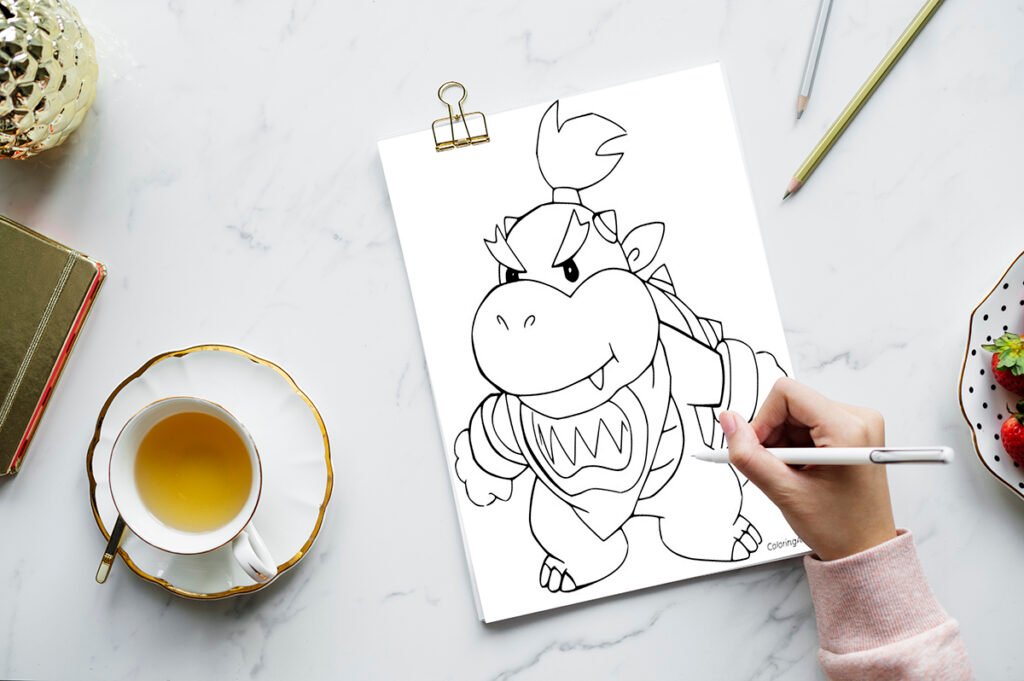 Doesn't Bowser Jr. look adorable on this coloring page? Don't get fooled! His stance may trick you! Good for you; he can't harm you through this illustration. Make him look even more irresistibly cute by adding a combination of colors that you think will suit him! You'll have fun using your imagination, especially with a friend or two.
Happy Bowser Jr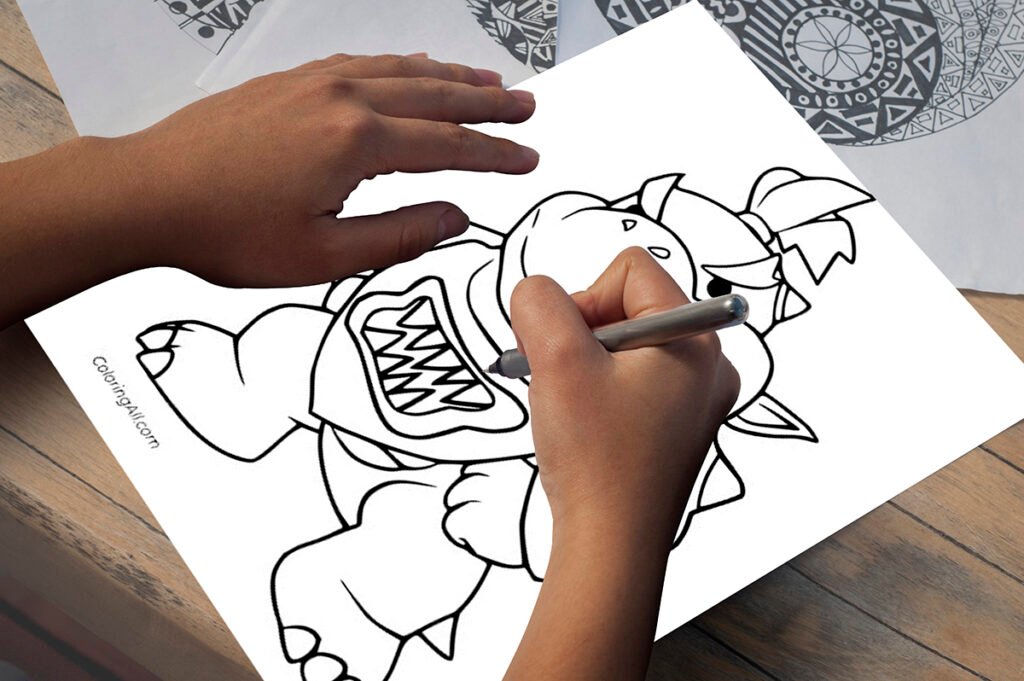 Hands on his waist, Bowser Jr. looks happy on this coloring page! It's up to you to think of the reason behind his happiness, so get your favorite set of coloring tools ready for a session of fun and entertainment. You can invite a friend or beloved one to join you to double the joy you'll feel during the process!
Bowser Coloring Pages Conclusion
If Bowser is your favorite character in the Mario franchise, our Bowser Coloring Pages will bring delight to you! The fantastic options our entire selection offers are something to look forward to, especially if you're a Bowser enthusiast. As you scroll through our collection, you'll also find coloring pages that everyone will enjoy regardless of skill level. Download your favorite right away!
We also have a collection of Candy coloring books that you can check if you are looking for other coloring books to try.