Dogs are human's best friends, and it's easy to understand why this statement remains truthful today. Rottweilers or Rotties further prove this point! These dogs have black coats complemented by brownish markings on their eyes, legs, chest, or snout. Although people often characterize them as scary and dangerous dogs, they're gentle, playful, loving, loyal, and confident guardians when trained. Moreover, their intelligence and exceptional strength make them incredible service dogs, therapy companions, protective guardians, and inspector dogs, working with police, military, customs, and transportation sectors. To celebrate this praiseworthy canine, these Rottweiler coloring books make them the star of the show!
Our collection of Rottweiler coloring pages and books here at the Coloring Kingdom will give you some of the best illustrations you could ever hope to color. It doesn't matter if you own a Rottie or not; you'll enjoy anything from this list!
Rottweiler Activity Coloring Book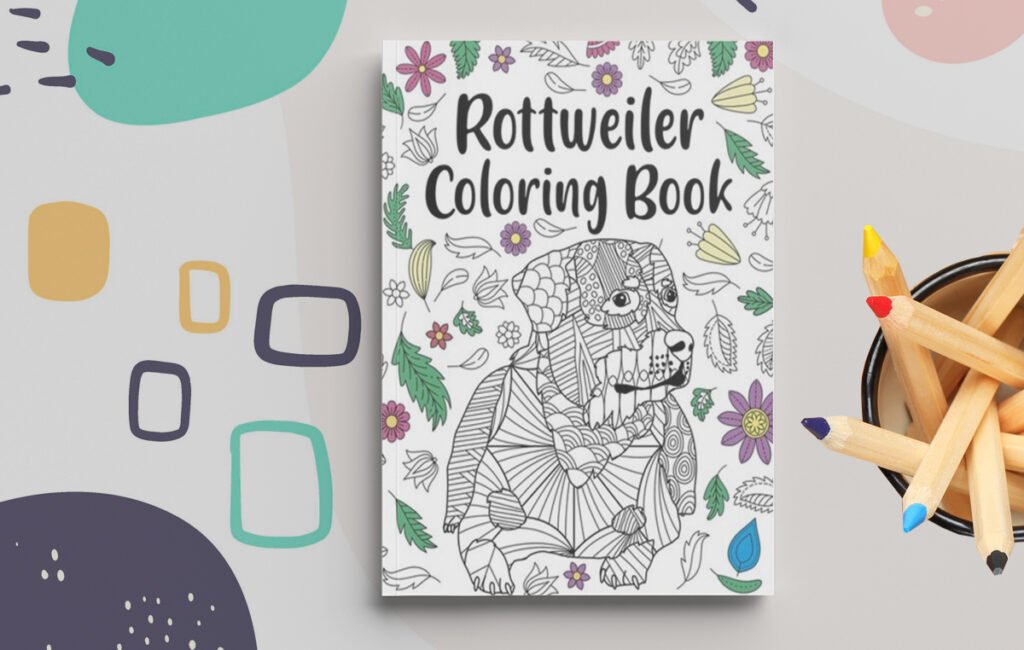 The intricate detail and mandala style make this Rottweiler Coloring Book perfect for teens, adults, or any budding artist in your household. If you're looking for a gift to any Rottweiler lover or owner, this publication is an excellent choice! Aside from the floral and mandala style incorporated in each page, the hilarious yet heartwarming quotes will also make you smile.
Rottweiler Coloring Book For Adults
Here's the indoor activity you need after an exhausting week of work! Introducing this Rottweiler Coloring Book for adults, it's a publication guaranteed to put a smile on your face. It's not only perfect for Rottweiler lovers but for anyone who's looking for something to do to relax and unwind. It contains various Rottweiler coloring patterns formed through different shapes and lines. Check it out now!
Stress Relieving Rottweiler Book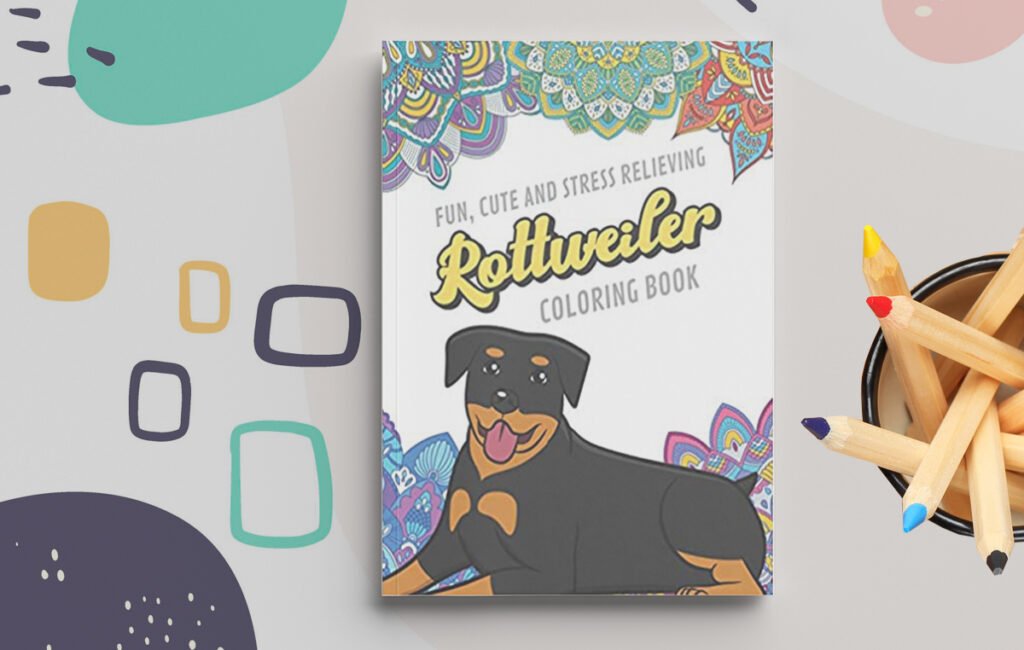 Coloring the illustrations inside this book will make your day better! The fun designs, caricatures, and detailed mandala patterns are something you'll look forward to, especially if you want an activity to stimulate your creative mind. Rottweilers are some of the most loyal and loving dog breeds, and having them become the center of attention in this book, guarantees you're into something adorably fun. If you don't own a Rottweiler, you may even want one!
Rottweiler Dog Goes to the Zoo Book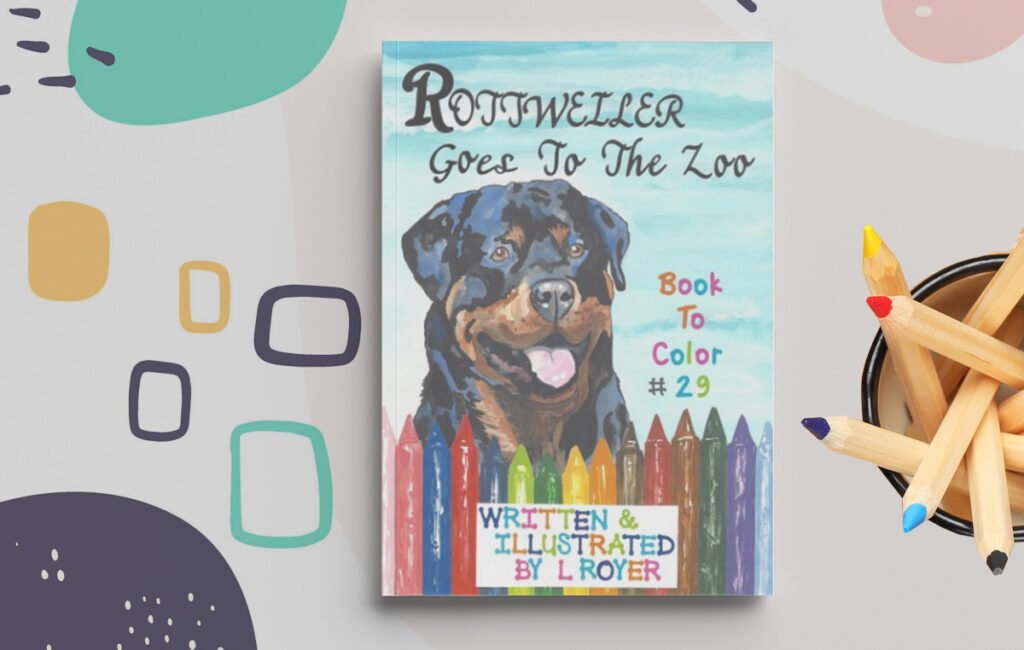 Take a moment to loosen up any built-up stress and relax by coloring the compilation of coloring pages in this book. The theme features a Rottweiler dog in the zoo. While most of these dogs live as pets, it's refreshing to see a Rottweiler visiting its animal friends. Fill every page with colors and use your imagination to make the theme alive!
Coloring Book For Owners of Rottweilers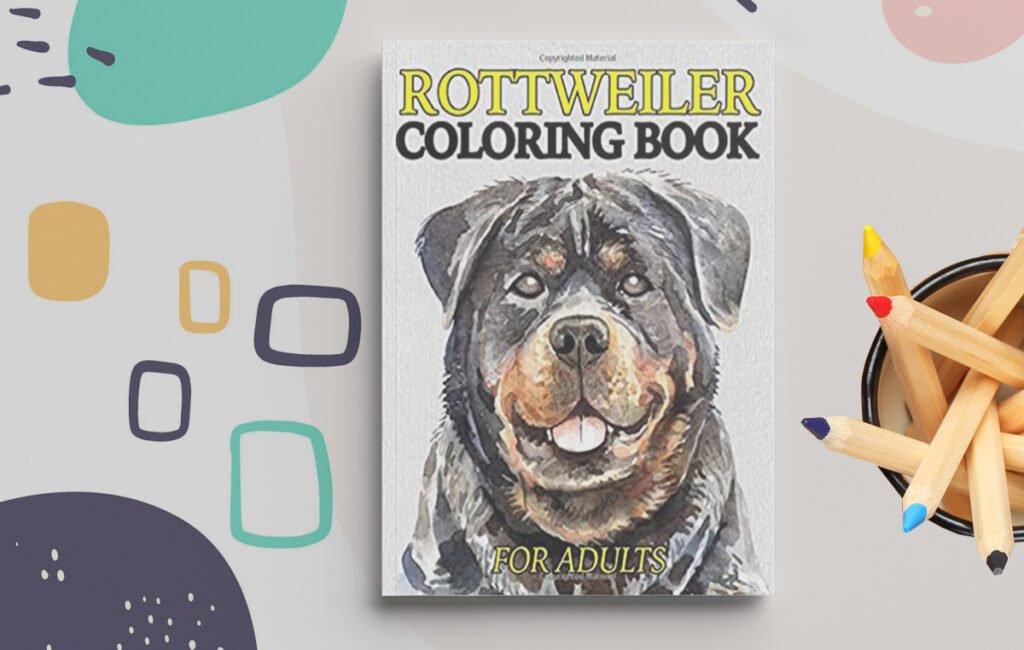 Dog lovers rejoice! Here comes the coloring book that will give you hours of fun and relaxation. This Rottweiler Coloring Book for adults is not limited to Rottweiler owners, as other dog owners will also enjoy the variety of patterns and styles incorporated in each illustration. Bring your favorite pens, pencils, crayons, or markers, and have fun coloring this book with your canine companion!
The Reflections of My Rottweiler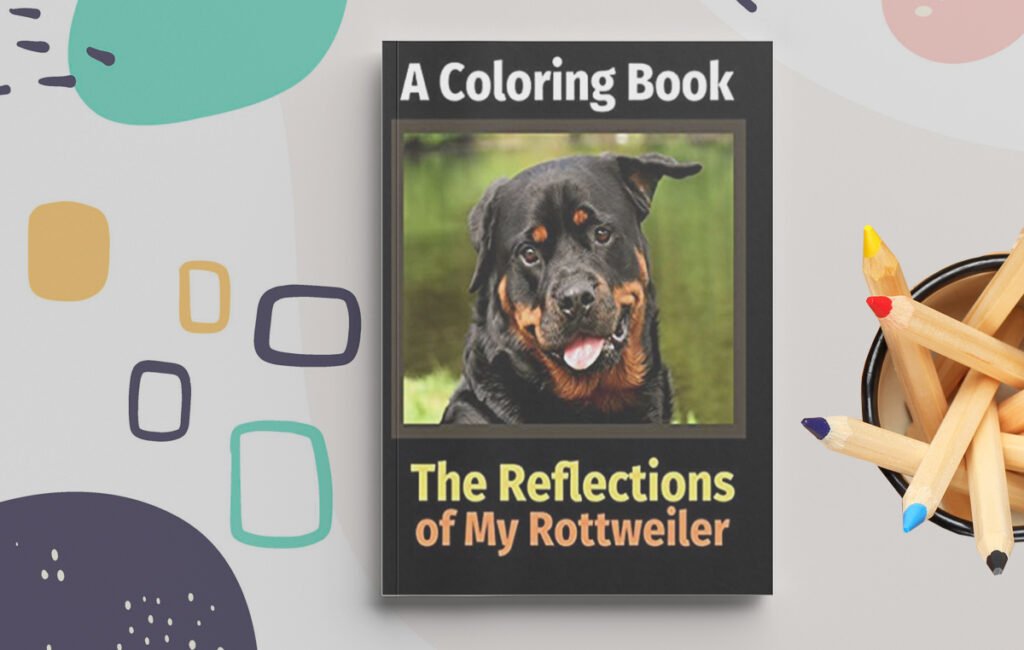 Have you ever wondered what's going on inside your dog's mind? Well, this book will give you an idea! It's a coloring book containing your canine companion's thoughts on their day, including dog quotes, an explanation of some Dog language, and a detail sheet for your Rottweiler. Aside from giving you a good laugh, it's a compilation of illustrations meant to provide relaxation for anyone, regardless of skill or whether you own a dog.
Rottweiler Dog Breed Mandala Coloring Book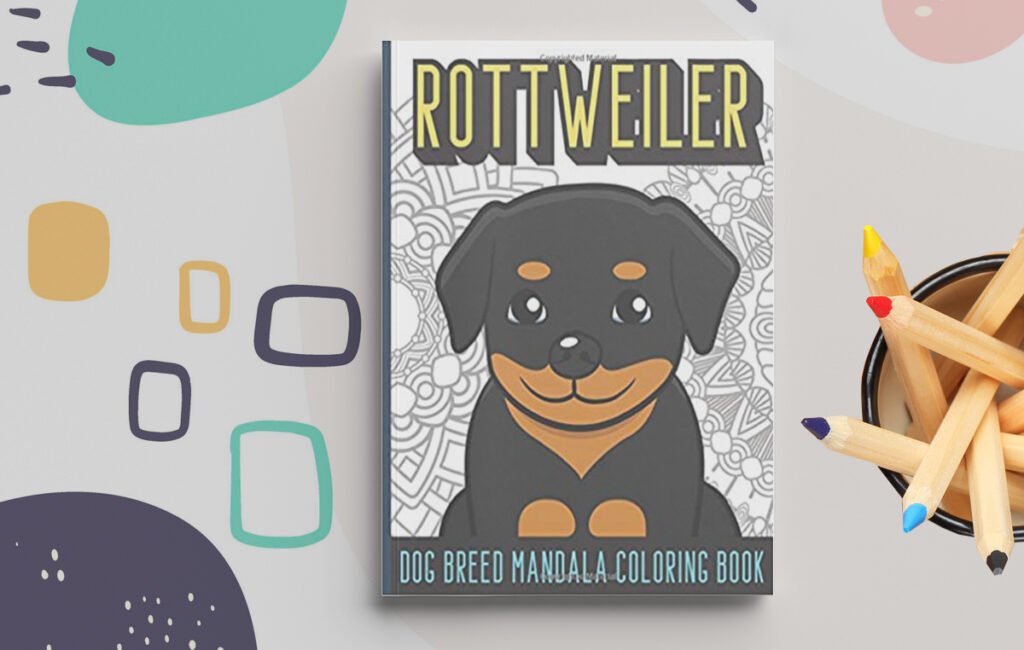 Many people destress through outdoor activities, but coloring mandala-styled illustrations never go out of style! For example, if you're a lover of dogs, color away your worries through this coloring book. It features geometric patterns embedded in each illustration of possibly your favorite dog breed, the Rottweiler. It's not only an incredible mindfulness activity book, but it also does a great job stimulating your creativity!
Rottweiler And More Dogs Coloring Book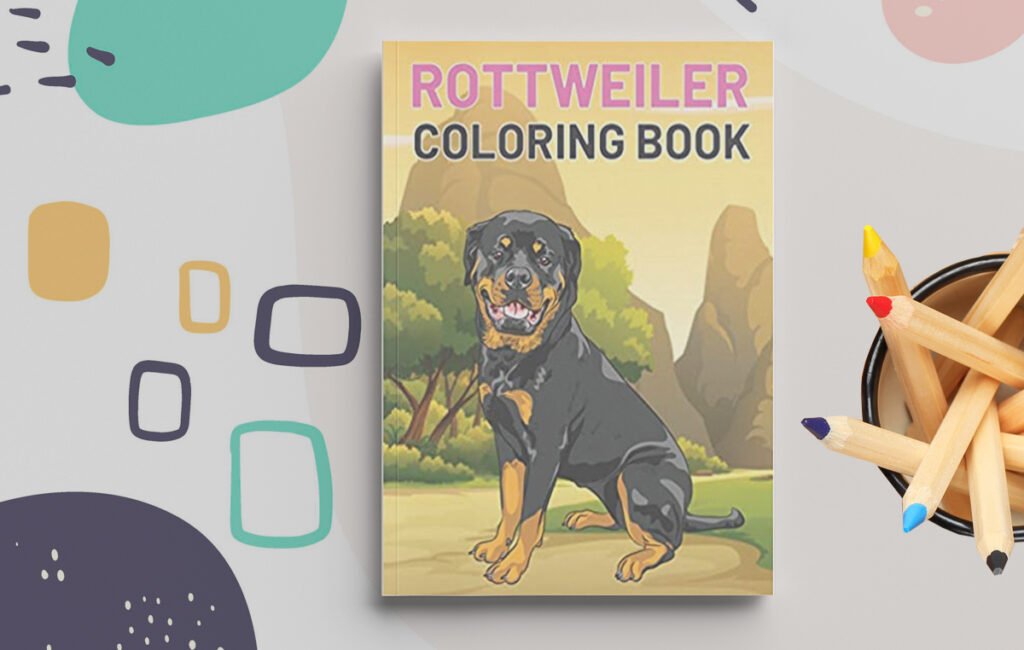 If you're looking for a great place to encourage your child's creativity, consider getting this Rottweiler Coloring Book! The illustrations compiled in this publication display scenarios featuring Rottweiler dogs. They can color the dog's fur with black and brown accents, but it's still up to them what color they prefer to use. Let their creative mind take over the process! Don't worry; adults may find this book valuable too.
Rottweiler Creative Writing And Drawing Book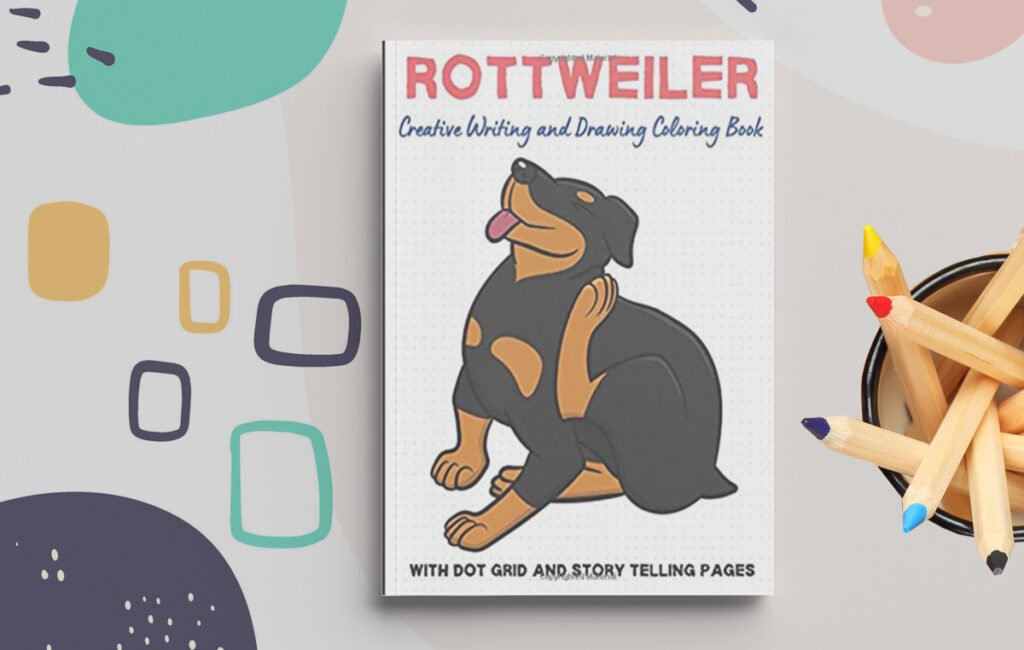 Are you looking for a unique book to start your coloring journey? If so, it's a pleasure to share this creative writing and drawing coloring book with you. It's a one-of-a-kind publication that differs from traditional coloring books as it allows users to create background images and write stories related to what they drew. Not only will you color the illustrations, but your imagination will also wander as you make a story out of it!
Rottweiler Dog Coloring Notebook
There's something about Rottweiler dogs that keeps us hooked or charmed. Aside from their black coats with rusty to brownish accents, they also make an excellent guardian and loyal companion. Hence, this coloring book will remind you how relaxing it'll feel to bond with a Rottie! The gorgeous coloring pages will become an outlet for your creativity as you relax and forget your worries for a while.
Rottweiler Gives Color to my World Book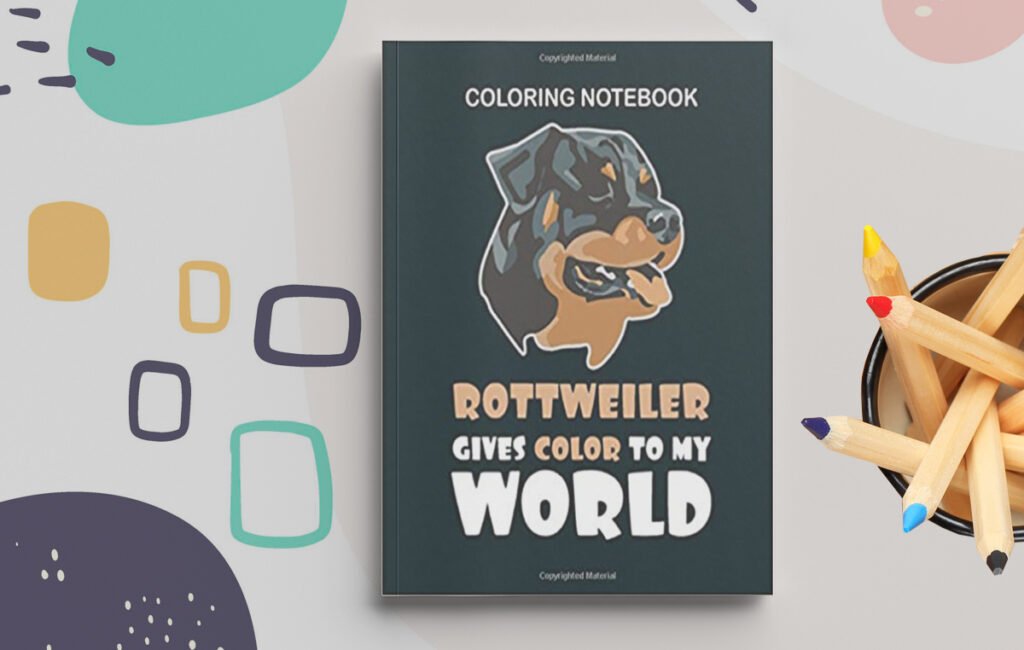 Bring out your favorite coloring utensils for hours of fun with the artistic illustrations in this coloring book! This publication works well for anyone, regardless of skill level or owned pet. Its theme says, "Rottweiler gives color to my world," making it another excellent gift for Rottweiler owners. Get your copy now!
Rottweiler Dog Coloring Book
Various designs are waiting to be colored by you in this coloring book! You no longer have to distract yourself through your mobile devices because the illustrations inside are enough to keep your minds occupied for a while. Whether you're on vacation, taking a break, or want to cure your boredom, this Rottweiler coloring book got you covered! It's even a big plus if you're a Rottweiler owner!
Rottweiler Coloring Book For Adults Therapy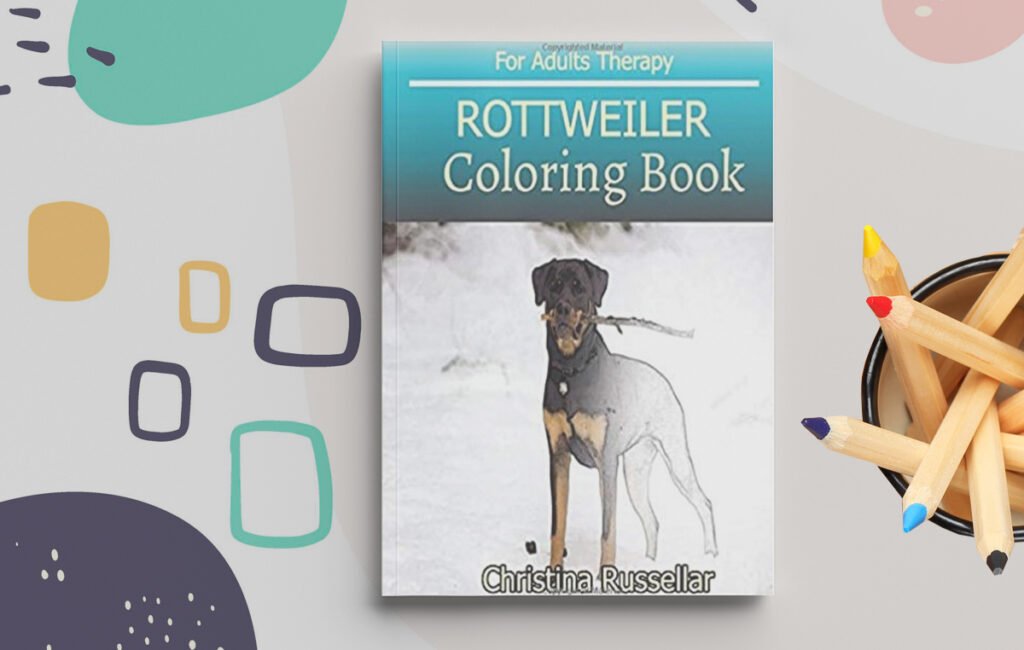 Stimulate your creativity and bring it to the next level with this Rottweiler Coloring Book For Adults. Rottweiler dogs work well as therapy companions, and coloring activities help people unwind and destress. Combine these two, and you get a terrific book that works wonders! Aside from a relaxing session of arts and crafts, you'll feel satisfied and fulfilled once you see your masterpiece.
Wonderful Rottweiler 

Beautiful To Draw Activity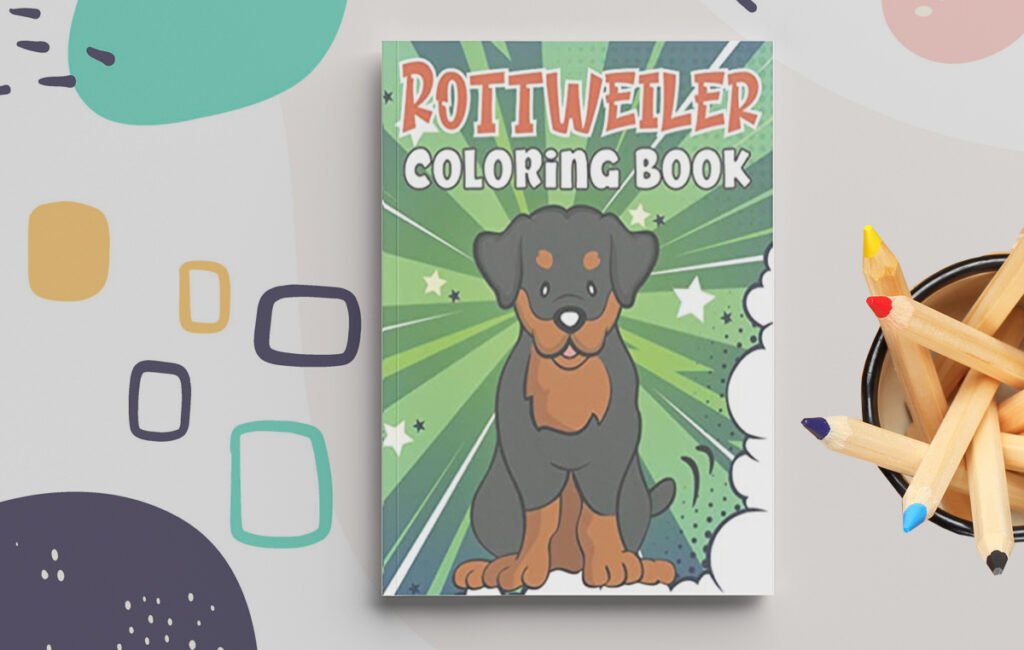 Enjoyably hone your coloring skills with this Rottweiler coloring book, available for anyone interested in Rottweilers or coloring! The designs feature a Rottweiler in its environment, such as in its owner's backyard or farm. This collection of 20 illustrations are open for all ages, so feel free to give it to a friend, family member, or yourself!
Easy and Cute Rottweiler Book For Kids
Do you know any young Rottweiler owners? If you're looking for a present for them on an upcoming occasion, pay close attention to this graphic book filled with charming Rottweiler coloring pages. The large print suits little dog lovers, giving them ample space to utilize the colors from their markers, crayons, or pens. It also offers an incredible way to practice their imagination and color recognition, making it an excellent publication to have.
Dog Lovers and Rottweilers Coloring Book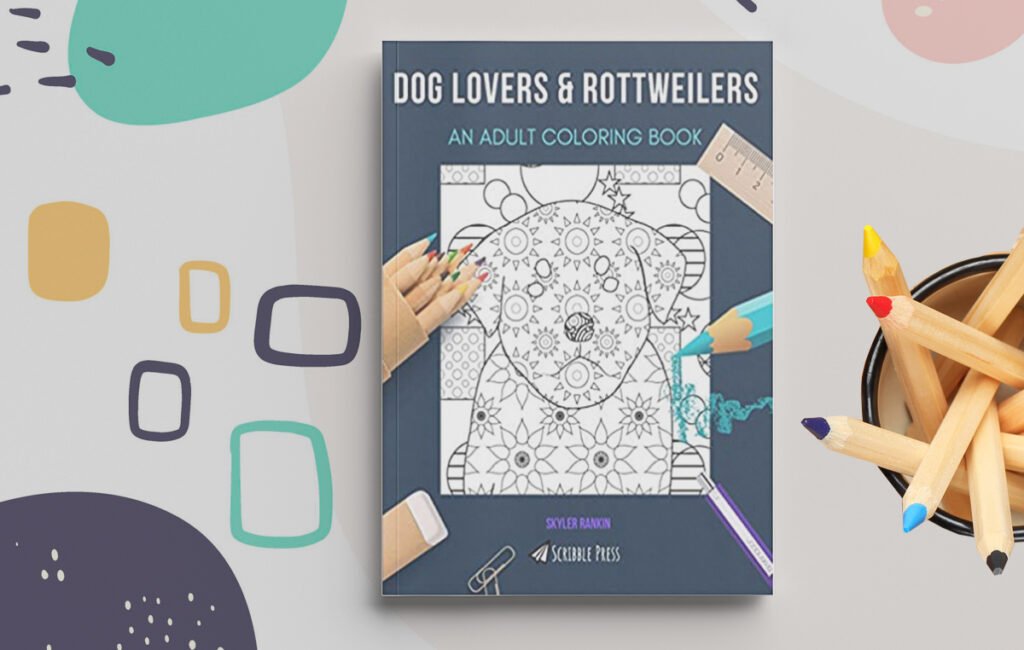 Rottweiler lovers, fur parents, and anyone who loves to color various dog illustrations: you came in the right place. This coloring book provides an incredible outlet for adults to express their love for dogs and stir their creativity! The unique patterns and designs are to look forward to, especially if you'd like to experiment with colors and form a color palette or scheme. Grab your coloring supplies now!
Mandala Style 

Rottweiler Coloring Book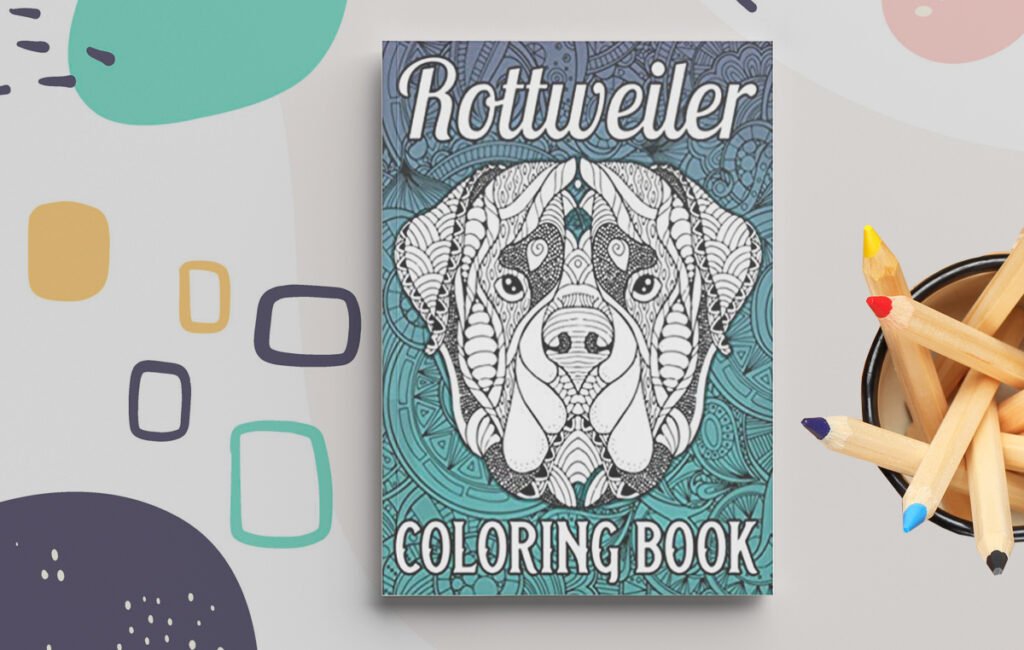 Uncover your inner artist as you let your stress fade with each page of this coloring book! The variety of illustrations will melt the heart of any dog lovers, especially Rottweiler owners, as they're the rightful star of each design. It also incorporates the mandala style of art, giving you a chance to form color combinations you've never seen before!
Rottweiler Lover Coloring Book
When troubles, worries, and stressful thoughts occupy your mind, it's only right to destress and unwind! To accompany you on your mindfulness and relaxation session, here's a Rottweiler-inspired coloring book. The patterns inside contain motivational words that will help you relieve stress, others to give you a good laugh! It doesn't matter whether you're a Rottweiler owner or not; this book is for everyone who needs time to relax.
Coloring Books for Rottweiler Owner
It's not easy to choose a gift for someone special, and with occasions here and there, there's limited time to even ask for what they want. If you're looking for a gift to any Rottweiler owner, you came just in time for this coloring book! It's the perfect gift for Rottweiler lovers or even for any coloring or dog enthusiast. They'll enjoy every bit of this publication, plus guaranteed hours of coloring fun!
Rottweiler Book for Adults Stress Relief and Relaxation
Everyone deserves a comfy rest, either alone or with a companion. In both cases, you'll have fun with the coloring pages of this book! The intricate details used in each illustration give your creativity a time to shine, especially since you have the freedom to mix and match different colors. It's a coloring book you can enjoy alone, with your dog, or with someone who also fancies coloring!
Rottweiler Coloring Conclusion
Dream about building a Rottweiler shelter while coloring any from our selection of Rottweiler Coloring books or pages! Our compilation makes an excellent way to beat boredom, keep your mind busy, or learn about Rotties. Therefore, grab your paws and some coloring tools, then download your favorite to begin the fun!
We also have a collection of Astronaut coloring pages that you can check if you are looking for other coloring pages or books to try.