With 3,000 living species of dragonflies living worldwide, many may have seen this insect at least once in their life. They inhabit near water where their larvae live, usually around ponds, rivers, streams, lakes, and the woods. Despite their name, Dragonflies are not dragons or flies. They're fascinating insects, coming in a range of vivid colors and sizes. Their distinctive features include their big eyes, two sets of transparent wings, and long body. Their fearsome yet mesmerizing appearance is worth appreciating, and it's understandable why people of all ages fancy these marvelous creatures. A Dragonfly Coloring Page even exists for everyone to take their time off and admire the beauty of dragonflies on their own.
The Coloring Kingdom brings the dragonfly's charming visual appeal right here in our collection of Dragonfly Coloring Page. There's no need to visit the local park to see one. Pick any from our range to enjoy its magnificence right away!
Dragonfly PDF Coloring Sheet
Relax and relieve your stress through this coloring page. It features a view of a dragonfly with its wings spread wide; body zoomed in for easy coloring. Use your crayons, markers, or colored pencils to fill the spaces with colors and your creativity as the guide in the process. Once finished, feel free to display your masterpiece anywhere you desire.
Dragonfly Adult Coloring Sheet
If you love flowers and dragonflies, you'll enjoy coloring this illustration! The star of the show is the dragonfly, and the high level of detail on its wings and body will make you want to color more. Of course, the flowers surrounding are also exquisite, with their clean lines making it easy for your coloring materials to glide over. Come and take a copy of this coloring page now!
Dragonfly Outline Coloring Sheet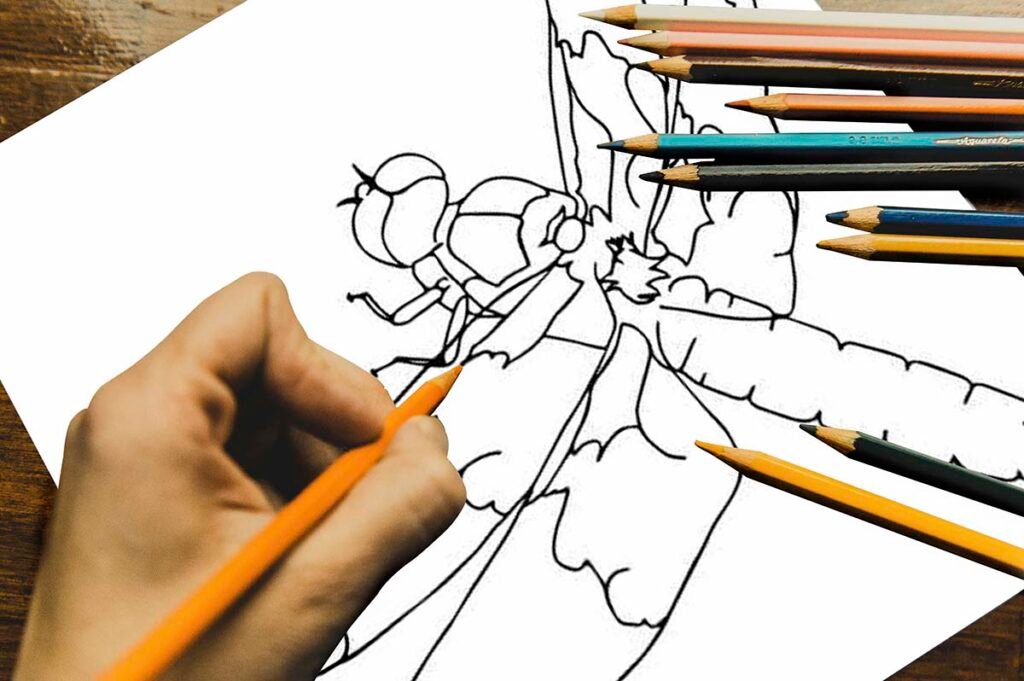 Before taking on challenging coloring pages, some people may decide to practice their coloring skills. This coloring sheet exists for that purpose! The dragonfly outline on this page provides ample details for beginners to cover and experts to test their palette. Since dragonflies appear in vivid colors, everyone will enjoy mixing and matching combinations to their liking. Not only is this coloring page good for practice, but it's also great for encouraging creativity
Digital Printable Beautiful Dragonfly
Freshwater bodies look extra attractive when dragonflies fly around them. Unlike other pesky flying insects that annoy or harm other living creatures, dragonflies provide significant ecological impact and aesthetics. No wonder people love these creatures! They also look great in the art, such as the illustration on this coloring page, which you can personalize through your choice of colors.
Dragonfly Coloring Sheet for Adult
Adults long for some alone time, especially after a day or week of exhaustive work. If you're looking for an indoor past-time activity, this coloring page got you covered. It's a dragonfly illustration with details enough to keep your mind off of your worries for a while. Print a copy or two, and enjoy the benefits of coloring for hours.
Dragonfly Zentangle Coloring Sheet
Zentangle art found its way into the coloring world. Aside from the appealing images formed through the structured patterns, coloring Zentangle-inspired worksheets bring a different kind of relaxation. Check out this dragonfly coloring page as an example! It's a slightly challenging art piece that will bring out your creativity but is still therapeutic enough to keep you relaxed and worry-free.
Dragonfly Coloring Sheet
Dragonflies come in various sizes and colors. Hence, when it comes to their graphic representation, people use their creative freedom to demonstrate the beauty of these creatures in different ways. Take a look at this coloring page! Dragonfly lovers and coloring enthusiasts will delight in obtaining a copy of this illustration and using their freedom to color the whole image.
Dragonfly Detailed Coloring 
Are you up for a challenge? Here's a coloring page just for you! It's a highly-detailed worksheet starring a dragonfly, with flowers decorating the entire piece. The coloring page will appear intricate for beginners, but it's fun to color once you get the hang of it. With the number of details to cover, you may be able to utilize all colors in your palette!
Dragonfly Mindfulness Coloring Sheet
Chill and relax indoors with this coloring sheet! Aside from keeping your mind off of work or school-related thoughts, it will also feed your interest in dragonflies, especially if you're fascinated with these insects. Once finished, you also have the option to display your art, a great way to remind you of your hard work and creativity!
Dragonflies and Butterflies
Have you always been captivated by dragonflies and butterflies? If so, this coloring page will bring you joy! It displays several dragonflies and butterflies hovering over each other, a sight to behold if you're enthusiastic about these two creatures. You'll find satisfaction in transforming this black and white coloring page into a masterpiece filled with colors, so grab a copy now!
Zentangle, Dragonfly Coloring
Form a masterpiece worth hanging on your wall or fridge by filling this coloring page with your preferred colors! It's a coloring sheet incorporating Zentangle art, an illustration filled with different patterns. Kids and adults will enjoy coloring this piece, giving everyone the chance to mix and match even the most random set of colors. Get yourself a copy today!
Dragonfly Art Coloring Sheet
See this dragonfly coloring page transform from its monochrome form into a stunning piece of art! It's a worksheet featuring a dragonfly illustration adorned with floral embellishments. With many details to cover, your thoughts will be free of troubles and worries once you start working on this coloring page. It's for kids and adults to enjoy whenever they have spare time, so even if you're busy, you can color this art next time!
Frog and Dragonfly
Frogs and other aquatic creatures feast on dragonflies whenever they're around. Good thing this coloring page displays a contented frog who just had its meal. Otherwise, this stunning dragonfly wouldn't be freely flying in this lily-pad-covered pond! Like how this dragonfly took pleasure on its flight, find peace and delight in coloring this illustration whenever you have time to spare!
Dragonfly Floral Adult Coloring 
Here's a dragonfly having a wonderful time in its natural habitat! As the coloring page depicts, a dragonfly hovers up and about a set of flowers, waiting for your coloring tools to fill it with colors. Grab your desired color scheme, chill, and immerse yourself in hours of coloring fun. The results may surprise you, and you might unleash a hidden artist within you!
Dragonfly Adult Coloring Sheet
Nothing is more relaxing than taking a seat and coloring this dragonfly illustration! If you're someone who wants to shut the world off for a while and destress, this coloring page is what you need. Aside from giving you time to unwind, it also helps you constructively channel your creativity. Hit download now to enjoy its benefits!
Zentangle Aztec Dragonfly Coloring 
Get in touch with nature with this coloring page! It's an Aztec-inspired coloring sheet with a dragonfly as the center of attention. The patterns on the whole page will give you ample opportunity to try various color schemes. Hang your output as a display or decor in your home to fully enjoy the benefits of coloring!
Dragonfly and Flowers
Inspirational quotes and dragonflies make a great pair, as proved by this coloring page! Aside from the dragonfly on the flower, the inspiring words will keep you relaxed during the creative process. Kids and adults will enjoy this coloring page, so grab a copy for yourself or a loved one to enjoy!
Dragonfly and Nature
The Earth we live in gives us many things to appreciate, including nature and its inhabitants. For example, this coloring page will make you value the beauty of dragonflies and other insects more. This detailed illustration is already stunning in its black and white form. However, you and your coloring tools will make it look even better. Grab a copy and show your appreciation for the beauty of nature by coloring it now!
Cartoon Dragonfly Insect
At first, we may find dragonflies menacing, especially when viewed up close. However, they're harmless to people and charming, all thanks to the brilliant range of colors their species can have. With that said, you'll enjoy coloring this dragonfly coloring page! Come and think of this as a chance to get close to a dragonfly, holding the ability to personalize it based on your style using your coloring tools.
Ethnic Patterned Dragonfly 
A rainy afternoon calls for a fun indoor activity such as coloring! If you're looking for a coloring page to stave off boredom, this Ethnic-patterned illustration will provide what you need. The structured patterns form the shape of a dragonfly, assuring you a captivating result. Print a copy or two now!
Dragonfly Coloring Page Conclusion
Dismiss your discomfort in flying insects by coloring any Dragonfly Coloring Page from our selection! These charming creatures come in many colors, giving you a chance to utilize most of the colors in your palette. Go ahead, choose a favorite and download it right away to enjoy the fun by yourself, with a friend, or a family member!
We also have a collection of Looney Tunes coloring pages that you can check if you are looking for other coloring pages or books to try.