Many mythical creature fans and fantasy-loving bookworms enjoyed soaring with dragons in Tui T. Sutherland's book series "Wings of Fire." The saga sold millions of copies worldwide, hitting the bestseller lists. Moreover, Netflix adapted it into an animated series, with its launch date yet to confirm. The fantasy fiction series follows the tales of dragon tribes while exploring real-life issues related to family, friendship, community, and individuality. It also displays themes and ideas of courage, loyalty, a sense of belonging, sacrifice, and destiny. As the title suggests, the main characters in the elegant saga are dragons with humanlike traits, emotions, and behavior, making them appealing to middle school readers and adults. The wonderfully-rich world crafted in the series laid the foundations of Wings of Fire Coloring Pages, providing readers a graphic representation of some of its characters and scenes.
If you're looking for Wings of Fire Coloring Pages, the Coloring Kingdom has a collection for you! Have fun coloring the winged beasts in the series by hitting the download button on anything from the list that captures your eye.
Wings of Fire Hivewing Dragon Coloring Pages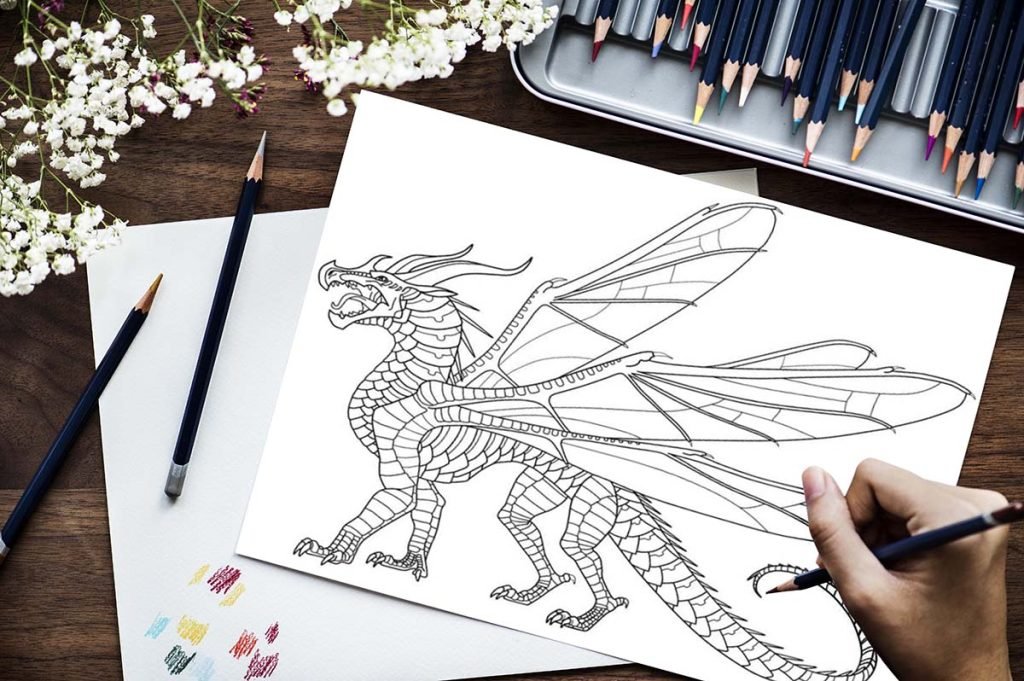 Doesn't the term Hivewing remind you of bees? Comparable to bees having their Queen, Hivewing Dragons also live in Hives ruled by the Queen and her female relatives. If you're curious to see how these dragons look as depicted in the series, here's a coloring page for you! Aside from the graphical representation, you can add the color you prefer in this image and display your output wherever you like, possibly in your hive!
Spacewings Dragon
As their name suggests, Spacewings dwell on outer space. However, they're friends with a tribe that wells on Earth, the Nightwings. Fascinating, isn't it? Although such a winged creature only exists in fiction, you get to meet a Spacewings dragon through this coloring page! You can color it according to your vision of outer space, adding fine fragments here and there, or keep it black for simplicity.
Wings of Fire Silkwing Dragon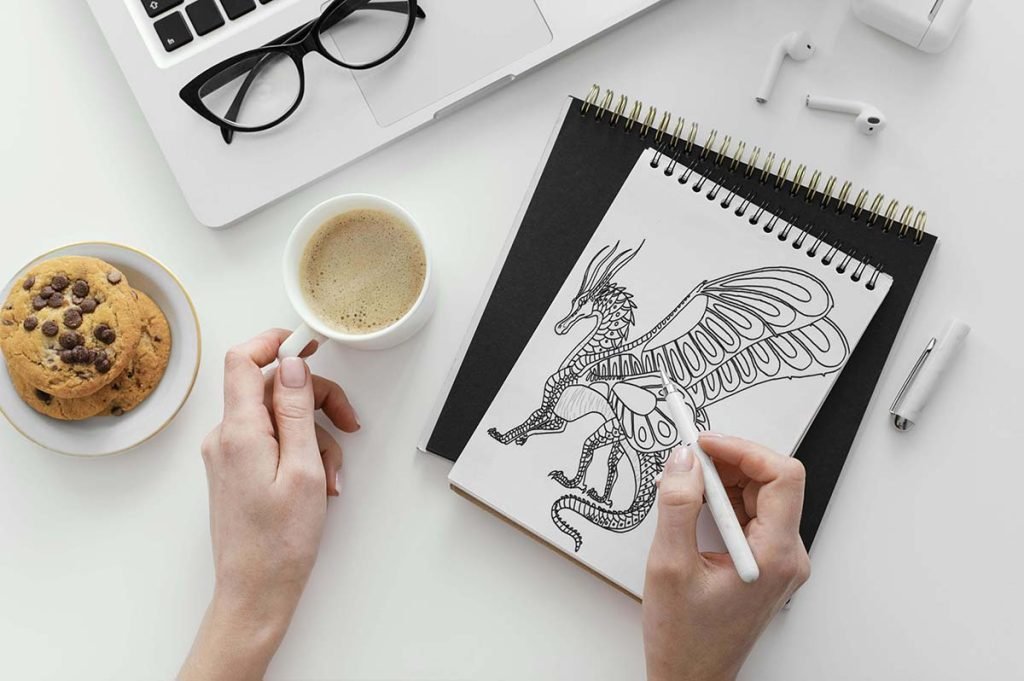 Come and take a look at the Silkwing dragon on this coloring page! The patterns on its wings mimic those of a butterfly, allowing you to make it as colorful as you want it to become. These dragons also have darker accent colors on their scales, so aside from the wings, you can also freely use your creativity to decorate their body. Have fun!
Wings of Fire Sandwing Dragon Coloring Pages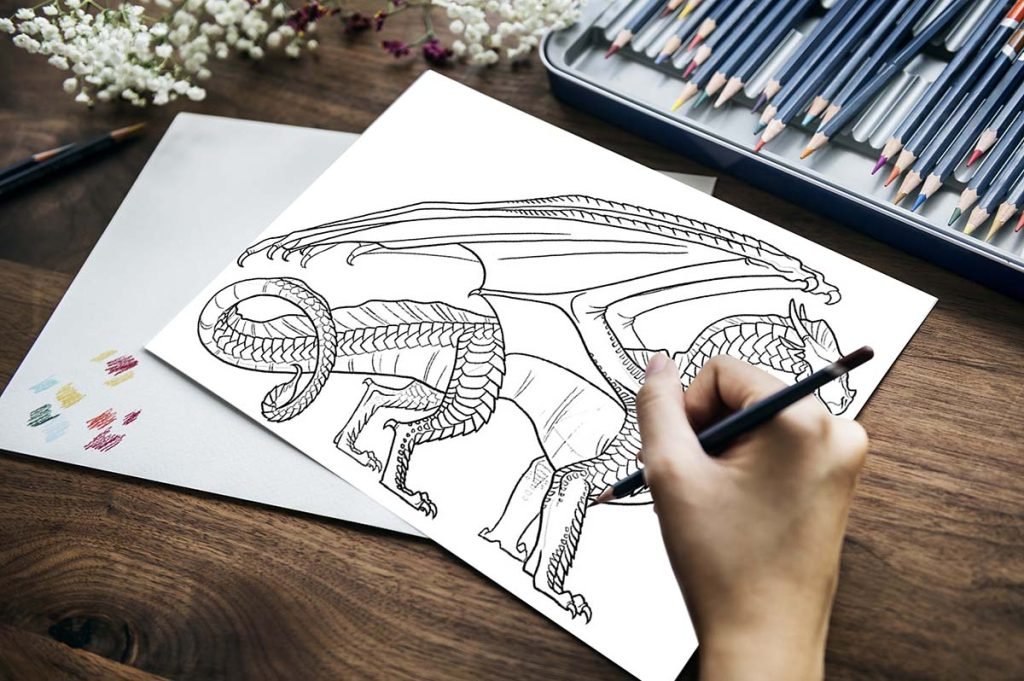 Sand or desert dragons, that's what SandWings are to humans. On this coloring page, you'll get to see one! Like most creatures living in the desert and sand, these dragons usually have yellow to off-white scales, reflecting the sandy-colored habitat where they live. With your warm color palette, you can bring this dragon to life and watch its beauty unfold right in front of your eyes!
Wings of Fire Nightwing Dragon Coloring Pages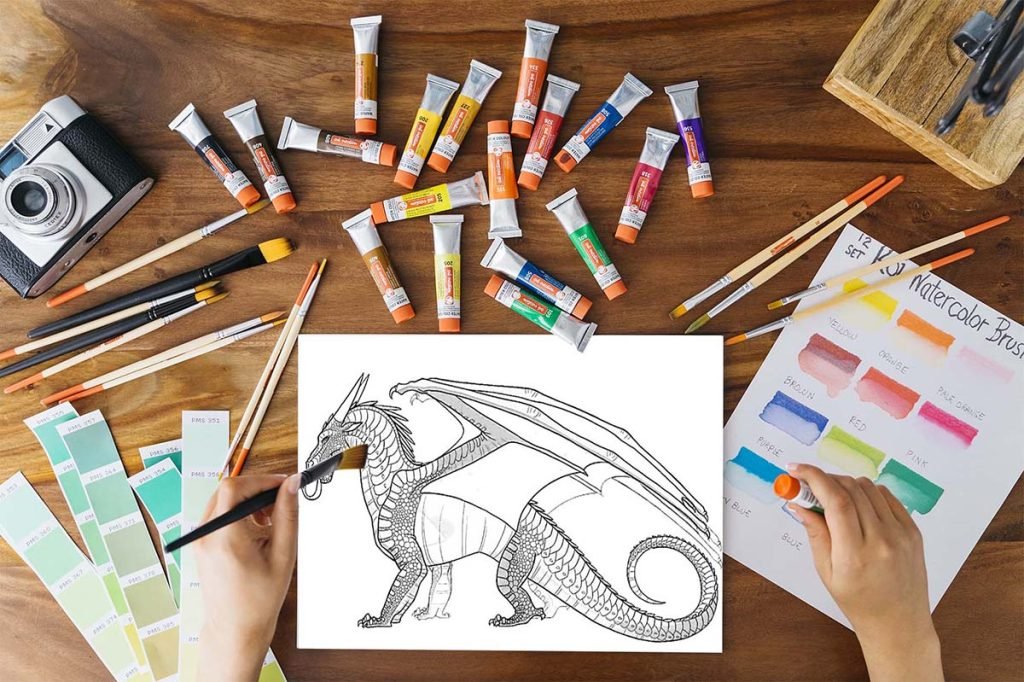 Nightwings are nocturnal dragons, blending into the night sky and shadows with the help of their dark scales. Look at the details on their body on this coloring page! Doesn't it look inviting? If so, take a copy for yourself! You can color this dragon dark green, blue, or purple. However, feel free to add some variations on their body, whatever your mind suggests.
Queen Scarlet
Queen Scarlet reigned for approximately twenty-nine years as the SkyWing Queen. Yes, even dragons have royalties too! Go ahead, take this opportunity to serve the queen by coloring her in this illustration. Queen Scarlet appears in a combination of dark orange to yellow, so you can follow this description to attain her rightful appearance. However, you still have the freedom to color her in whatever way you like!
Wings of Fire Icewing Dragon Coloring Pages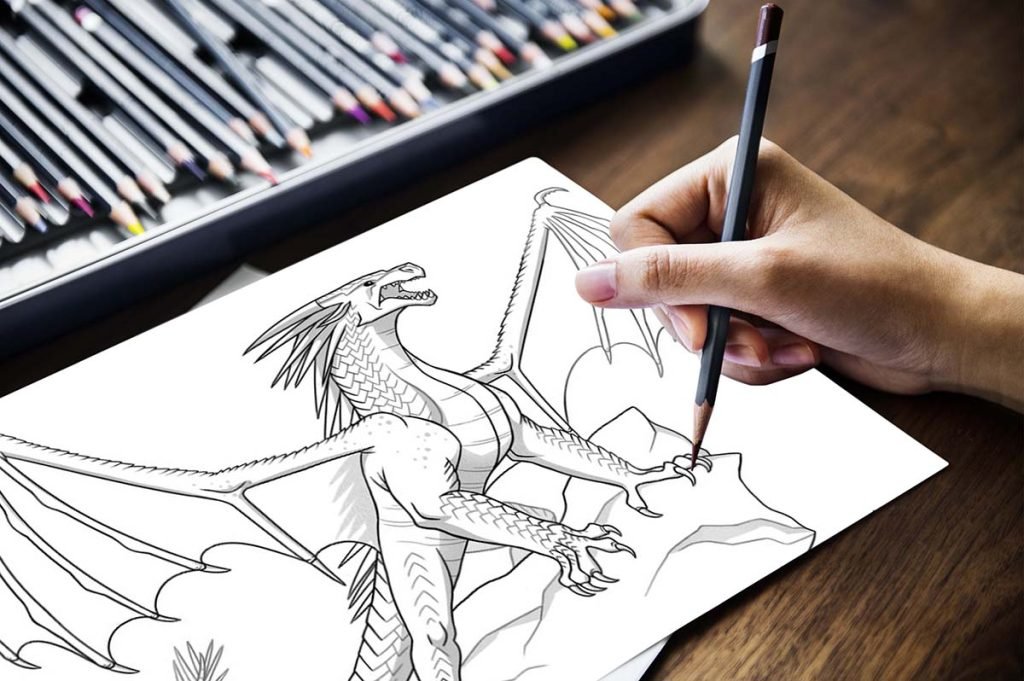 There's something about anything related to ice that's cool to us humans. Add the IceWings in this coloring page to the list! They're the ice or arctic dragons that can withstand cold and freezing temperatures. They're living up to their name! Like anything ice-related, these creatures' scales range from silvery-gray to white colors, helping them blend into their surroundings. Don't worry! It won't be cold when you start coloring this coloring page.
Beastwing Dragon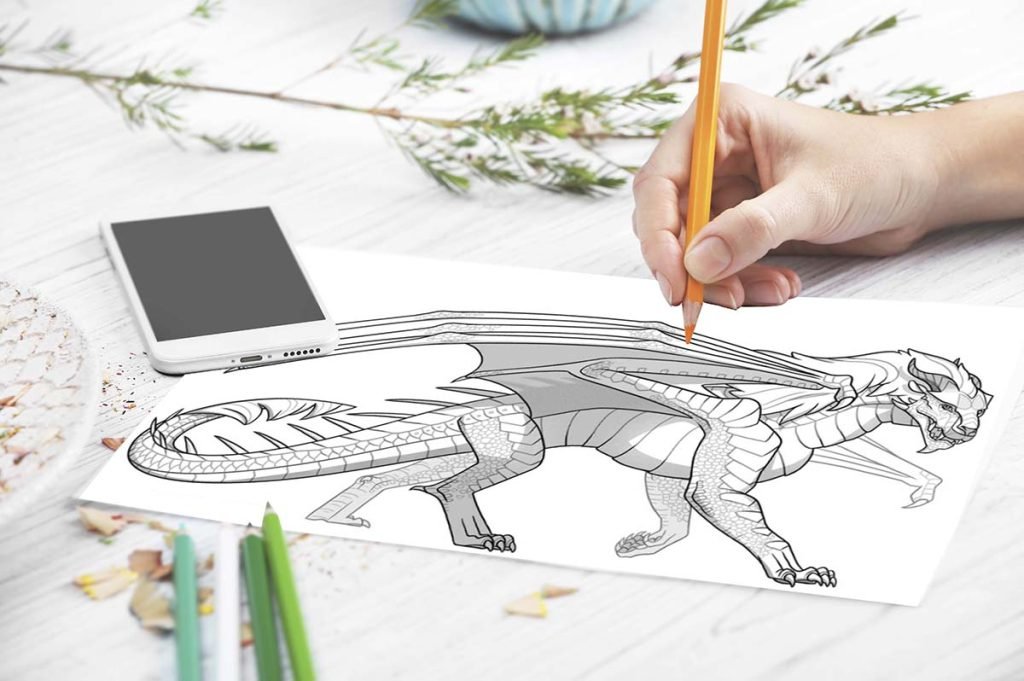 Compared to most dragons, the Beastwings have something that makes them extra unique. The differences lie on their wings, eyes, and stingers on their wrists and ankles. To help you visualize their appearance, here's a coloring page for you! Compare their looks with the rest of the dragons in the collection to figure it out!
Wings of Fire Leafwing Dragon Coloring Pages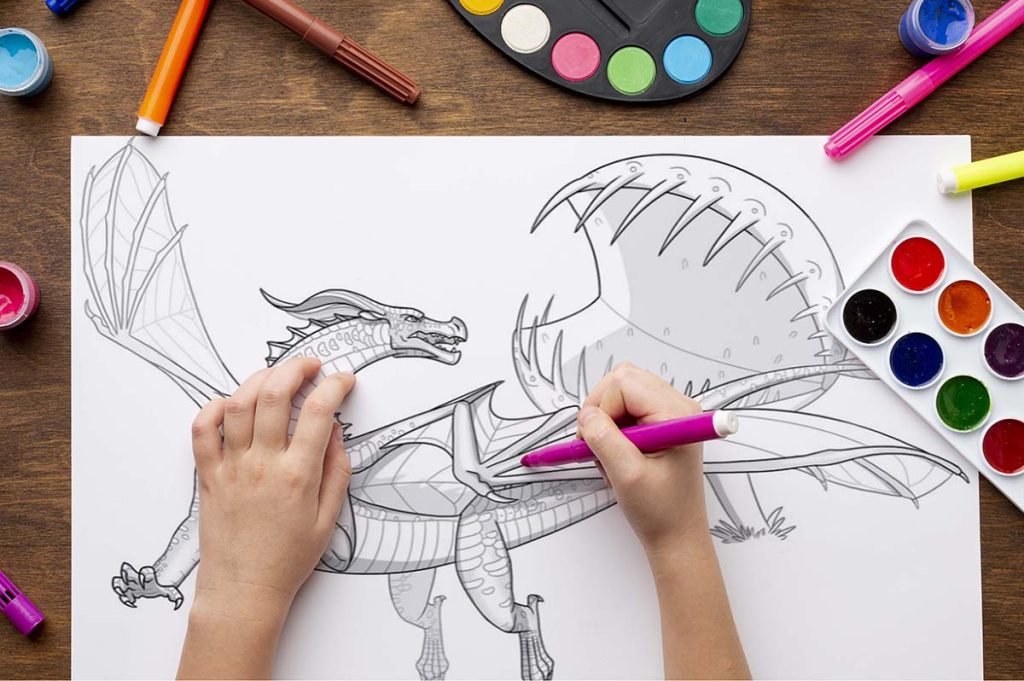 Do you love plants or anything related to nature? Here's a dragon perfect for you! The Leafwing dragon replicates the characteristics of plants, starting from its leaf-like wings to its rumored ability to absorb sunlight. Aren't they cool? You'll fall in love with them more as you finish coloring this illustration!
Seawings Dragon from Wings of Fire Coloring Pages
The vast ocean provides shelter and safety to the Seawings or the sea dragons. The patterns on their bodies add to the beauty of this creature, with scale colors ranging from blue to green. Here's a coloring page for you to see them out of the water! It's time for your hidden artist skills to shine as you fill this coloring page with colors, even adding a background to match the Seawings dragon's nature.
Mudwing Dragon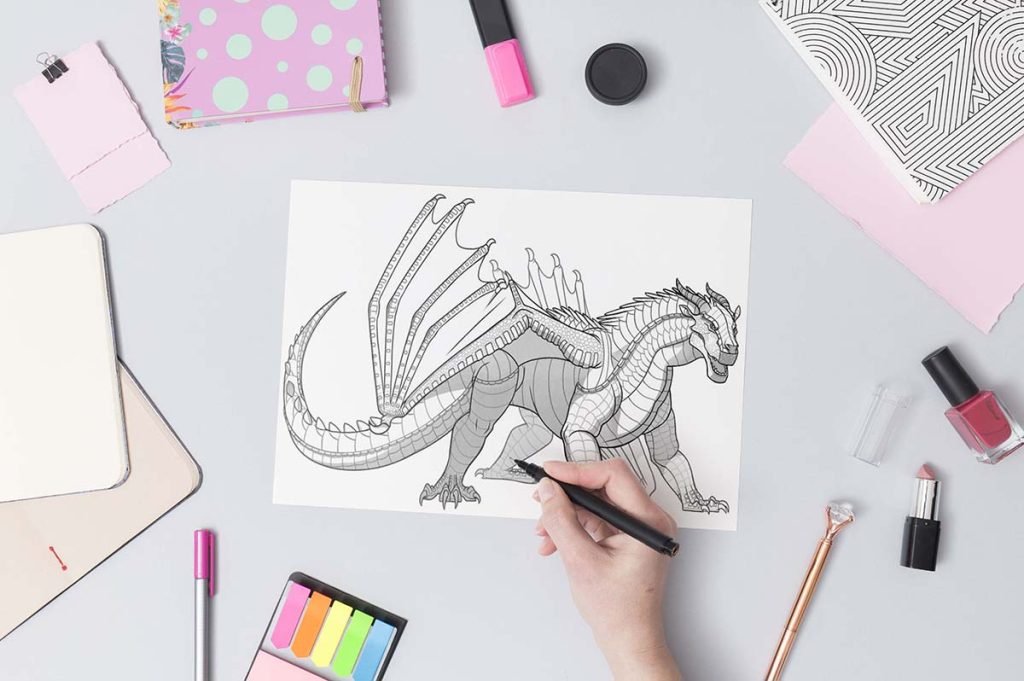 Some people dislike the nature of swamps and mud, but keep that thought to yourself once you meet the MudWings or swamp dragons! Their scales hold earthy colors ranging from brown to orange. As this coloring page shows, these dragons have a large build which reflects their brute strength. Impressive, don't you think? What's even more fascinating is you can take part in filling this dragon's color by hitting the download button now!
Skywing Dragon
Mountain dragons or the Skywings live in the mountains, specifically on the "wing" of Pyrrhia. These dragons are the fastest in flyings compared to any other dragon tribe. Look at this coloring page for reference! It's still in black and white, so feel free to add its respective colors. As their descriptions suggest, they have red to yellow scales, so grab your coloring tools to get started!
Rainwing Dragon from Wings of Fire Coloring Pages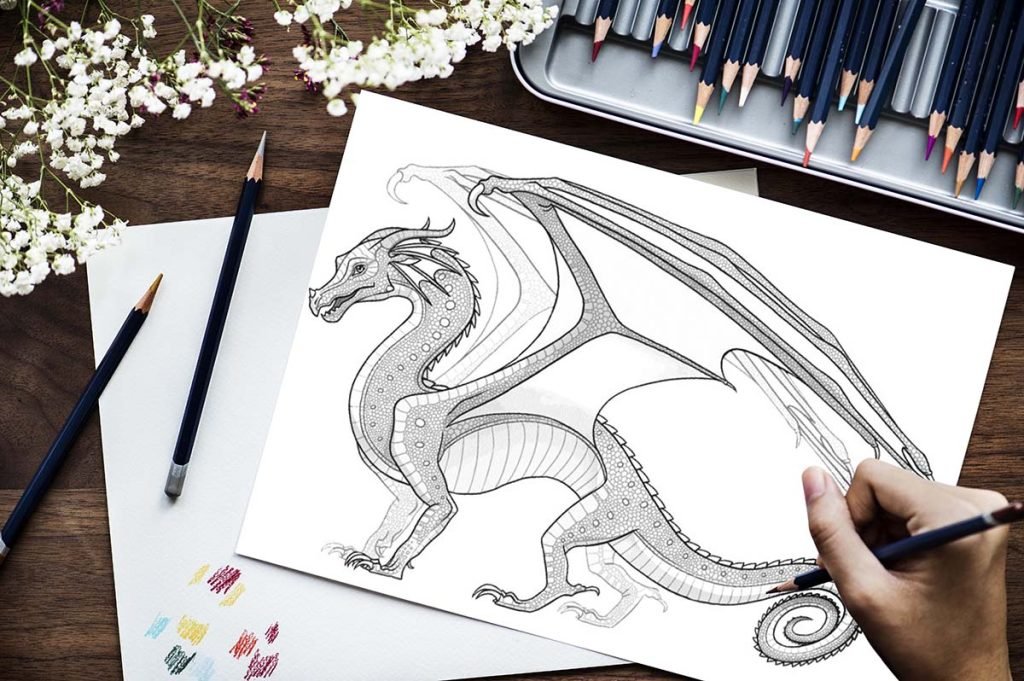 Isn't that such an elegant-looking dragon? Are you interested to know what the dragon on this coloring page is? It's a rainforest dragon, also known as Rainwings! They're similar to chameleons, with color-changing scales and graceful bodies. These dragons prefer bright colors, so pick a color palette that suits this definition to fill this dragon with the color it likes.
Seawing Dragon with Sharks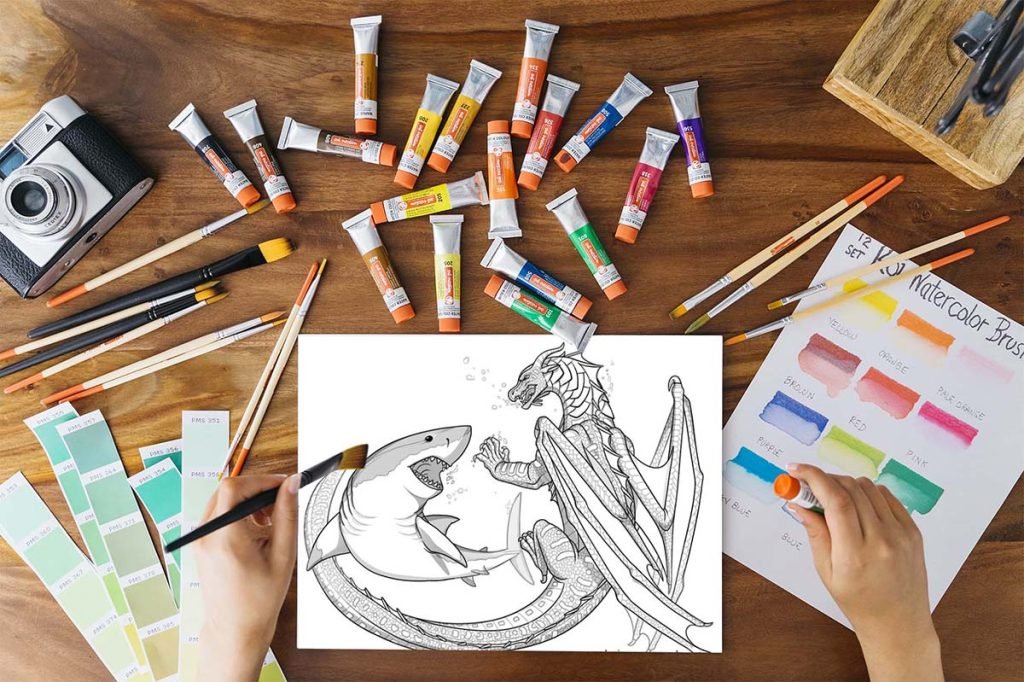 A shark unknowingly battled a Seawing dragon on this coloring page! Their size and power are enough to conquer the ocean, and we can only hope for the shark to back up and leave this dragon alone. If you're wondering what will happen next, take a copy of this coloring page and figure it out by yourself! How? Use your imagination as you color this illustration!
Baby Leafwing Dragon
Before they become fearsome winged beasts, dragons pass by their baby stage too! Come and feast your eyes on this baby Leafwing dragon caught by a little tiger's tail! Aren't they adorable? Complete this coloring page with colors to unleash more cuteness from this duo. Add a background if you want to, like a jungle, rainforest, or grass field!
Baby Silkwing Dragon
Babies are playful by nature, and this baby Silkwing dragon proves that point! It's playing with a butterfly on this coloring page, fascinated possibly by its colorful appearance. Grab the chance to color the Silkwing dragon and its playmate by printing out a copy of this page. Print as many copies as you want, and share the fun with your family and friends!
Baby Hivewing Dragon

It seems like this baby Hivewing dragon enjoys watching the bee on this coloring page! Bees are fascinating creatures, and it's understandable how they captivated the baby Hivewing's interest. Get your coloring materials and participate in making the baby Hivewing look appealing, just like the bee! You can also add a background to make this illustration even better.
Baby Beetlewing Dragon
Baby Beetlewing dragon greets the little hyena, but it looks like the baby mammal got scared. Dragons are fearsome, but this baby wants to be friends! Envision a budding friendship between these two creatures as you color this illustration. Let their connection last long, just as much as you'll enjoy coloring this page for hours.
Baby Skywing Dragon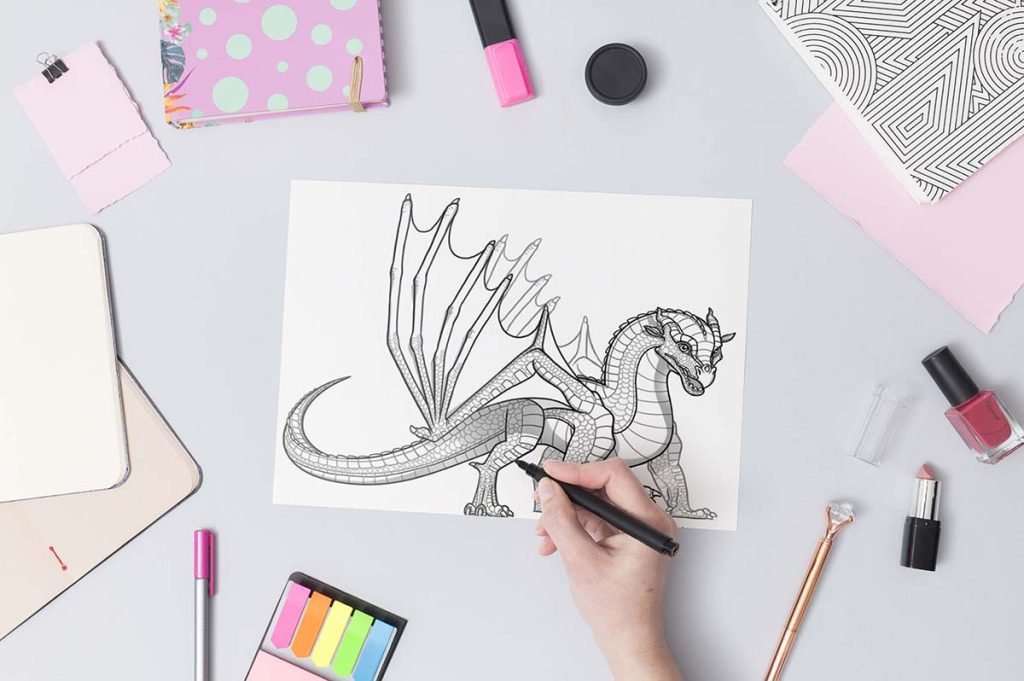 Join this baby Skywing dragon's first flight by filling this coloring page with shades of red to yellow! You'll have fun coloring its wings, considering its length despite still being at a young age. Well, the Skywing dragon has the most extensive one among any tribe, and this coloring page proves that statement, even when the dragon in it is still young. Have fun coloring this page and soaring with your imagination!
Baby Rainwing Dragon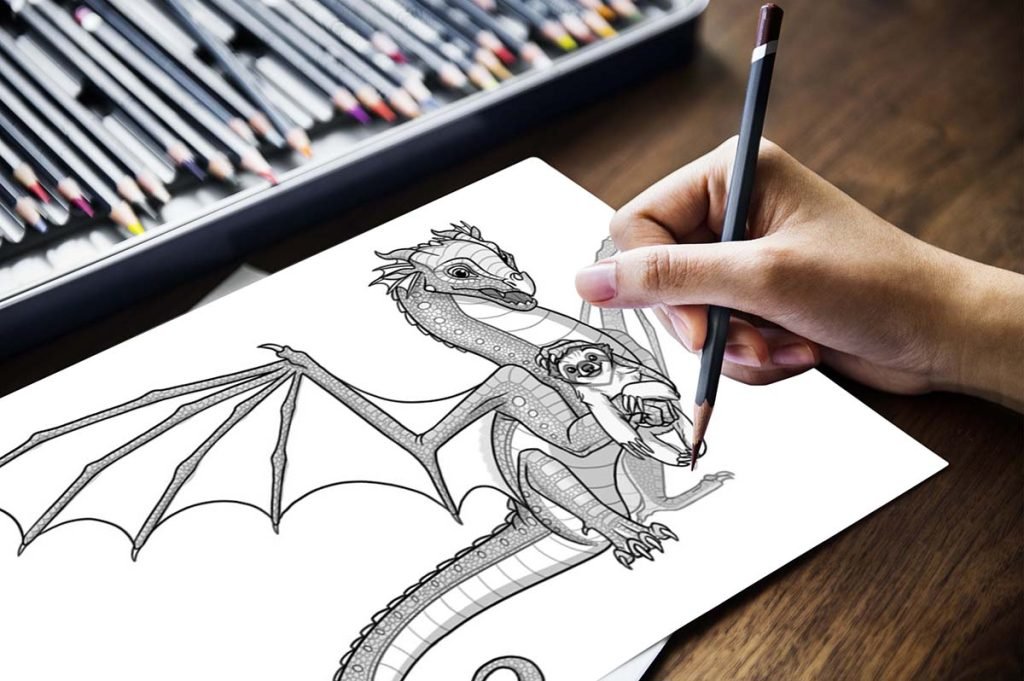 Look at the connection this Rainwing dragon formed with the adorable sloth it's holding! Awe and fascination, that's what best describes the baby dragon's feelings on this coloring page. Hop along with their friendship by coloring this illustration! Invite a family member or a friend in the process to share the relaxing experience with them.
Wings of Fire Coloring Pages Conclusion
Fly with the massive, winged creatures in our collection of Wings of Fire Coloring Pages! Just as how you found joy in reading the saga, you'll also love the experience once you start coloring any from our selection. With your creativity and wild imagination, an extraordinary adventure awaits you and your coloring tools!
We also have a collection of Dragonfly coloring pages that you can check if you are looking for other coloring pages or books to try.