The sugary goodness and appetizing look of candies have often brought us the much-needed moment of joy and comfort, especially during difficult times. Aside from the vibrant colors applied in these amazing treats, they're also usually linked to the positive moments and life events we've celebrated in the past, specifically during our childhood. Hence, there's no doubt that these sweets have captured the hearts of people, regardless of age! Furthermore, if you're someone who's just into the aesthetics of candies, you'll appreciate the beauty of Candy Coloring Pages!
Our collection of Candy Coloring Pages here at the Coloring Kingdom will satisfy your sweet tooth without worrying about tooth decay or weight gain! From lollipops to other sugary treats, we've got your craving for candies covered.
Printable Candy Coloring Pages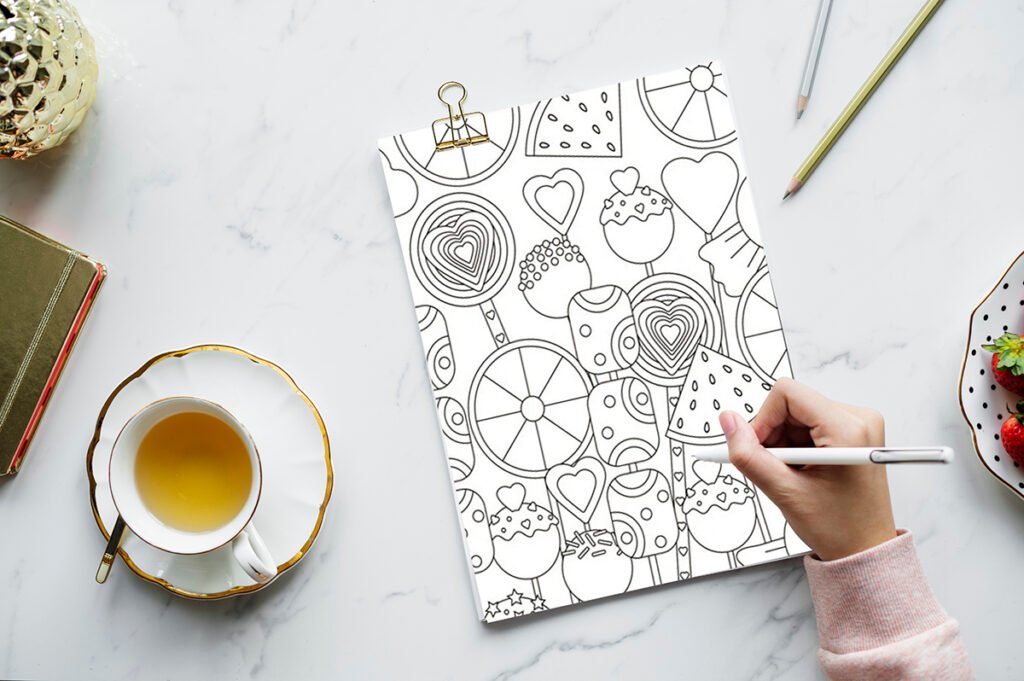 Enjoy your morning cup of tea or coffee with these printable coloring pages! There are five illustrations for you to complete, each filled with assorted treats varying in shape and size. The candies look delectable once you've added your preferred colors, allowing you to savor their sugary goodness no matter what time of the day it may be.
In The Candy Cane House Easy Coloring
When talking about holiday treats, there's no way to rule out candy canes! Although they usually come in white and red stripes, there are other available flavors and colors people can enjoy. If you're into this treat, you'll love these vintage coloring pages embracing the candy cane theme! There are 33 pages of cute children, animals, and objects for you to color whenever you're free!
Candy Shop – Printable Adult Coloring Sheets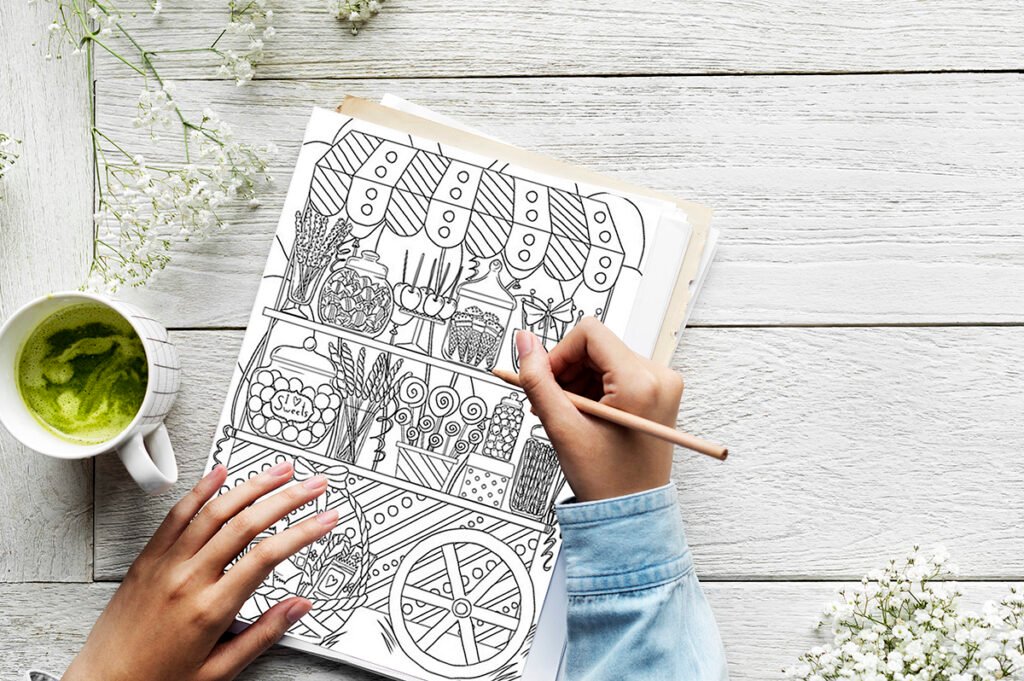 Have you ever visited a candy shop? If so, this coloring page will bring back those memories! The attention to detail is something you'll look forward to in this hand-drawn coloring page, especially if you're a lover of sweets. There are a lot of features for you to color, so get your coloring materials ready for hours of coloring fun!
Lovely Candy Box Coloring Sheet
What a lovely lady in a candy box! This adorable candy box coloring page displays a pretty girl sitting inside a box holding her lollipop. It's a coloring page with many details to offer, especially for adults looking for an activity to keep themselves occupied as they relax their minds. Available in JPG and PDF format, download it as a gift for someone or yourself!
Candy Girl Coloring Sheet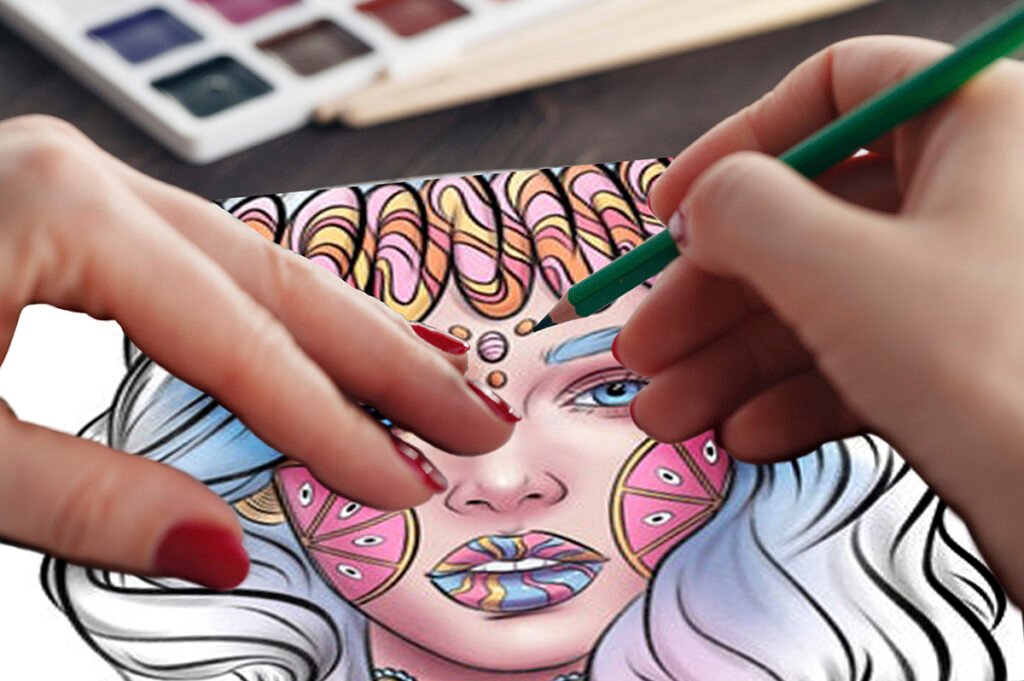 Here's an excellent artwork that will unleash the candy persona in you! It features a candy girl adorned with different forms of sugary treats, starting from her headdress to her makeup. Since these sweets usually come in various colors, you can mix and match different shades and hues to form a masterpiece. Let your creativity guide you through the process!
Cats and Candy Coloring Sheet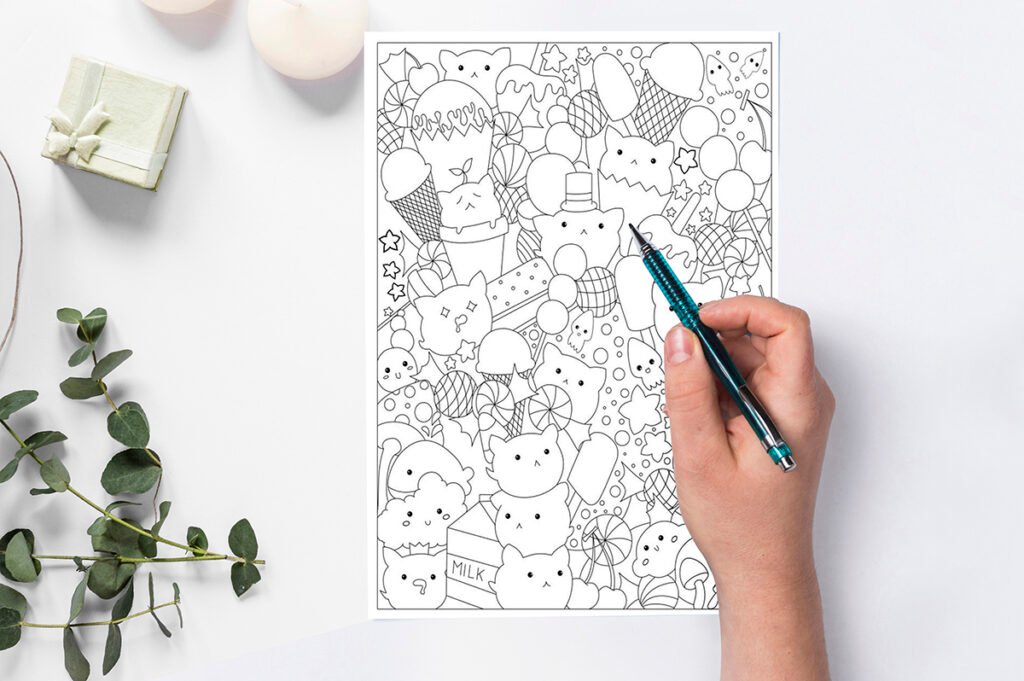 Candy and cat lovers, come and have fun with this coloring page! Cats are already full of cuteness, and with the addition of candy treats, the delight you'll find on this coloring page is something you cannot deny. There are no limits to which color you should use, so feel free to use your imagination to select which shades or hues fit each element in this vector image.
Sweet Treats Coloring Sheet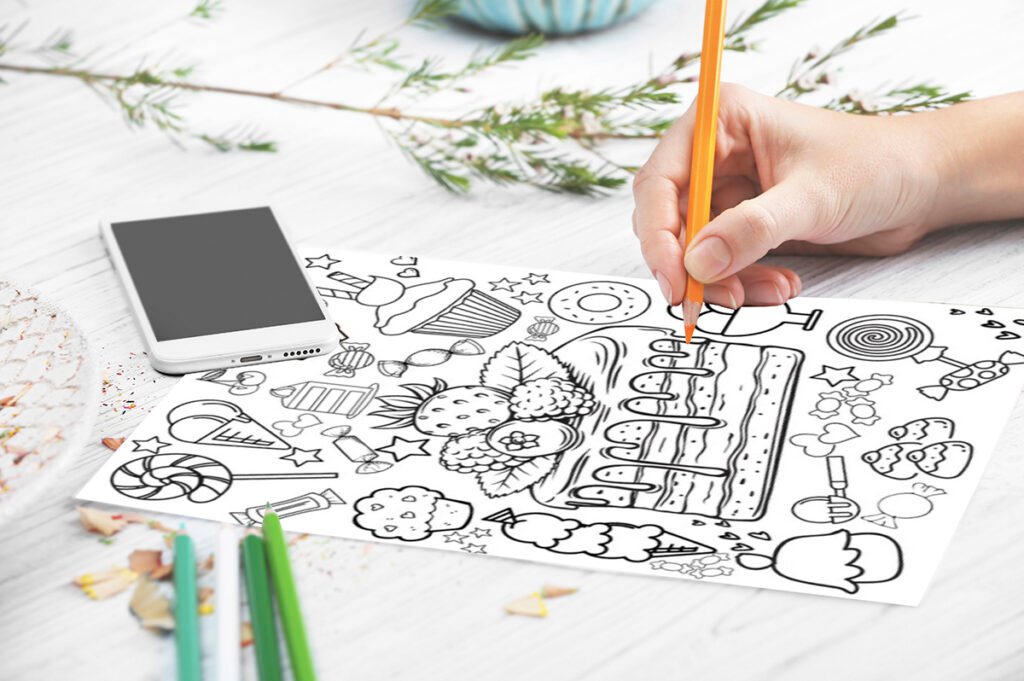 Sugary goodness doesn't end with candies, as you cannot rule out the joy cakes, cookies, and donuts give! For example, this sweet treats coloring page offers a selection of desserts people around the world enjoy. From cupcakes to ice cream, you'll find it all here! It's up to you what flavor your candies will be, may it be chocolate or strawberry!
Carb Queen Donut and Candy Coloring Sheet
If you're looking for an indoor activity to do this weekend, consider getting this printable sweets-themed coloring page. The artwork contains the phrase "Carb Queen," which you can color with the surrounding food. The clear and thick lines also help make your chosen colors pop without making them look messy.
Cotton Candy Printable Coloring Pages
Cotton candy is one of the favorite snacks in carnivals and boardwalks, famous for its classic blue or pink color. Even when you're at home, you'll savor its goodness through these fun and cute printable coloring pages! You'll find delight in each illustration as it displays adorable designs of different cotton candy clipart. Its specific theme revolves around summer, giving you memories of your beach and outdoor vacation!
Candy House Coloring Sheet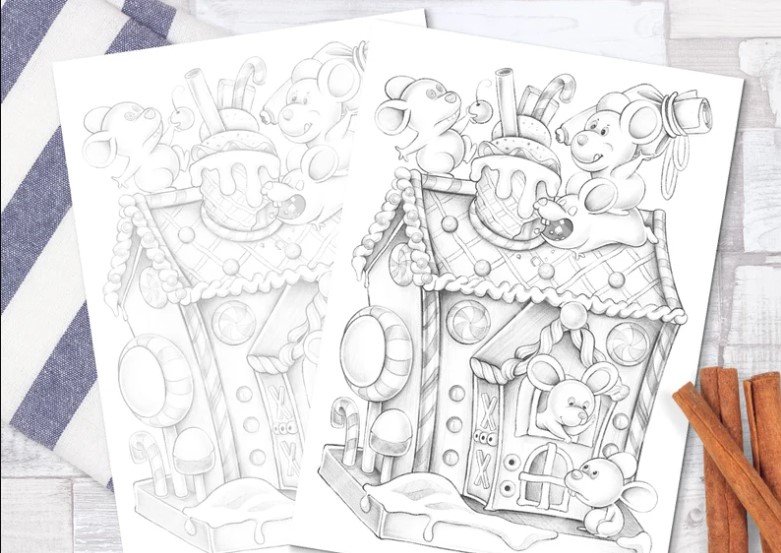 Living or visiting a candy house, that's what many people dream of during their childhood. Candy houses are undeniably captivating and inviting, especially since kids love sweets! If you aspire to relieve your fondness for candies, give this adorable piece of artwork a chance to prove its worth. It's a printable coloring page featuring a candy house with a mouse residing inside and possibly a visitor longing to enter, just like what you've dreamt before!
Candy Girl Coloring Sheet
From afar, you'll see the lady on this coloring page as a simple woman with several embellishments. Look closer, and you'll see something even better! Candies of various designs form the lady's accessories! Isn't it exciting and enthralling? With your choice of colors, this lady will turn into a candy girl, filled with vibrant colors radiating from the candied accessories!
Candy Sweets Printable Coloring Sheet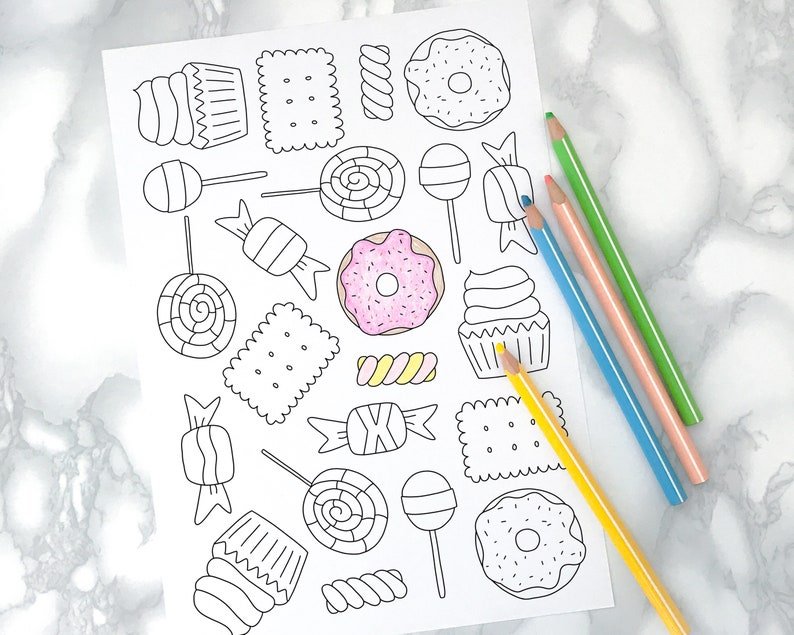 Relax and unwind with this coloring page which you can enjoy alone, with your kids, or with a beloved one! The fun sweets fill the spaces of this coloring sheet, making it a fun artwork to color whenever you have time to spare. From biscuits to lollipops, you'll find it refreshing to spend your free time completing this coloring page.
Printable Sweets Coloring Sheet
Yummy and delectable sweets bring us happiness and comfort, no matter what's happening in our life. For example, free your mind from the troubles of your daily living through this printable coloring sheet! It's a coloring page with delightful treats, such as donuts, ice cream cones, candies, cupcakes, and macaroons. There are two versions for you to enjoy: a dark outline and a light gray outline. Print any version as many as you like!
Sweet Treats & Candy Creations Coloring Book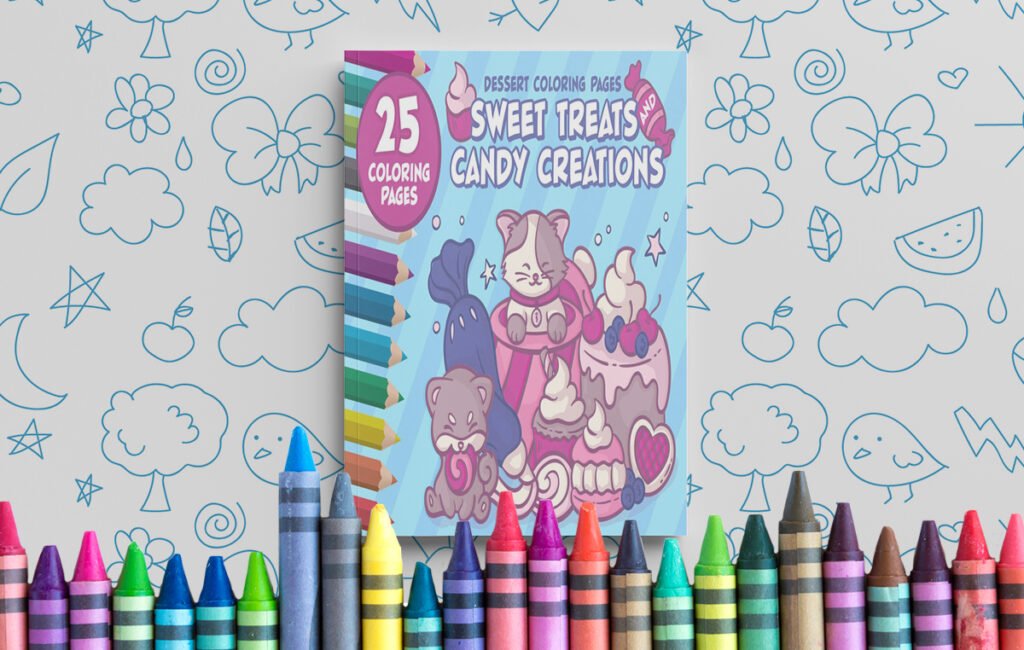 Adorable animals welcome you in this Sweet Treets & Candy Creations Coloring Book! It's a publication that caters to everyone, especially those with a sweet tooth or coloring enthusiasts with a particular fondness for cute stuff. With 25 coloring pages filled with animals and desserts, guaranteed hours of fun and excitement are waiting for you!
Printable Sweets Coloring Sheets
Form different color combinations through these coloring pages! If your kids love eating sweets like candies, cookies, cupcakes, and donuts, they'll enjoy this collection of sugary treats. They can choose any color they prefer, depending on how their creativity will guide their way to each page. They might even find it hard to pick which one to start coloring!
Sweet Candy World Coloring and Dot-to-Dot Sheets
A sweet candy world is waiting for your arrival! Through these coloring and dot-to-dot pages, you'll discover a whole new realm filled with delectable treats. There are ten pages to cover, helping you bring out your inner artist. Coloring isn't exclusive to kids only, as adults will enjoy these coloring sheets too!
Sweet Treats Candy Coloring Sheet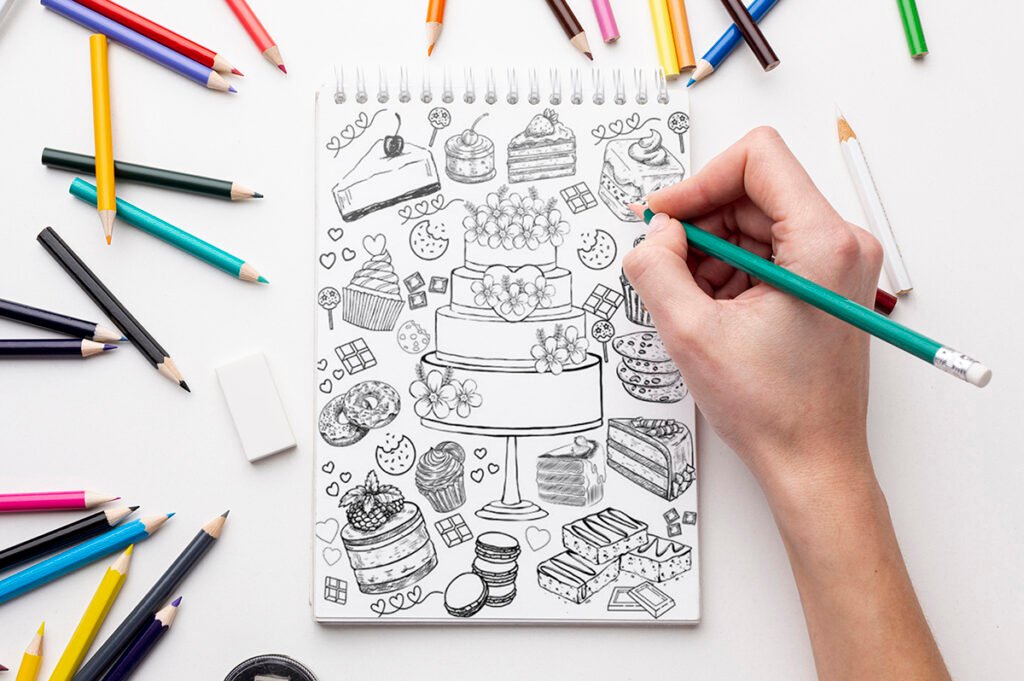 Cakes, candies, cookies, chocolates—this coloring page has it all! Aside from satisfying your sugar cravings, this sweet treats and candy coloring sheet will help release the artist in you. The details are gorgeous, making you crave these desserts as you color each figure. If you have a preferred flavor, you can incorporate its designated color into the food you like!
Candy Shop Coloring Sheet
Allow yourself to indulge in your morning coffee with this candy shop coloring sheet. It's an incredible digital art that will keep you on your edge as you crave something sweet, such as the waffle and honey dripping on it. Using your favorite coloring tools, complete even the tiniest detail to reveal a masterpiece!
Candy Printable Coloring Sheet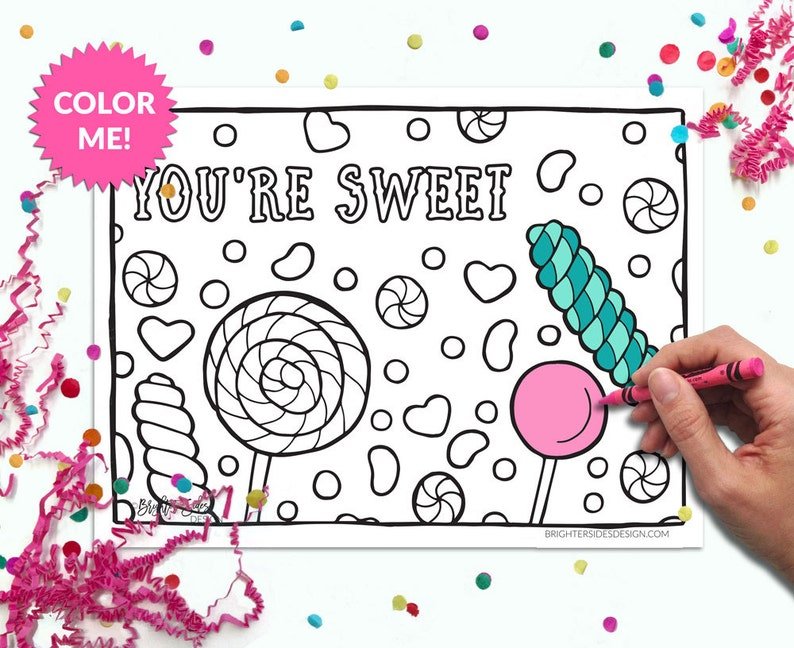 "You're Sweet," says this printable coloring page applying the candy theme. It's suitable for kids and adults and perfect for those looking for an activity to cure their boredom. The lines and shapes incorporated in this design replicate real-life candy treats, printed large enough for you to color with your preferred coloring materials.
Dolphin Candy Retreat Coloring Sheet for Adult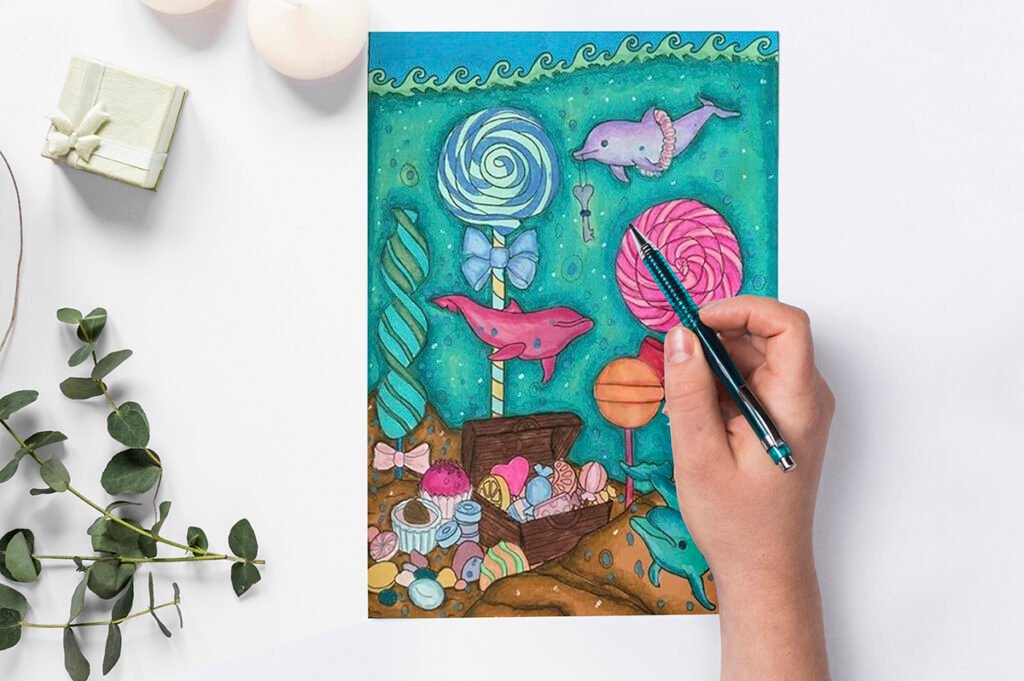 Dolphins are graceful and enchanting creatures and no doubt a favorite of many. Candies captivate the hearts of people too! Hence, there's no way for you to ignore this coloring sheet featuring dolphins and candy treats! It's a printable coloring page that displays playful dolphins swimming around candy-shaped figures underwater. Download this JPG file and embark on a journey underwater!
Candy Ribbon Tree Coloring Sheet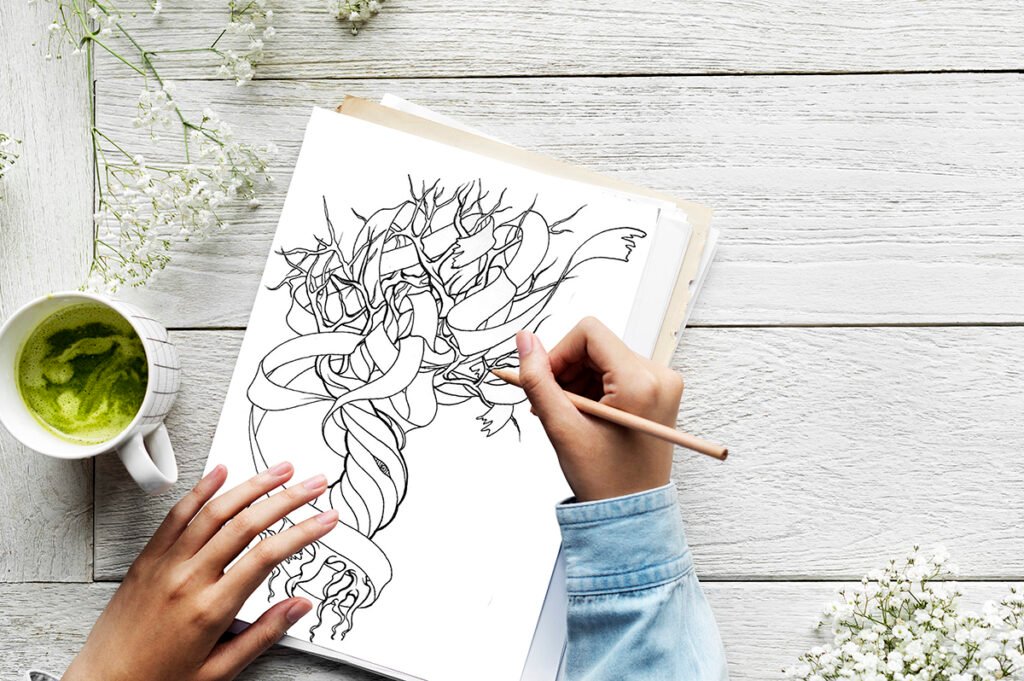 Let your kids make this candy ribbon tree as vivid as possible! A long ribbon flows and wraps the branches of the tree on this coloring page. Although it may look simple, the beauty it holds will unveil once completed with color, so give it a shot by hitting the download button!
Candy Spirits Coloring Sheet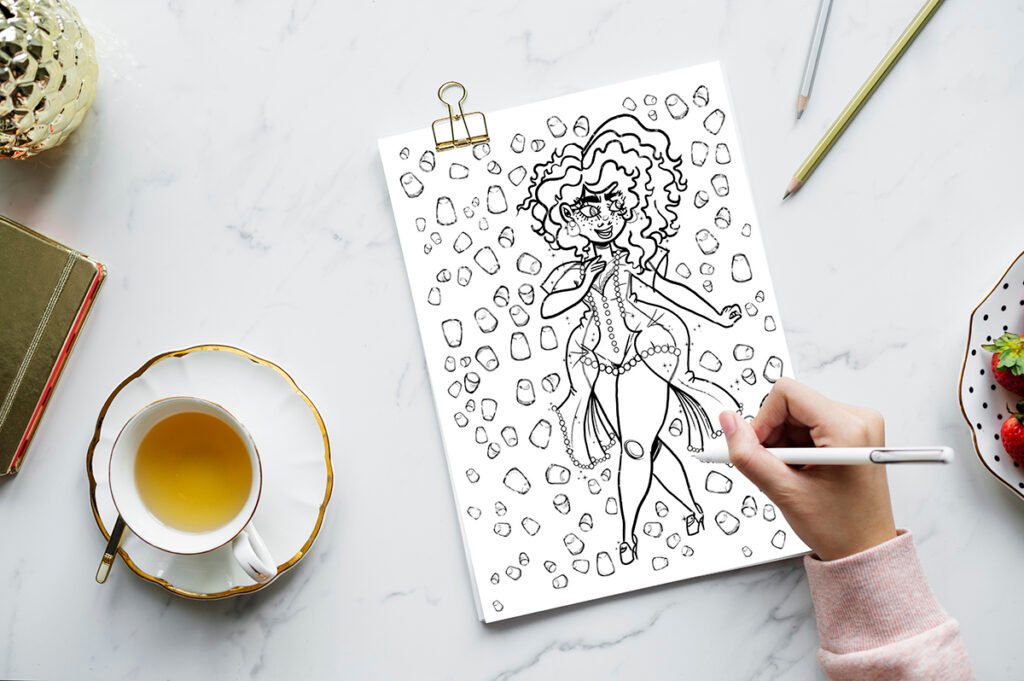 Here's an adorable coloring page you'll enjoy if you love anything sweet! It's an illustration depicting a candy lady surrounded by delectable treats. Use different colors to bring these candy spirits to life and unleash their hidden beauty. Download and print as many copies as you like, and display your masterpiece once finished!
Candy Corn Characters Kids Coloring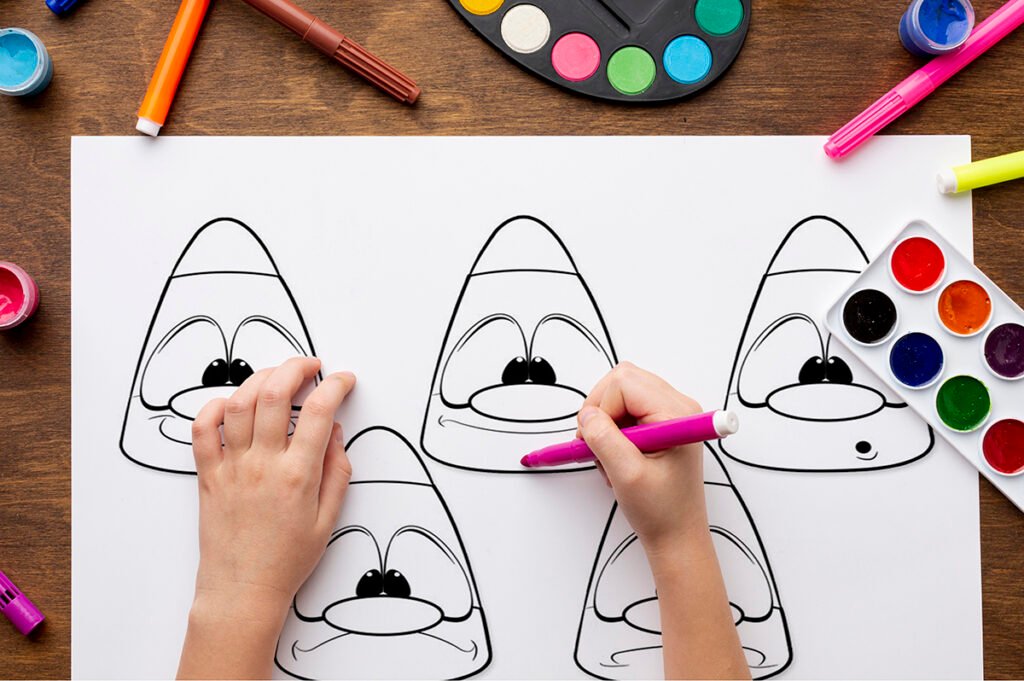 Have you ever seen candy corn before? Regardless of whether you've seen it or not, you'll enjoy a relaxing session of coloring fun with these coloring pages! There are five images of candy corn characters, each different from the expressions the figures display. If you have nothing else to do, it's time to grab a copy or two from this coloring pack!
Candyland Creatures Coloring Sheets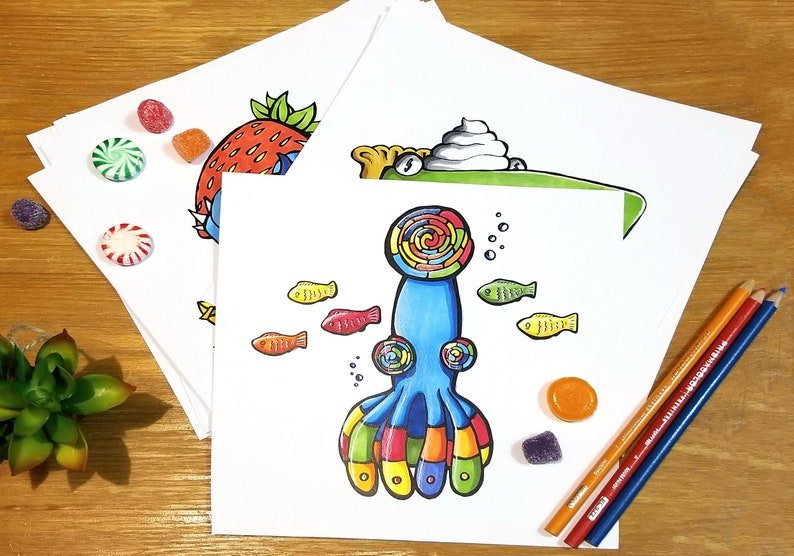 Embark on a journey to Candyland through these pack of coloring pages! Coloring enthusiasts and candy lovers will delight in the 16 illustrations compiled in this digital pack. The artwork involves candy-related characters, such as a sweet cookie crab, cupcake beings, and even sweet lollipop bats! Prepare your coloring tools as you meet the other creatures in Candyland!
Candy Coloring Pages Conclusion
Satisfy your sugar cravings and find delight in our compilation of Candy Coloring Pages! It's a selection perfect for anyone who has a sweet tooth or fondness for these sugary treats, looking for an activity to do during their free time. The diversity of choices is something to look forward to, so pick your favorite coloring page to get started!
We also have a collection of Lizard coloring pages that you can check if you are looking for other coloring pages or books to try.