Dot-to-dot activities are incredible for many reasons. Aside from the entertaining aspect, these activities help improve hand-eye coordination and focus, develop visual-motor control, enhance cognitive skills, strengthen hand and finger muscles, and connect small details to understand a bigger picture. Dot exercises alone are beneficial for kids and adults, but what will make them better? None other than coloring activities! Coloring the end-product of a dot activity brings fun and satisfaction like no other. Hence, if you're looking for Coloring Dots activities, you came to the right place.
The Coloring Kingdom provides a compilation of Coloring Dots for you to enjoy. Whether you're looking for something as a gift, a hobby, or as a boredom buster, our range of Coloring Dots is perfect for your needs and skills!
Connect the Dots Coloring Pages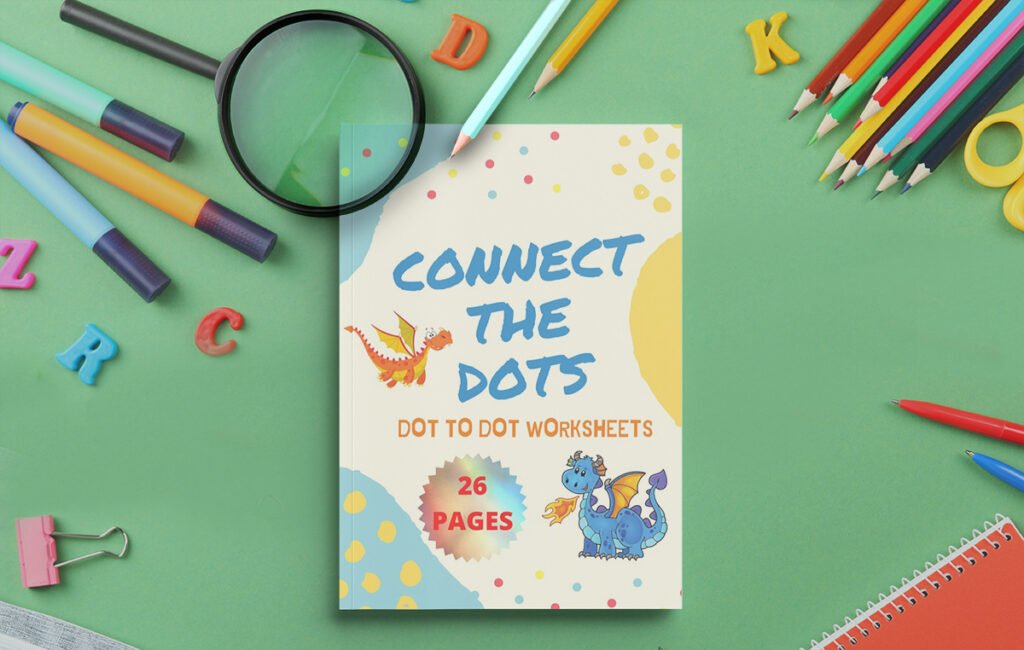 Become an explorer and discover a creature in these printable activity sheets for kids! With 26 dot-to-dot coloring pages, your little ones will learn and improve a lot of skills. Aside from revealing the elements hidden in each design, children can also practice their counting as they develop their concentration and motor skills. Prepare your pens and coloring materials because the fun doesn't end after they've connected the dots!
Connect the Dots Dinosaurs Coloring Pages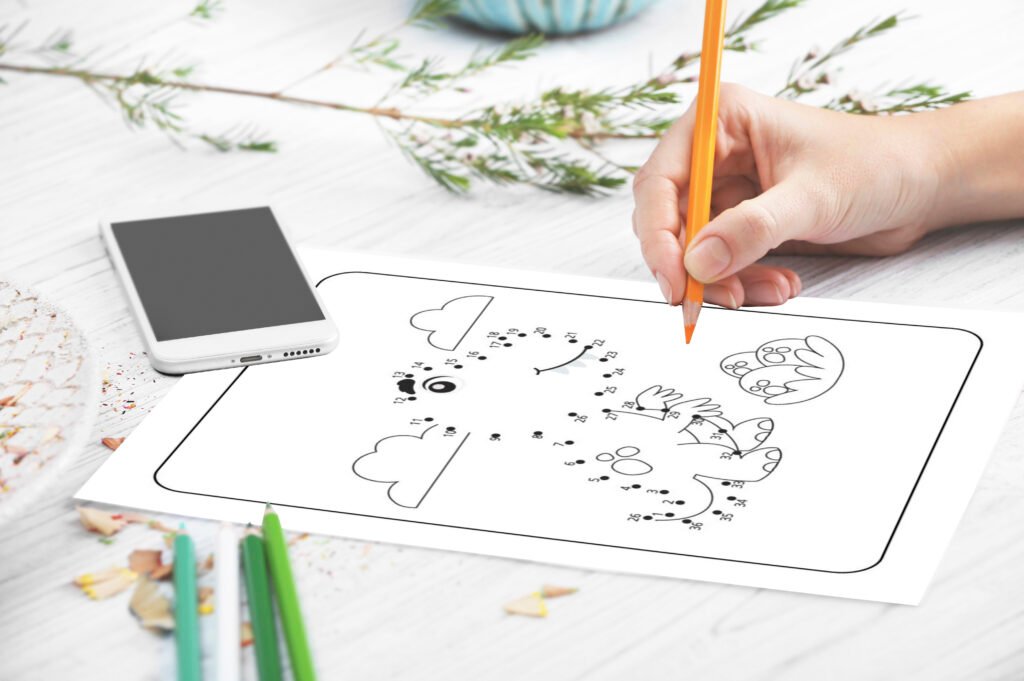 One of the most noticeable interests of children includes anything related to dinosaurs. If your young one shows any sign of fascination with these creatures, it's time to give them these 20 connect the dots coloring pages! Teachers will also find great use of these activity sheets, as they work well for building a child's creativity while supporting their interests.
Wildlife, Dots Spots Style Coloring Pages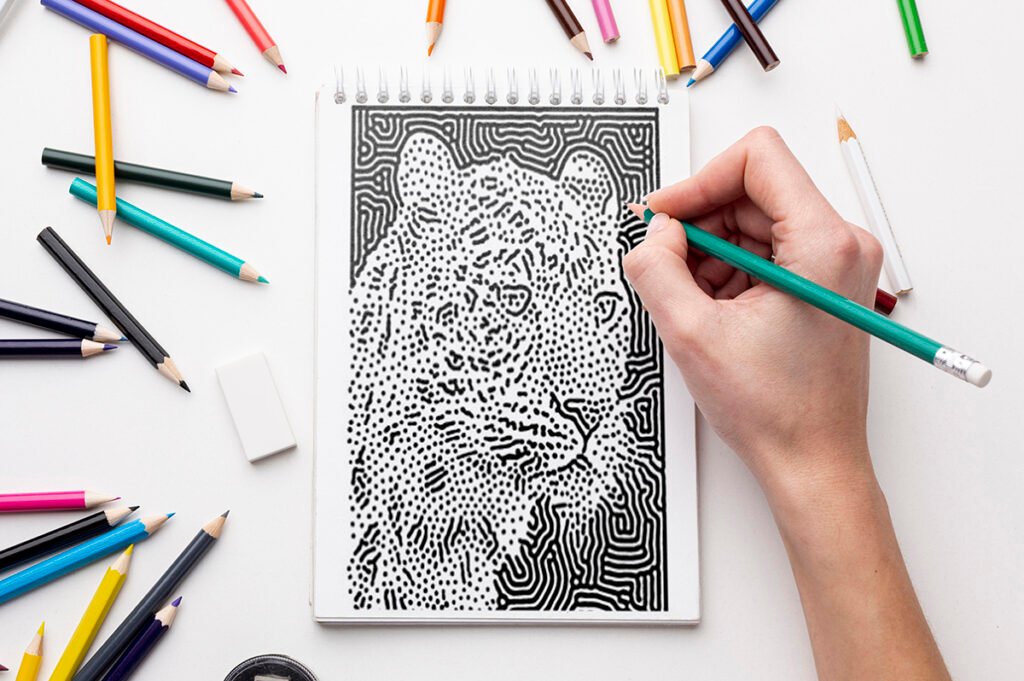 There's something about getting in touch with wildlife, even through visual media, that's calming and captivating. For example, it's pretty cool to see the image unfold once you've completed anything from these printable coloring pages. These coloring pages use dots/spots style to form the picture featuring different wild animals, some of which you've probably seen before. Users can print or color the images digitally; it's up to you to unleash your creativity!
Dots Coloring Book About Cats and Dogs
Are you a dog person, cat person, or someone who loves both cats or dogs? Whichever pet you prefer, there's always something for you in this coloring book! The coloring pages in this publication feature images of cats and dogs in dots style. It's a relaxing activity you can enjoy with your pet by your side, especially if you're stuck at home with nothing else to do. You can even display your artwork once finished!
Jumbo Dot Coloring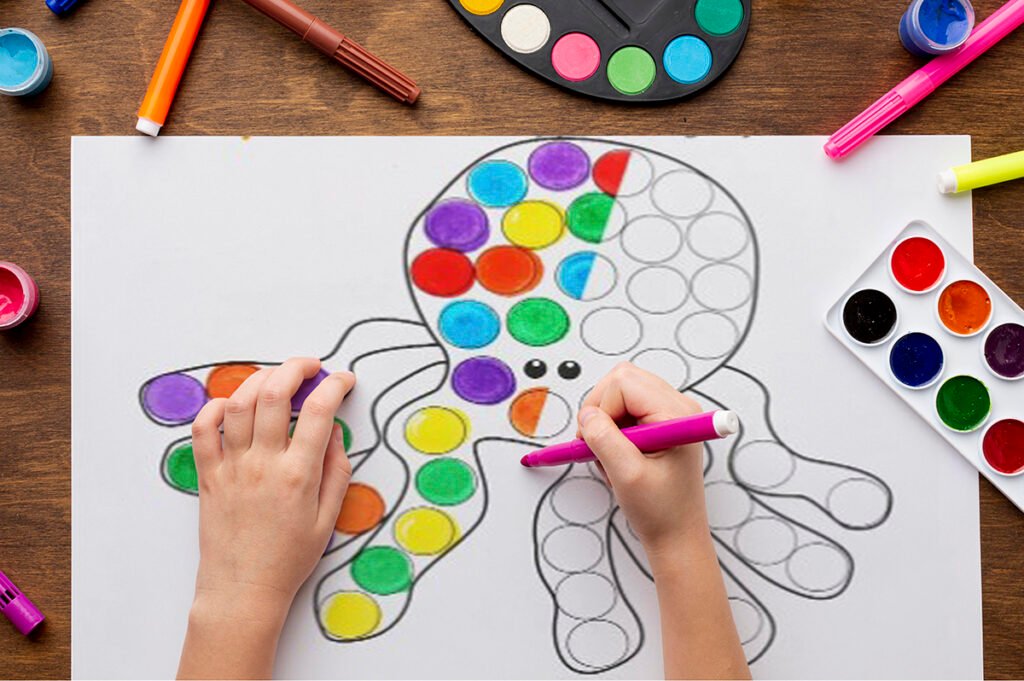 Here's an excellent activity book that younger kids will enjoy during their free time! It's a coloring book with 25 pages filled with images of animals, numbers, food, and more. What makes this different from most coloring books is its combination of paint pages: 12 pages of paint by dot activities and 13 pages of paint by color exercises. It's a unique set of coloring pages meant to develop your kid's creativity and color recognition!
Farm Dot Marker Numbers Activity Book
If you're looking for an activity book to keep your kid busy during the weekend, check out this worksheet pack! Toddlers and preschoolers can use these worksheets to work on their number recognition, counting, and fine motor skills. There are several activity pages to use: 10 dot the number exercises, 10 find the number worksheet, six dot coloring pages, and two colored counting pages. Moreover, the farm theme completes the charm of this activity book!
Dot to Dot Activity Worksheet Pages for Toddlers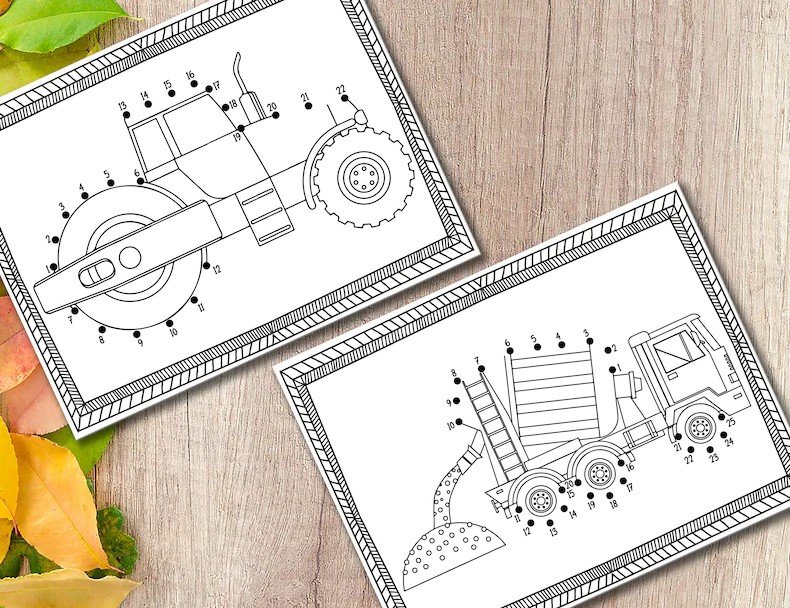 Dot-to-dot coloring pages are great for toddlers and preschoolers learning the basics of colors while improving their handwriting skills. For those searching for a coloring book that applies the dot-to-dot method of creating an image, you've reached your destination! On this PDF file, boys and girls will enjoy 37 dot-to-dot coloring pages using the construction theme. Construction workers, tractors, bulldozer trucks, and more are waiting to be colored by your little one's hands!
Wolf – Extreme Dot to Dot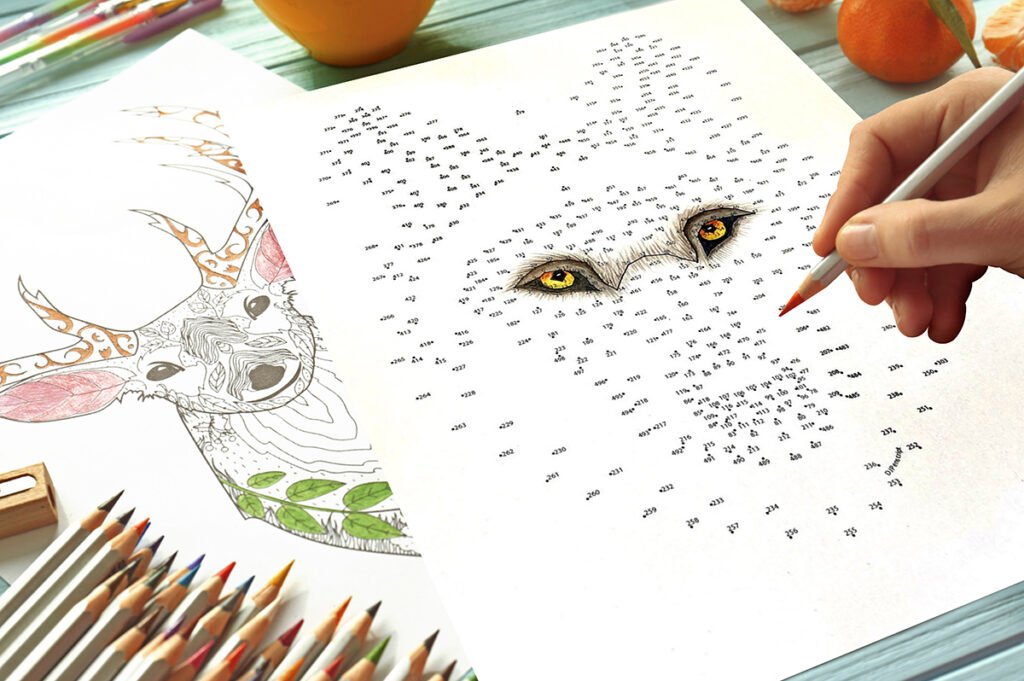 Test your concentration and focus through this challenging coloring and activity page! There are 498 dots for you to connect, so aside from your pen and coloring supplies, make sure to bring your attention as well! While it may look like an intimidating activity, you'll enjoy it and won't even notice the time passing by as you complete the image. Here's a spoiler! The end picture shows a wolf's face!
My funny Dot to Dot Coloring Book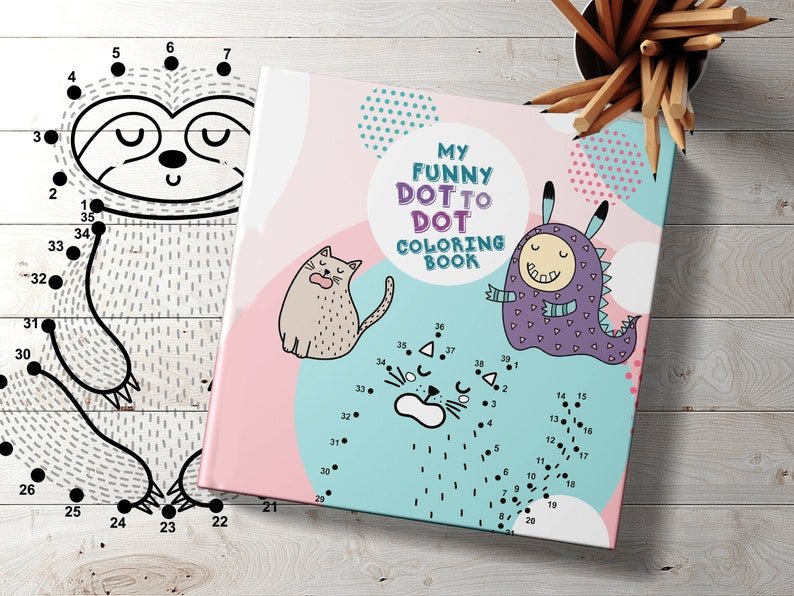 Coloring books never lose their charm as gift ideas for any occasion. As an example, this dot-to-dot coloring book will bring a winsome smile out of your young one! It contains pictures of animals, including a giraffe, unicorn, sloth, and even adorable aliens! Each image is big enough for kids to color, perfect for practicing their counting skills, strengthening their hand and finger muscles, and developing their creativity.
Do a Dot Marker Activity Sheets
These "dot" marker sheets compiled in a PDF file make an excellent gift idea for toddlers whatever occasion you're celebrating or even if there's nothing to celebrate at all! The coloring pages feature different animals that look adorable and very inviting. Your young one will have fun coloring the dots on the page as they strengthen their grip and build their creativity!
Connect the Dots Printable Worksheets
Kids love to do outdoor activities during the sunny days, but what about those rainy afternoons? Consider getting them these printable worksheets! They're connect-the-dots activity and coloring pages featuring images of adorable and funny-looking monsters. With these worksheets, you won't need to worry about them spending the rainy days with the digital devices as they'll be busy filling the images with the colors they like!
Dots Coloring Pages for Kids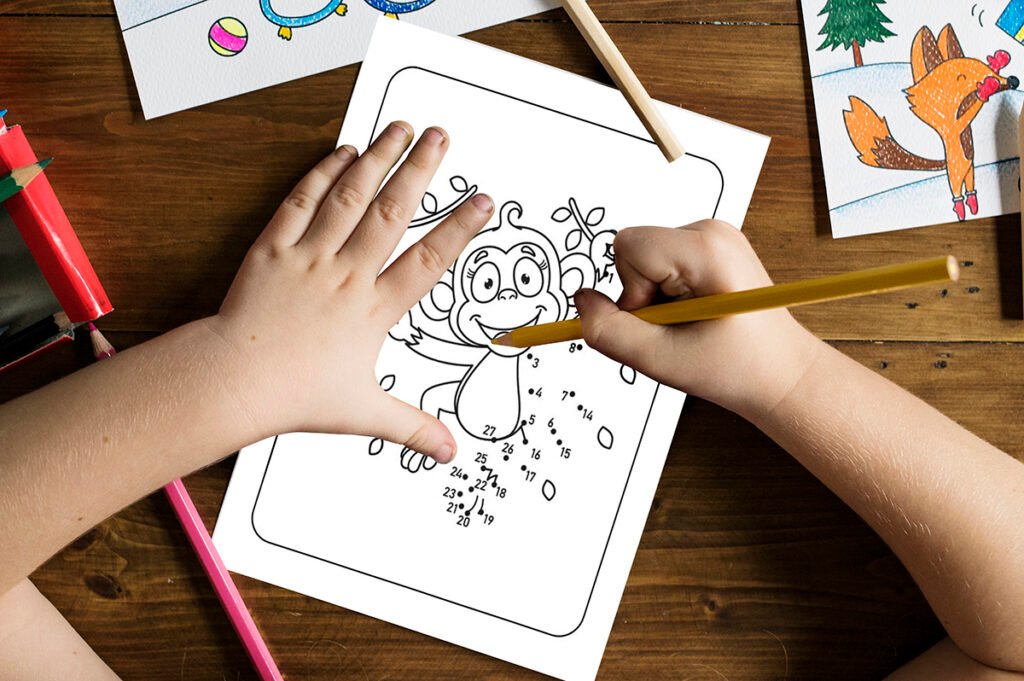 Many people turn to give their mobile devices to their kids to keep them busy. Look no further! Other than their gadgets, these connect the dots coloring pages will keep your kids occupied for a while! These 50 activity sheets offer several benefits, such as improving their handwriting skills, focus, concentration, and developing their creative mind. The images include a butterfly, unicorn, monkey, octopus, and elephant, and there's also an astronaut floating in space!
Dot to Dot Learning Games Children Worksheet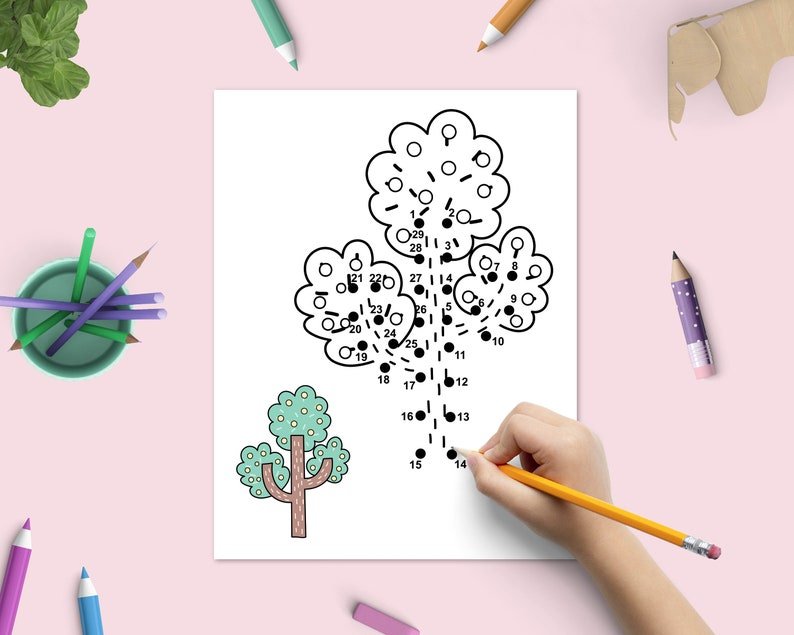 Learning doesn't have to be boring or intimidating for kids, and that's why these activity worksheets exist! It's for anyone who wants to practice their child's counting skills, develop their grip, and encourage creativity while introducing living things found in the forest. The connect-the-dots pictures include a fox, rabbit, owl, deer, bear, tree, and mushroom. Although they can copy the color of the sample image, let your kids color each drawing however they like!
Elephant – Extreme Dot to Dot Activity Worksheet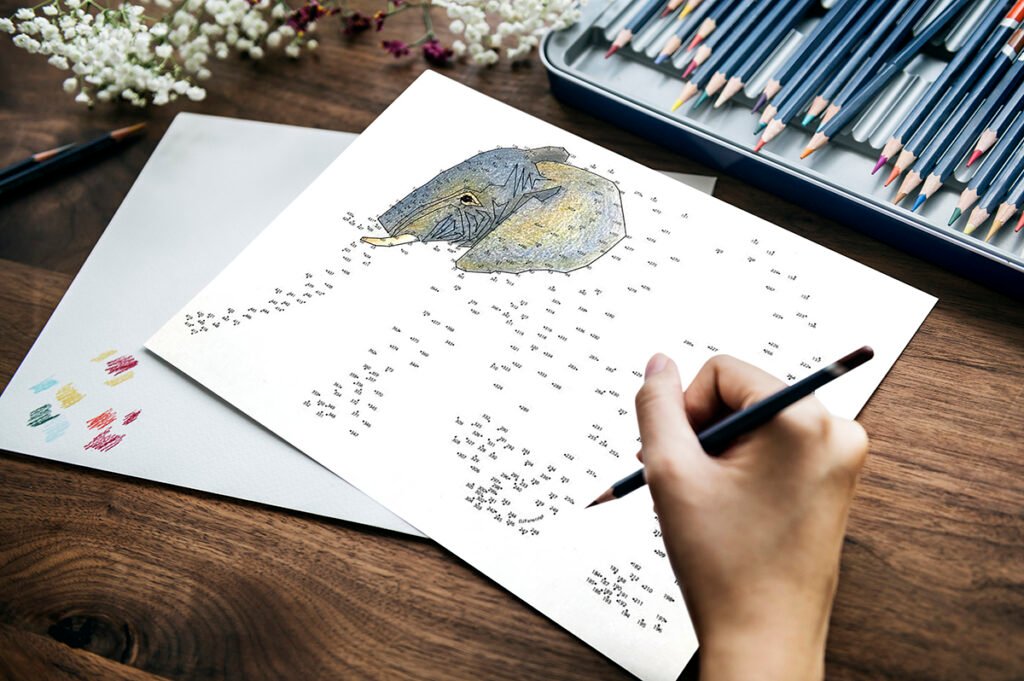 Challenge yourself with this extreme dot-to-dot activity and coloring page! Coloring and dot-to-dot activities are not limited to kids, so if you're an adult, you can give this worksheet a try. It's a coloring page with 449 dots to connect, revealing an elephant at the end. Bring out your coloring materials to get started with the process!
Seahorse – Extreme Dot to Dot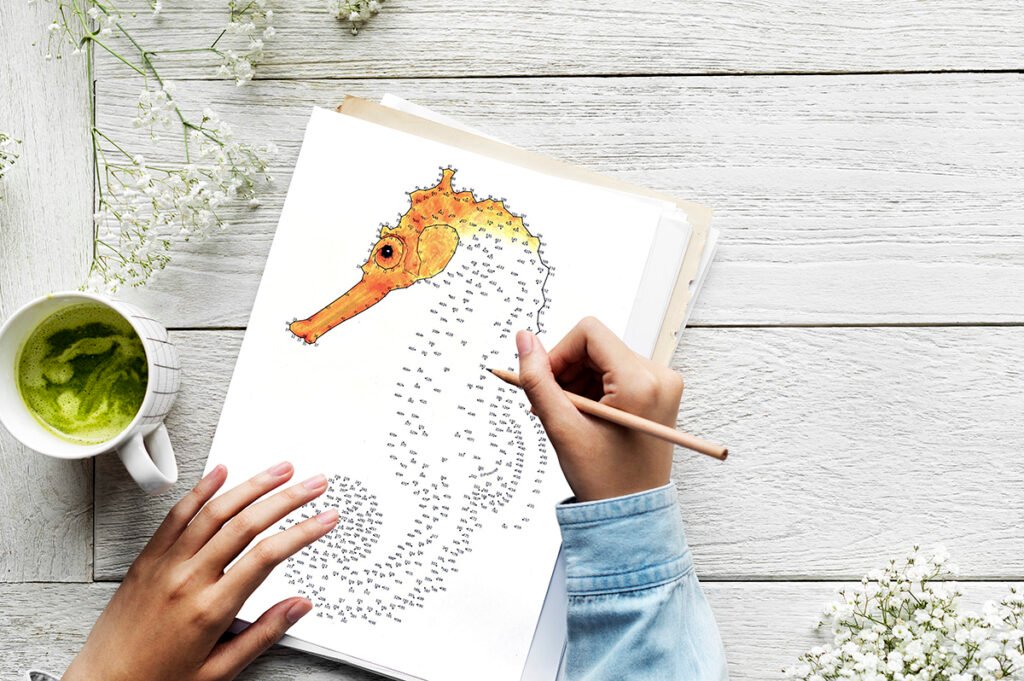 Use your available coloring tools to complete this extreme dot-to-dot coloring page of a seahorse! 553 looks like a large number, but the effort you'll exert to connect each dot will pay off once you've revealed the image of this aquatic friend. Have fun coloring the seahorse, and feel free to display your artwork in your room!
Tropical Fish – Extreme Dot to Dot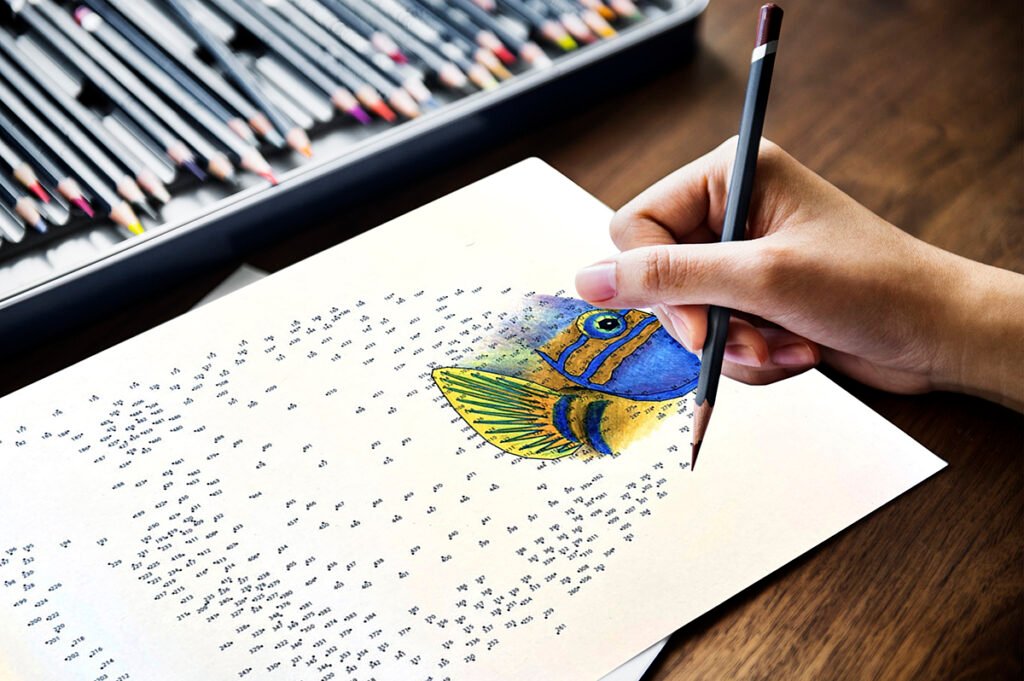 Dive into the underwater world with this printable coloring page of a tropical fish! After connecting the 586 dots, use your coloring utensils to bring this aquatic animal to life. Fishes come in different colors, and others even come with combinations of one or two colors. Hence, use your creativity and imagination to unleash the beauty of this printable worksheet.
Sea Turtle – Extreme Dot to Dot
The beautiful sea turtle hidden in this coloring page waits for your hand and coloring materials to breathe it to life. Although people often color this animal with shades of green and brown, it's up to you to incorporate any color available for you to use. Don't get intimidated by the 573 dots you need to connect because the results will be fulfilling and satisfying to see!
Tiger – Extreme Dot to Dot Activity Worksheet
Leisure activities don't necessarily need to be outdoor as some people prefer to spend their free time indoors. If you're one of those people, consider getting this dot-to-dot activity and coloring page! The 573 dots exhibit the hidden tiger's face once connected, making it an exciting activity you'll look forward to completing when your spare time comes.
Paint a Dot Daubers Alphabet Worksheets
Teach or practice your child's knowledge of the alphabet through this paint-a-dot worksheet! Dot marker and do-a-dot art printables are rising in popularity, proving how learning the alphabet can also become fun and enjoyable for toddlers and preschoolers. Each worksheet contains a letter with a corresponding drawing they can also color. Download it now!
Dot to Dot Coloring and Activity Book for Kids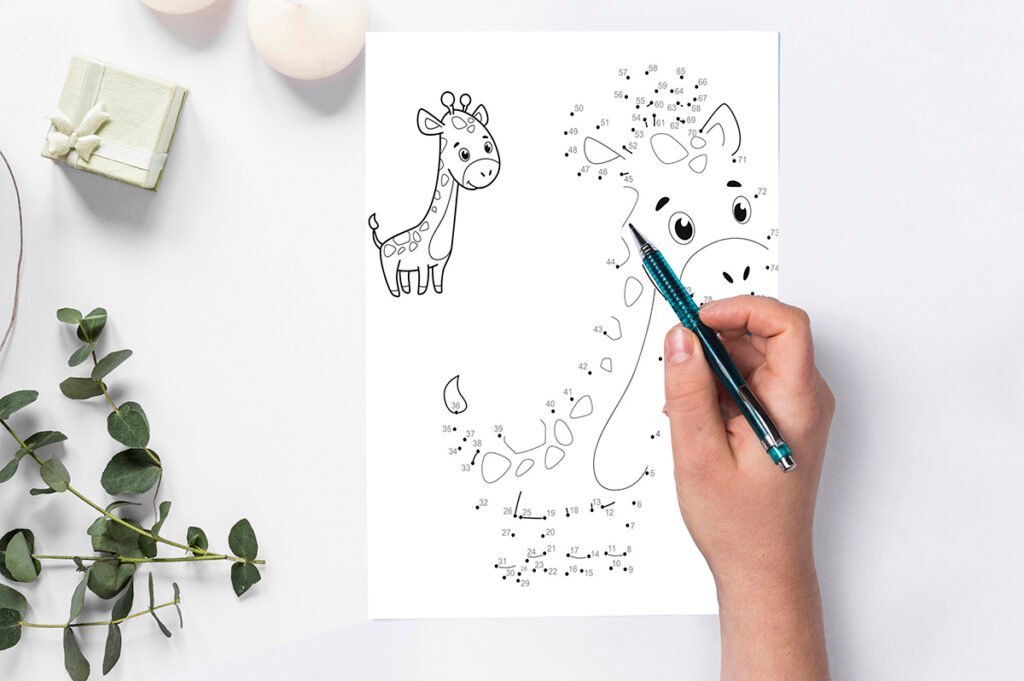 Grab your crayons or coloring pens and prepare your child for an exciting and educating activity involving coloring! It involves this dot-to-dot coloring and activity book with 50 pages of original illustrations of animals and plants. The images inside this publication aim to develop your child's motor skills, practice their numbers, develop color recognition, and encourage creativity as they have fun.
Wild Animals

Dot-to-Dot Coloring Pad
Bond with your kids and enjoy a screen-free time using this fun and easy coloring pad! It features partially colored images of wild animals. It allows kids to finish the drawing following the same colors used in the illustration, although they always have the freedom to use any color they want. Aside from the entertainment it brings, the coloring pad also delivers great help with number and letter identification and strengthening their grip.
Dot to Dot Book Of Puzzles for Kids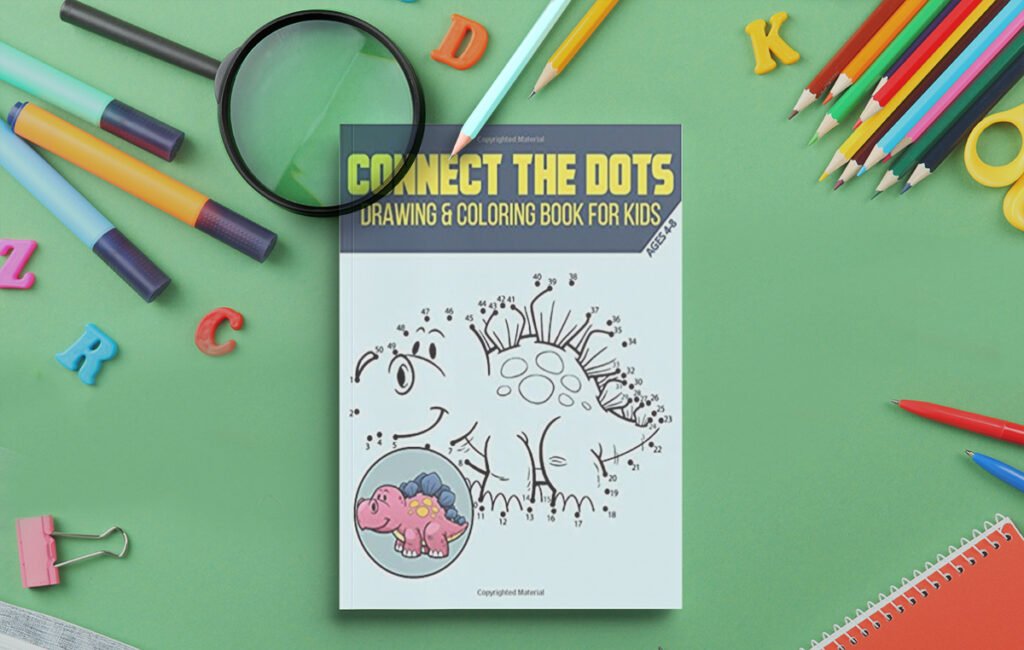 Help improve your child's counting, motor skills, and color recognition through this connect-the-dots drawing and coloring book! There are 36 fully-drawn dot-to-dot image puzzles, unveiling different animals, cars, fruits, and more. The arrangement of illustrations starts from the easiest, progressing to more advanced or complex ones. Get a copy of this book today, whether as a gift for a beloved one or yourself!
A Fun Connect the Dots Coloring Book For Kids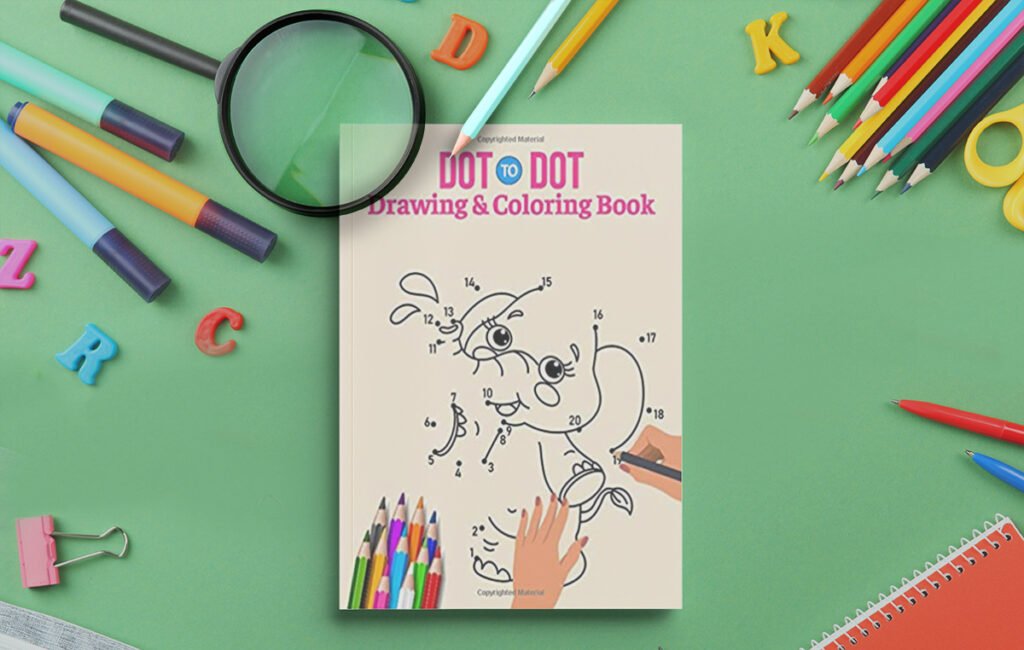 Let the children have fun and learn at the same time through this connect-the-dots book for kids! With 36 high-quality illustrations of animals, cars, fruits, dinosaurs, and more, your kids will enjoy counting as they complete each dot-to-dot puzzle. Once finished, you can display your kid's favorite artwork or even have it framed!
Connect the Dots 

Children Activity Coloring Book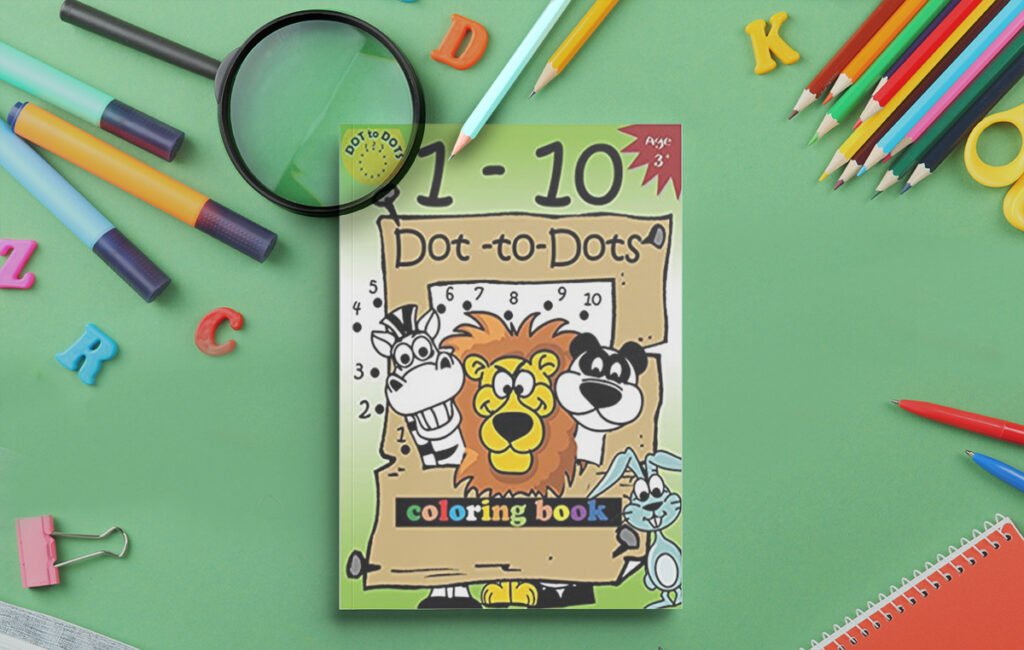 Nice, easy-to-color, and made for toddlers—that's what this book is all about! If your kid is starting to learn the numbers, this entertaining and educational puzzle book makes a perfect companion to them. They also won't get overwhelmed with higher numbers since the connect-the-dots puzzles only use the numbers one to ten. The drawings are also engaging, keeping them busy as they learn!
Dots Book for Preschool to Kindergarten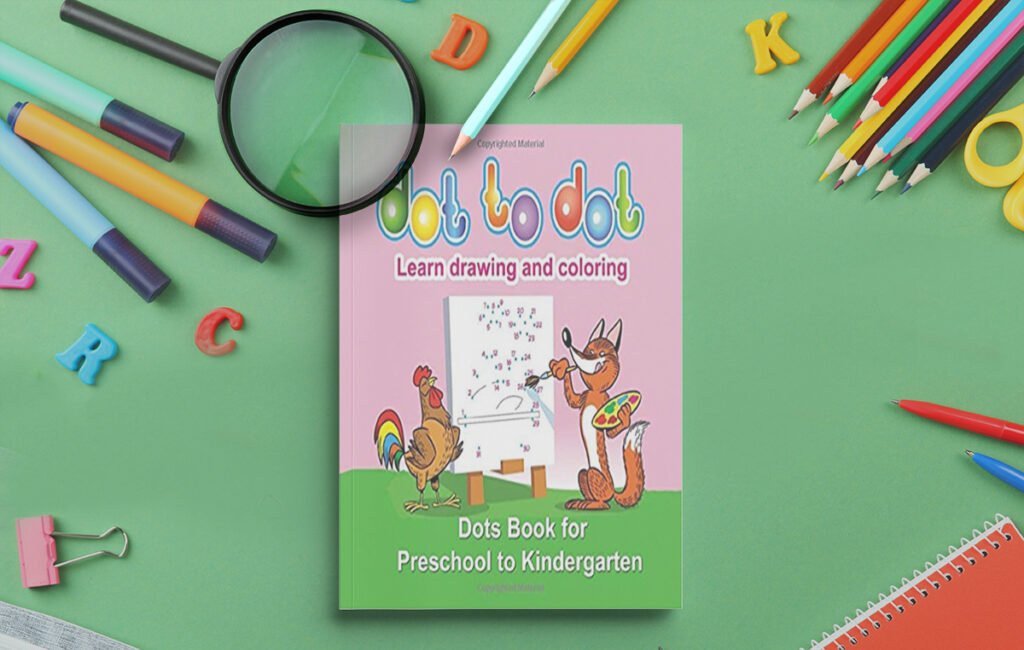 A dot-to-dot activity book is what you need to keep your child entertained without their gadgets! A large variety of animal designs welcomes your kids in this book filled with dot-to-dot puzzles. The fun begins when they start to connect the dots and reveal the hidden images on each page. Prepare their coloring tools, and guide their way as they meet their animal friends!
Coloring Dots Conclusion
From printable pages to books, our selection of Coloring Dots activities has it all! There's plenty to pick from our collection as each part has its unique charm. You'll find something suitable for you depending on your age, skill, needs, or preference, so take the first step by hitting the download button on anything you've chosen!
We also have a collection of Candy coloring pages that you can check if you are looking for other coloring pages or books to try.