One of the returning fashion icons and childhood toys gaining popularity in today's generation is the Bratz dolls. Apart from its continuous influence on fashion even after two decades from its release, Bratz captured the interest of young audiences because of its incredible example of diversity, feminism, and friendship. The Bratz dolls, movies, and television shows portrayed and valued female empowerment, individuality, and self-expression. Furthermore, the on-screen characters of the Bratz set a good model of what a healthy friend group of young women should be. Hence, it's unsurprising why they remain timeless and influential to present-day children and the people who enjoyed them during their childhood. Like the dolls, these Bratz Coloring Pages also continue to become a classic in the coloring world!
Our collection of Bratz Coloring Pages will feed your Y2K nostalgia! Secure a copy of any coloring page that captivates your attention, and find yourself coming back for more.
Bratz Coloring Pages For Kids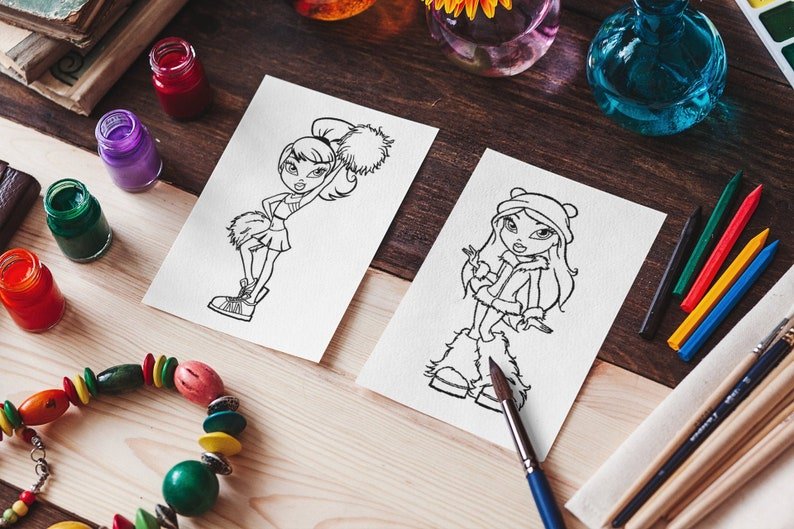 Support your child's love for fashion and creativity by giving them a copy of these Bratz-inspired coloring pages! There is 20 illustration waiting for their crafty hands to color, making it a fantastic activity to work on rainy afternoons, parties, and school. These coloring pages are easy and entertaining to fill in, so don't hesitate to secure a copy today!
Bratz Girls Coloring Page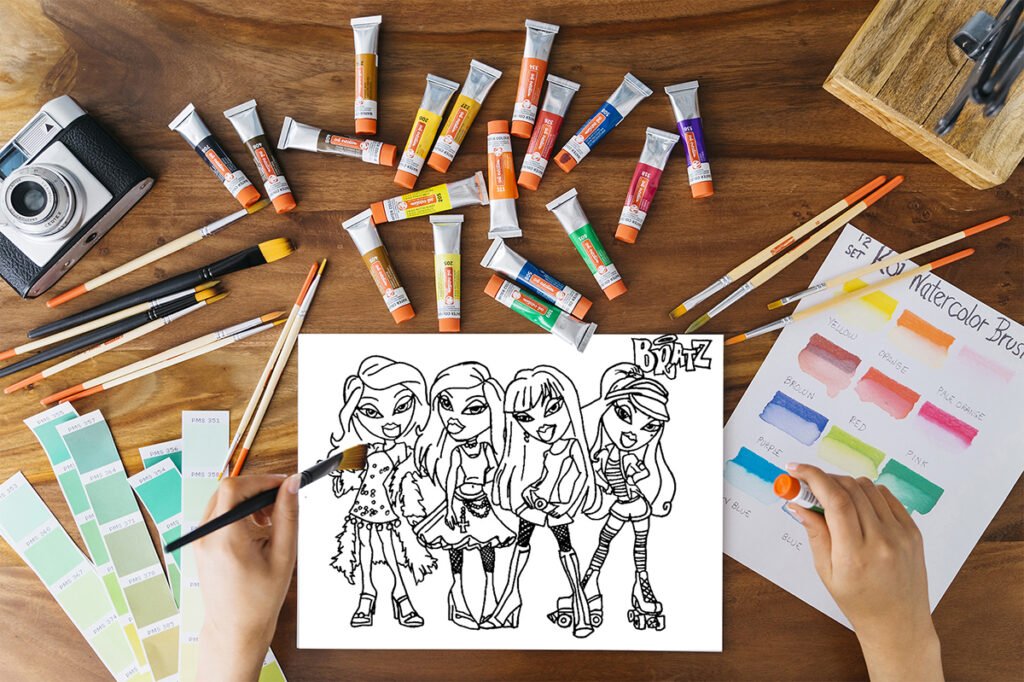 Stride with confidence just like the Bratz on this coloring page! The whole squad stands with boldness, each embracing a distinct fashion style. It's as if they want you to claim your individuality and just be yourself! Enjoy coloring this illustration with your friends or anyone who loves Bratz. Then, put your output on display to appreciate your hard work and creativity!
Yasmin Bratz in Winter Fashion Show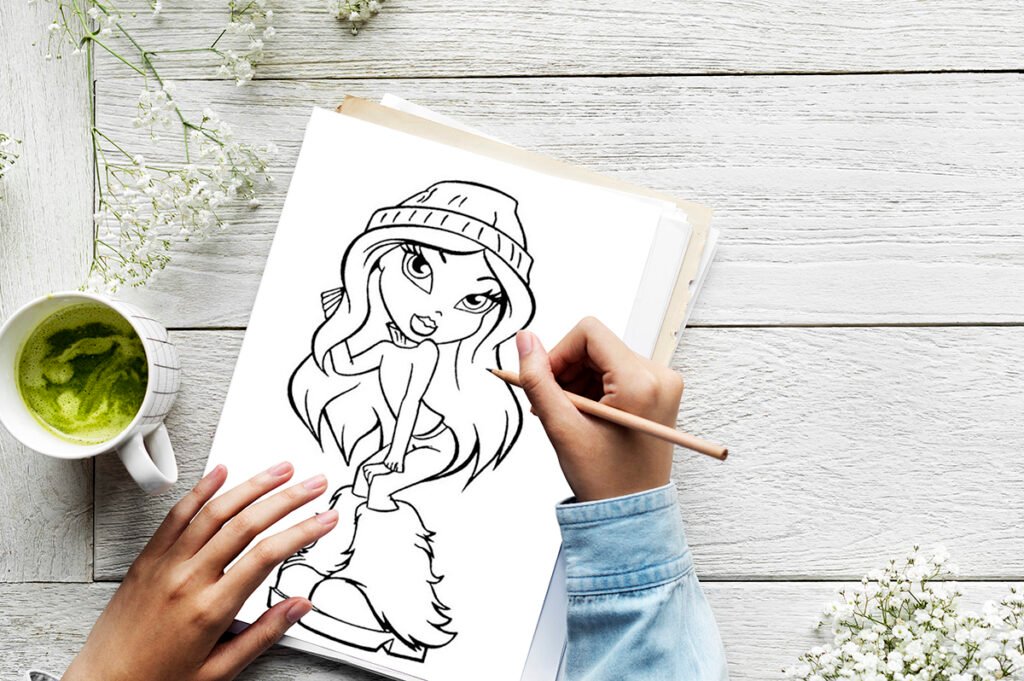 Pretty Princess, Yasmin, is one of the core characters and dolls of the Bratz line. It came as no surprise, just by looking at how she strikes a pose on this coloring page! Her winter clothing style looks graceful and glam, yet comfortable enough to keep herself from the cold weather conditions. If she's your favorite Bratz character, it's your chance to color this illustration according to her style and personality!
Cheerleader Yasmin Bratz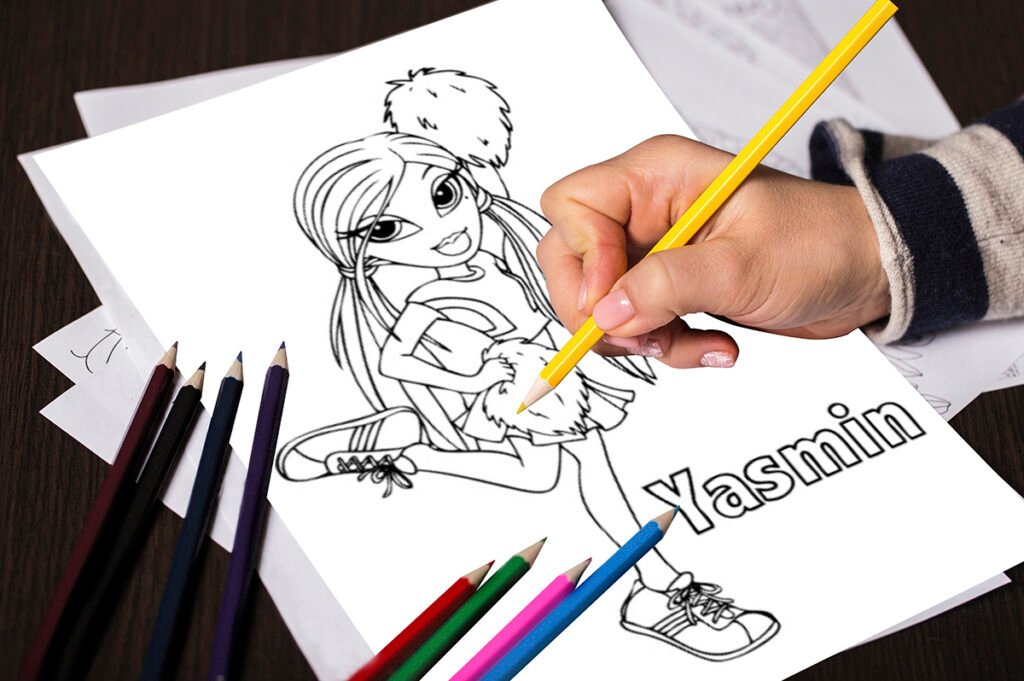 Yasmin looks lovely on her cheerleading uniform on this coloring page! It's as if she's holding her cheerleading pom to get your attention in hopes of encouraging you to fill this illustration with colors. Cheerleaders wear glittery and vibrant-colored outfits, so feel free to use any combination that matches the theme to make Cheerleader Yasmin look fire!
Jade Bratz Coloring Page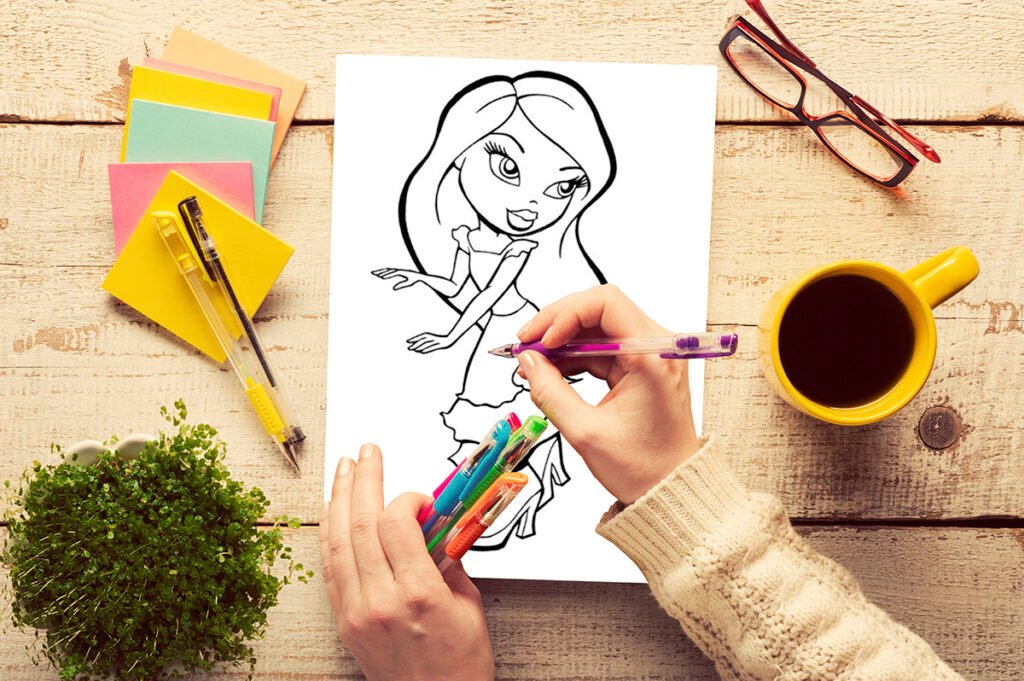 Quirky and confident, Jade takes the spotlight on this coloring page! She wears a long dress and matching shoes on this coloring page, with her long jet black hair flowing as she moves. She's most likely dancing on this illustration, seeing how her hands and posture depict a dance movement. For now, it's your turn to complete her look by adding the colors you think match her style!
Bratz Coloring Page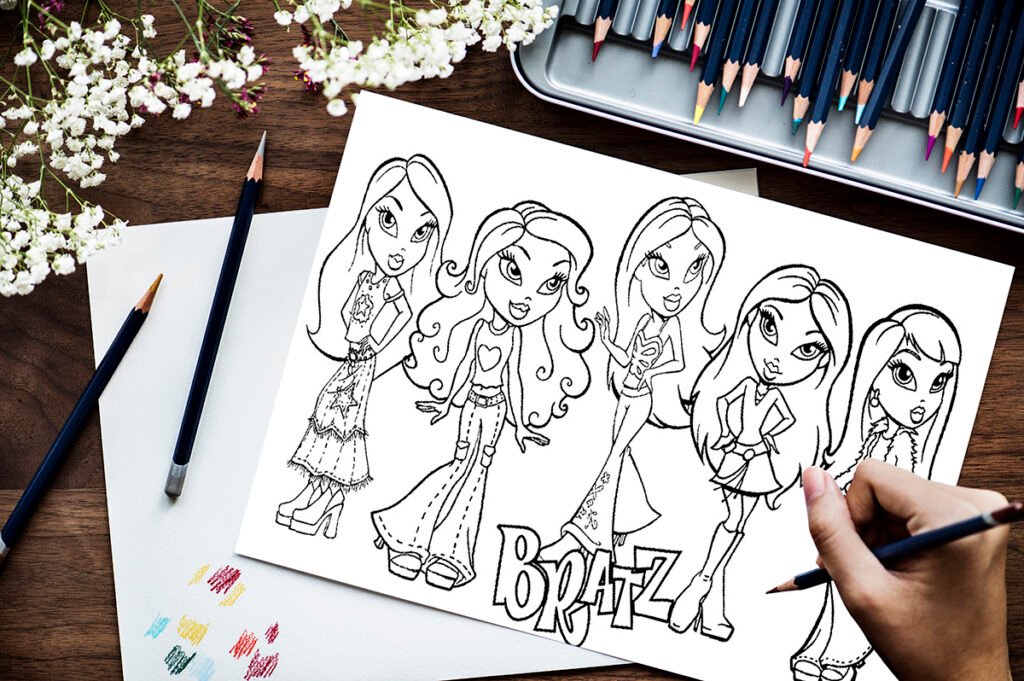 Do you know anyone who loves Bratz and coloring activities? If you do, then this coloring page will bring them joy! This illustration featuring five Bratz characters doubles up as a poster once completed with colors. Each character holds a particular style, all daring to be different. Of course, the characters in this poster-like coloring page will look even better when colored, so secure a copy today to bring them to life!
Cloe Bratz Coloring Page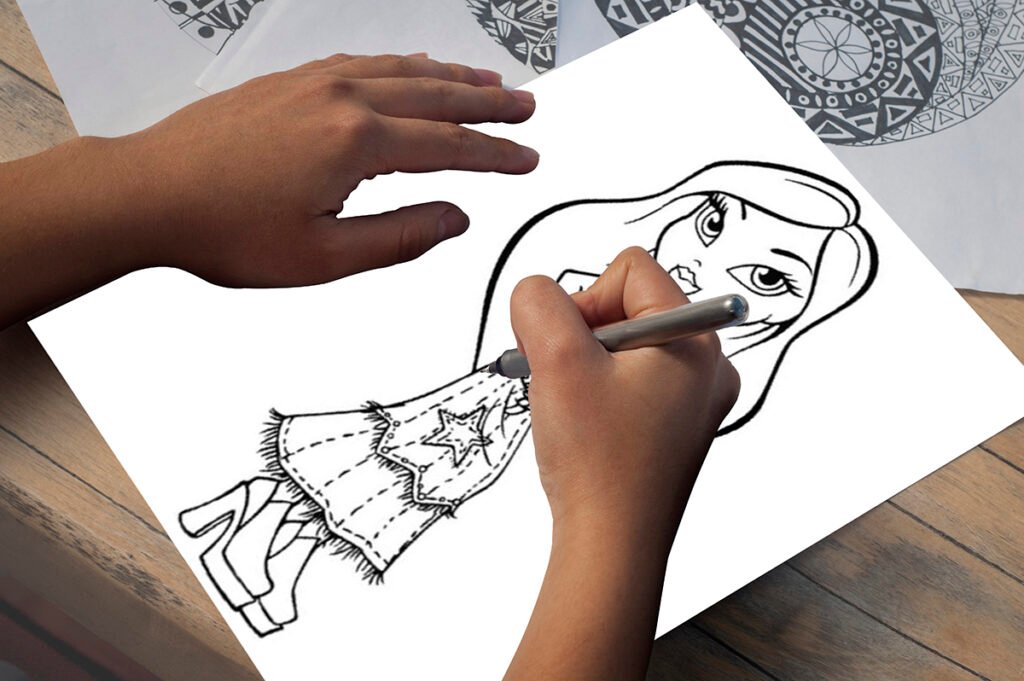 Darling and stunner Cloe aspires to create an impression through her pose on this coloring page. Her top, bottom, and shoes make an incredible combination, with stars and glitter most likely the concept for her fit. Transform this black and white illustration to match her style by getting a copy of this coloring page and completing it once you're free!
Sasha Bratz Coloring Page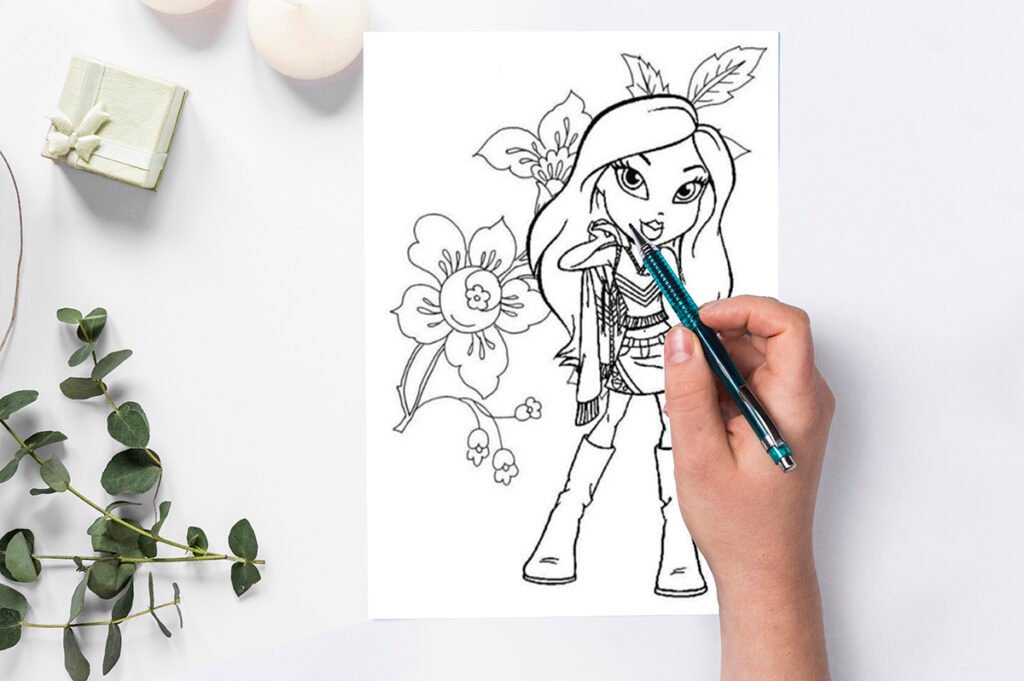 Sasha joins Cloe, Jade, and Yasmin as another core doll and character of Bratz. Despite her sassy and diva nature, her adorable features are something you cannot ignore on this coloring page! Rocking the urban streetwear style, Sasha knows how to embody her clothing, just like how she poses in this illustration. Make room for this coloring page while you're at it!
Nevra Bratz Coloring Page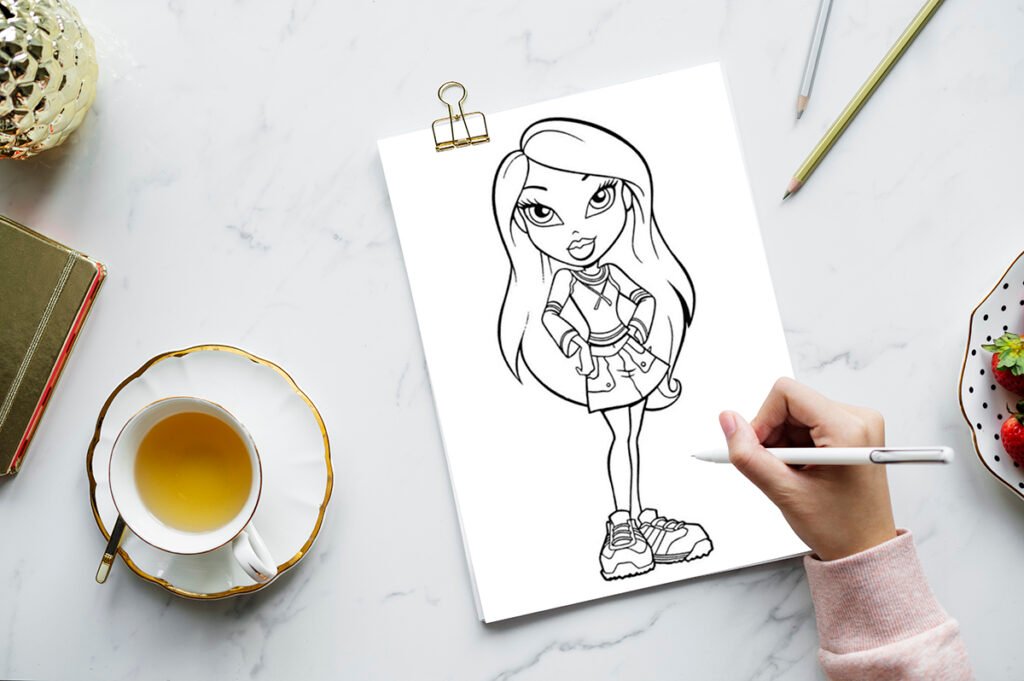 Nevra earns a spot as one of the most popular Bratz characters apart from the core four. Looking at this coloring page, it's understandable why she deserved that spot! Isn't she lovely? Of course, she'll look even better once you add the respective colors on this coloring page. Grab your favorite coloring tools to get started!
Skater Bratz Coloring Page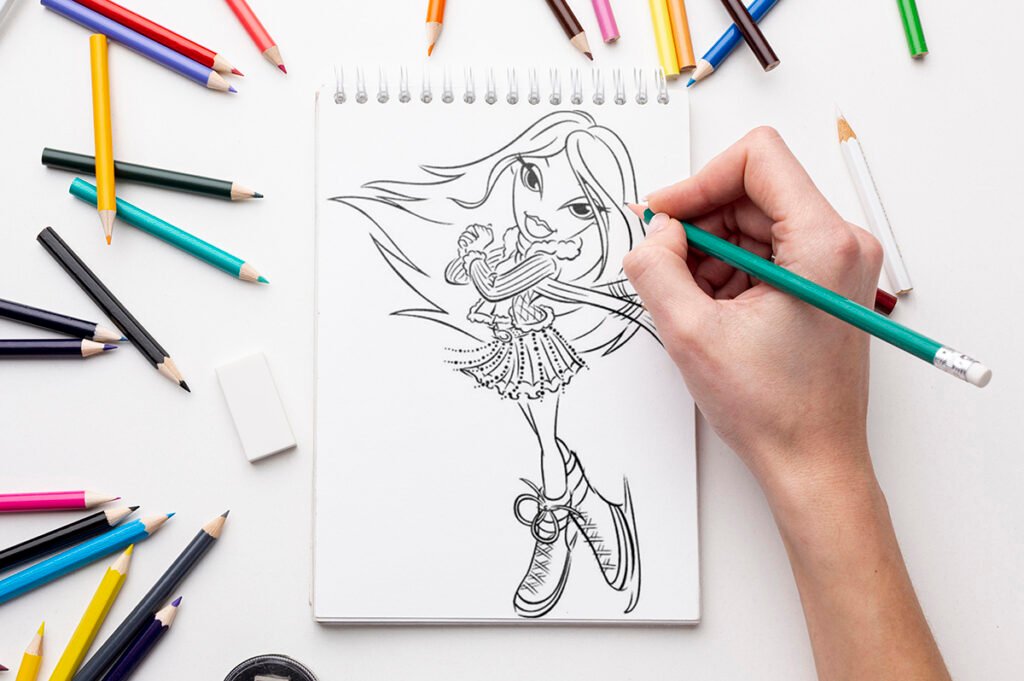 A stunning Bratz skater dazzles her way towards your heart on this coloring page! Her fancy dress suits her elegant figure, making her look as exquisite as ever. This black and white illustration needs a touch-up, considering its lack of colors. Secure a copy of this coloring page to make this Bratz skater as fancy as you can!
Jade Bratz
Jade's unique yet trendy fashion style is evident on this coloring page! Her chunky platforms made her fierce and edgy fit look even better, topped with her hair half-tied up. You'll see such style in today's generation, uncommon but not rare, making her a divergent trendsetter who's not afraid to try new things. Doesn't that inspire you to take over coloring her outfit?
Cloe Bratz with Laptop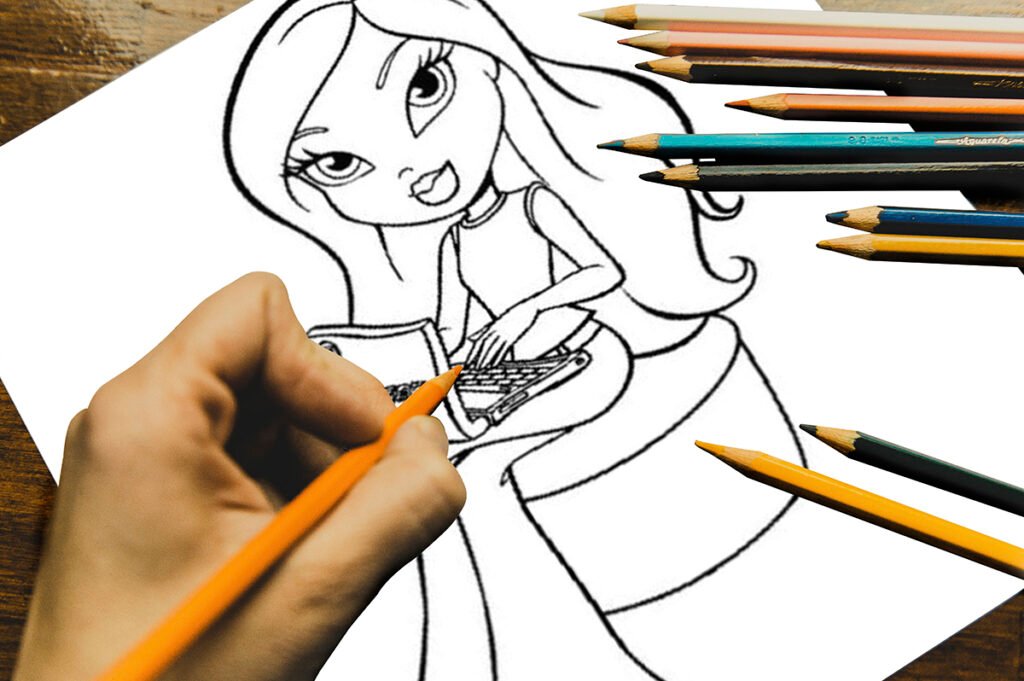 Something's keeping Cloe busy on this coloring page! Whether it's for school or their teen magazine, Cloe does her stuff with elegance and style. Transform this coloring page starring Cloe by grabbing your favorite set of coloring tools! The well-defined lines of this coloring page will help you color her with ease, keeping in mind to make her gorgeous as she has ever been.
Meygan Bratz Coloring Page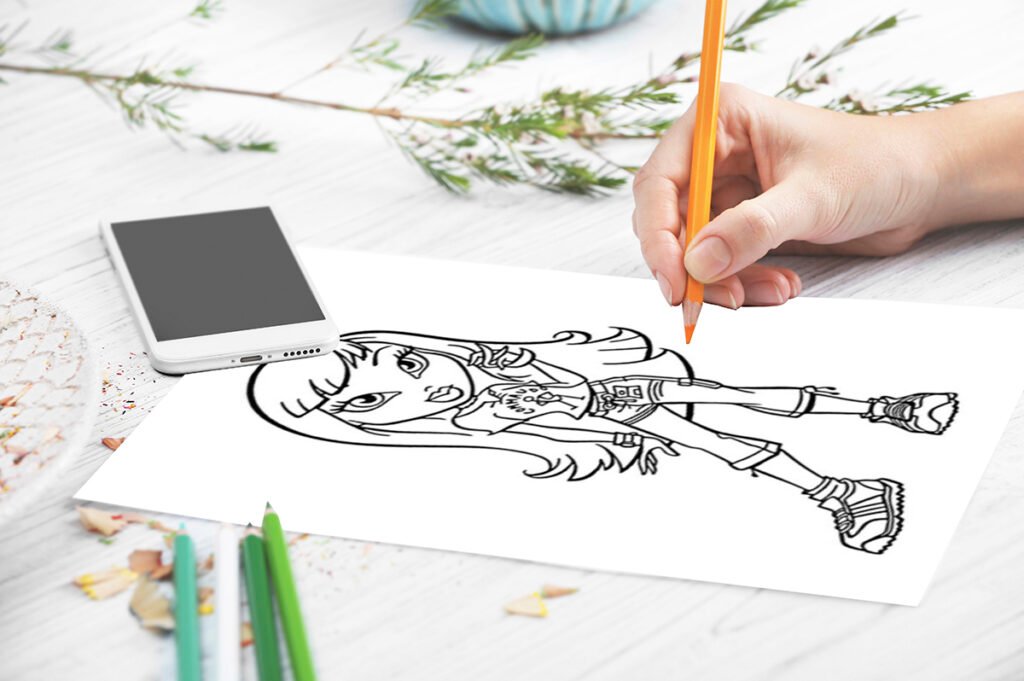 Another Bratz character poses like a fashion queen on this coloring page! Her name is Meygan, and like any other Bratz doll, her fashion style is something you cannot ignore as a Bratz fan or enthusiast. She's unarguably stylish even when she hangs out, earning the nickname "Funky Fashion Monkey" from her friends. That's enough information to give you an idea of which colors to use on her fit on this coloring page!
Jade Bratz Going To Picnic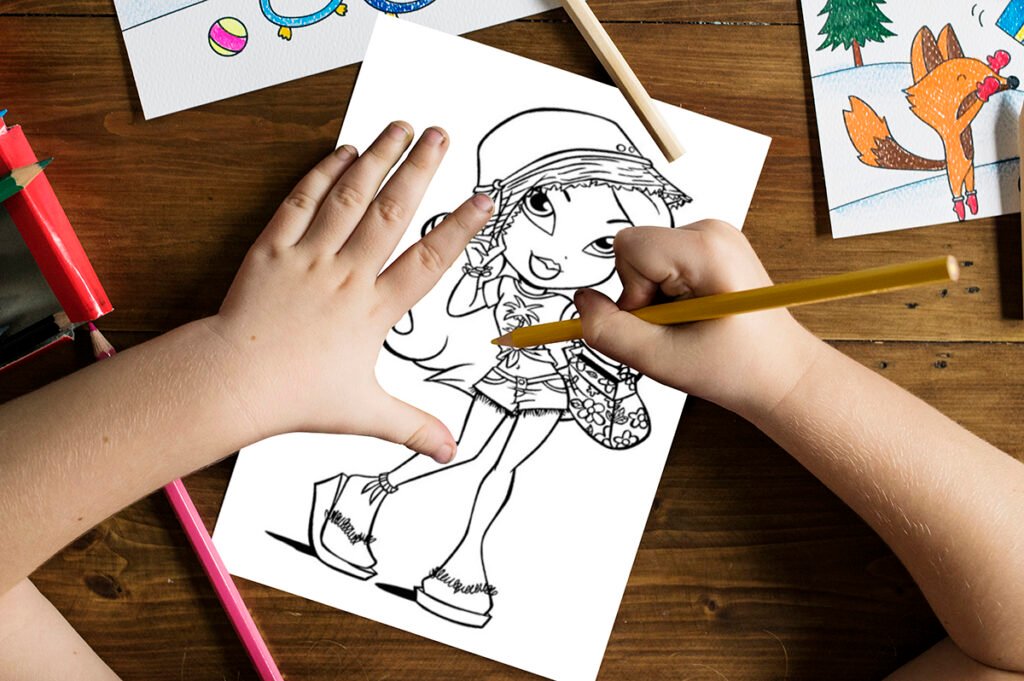 Are you looking for an activity to work on a picnic day? This coloring page gives just what you need! It's an illustration featuring Jade on her picnic fit: a baby tee with a palm tree print, shorts, chunky slippers, floral bag, and hat. It's a coloring page that matches the occasion, great for keeping Bratz fans and enthusiasts entertained under the sun.
Yasmin Bratz Posing for Magazine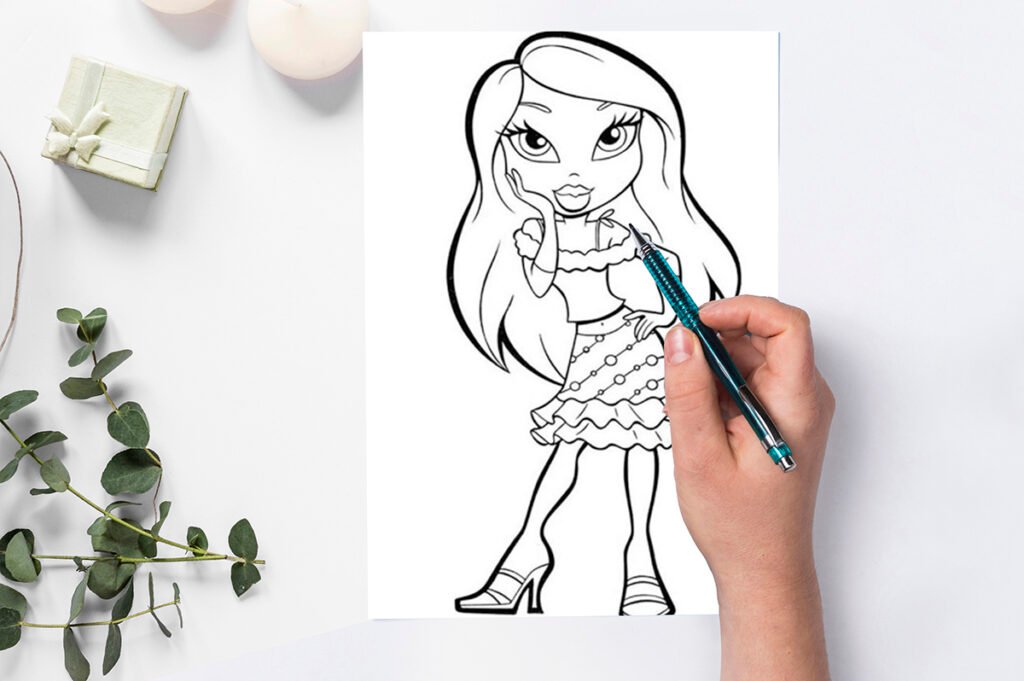 Yasmin unveils her inner model as she strikes a pose on this coloring page! It's most likely for their teen magazine, and it's an incredible idea to have her as a model. Her chic fashion style fits her elegant figure, something you'll love coloring whenever you're free. Grab a copy now!
Bratz Kidz Coloring Page
This adorable coloring page will melt your heart! It's an illustration showing a kid's version of Bratz, fashionably-ready for a photoshoot. Apart from that, these kids are also available for a coloring session! Prepare your coloring utensils and creativity, and enjoy a fantastic time with these Bratz kids.
Fianna Bratz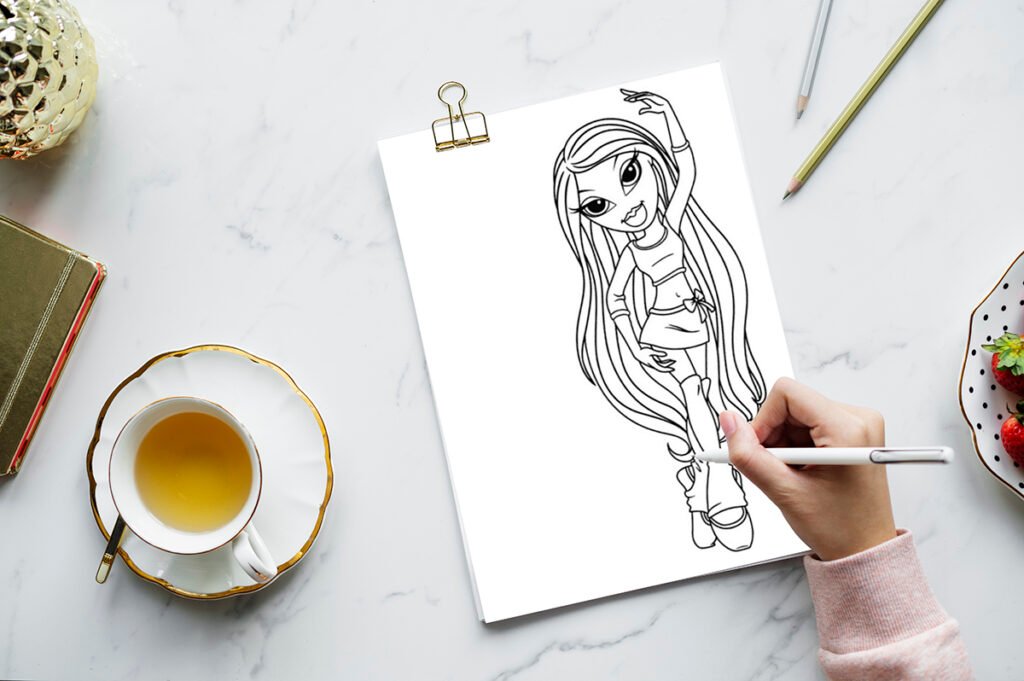 Graceful and sugary sweet—these words sum up Fianna's personality. Looking at this coloring page, it's unsurprising how she embodied these words! Come and take a look at her ballet pose. Doesn't she look dashing? If her grace and beauty captivated your attention, go ahead! Don't delay in grabbing the chance to color this illustration.
Cloe In Wedding Dress
Although the Bratz characters didn't marry anyone yet, that doesn't stop them from wearing a wedding dress. Come and take a look at Cloe on this coloring page! She managed to pull off the outfit, proving her undeniable charm and ability to own any clothing given to her. Of course, things will get even better once your creativity takes over the coloring process of this illustration!
Pompom Bratz Cheerleader Dolls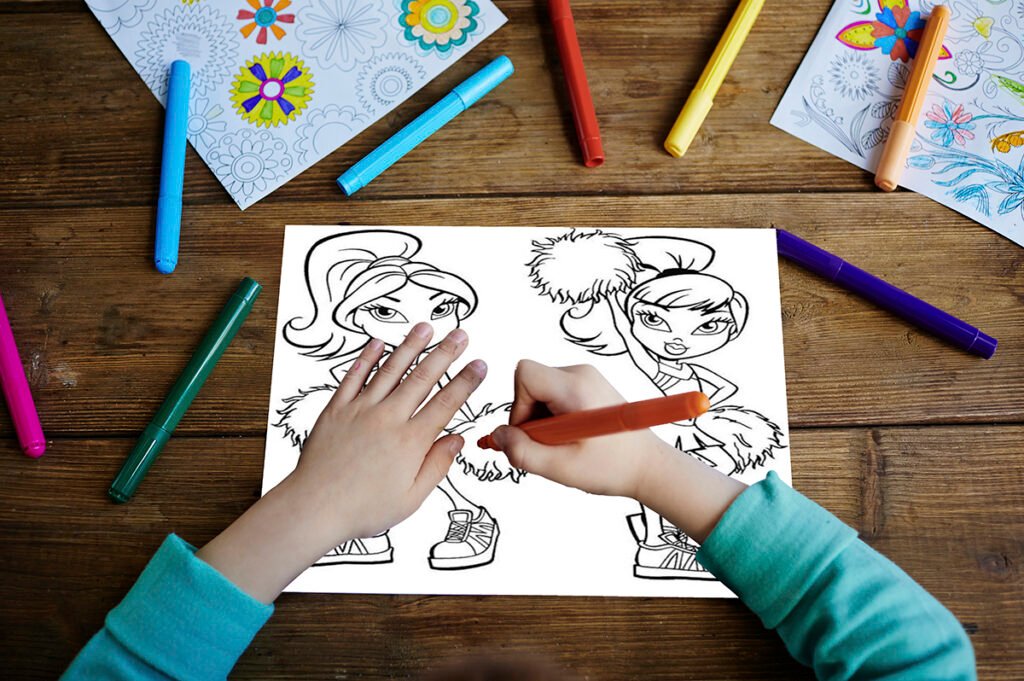 These Bratz dolls rock the cheerleader concept on this coloring page! Pompoms ready, their killer style, and "Bratitude" are evident in this illustration. Who can resist coloring these fancy dolls? Get your coloring tools prepared for a coloring session with these girls, inviting a friend or two to double the fun.
Dana Bratz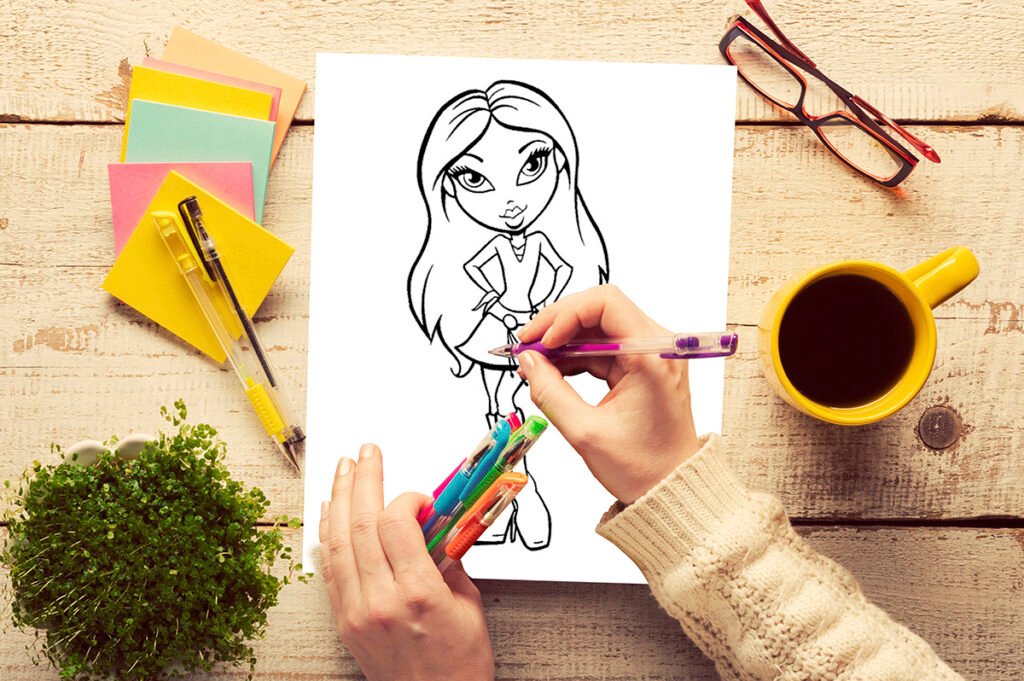 If you're looking for a Bratz doll or member with a sugary sweet sense of style, Dana from this coloring page got what you need! She earned the nickname "Sugar Shoes" thanks for her sweet and stylish fashion sense, paired with her passion for collecting footwear. You'll love this coloring page along with Dana, so print a copy or two to try out different color combinations on her outfit!
Bratz Coloring Pages Conclusion
Ignite your passion for fashion with our collection of Bratz Coloring Pages! Just as how you loved the dolls, movies, and series, you'll also derive great pleasure from coloring any from our selection. Embrace your individuality. Let your creativity shine with your coloring tools as you color any coloring page that captured your eye!
We also have a collection of Flamingo coloring pages that you can check if you are looking for other coloring pages to try.